Who is Stonz
Stonz was created by a mom who loved being outside with her kids. However, she was quickly frustrated by her toddler's wardrobe malfunctions and the need for a solution to keep him warm.
In 2004 Stonz Booties was launched and has continued to thrive in making innovative warm gear for babies and kids. Stonz is functional, durable, and adorably fashionable.
Stonz Products
Toddler Booties
(up to 3 years)
My daughter is approaching 12 months and will be facing her first Ohio winter. Since birth she has been super sensitive to the cold so I knew I needed to find warm shoes for her, especially since she will be walking in snow.
Stonz booties are definitely innovative and I think once you go Stonz you'll never go back! The shape of the shoe is more like a mitten for the foot. It has a large opening and is super spacious inside. My daughter always curls her toes when I put shoes on, making it next to impossible to put her feet completely in. Even with curled toes, I can quickly slip Stonz on and get her feet flat.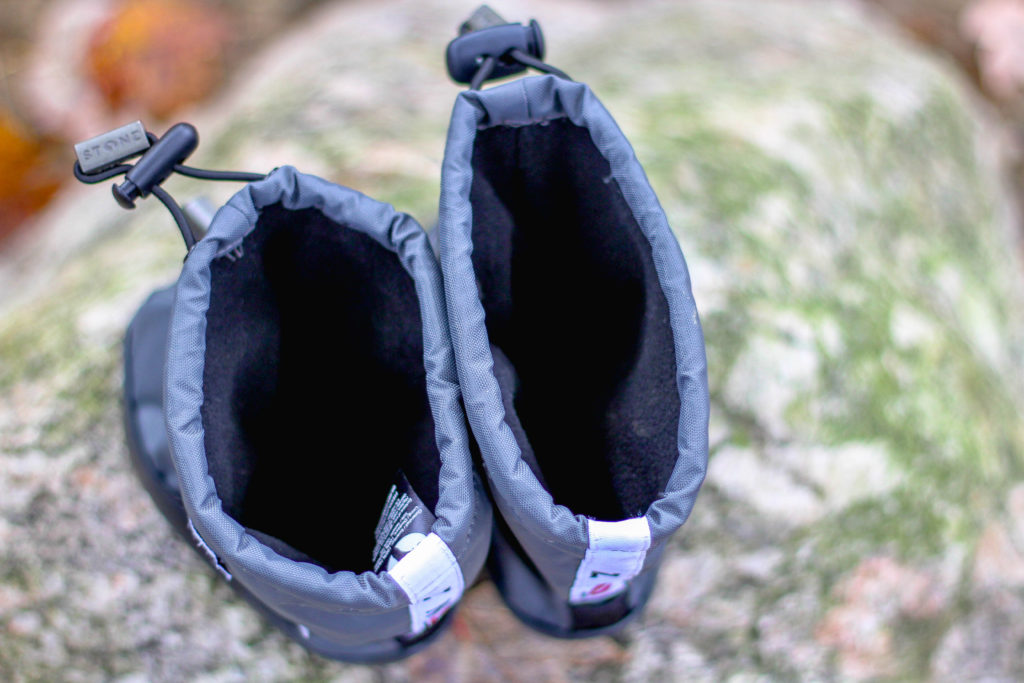 Rather than laces, Stonz booties has two adjustable toggles; one on the ankle and one on the top. It makes for a snug perfect fit every time and keeps shoes on! Not to mention it saves time on wrangling toddlers to tie shoes. While wearing my daughter in the carrier or pushing her in the stroller, I was worry free about her shoes falling off.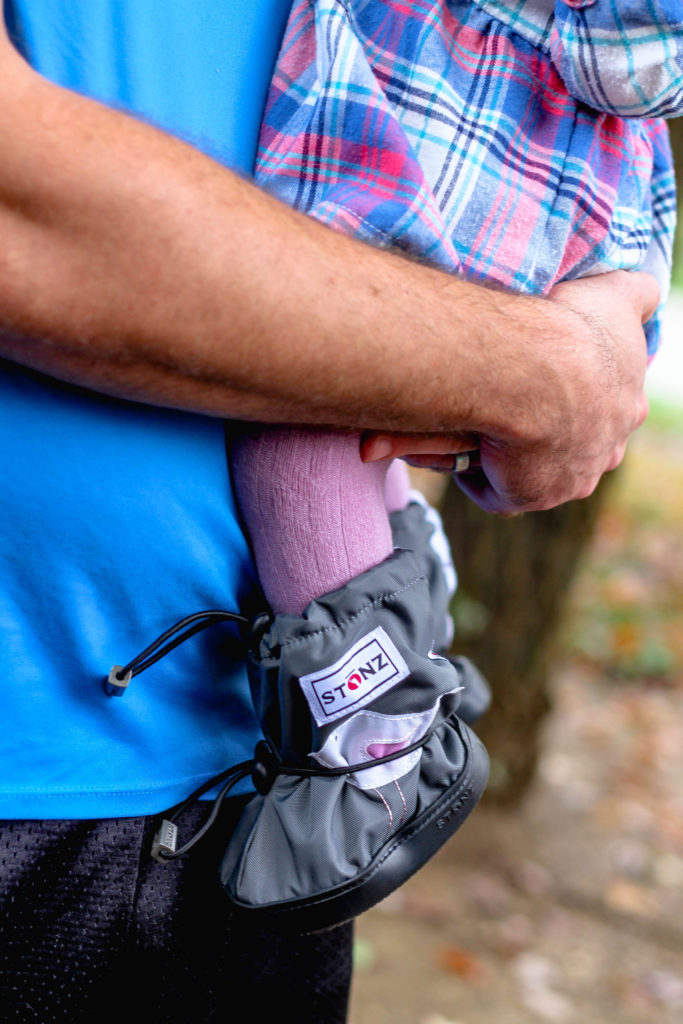 The bottom of the boots are made with soft, skid-resistant rubber. It is flexible enough to allow those developing feet feel the ground for balance but durable enough to protect from outside elements.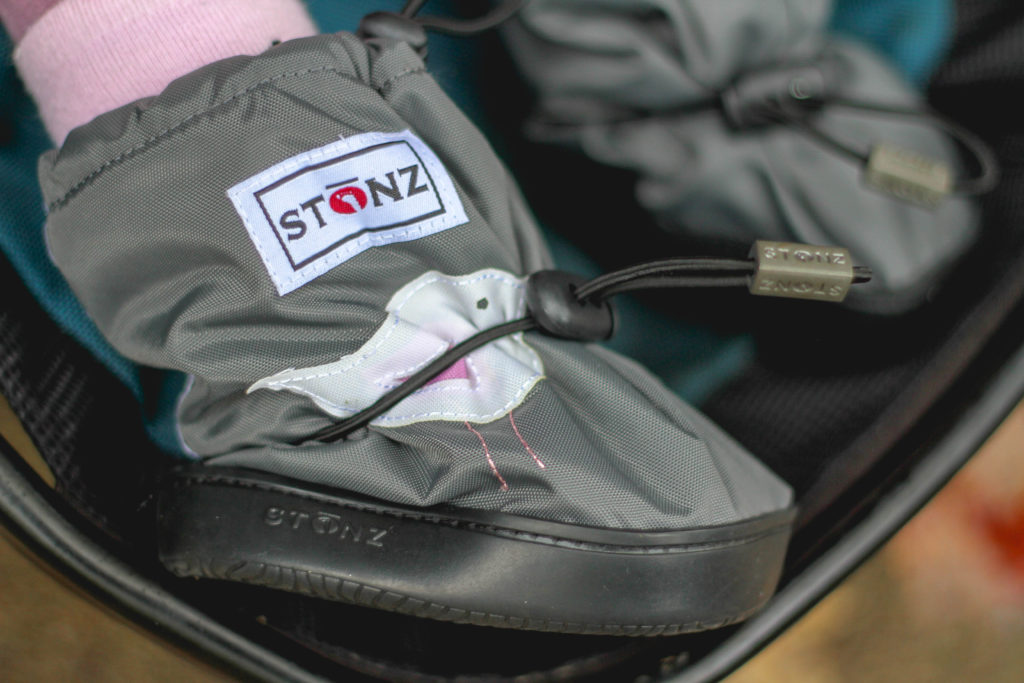 Stonz booties are made with a cold and wind resistant 600D nylon and lined with a warm fleece. I love these boots are so versatile. They can be worn during chilly rainy seasons as well as freezing cold winter days. Since the shoes are adjustable, it is easy to layer up or down. My daughter was able to wear her booties with just tights as well as over her winter snow suit.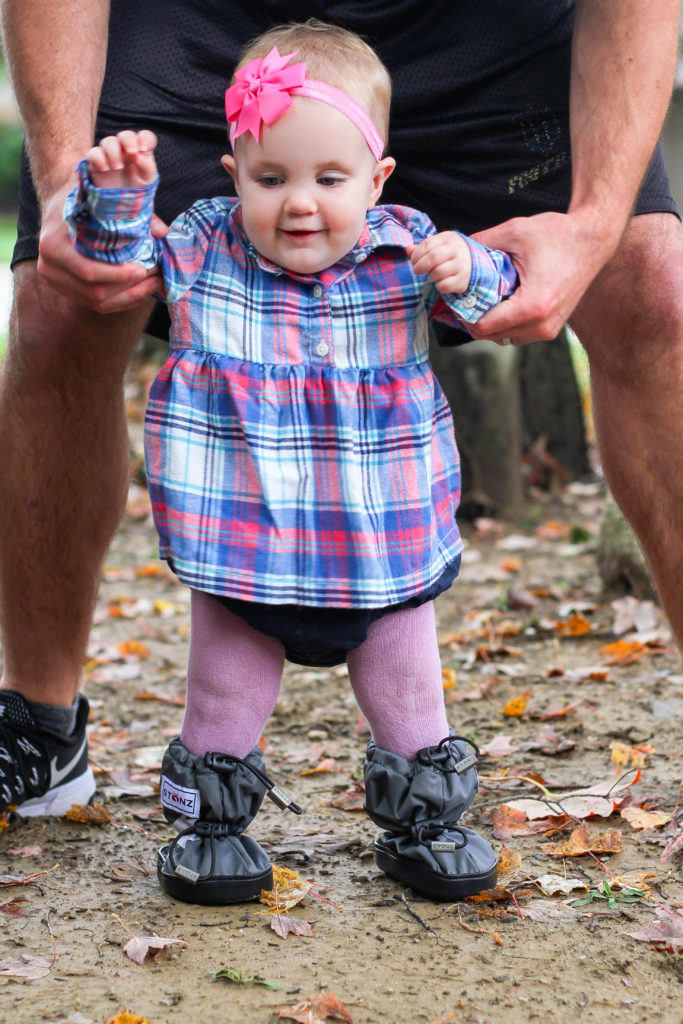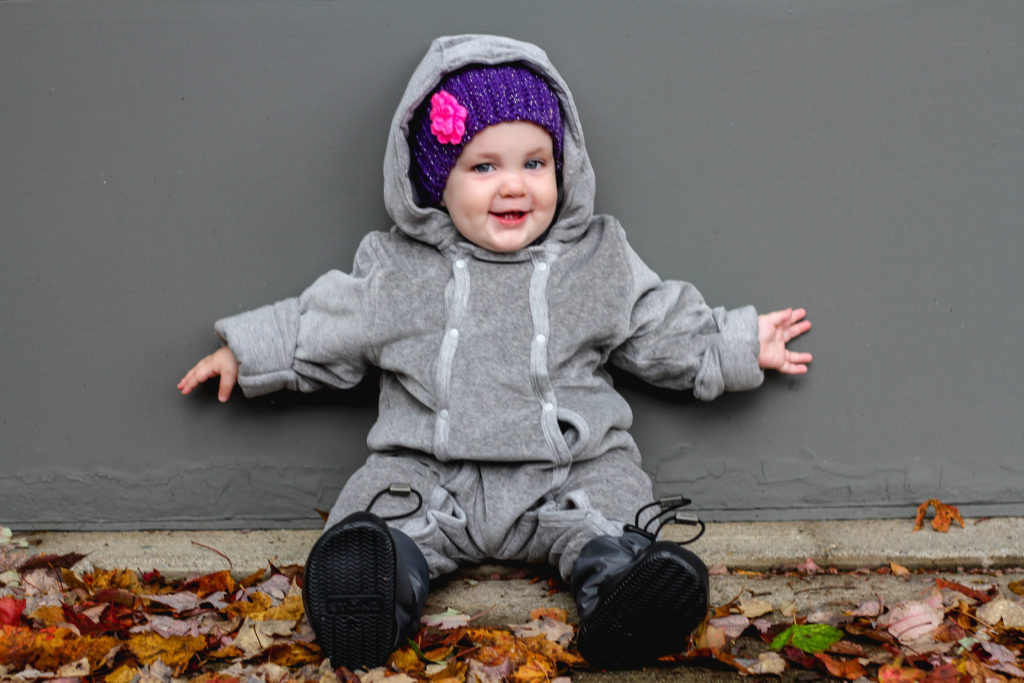 Stonz also sells Linerz that can be added for extra warmth. These are especially great for playing in the snow or long exposure to cold.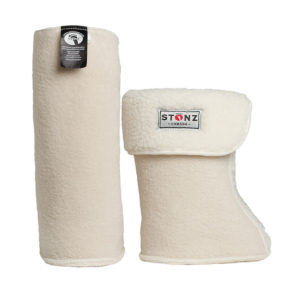 All of their booties are specially designed to follow the fashion of your little one. Stonz provides a plethora of different styles such as animals, colors, patterns, and cartoons. We chose the gray booties with a simple bird on the side. The only down side is the design gets squeezed and distorted when the elastic is tightened. I probably would have chosen a solid color or pattern if I had known
Overall I was very impressed with Stonz booties! I loved how easy they were to put on but did not run the risk of falling off. Even being made with durable warm fabrics, they remained adorable and in my daughter's style.
Scout Winter Bootz
For my 2.5 year old son we chose Stonz's scout winter boots. I will admit at first I was confused at which shoe to get. The 5T-9T through me off, I was correlating it to clothes sizing and thought my son would be too small for these shoes. However, after I used their handy shoe sizing chart I realized it just means shoe sizes 5-9. My son is currently a 7 and we bought him an 8. He can comfortably wear them but has some space to grow into them this winter.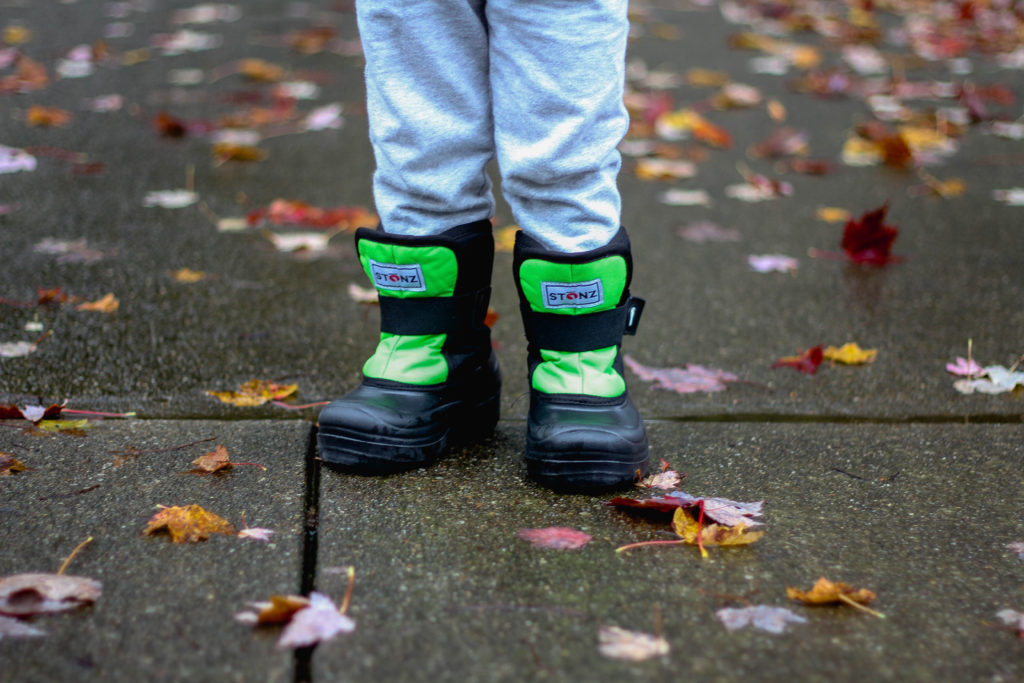 Scout Winter Bootz come in four color options; green, blue, pink, and gray. My son quickly chose the lime green which was a perfect match for his winter and rain coat.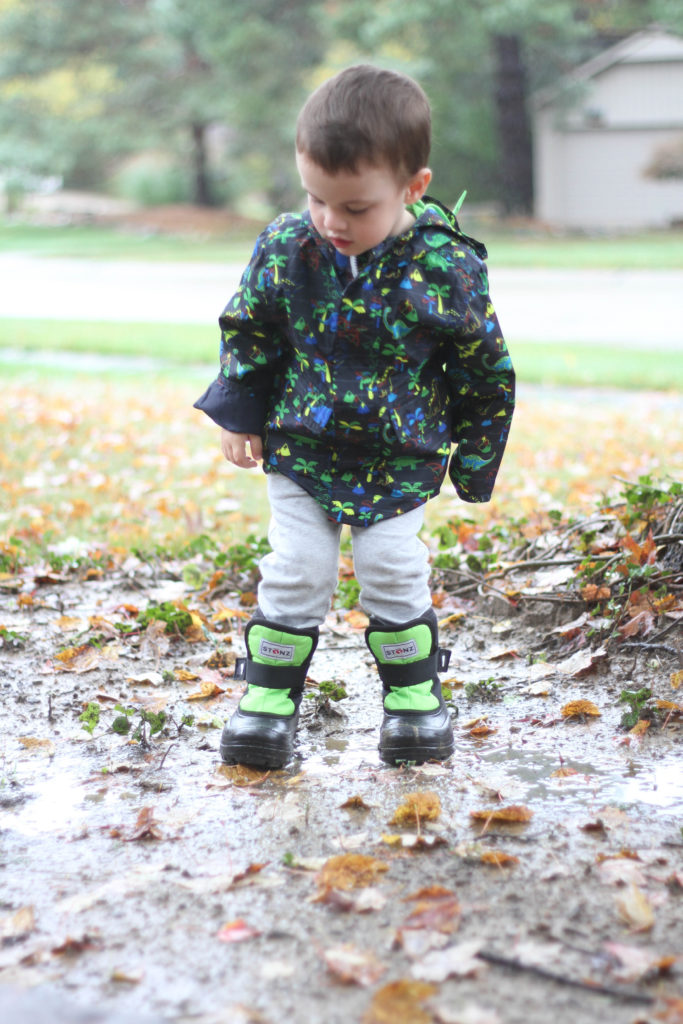 I might be brain washing him into liking green. Or he just gets his great taste from his mama!
We fell in love with these bootz instantly after opening them up. They are wonderful quality with 600D nylon and warm fuzzy fleece. The bottom has a slip resistant sole that is durable and flexible.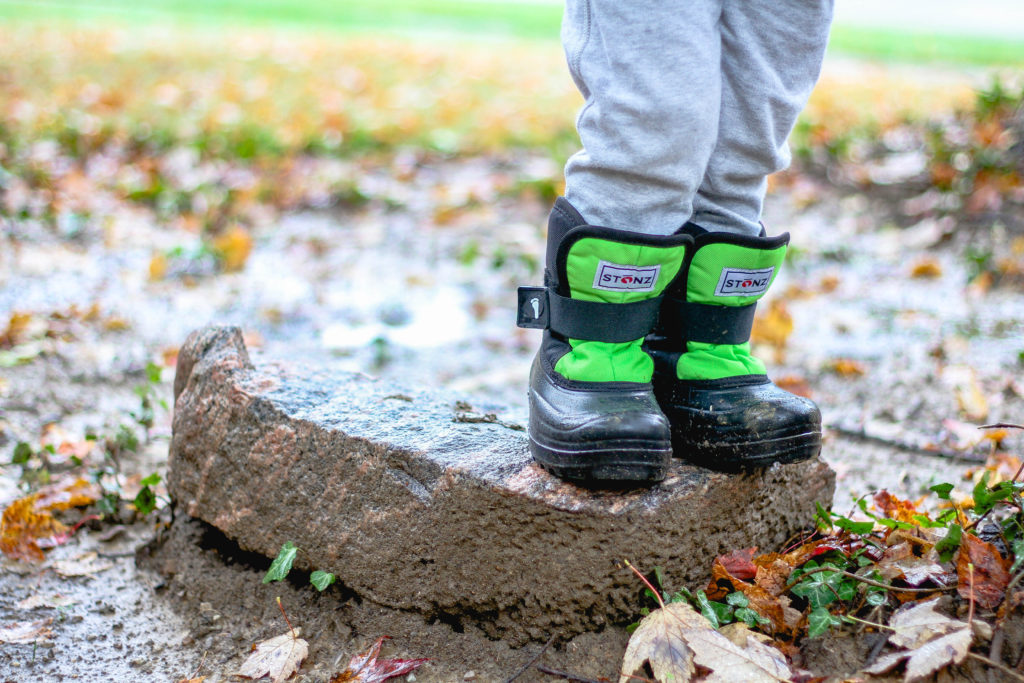 The wide opening makes it a breeze to put on and fit pant legs inside the boot.  Rather than laces. an elastic velcro assure a tight snug fit.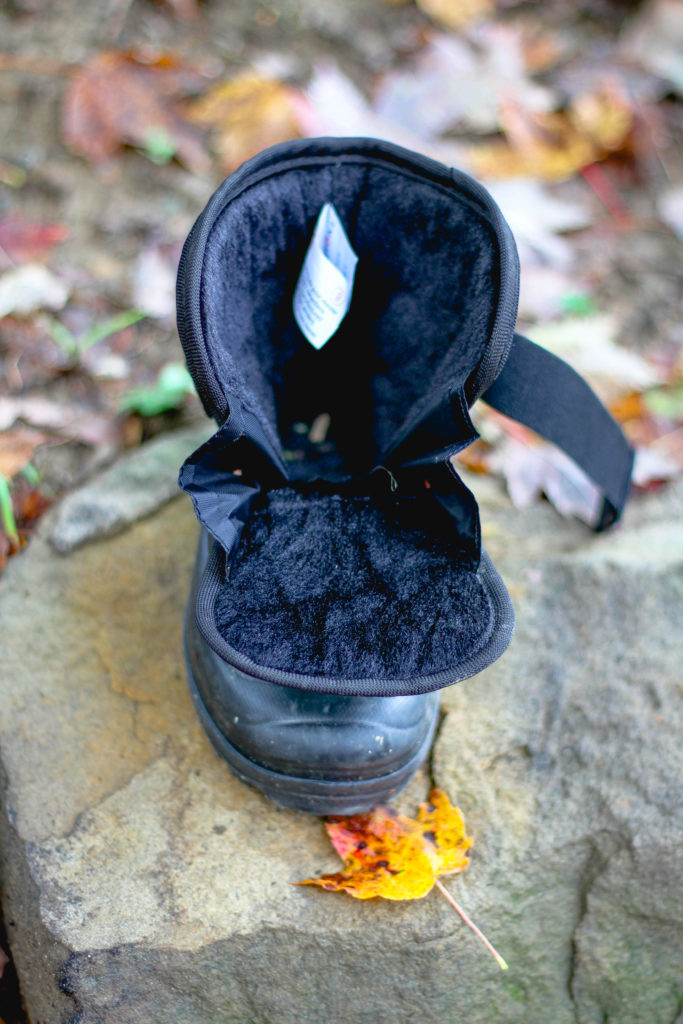 Stonz states they are made to keep feet warm up to -22 degrees Fahrenheit. I honestly hope to never be outside when it is that cold but I do know these are Canadian made and Canadians know cold!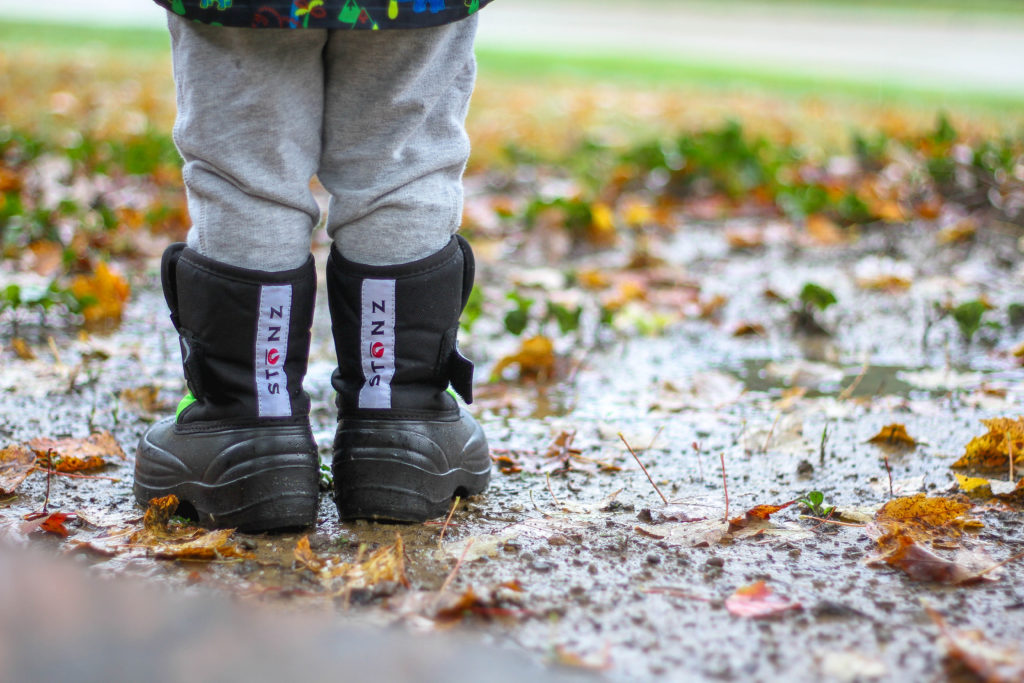 We played outside in the ran when it was just over 50 degrees. My son ended up begging me to take his coat off because he was hot. I've actually read up on it and found research showing that cold feet can weaken your immune system, thus getting sick more during winter seasons. I'm happy to know my kids' feet will be staying toasty this winter in Stonz.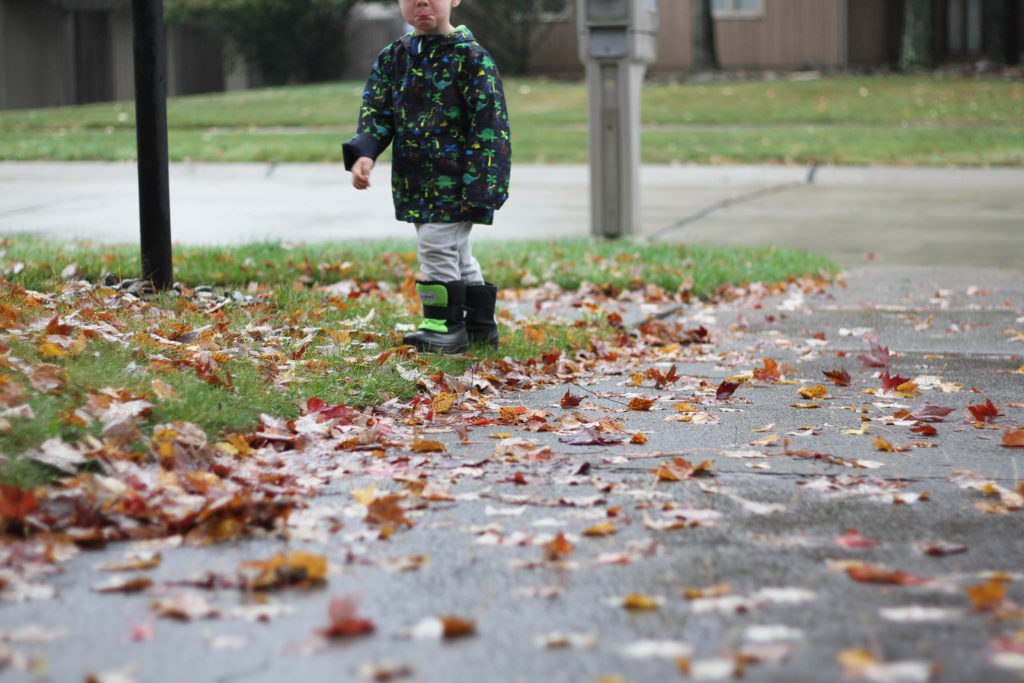 Probably the best feature is Stonz boots are lighter than an iPhone!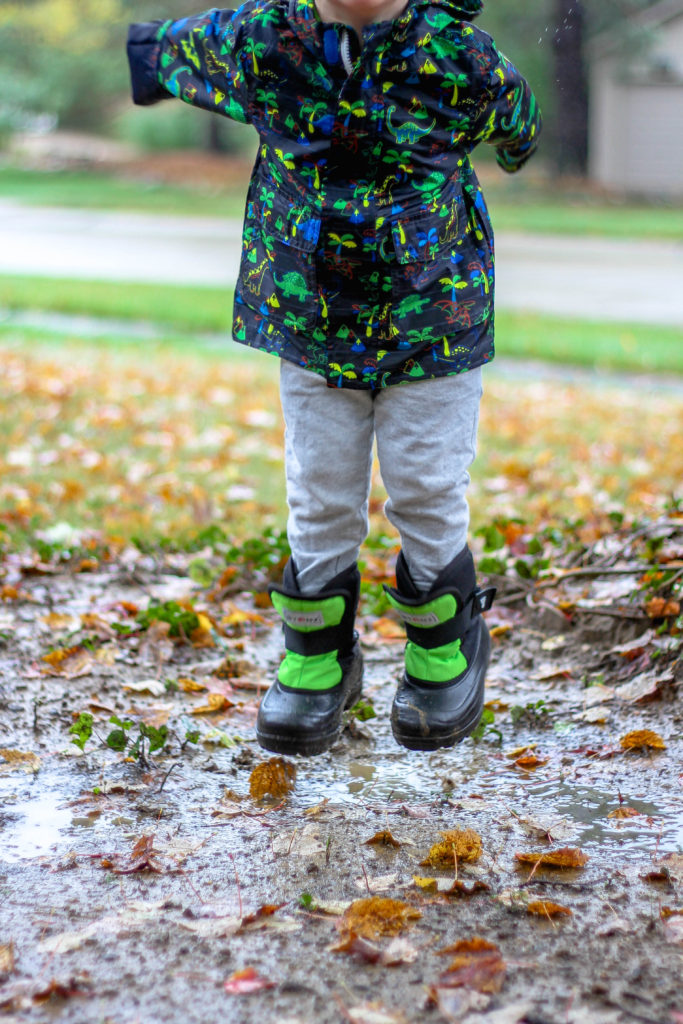 I was amazed to see my son run fairly normal in his boots; not that awkward clunky march kids do all winter. He was definitely comfortable playing and didn't slow down from heavy overweight boots. Stonz boots are flexible enough to let his ankles move freely while the elastic straps keep his boots on securely.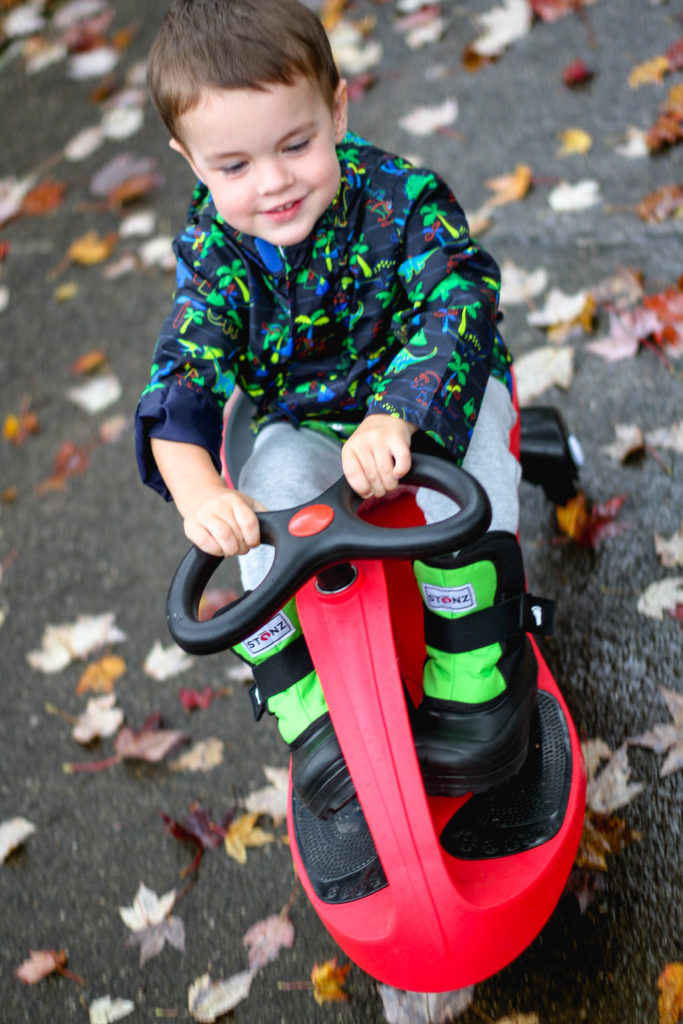 Stonz bootz are a great option for your toddler who is active rain or shine..or snow and wind. They protect their feet from the elements while being light enough for them to play freely!
More from Stonz
Yes! Stonz makes products not just for feet! They also make warm, easy slip on mittens to assure your child is warm from finger to toes!
With winter around the corner don't be caught off guard with icy rain and freezing temperatures. Keep those little toes nice and toasty with durable but light Stonz boots.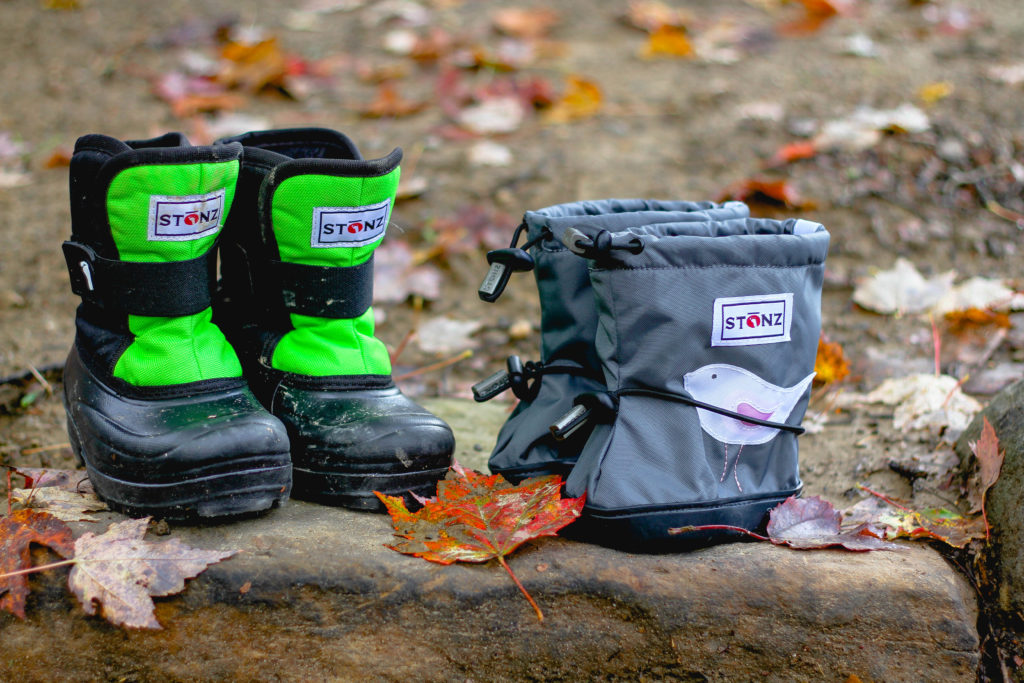 Keep your eyes peeled on MamatheFox for a Stonz boots giveaway coming soon!!
Connect with Stonz