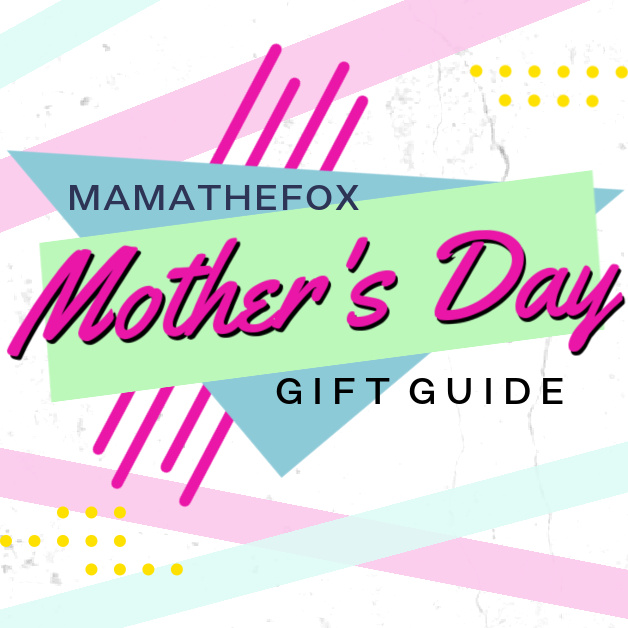 Shopping for Mother's Day gifts?
This Mother's Day don't overthink finding the perfect gift for the special Mama(s) in your life. The writers of MamatheFox have done the thinking for you. Whether you are looking for something utilitarian or sentimental, we have your covered!
Enjoy shopping by clicking through each link to purchase…or drop a hint to your family by leaving your browser up on MamatheFox!
(You can thank us later)
Luli Bebe – Monaco Faux Leather Diaper Backpack
This backpack is classic and sophisticated with an easy-to-carry, durable design that's the perfect companion for both casual and formal use. The diaper bag features exterior pockets for all your need-fast essentials, while a spacious and organized interior can take care of all the rest. The adjustable strap makes it easy to go from side body to hanging on the stroller. The inside lining is wipeable – which is a must for a diaper bag. Magnetic flap front pouch with zippered pocket for extra secure packing. Nine pockets, with a large space for bulk items, plus additional compartments for extra storage. Includes changing pad, stroller straps, & messenger strap.
Click here to see the Monaco Faux Leather Diaper Bag
L'Beauxtique – Evening Body Serum
Are you looking for a gift that will help you unwind and relax before bed? L'Beauxtique, a luxury botanicals company focusing on emotional well-being, just launched a NEW plant-based evening body serum designed to escape modern-day stress. The serum is a curated blend of 14 plant-based ingredients designed for relaxation and to enrich your skin. The aromatic notes include Cardamom, Jasmine, Palo Santo, and Yuzu among others. The serum provides nighttime relaxation for women who are stressed, tired and low on time. I love the smell and feel of the serum. After I wash my face, climb into bed with my tea and my latest book I apply this serum to my arms and legs. It really helps set the mood for a relaxing bedtime. Use code MAMATHEFOX for 10% off
Click here to see L'Beauxtique
Luxurious Bath Brush by Rengora
The best way to start your morning is by feeling refreshed and awake. I love to grab this dry brush and softly massage my arms and legs before getting my cup of coffee to kick start my day. The feeling of the dry bristles removing the dead skin and increasing circulation is so satisfying. Rengöra's use of boar bristles makes the brushed softer and more durable. The long handle is removable so you can take control of of the brush head. Able to be used dry or wet, it makes for a great shower tool. It is wrapped in premium packing making it ready to give as a gift. With a 90 days or money back guarantee, there is no reason not to try one today.
Click here to see this Rengora Body Brush
Rengora Candles
Rengora has created two amazing candles that smell amazing and are just the right price. They are 100% soy wax candles burn clean. No residue and zero harmful toxins in your home. I love that these organic candles burn for at least 40+ hours. Regora left out the paraffin, so these candles burn evenly, giving you more candle for your money. Light one to create a serene spa-like experience. The "Nightfall" luxury candle featuring a subtle blend of decadent lavender and fresh eucalyptus. One whiff of these lovely scented candles for home will have you hooked and yearning to get back quickly to savor the addictive fragrance. It is not too strong, but still makes a noticeable difference. The two scents compliment each other in ways the world would never have thought possible! It makes a perfect candle for baths and for the evening movie time.
Click here to see Rengora's Candles
The Wine Party
Are you wanting to gift someone some wine this Mothers Day? Then you have to consider The Wine Party. You can purchase one time or monthly subscription to find new and exciting wines. They are constantly adding new brands and curating the perfect box. The most popular choices are the Red Wine Lover Box, White Wine Lover Box and the Rose Lover Box. If you want to step up you wine game then try the "What to Drink Now" pack. Better yet they now offer The Wine Connoisseur Course. This online wine class teaches quick and actionable lessons for wine drinkers who want to feel more confident as they choose and enjoy wine. It's six chapters of go-at-your-own-pace video lessons (3.1 hours of content), worksheets, and tasting challenges.
Click here to see The Wine Party
Flour & Branch
If you want to gift a treat, a really really good treat then check out Flour & Branch. Their cookies are literally the best cookies I have ever had, and as a foodie who travels, I have had a lot of cookies over the year. I would suggest getting the Cookies Gift Bundle. These unique gift-wrapped bundles of Bakes are just what you need. Flour & Branch bakes with organic and natural ingredients: Kerrygold grass-fed butter, artisan flour, farm-fresh eggs, the finest sugars and vanilla, and so much care. Try the F & B Bakes' Cookie Collection – it contains one of each cookie: PB & J Stuffy, Nutella Stuffy, The Chipper, The Salty Sombitch, The Brookie, The Birthday Cake, and The Nutty Butter. To make things really exciting warm place them on a paper towel or plate and warm them in the micro for a few seconds (10-15 I would suggest). This makes that have the straight out of the oven taste and warmth.
Click here to see Flour & Branch
Butter by Keba
Butter by Keba – woah! Get ready for a body butter like no other. Their unique line of products are carefully formulated using a blend of natural ingredients, essential oils and phthalate-free fragrances to appeal to every nose. And yes – when you touch it, you can instantly feel the difference. When you think of butter, you can picture that creamy texture, that melts when it touches your hands due to the heat. The same effect happens with this body butter. It melts right on you. But not in a greasy way, but a soft, smooth and quick to absorb way. I would recommend trying the Love Your Body Care Bundle. This way you can try the body butter, the bath salt and the perfume body oil. The fragrances are yet right. Not too powerful, but has the soft relaxing tone to them.
Click here to see Butter by Keba
Bombay Hair
Do you know a gal who loves hair? Shiny, soft, full hair? Hair extensions, curling, straightening, all the fun stuff. Bombay Hair will be your new go-to. They offer a huge selection of permeant hair extensions and tape hair extensions. Best of all they use Remy! Remy hair is the highest quality of hair extensions! What makes Remy hair so great? Remy hair is kept with the cuticles intact and all hair strand are aligned in the natural direction of growth. This means beautiful hair that is soft to touch and does not easily tangle. Remy hair is used in all clip-in extensions at Bombay Hair. If you are looking for a new curling tool, then you need to try their Rose Gold Curling Wand. The Rose Gold is made of 100% pure Titanium Barrel which radiate Infrared Heat Therapy and Negative Ion Technology. The negative ions seal the cuticle for frizz-free results, which lead to long-lasting curls with an unbeatable shine.
Kyte Baby
If you are in the market for new lounge and sleepwear, then you are going to love Kyte Baby. Their line of mama clothing is the softest ever. They are now offering nightgowns, two piece PJ sets and butter soft lounge pants. If you have a mama needing a relaxing but useful gift, then you have to order from Kyte Baby. The lounge pants were designed for comfort, these all-natural, bamboo pants have a tie-front waistband and are finished with a relaxed-fit flow ankle. This short sleeve PJ set is perfect for summer, and great for curling up in your favorite chair with a hot cup of tea and a good book. The two piece pj's are made from bamboo fabric blend. The pajama set comes with a relaxed-fit button up short sleeve shirt and a matching pair of waist band lounge shorts. This is perfect for these nice warmer nights that are almost here. Check out all their products with the link below.
Baby Delight Go With Me™ Uplift Deluxe Portable High Chair
If you are a grandma, or a mom who is on-the-go, then you probably wish you could just easily bring and store a highchair for those family visits. I found the prefect one! Baby Delight Go With Me™ Uplift Deluxe Portable High Chair is amazing! It is foldable (think of those chairs the soccer moms bring to sit in at the games), comes with a food tray, 5 point harness, a sunshade and a bag to quickly store it away. The Uplift is standard table height and is made of a durable indoor/outdoor fabric that can easily be wiped clean. This seat really was a big gamer changer with the babies and toddlers in my life. You can use it at home, at your families homes, at those soccer games and on vacation.
Click here to see the Baby Delight Go With Me™ Uplift Deluxe Portable High Chair
RelaxUltima Neck Massager
This Mother's Day, if you have a stressed out mama you should consider getting her a RelaxUltima neck Massager. It gives you a heated massage all from the comfort of your own home. The design is very convenient as its quiet, lightweight and very comfortable. With 3 different massage modes you are able to really get the most out of your massage. Sit back, relax and enjoy RelaxUlitma for 15 minutes. It is best to stop at 15 minutes. The heat feature is 107°F heat plus TENS Technology (gentle electric impulses moving through skin) support muscle pain reduction, deep relaxation, and stress reduction. They believe so much in their products that we provide a 1 year warranty and 30-day Money Back Guarantee. Check out all the features with the link below.
Click here to see RelaxUltima Neck Massager