Let me start off by saying, where was this little gadget when my baby boy was a newborn???!!!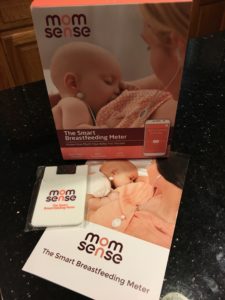 As a first time mom, who is exclusively breastfeeding, I was constantly worried about pretty much every part of breastfeedingf. Was he getting enough milk? How much will my nipples hurt? How can I stop this from happening? The worries go on. And I know a lot of first time mamas feel the same way! Thankfully, sites like Best For Parents are helpful when it comes to finding products that can help to make breastfeeding easier – plus I had a lot of support from my family. But this didn't stop me from worrying! In the beginning weeks, the thing I was worried most about was whether or not my son was getting enough milk. Again, I know I'm not alone in this because it tends to be a frequent topic in just about every mom group I'm in. Thanks be to God, we were doing just fine and my son was getting more than enough. In fact, I ended up getting an oversupply for a little bit there, because I was worried I was undersupplying and started doing all sorts of things to boost supply. In those crazy days, I could have really used the reassurance of Momsense to give me some insight in just how much was my son taking in per nursing session.
Momsense is a smart breastfeeding meter that can inform mom's with the use of a smartphone app how much milk your baby is taking in. I received this little package and was amazed at how simple the design actually is.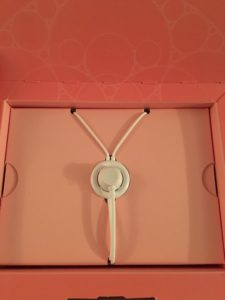 It is essentially a pair of earbuds with an extra little sensor attached that is placed just under your baby's ear. The Momsense comes with sticky pads to stick on to the meter, which is what you will safely place on your baby. Not to worry, the adhesive is baby safe!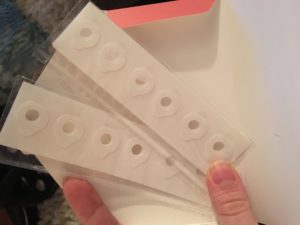 The directions explain that each sticky pad should last multiple uses; however, I found that it actually lost its stickiness quickly at first, because I was putting it on and off so many times to get the right positioning. Once you get the hang of finding the right placement on the first try, the sticky pads should get many uses. The head phones plug into your phone and you download the Momsense smartphone app. With this app, it will measure your baby's milk intake, you will be able to listen to your baby's swallows (and it records it!), and you will be able to keep an ongoing timeline to keep track of their feeding habits. How cool is that?!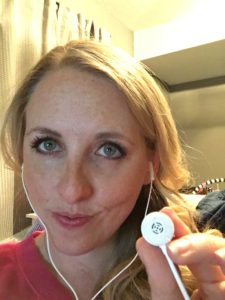 In my personal experience, my active 4 month old is getting quite squirmy and kicks and wants to grab at my hair, necklace, shirt or whatever he can reach all while nursing. So this was very difficult for me to use with him. HOWEVER, like I said, in the beginning I was SO WORRIED about whether or not he was getting enough! I mean let's be honest, breastfeeding is hard work! For a first time mom, there is a major learning curve! I feel like Momsense in those beginning stages would have given me so much peace of mind! Newborns also don't squirm the way a 4 month old does, so it would be MUCH easier to use in those younger stages. Despite my squirmy boy making it a little more difficult, I must admit I loved that the app stores and records the precious noises and swallow sounds he makes while he nurses. As I'm writing this review, I was just browsing through the app and was listening to some of the recordings and it just warmed my heart to hear him. 🙂 So for me, it is not a tool I will use every day; however, as we continue on our journey I think it will be fun and informative to break out once a week or so to document his breastfeeding habits, inform me about his intake, and record those precious noises, of course! If I had this when he was a newborn, it likely would have been my BFF. The app also has some other fun features like coupons for different products and breastfeeding tips.
Side Note: For those of you who snagged the newest iPhone with no headphone jack, you will need to purchase the adapter! #Applebringbackthejack
So there you have it! From one mommy to another, just doing the best I can each and every day! If you have a little one on the way and plan to breastfeed, you will love this product! If your baby is older and your breastfeeding habits and routines are well-established and your baby is growing and thriving, you just keep up the good work-no gadget necessary! 😉
Want to learn more about

Momsense

?
For more information about the Momsense, check out their website or connect with them via social media!
Facebook: @mymomsense
Google+: Momsense
Instagram: mymomsense
Pinterest: mymomsense
Twitter: @my_momsense
Youtube: Momsense