Go Mama Go seeks to provide comfort and protection to each child as they sleep. With all their products created for use in baby's room they really want parents to remain worry free as their child sleeps. Wonder bumpers, teething guards, swaddling blankets, and other nursery accessories are available from Go Mama Go designs. I'll focus on wonder bumpers for this review.
Wonder bumpers ensure safety and security for your child as they sleep. This new alternative bumper design takes worries away as your child not only stays protected but has the ability to receive the optimal air flow they need. Different than your average crib liner, Go Mama Go wonder bumpers fit vertically around each individual crib rail – removing suffocation risks.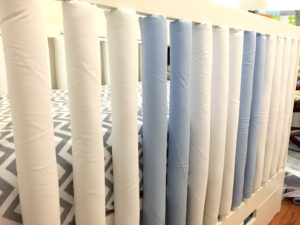 With a downward zip motion you don't have to worry about your child taking the bumper off. If you install correctly the zipper will be hidden between the mattress and rail, and out of reach for your child. The bumpers fit all most any crib rail; flat or round. Just be sure your rails aren't any wider than 3 inches. Created for a safe, snug fit, they are very stretchable and compress well. You can even zip two bumpers together to fit over corners and wider rails.
Wonder bumpers are such a fun alternative to your traditional crib liner. You can choose from an array of colors and create any pattern you wish. Each bumper is reversible with a color on one side and white on the other. Install them all white, all one color, every other color, or any pattern you want; it's easy to have fun with these bumpers! Go Mama Go offers single bumpers in order to create whatever style you desire.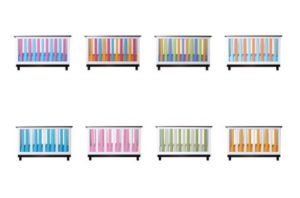 Go Mama Go even has an organic line. Offering organic materials for their wonder bumpers, teething guards, and select changing pad covers; you can go the extra mile to ensure safety to your child. The 100% certified organic cotton is so soft to the touch and very much worth the extra price. The organic cotton gives you one less thing to worry about for your child's health too.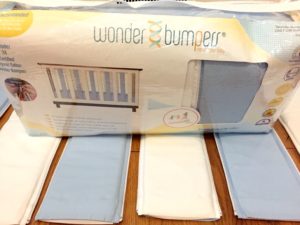 My experience with the wonder bumpers has been great so far. When I received them in the mail I pulled them out right away to take a look them. I was pleased with how soft and cushy they were at first touch. The foam inside is not certified organic but the foam padding is lined with hypo-allergenic material which is encased in the organic cotton. This takes away the worries of my son chewing on the bumpers.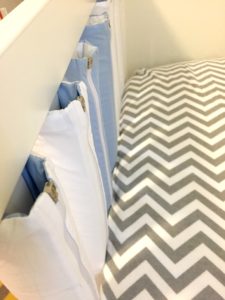 The bumpers are super easy to put on your child's crib. It took me about ten minutes to zip each bumper on. The toughest part of putting the bumpers on was that I had to squeeze them around the bars between the mattress. Not until after I was finished did I think about taking the mattress out in order to zip the bumpers on. With all that being said, I recommend taking the mattress out of your baby's crib before zipping on all the bumpers. Be sure to zip the bumpers down on the crib rails. Doing this ensures that your baby won't grab at the zipper and try to take the bumpers off.
I also love that the bumpers wrap individually around each crib rail. I was always nervous about putting a bumper in my sons crib because I was worried of him suffocating with his mouth against the bumper. These wonder bumpers take all those worries away. Baby's sleeping environment is safe, comfortable, and he's protected.
Connect with Go Mama Go Designs
Facebook               Twitter               YouTube               Pinterest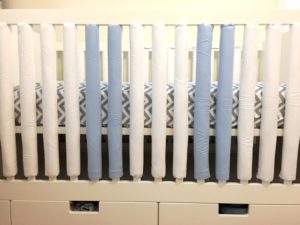 Go Mama Go wonder bumpers are doctor approved, created under patented technology, and have a life-time warranty. The company seeks to provide comfort and protection to each child, ensuring no more worries for mommies and daddies.