Thanksgiving and Christmas are just around the corner, and with the CDN kitchen measurement tools you can easily cook a feast to feed your family. Created in 1984, CDN is a family owned company that develops accurate, unique, and innovative thermometers and timers. Offering tools for the grill, oven, refrigerator, freezer, and deep fryer; you can find many uses for the thermometer. Made from stainless steel, the thermometer is durable and made to last.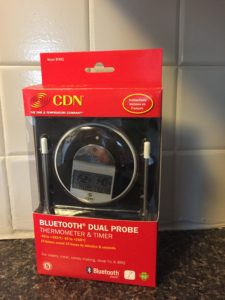 The CDN duel thermometer gets its name because it has two probes that allow you to check temperature in multiple spots of the food. The probes are waterproof too, so that makes for a quick, easy clean up. I love that the thermometer has a magnet on the back so I can keep it on my fridge. It's one less thing in my kitchen drawers!
The bluetooth capabilities with the thermometer are really awesome. After downloading their app – CDN-BT482 – just sync your phone to your thermometer and start cookin! The app is very easy to use; and I like how large the temperature is shown on the screen. While using the CDN app you can even pre-program the thermometer to cook your food according to what you're making; that way when your steak [or whatever you're cooking] gets to the correct temperature, you'll know!
Use the Bluetooth Duel Probe Thermometer & Timer in your kitchen and cook your food to just the right temperature. This family owned and operated company takes care of their customers and creates products that are made to last. Give it as a gift or use it in your own home; this is a kitchen tool that you're sure to use and love!