Kuhn Rikon creates nothing but the highest quality products. Their knives are made with the professional chef in mind, but with the average consumers budget. By making a knife that would be used in a fine dining restaurant available to the average home cook makes them stand out in the culinary world.
By using a quality knife you are able to work with ease and assurance in the kitchen. Making those slices and dices easy and clean cut helps any chefs confidence. When you are sure of your self and happy with your results you are typically a happier cook. When I am in a good mood in the kitchen my food always seems to taste that much better. I want to put love into each meal I prepare. From our daily dinners, fellowship events and tasty treats, each thing I create is made with hand that love the recipient.
Connect with Kuhn Rikon
Facebook          Twitter          Pinterest          Instagram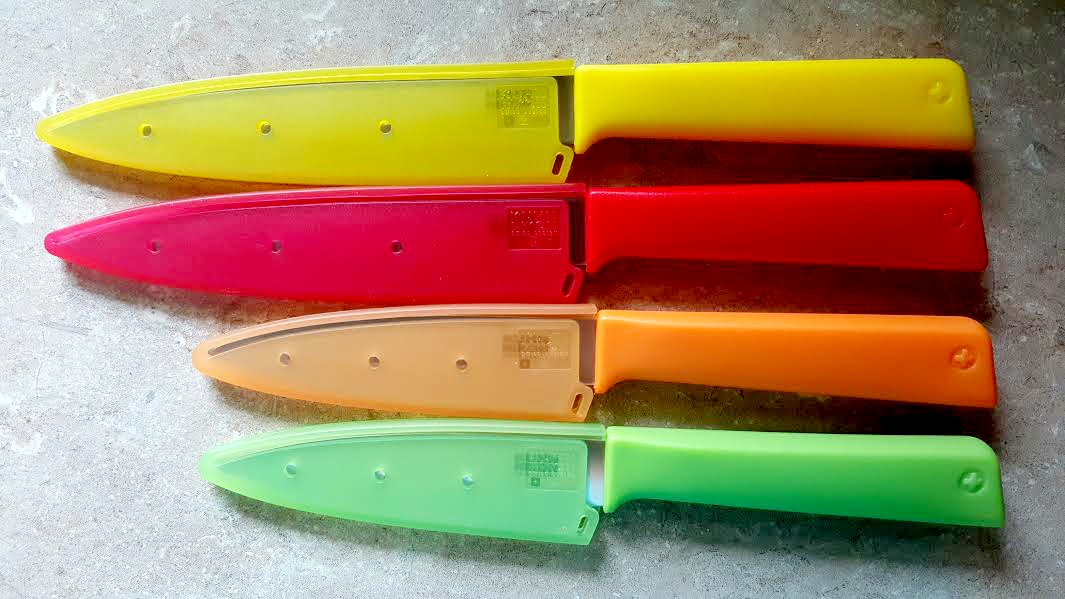 I have never been professionally trained, but I have attended a few classes at a professional cooking school (Western Reserve Cooking School). Being a student, I tried to observe and take in all that I could. What I noticed was that all of the knifes they choose to use there are Kuhn Rikon. If they are good enough for this amazing school they must be good enough for my own kitchen. After doing some research I was so excited to see that they are truly in the average consumers budget. A knife, or a knife set, is not something you constantly purchase. You buy a set a stick with it for several years. You want a knife that will maintain its integrity and keep sharp. I have found that when treated and washed properly that a Kuhn Rikon knife will keep sharp far longer than any other knife I have worked with.
I highly suggest trying out Kuhn Rikon's Colori®+ Classic Culinary Knife Set. The set contains: a paring knife, a serrated paring, a utility knife, and a serrated utility knife. Each knife has a sharp Japanese stainless steel blade with a colorful ergonomic handle and matching safety sheath. Japanese stainless steel blades are super sharp, making short work of cooking tasks.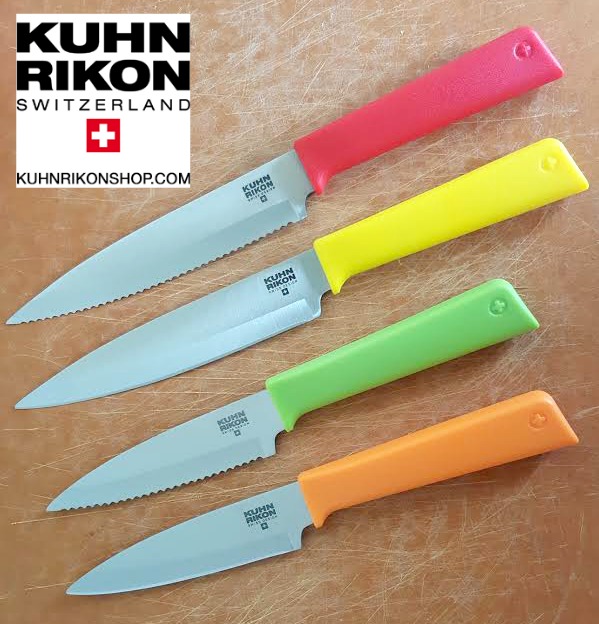 Colori®+ Classic knives offer convenience through their sharpness, secure-grip handles, and lightweight design, making all of your kitchen prep tasks a breeze.  This versatile set offers a greater amount of control for slicing, de-boning, and other kitchen prep-tasks.
Handy all-purpose knives – can handle all your kitchen prep tasks in record time.
Paring Knife: perfect for slicing cheese for your sandwich, peeling an apple, or chopping vegetables.
Serrated Paring Knife: perfect for slicing bread, tomatoes, and other soft fruits.
Utility Knife: for de-boning meats and other tricky kitchen tasks.
Serrated Utility Knife: perfect for slicing smooth-skinned fruits and vegetables, bread, or meat.
Ultra-sharp Japanese stainless steel blades.
Blades stay super sharp.
Safety sheaths included.