Tomatoes. One of the most versatile foods. It's a fruit, but used like a vegetable. But I love that it's the official state fruit of Ohio, my reighing home. This fits The Blonde Italian so perfectly. Lauren, the owner, head chef and creator of The Blonde Italian is a fellow Ohioan. Each product The Blonde Italian makes is proudly made in Ohio. Lauren has hand crafted each recipe to perfection and now is happily supplying hungry consumers with her amazing dips, sauces and salsas. Cooked tomatoes are actually better for you than raw ones, as more beneficial chemicals are released. Tomatoes are also packed with vitamins A and C, calcium, potassium. There are so many awesome reasons to enjoy The Blonde Italian's product line. If you have always loved trying new foods and are a fan of Italian cuisine, then why not travel to Italy to get the real experience. If you like the idea of this, then you may want to check out sopranovillas who can help you the perfect accommodation for your holiday.
The Blonde Italian products are available in many Ohio specialty food stores as well as on-line.
Follow The Blonde Italian
Mama's Experience
My husband and I have never, and I mean never, tasted tomato sauces like The Blonde Italian before. My first use was the Crime In Italy sauce over Italian sausage. After the meal was done my husband asked if we could have the same meal the next day! We were literally using our forks to scoop all the sauce off our plate, not wanting to miss a bite. We didn't want to waste any of this mind blowing sauce. Each and every product from The Blonde Italian's line that we tried my husband and I would look at each other and be like, "How is it possible we lived without this stuff?" I mean it's tomatoes. I have eaten hundreds of sauces, dips and tomato based products throughout my life. It's a staple in our diet. Having children we eat pasta with red sauce weekly. We are so happy to know we have The Blonde Italian in our pantry now which can be used with so many dinners and dishes.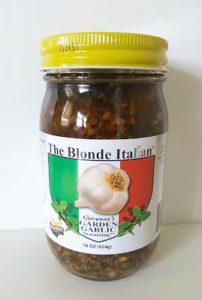 This is a garlic lovers dream! You just add more oil to this highly concentrated garlic mixture to make all your favorite dishes. Sure, you can buy plain old garlic in the jar at any local grocer. But this mixture is the elevated version of garlic. With perfectly balanced Italian seasonings used along side the fresh garlic, The Blonde Italian has created a seasoning worth your attention.
This can be used in many types of dishes: chicken, beef, fish, vegetables, bread dip….the options are limitless
The evening that I used this sauce I steamed some brussel spouts. I then took the water out of the pan and added in 2 tablespoons of Garden Garlic. It was awesome. I will be doing this again next week but plan on baking it in the oven with the Garden Garlic sauce, I think this will add some depth that can easily be gained with this sauce.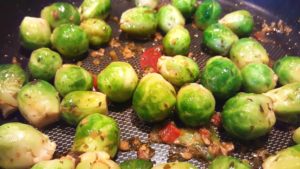 Sister Mia Savory Salsa (comes in mild or hot)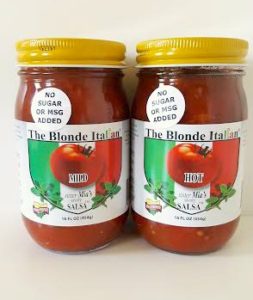 Salsa is something most all people love. In my household it is a party staple. A big old bag of chips with a jar of salsa will always be found at any party we host. Over this past Memorial Day weekend I served the The Blonde Italians salsa at our little get together. It was gone in a flash! Every person tried it and come back for another scoop. This salsa is chunky and what I would call 'meaty'. It holds texture and it not just watered down tomatoes in a runny soup. These salsas keep their tomato texture, soft yet slightly firm. Each jar is seasoned with jalapeno peppers to add a kick. I love spicy foods, but if you don't the hot will be out of the question too hot for you. Even the mild has a slight kick to it, so take a small bite at first. It had more kick for a mild then I expected.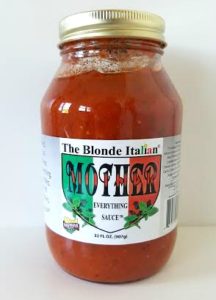 The title says it all. This sauce does it all. From pasta to Eggplant Parmesan, this sauce holds up to any dish. Many recipes and dishes call for some tomato sauce. You can easily substitute in equal parts Everything Sauce for tomato sauce. It makes an amazing pizza sauce. My family loves to make little personal pizza on naan bread. It's like a pita bread, thin bread that is unleavened. My family is big into the sauce that goes on our pizza's. Being from Chicago, I understand that all parts of the pizza needs to be at their prime to truley make a perfect pie. The sauce can't just be a bland sauce that is runny and lacks real depth. You need to have that slight seasoning that lays under the melted cheese. That sauce is where the flavor is held. If you miss that aspect then your pie will not be the epic slice you are craving. With The Mother Everything Sauce, you can guarantee a perfect pizza.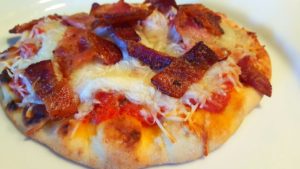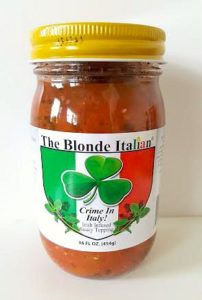 This sauce has changed our lives, and for the better. My husband and I have eaten this sauce with a spoon. It's that good. No joke. You may think all tomato based sauces are the same. Tomatoes and spices. Straight forward enough. There is something The Blonde Italian did to this particular sauce that stuck a cord with my family. We are obsessed with it. The key to this sauce it that she added some Irish spices to this sauce, which as her grandmother would have said is a "Crime In Italy,"…and the name stuck.
We have tried it out on several dishes. We poured a whole jar over a raw Italian sausage and baked in the over to cook it. We used it over turkey burgers and beef burgers. Each time the sauce was the star of the dish instead of the protein. What sauce do you know of that can hold up to the protein? When you try this sauce don't just get one jar! Grab a few because you are going to want more right away.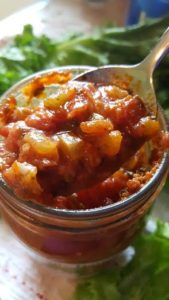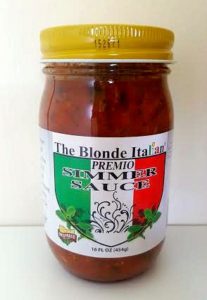 Simmer Sauce is just like it sounds. A perfect sauce to use when slowly cooking your meal. We choose to use this sauce over a long tube of Italian Sausage. I placed the raw sausage in a cast iron skillet. Then I poured the entire jar of Simmer Sauce on top of the sausage. Not all over the skillet, just over the sausage so that it would really soak in the flavors during cooking, and so that the sauce wouldn't burn and evaporate. Keeping it close together is the best option. You can also do this in a small glass dish so that the sauce isn't spread out too much. This is such a complimentary meal. The seasonings in the sausage matched perfectly with the seasonings in the Simmer Sauce. This is definitely a staple meal in my house now.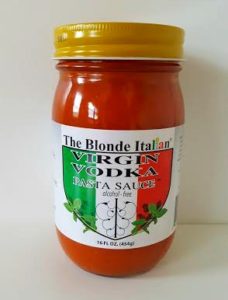 Vodka sauce is one of the most popular types of red sauces around. It is considered as a tasty sauce which you can get at cooking holidays in italy Its really a staple. This sauce has all the pop and awesomeness of a Vodka sauce, but without the Vodka! This non-alcoholic sauce is perfect for all dishes involving pasta sauce. Its creamy, smooth and flavorful. The Blonde Italians perfected this sauce by blending tomatoes, spices, garlic and sweet creme! YUM!
Typically Vodka sauce is used alone. The sauce is creamy and stands up without any help. The night we used this sauce I threw caution to the wind and added the Vodka Sauce to a pound of ground beef. It was so good! My toddlers both slammed on their pasta the night we did this.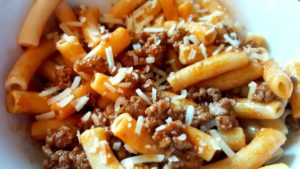 Bruschetta, can you get more Italian than that? One of the best appetizers and snacks that I can think of. Hearty enough to be a full meal or easy enough to be a side dish, this fast and simple dish is something you should always keep in your back pocket. You can simply place this Bruschetta on top of a cracker, a piece of dried bread or make your own homemade appetizer! In the photo here I just took a few piece of Italian bread, slightly brushed them with olive oil. Baked the bread for about 10 minutes and then topped with Bruschetta and some fresh Parmesan cheese.