Capresso Triple Brew Maker Review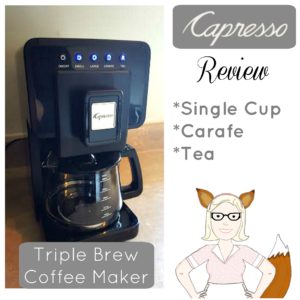 Capresso makes beautiful, high quality coffee equipment for home or business use. Their innovative coffee makers, espresso machines, Coffee Grinders and other kitchen electronics are a step above and a trusted brand. Being in business since 1994 they are now a top-self brand that you will want to display in your home. They have been widely featured on shows like The Today Show, Good Morning America, Food Network and featured in print such as The Oprah Magazine, The New York Times and Modern Bride. Without a doubt, once you use a Capresso product, you will be as addicted to them as you are to your coffee. You might also want to look around for some of the other best coffee maker options to see how others compare to your current machine!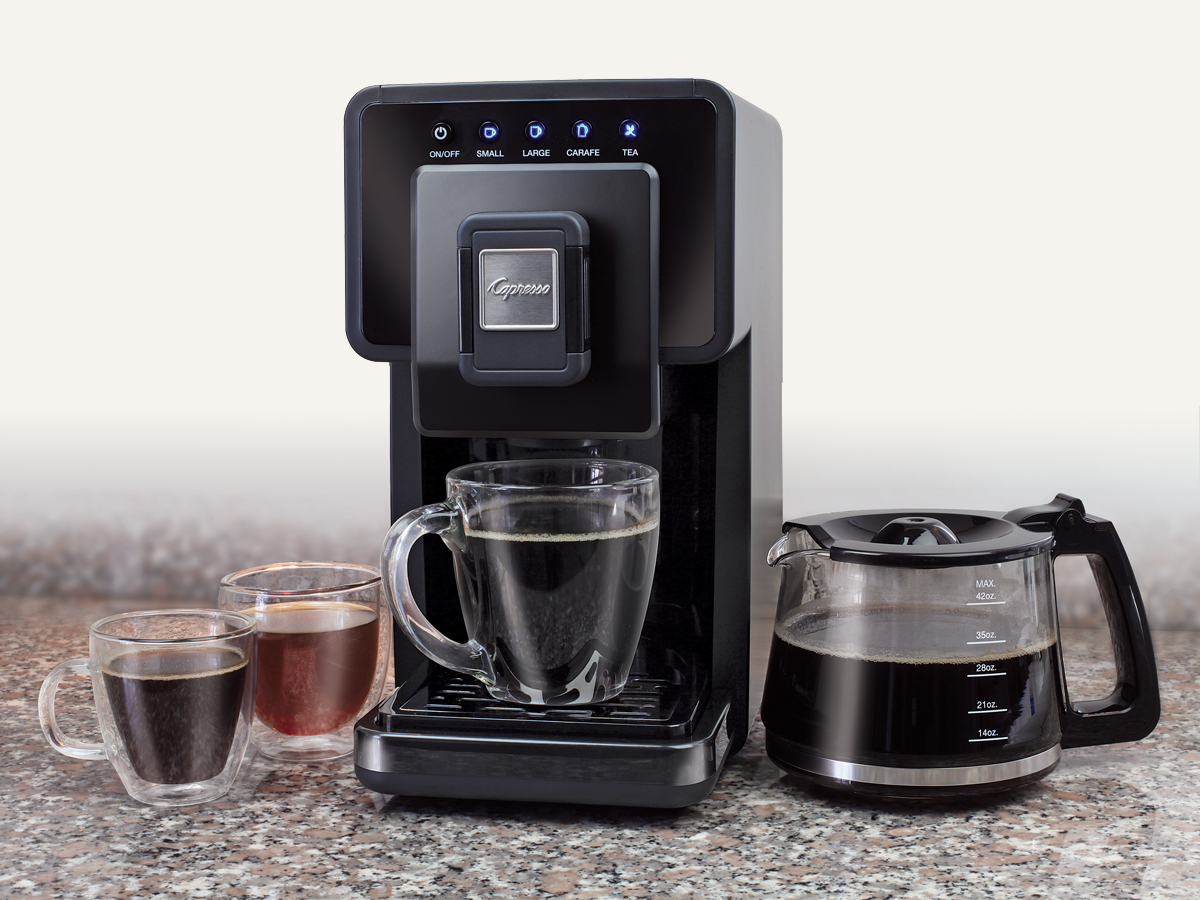 The Capresso Triple Brew Maker is the product that can be used in most every household. It features something I have never seen in other coffee makers – the triple options! The Triple Brew Maker can make a single cup of coffee, a pot (partial or full) or a cup of tea.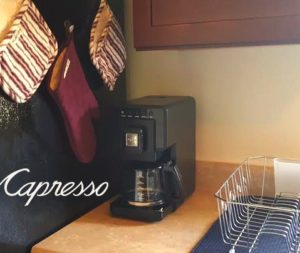 Single Cup:
Single cup coffee makers are so hot right now. We all need to get that quick cup of coffee in the mornings. It helps us feel sort of alive and less angry at my kids waking me up (or maybe it's just me). I have been using a single cup coffee maker by Capresso for a while now and its worked like a dream. But some days are "those days" and I just need more than 1 cup! Or its a weekend and my husband is home and wants a cup or two with me. I hate having 2 machines out on my counter its silly and a waste of space in my opinion. This is where the Triple Brew makes the perfect fit. I can make my single cup coffee on the days when I just want a cup, but later have the option to make a full or partial carafe when we need more.
The factory setting for the small is 4 oz. This can be programmed to brew 4 oz to 16 oz.
The factory setting for the large is 8 oz. This can be programmed to brew 4 oz to 16 oz.
Carafe (pot of coffee):
With the Triple Brew system I am able to control how much coffee I make. I do this based on how much water I pour into the reservoir. The amount of water will gauge how much coffee is brewed. If I fill it half way, it will make half a carafe. If I fill it all the way, it will make a full carafe – you get my drift. It's custom abilities makes it perfect for the days I want 2 cups but don't have them time to brew 2 single cups. Or I want to fill my extra large coffee cup all the way, which when using a single cup machine never fills it with enough liquid courage. The reservoir is clearly marked making it super easy to use.
Factory setting is to brew 42 oz. This cannot be reset. However, it can only make as much coffee as there is water in the tank.
Tea:
Once the afternoon hits I am ready for a warm cup of tea. I want that warm, soothing flavor and don't have the room to store a tea pot! They are so cute and fun to display, but they also collect dust and I don't have the extra storage to use them. I don't trust microwaving a cup of water, I am worried it will explode or not be hot enough. When I used my past coffee makers to run through hot water I would have to run it 1 or 2 times to get the coffee flavored water out first before I could get a fresh, clear cup of hot water. Now that I use the Triple Brew all of the above hick-ups are gone! The Triple Brew comes with 2 filters, one for coffee and one for tea. I use the black colored one for coffee and the gray colored one for tea. This way when the water pushed through I never have to worry about coffee flavored water. Its such a simple just genius design. You can place a bag or tea or loose tea in the filter. Then as the after passes through you can instantly have tea. Or you can just run hot water through the tea filter and use a tea bag in your our mug. Both work great, its a comes down to a matter of personal preference really.
The factory setting it to brew 8 oz. This can be programmed to brew 4 oz to 16 oz.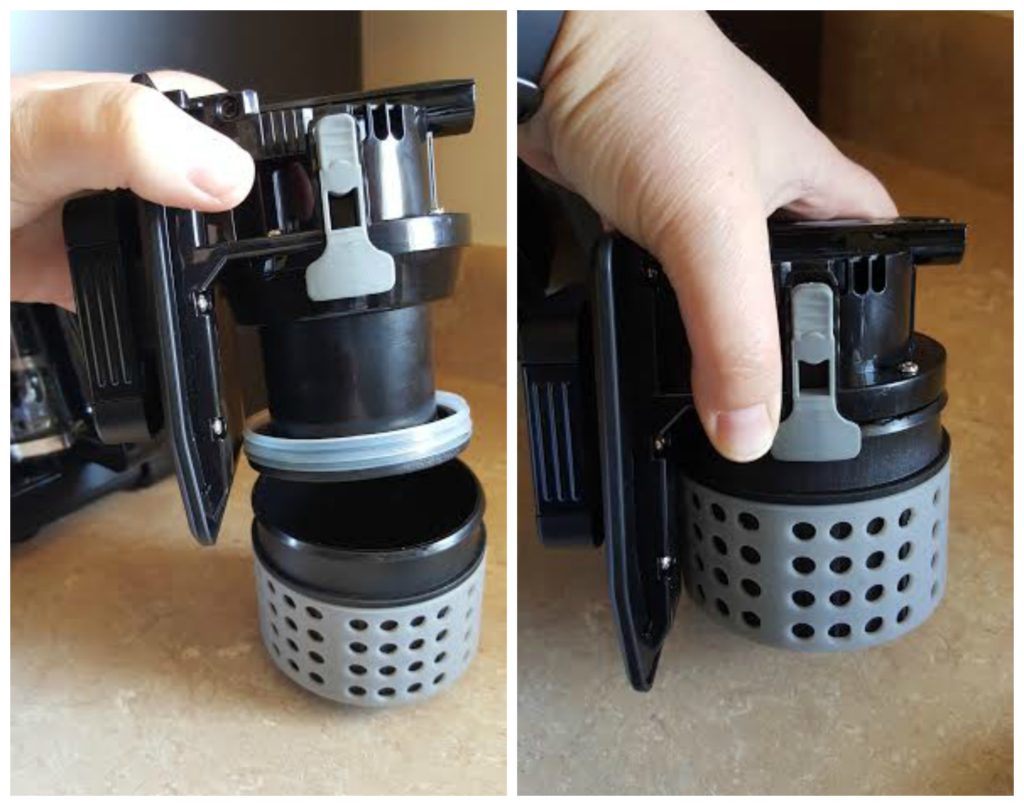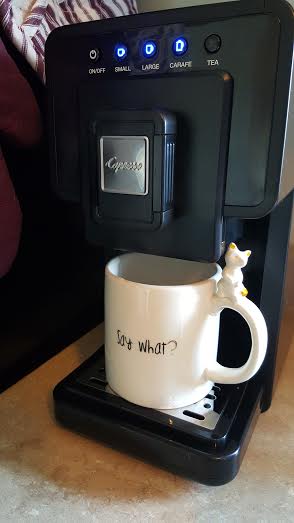 No matter if you prefer coffee or tea, this is the machine for you!