Beanfield Chips Review
Who is Beanfield Snacks?
Beanfield Snacks is a family driven company. They started with the vision to help change the way American's eat. Their primary goal is to help improve the global food supply by creating delicious, plant based, Non-GMO snacks, with beans as the primary ingredient.
Enjoy 6 grams of fiber, 5 grams of protein, and 4.5 grams of fat in every serving
Beans and the Environment
"Beanfields, uses as many recycled products as possible and we recycle in our office. All of our suppliers have similar programs. However, the biggest thing we do for the environment is using beans as our main ingredient! Here are a few tidbits from the sustainability story of beans: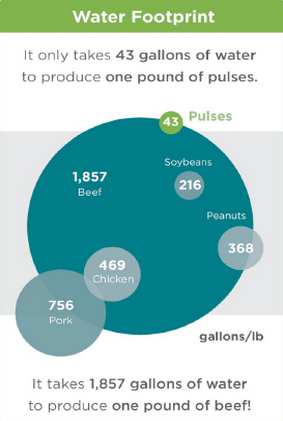 As you can see from this chart (source – American Pulse Association), beans (also called pulses) are by far the most water-efficient source of protein available.  And they are also far below the 110 gallons of water needed to grow a pound of corn (source – The Water Footprint Network).
Growing beans also uses far less fertilizer than other crops. Beans produce their own nitrogen, using sunlight to power the conversion of the nitrogen in the air into a form plants can use. As a result of these and other benefits, bean crop production lowers agriculture's greenhouse gas emissions. Beans require half the total energy inputs of other protein-producing crops! (source – American Pulse Association)" – Beanfield Snacks Website
Beans are the ONLY food that the USDA lists in two different nutrition categories (protein & vegetable)
Beanfields has contributed chips to local nonprofits and community groups all over the US and Canada
All of Beanfields Bean and Rice snacks are vegan, not by accident, but on purpose.  Even our Nacho and our Ranch chips do not contain dairy as an ingredient and are perfect for vegan diets.
What Do They Sell?
Why Beanfields Snacks Bean & Rice Chips?
200% more fiber* (6g)
150% more protein* (5g)
36%-44% less fat* (4.5g)
Made in a nut free facility
Contains no major food allergen ingredients
No corn ingredients
*  Compared to the leading, comparably flavored corn tortilla chips
Follow Beanfields Snacks
Facebook               Twitter               Pinterest               Instagram               YouTube
Mama's Experience
I have never been a huge chip person. I mean, don't get me wrong. I like to occasionally indulge at parties or events. I just never bought them (this makes my kids and husband very sad). I really like a nice salty crunchy but found it in other ways. I was excited to try Beanfields Snacks chips for a few reasons.
They are better, way

way better for you than regular chips

(one of the main reasons I don't buy regular chips).
They have veggies (beans) in them. If I can

sneak a vegetable in my kids belly

, I will jump on it!
They are a

NON-GMO

product.
I love salt, so I wanted to the Sea Salt flavor first. MAN! They are so good! I was shocked really. I got the salty crunchy that I desire from a chip but not the guilt or greasy hands that previously followed the chips. They are not heavy on the salt. Its a light salt. My 3 year old wouldn't eat them, and I think it was because when she has had chips, they are covered in salt. That is what she expects now in a chip. I then offered her a barbecue flavor.  She liked those way better. They too have a light flavor. Not over powering at all. You are still able to taste the natural yumminess of the bean and rice. There are so fun to eat. Each flavor is just as good. They really hold true to their flavor and are not greasy like potato based chips.
Each bag had a unique taste and satisfying flavor that made it excited for my kids. They are so excited that now they get to eat them! I love that I can allow them a handful here and there and not worry about their little bellies being filled with empty carbohydrates. Now they can enjoy chips that are good for them (and don't leave my walls all shiny with greasy hands). Thank you Beanfields Snacks!
What the husband (chip eater) had to say:
Salted – Good. Nice flavor. Good for dipping.
Barbecue – Excellent. Very nice BBQ flavor.
UnSalted – Not his favorite. Good for dipping.
Ranch – Least favorite. Not a deep ranch flavor other corn chips provide. Could use more flavoring.
Pico De Gallo – Favorite! Best chip they make. Spicy. Slammed 1/2 a bag in 1 sitting. Loves this chip!
Nacho – Good but not what he expected based on other nacho flavored chips. Expected artificial, but this was more of a real cheese flavor.
Salt & Pepper – Decent snacking chip. Not too flavorful but not too plain.
Where to Buy
You can buy all of the flavors Beanfields Snacks has to offer here at their website.
To use their store located to find a local brick and mortar local to get your hands on these super chips – click here.
Win Your Own
Now that you are drooling over these totally awesome chips, you have a chance to win a full case of Beanfields Snack Chips!
Click here to enter to win a case of Beanfields Snacks Rice & Bean Chips
Runs 10/15/15-10/31/15 – US only