Lil Helper Diapers Review
These are AI2 (All-In-2) Cloth Diapers
Who is Lil Helper
Diapers designed by rocket scientists….seriously though, they are.
What really appeals to me about Lil Helper diapers is how relatable of a company they are. Lil Helpers is owned and run by two guys (Mohammad and Nader) who met in college and are quiet literally rocket scientists (that's aerospace engineering to be more specific). My husband is a scientist (biologist something about DNA) who now works in telecom; a completely different field. What they have in common is this: the brains to make me feel like Penny from Big Bang Theory and the ability to make me laugh like a little school girl. Mohammad & Nader are dedicated, intelligent men who make parents life easier with their super designed cloth diapers and accessories.
Lil Helper diapers has a strong and honest mission. These are a few from their list of statements:
Offer quality products at reasonable, affordable prices.
Provide great customer service throughout the life-cycle of the product.
Refuse to sell or endorse anything that we are not comfortable using on our own children. Period.
They also do NOT claim to help you or your child lose weight or that their diapers will improve your sex life. But you shouldn't worry about that. There are plenty of other ways that you can improve this area of your life, like looking at how anal beads, butt plugs, and other types of sex toys can help to give you the sexual pleasure that you so desire. However, it would not be wise to restrict yourself to sex toys only. If you want to spice up your sex life with the help of a strapless dildo, for example, then keeping the flame within you burning is definitely something that you should consider. Moreover, trying new things never hurt anybody, did it? That said, you can try a new sensation like prostate milking, which is known to be a simple prostate massage aimed at mindblowing orgasms. In a nutshell, this is a massage of the male G-spot for sexual stimulation. If you haven't heard about this yet, then this might be the time to read about this erotic practice. For that, interested individuals can consider visiting websites like Loveplugs. So, it seems that whilst these diapers can help you in other ways, using them to improve your sex life definitely isn't one of them. With that being said, you can click here & scroll down to read more 😉
Why Lil Helpers
1) There are tons and tons of different companies that make and sell cloth diapers. Why choose Lil Helpers? For starters they are Do Gooders. What I mean by this is that they donate 1 diaper for every 3 diapers bought to a child in North American who is in need. They lovingly call this program Baby Do Good (you can read more about this through the link).
2) They have 24 hour customer service (who can honestly say that?!)
3) They have the God Forbid Guarantee. I have never heard of this but I think its one of the most kind and loving company policies ever created. God forbid that something untoward were to happen during or after you birth and you are no longer able to use your cloth diapers from Lil Helper – They will fully refund your entire purchase. This is a policy I can back up 100% with Mama's stamp of approval!
Plus there are many, many other reasons why they kick butt and you need their diapers.
What Does Lil Helpers Sell
They do NOT sell:
Steam locomotives
Carbonated beverages
Horse Manure
Follow Lil Helper Diapers
Facebook Twitter Pinterest G+ YouTube
Mama's Experience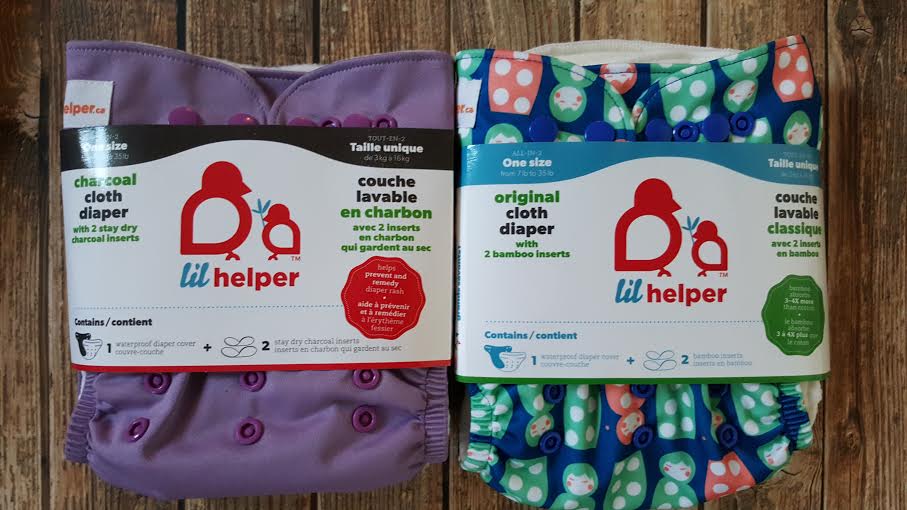 Charcoal Inserts
When I received my diapers I was so excited to try both the bamboo and charcoal inserts! I have heard about charcoal inserts a few times in different Facebook cloth diaper groups, but had yet to know anyone personally who used them. I was super excited to find out that you only have to wash them one to prep! They are fully ready to go as far as absorbency power. You should wash them 1 time before use just because, ya know, stuff gets dirty in transport.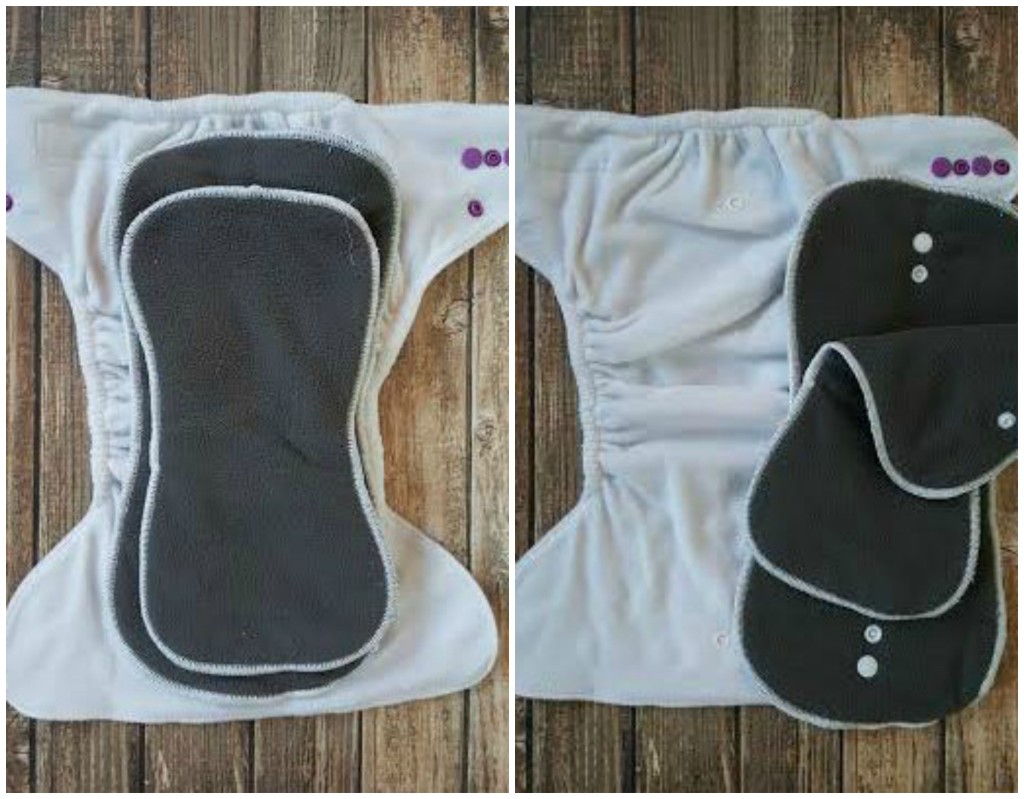 The inserts have a 4 layer design. The outermost shell is charcoal cloth and the 2 inside layers are micro terry cloth. This allows for super quick absorbency and super hold.
Charcoal provides:
Stay dry features
Hypoallergenic
Naturally deodorizing
Anti-bacterial
Dark in color (wont show those blueberry poop stains!)
I am super pumped about these liners. They are super soft, easy to wash and super absorbent. Click here to read more about charcoal inserts.
Bamboo Inserts
I have used some bamboo inserts from other brands, but nothing is like the bamboo inserts from Lil Helper. Other bamboo inserts are just that, bamboo. What makes the Lil Helper bamboo insert unique is that it is stuffed inside with 2 layers of micro terry cloth. This allows for a super luxuriously soft outer shell with the added bonus of super absorbency!
Bamboo Insert
Bamboo is highly sustainable (get more yield in a crop when compared to cotton….but a lot – this means it is better for the earth)
More absorbent than cotton
Softer and smoother than cotton
Lil Helper Diapers
I was so excited about the inserts I did not really inspect the diapers themselves when I first received them. It was not until I first put them on my skinny legged son that I saw a super perfect feature, a leg hip snap! The hip snaps are the snaps at the top of a diaper, by the hips/belly button. Lil Helpers went the extra mile and put a second, bottom row (closer to the leg hole) on their diapers. This is super crazy awesome for skinny legged kids. Some diapers cannot and will not get tight enough to contain their contents on skinny legged kids. You will get leakage through the leg holes. Not with Lil Helpers! Because of the 2nd row I can get my diaper around my sons gut (you know, the toddler beer gut) but still get it tight on his tiny legs!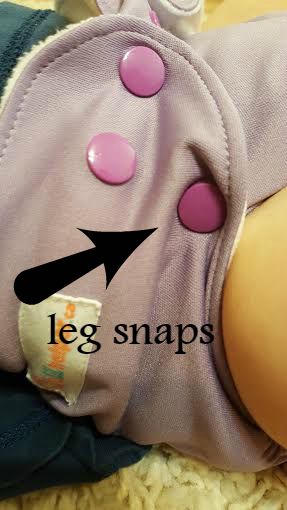 The other fabulous design of Lil Helper diapers is that the inserts are interchangeable with the diapers. You can buy a bamboo and charcoal insert and the just snap in whatever shell you choose. Mix and match galore!
Their diapers are All-In-2's. This means you snap the inside in and the shell can be used 2 or 3 times before wash (if not soiled). This makes trips out so much easier. Why lug all those AIO's when you can grab 2 inserts and 1 shell from Lil Helper? Makes the diaper bag easier to manage and the wet bag less heavy.
The Lil Helper shell diaper is also lined. All other AI2's I have seen are just PUL and snaps. Lil Helper diapers have a soft inside that the inserts snap too. This makes the diaper way more cozy. I would rather have plush material then PUL rubbing my hips as I walk around, wouldn't you?
Bamboo Stay Dry Liners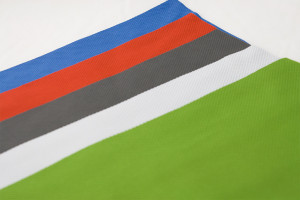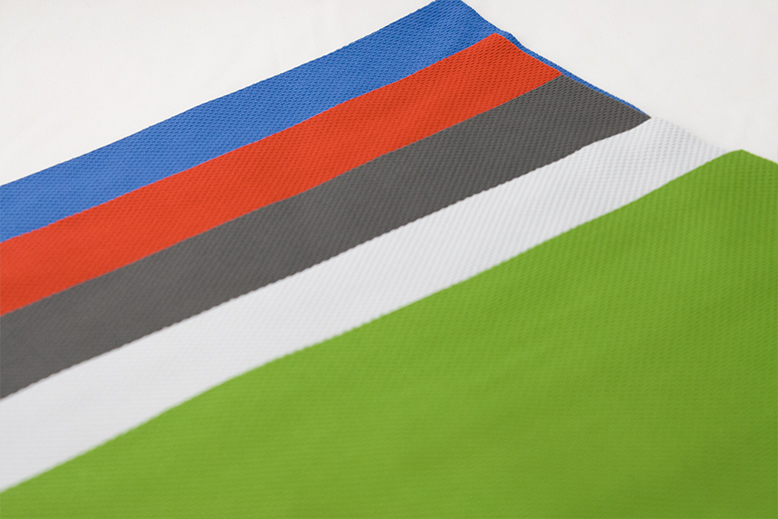 These are seriously the coolest accessory I have encountered in my cloth diaper experience.
These sleek and soft liners can go into any diaper, yes any diaper. They are made of 50% bamboo viscose and 50% polyester mesh. This allows them to be super absorbent and quickly wick away moisture (which is how you avoid a diaper rash). These little liners have a super power…they make changing poopy diapers easy. Yes I just wrote easy. The solids will slide right off the material! Making all poops plop-able! No one likes trying to get that fruit based toddler poop off a diaper. Its the least glamour part of cloth diapering. These liners make changing those poopy diaper super fast and easy.
Lots of companies offer flushable or disposable liners. Having a septic system there is no such thing as a safe to flush liner. I refuse to try and then end up with a clogged toilet or worse a broken aerator. Lil Helper stay dry liners are reusable so they will save us money and help the environment. Head over and grab a few packs now! Click here to read more about them.
https://www.youtube.com/watch?feature=player_embedded&v=b06AR6ourc4
Secret Surprise
With each order from Lil Helpers you get a little secret consumable surprise. I will not disclouse what said secret may be. You will just need to place an order to find out! Click here to check out their website.
Enter to Win a 4 Pack of Lil Helper Diapers!
Now that you have read and seen how super duper these diapers, liners and stay dry inserts are – you have a chance to win a 4 pack of diapers and a pack of the super sweet Bamboo Stay Dry Liners!
(Giveaway runs 8/22-9/5) Open to US & Canada