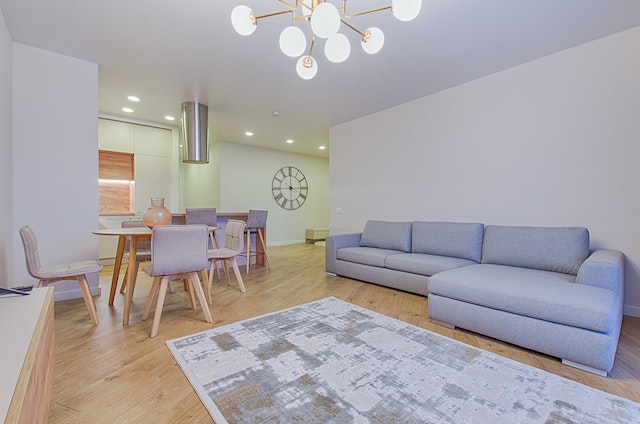 Image Pexels CC0 License
Your home is the place where you spend the majority of your time and is also likely to be your most significant investment. Understandably, most people have a strong connection with their homes and value them from both an emotional and financial perspective. This is because having a comfortable, attractive home to live in is an invaluable asset and provides you with a sanctuary where you can relax away from the rest of the world.
Your home should always be a place where you feel at your most comfortable and secure. However, with the recent rise in the cost of living, you may be keen to take extra steps to ensure that your home remains your comfortable sanctuary. Taking steps to increase the efficiency of your property is an excellent way to reduce your living costs while also maintaining your standard of living. If you are keen to enjoy the benefits of running your home efficiently, the following tips should help you to achieve this:
Keep Up With Maintenance
Keeping up with the maintenance of your home is the most effective way to ensure it is organized and efficient while also keeping your costs low. Scheduling regular maintenance checks is an excellent way to ensure that systems such as your heating and air conditioning are able to operate as efficiently as possible. Contacting trusted plumbing contractors and getting them to carry out servicing of your heating, plumbing, and air conditioning systems will ensure that the job is completed to a high standard. Choosing trusted technicians gives you one less thing to worry about and provides peace of mind that you have the best people helping you to take care of your home. Scheduling these regular maintenance checks will help to reduce the likelihood of breakdowns while also ensuring your heating and air conditioning are operating in a way that is as energy efficient as possible. 
As well as having regular maintenance checks completed on your property, it is also a wise idea to be aware of the signs of potential issues so that you can deal with them right away. If a repair is needed, having it carried out sooner rather than later will prevent it from escalating into a more significant issue and causing further problems. Usually, the sooner an issue is dealt with, the less expensive and invasive the problem will be.
Improve Energy Efficiency
When trying to create a home that runs efficiently, it makes sense to ensure it is also as energy efficient as possible. Energy efficiency is a crucial consideration for households nowadays and is increasingly becoming a more critical issue. As more people become aware of the impact of their carbon footprint, it follows that they also make efforts to reduce the amount of carbon that their home generates. But as well as minimizing the impact that running a home has on the environment, the cost of doing so is also becoming a significant issue. With energy costs rising sharply in recent times, it makes sense to do everything possible to try and save energy wherever you can. 
There are many ways that you can potentially reduce the amount of energy that you use when powering your home. Switching off the lights and using your air conditioning less are two easy ways to save money on your bills. While switching all of your lights to run on energy saving bulbs that carry the Energy Star logo is another beneficial way to cut your costs. Energy Star rated bulbs use up to 90 percent less energy than standard bulbs. Beyond these ideas, you may also want to start using your energy-hungry appliances, such as your dryer, less frequently, and instead, air dry your clothes outside to reduce your energy costs even further. These changes should all help your home to run efficiently by lowering your energy costs and helping the environment at the same time.
Prepare for Each Season
People that run their homes in an efficient way are less likely to have unexpected expenses and much less likely to have issues with repairs. The main reason for this lack of problems with their home is that these homeowners are prepared for each season. Preparing your home ahead of the changing seasons can have a vast impact on how efficiently your home will run over the weeks ahead. By anticipating the potential issues that can arise at specific times of the year, you will be able to take charge and prevent them from occurring in the first place. Examples include getting your air conditioning serviced ahead of the hottest summer temperatures and clearing your gutters of debris and leaves during the fall. These small tasks can add up to a big difference when trying to improve the efficiency of your home and should save you a lot of hassle and money in the future.                                                                                                                                                                                                                                     
Keep Track of Your Home
Monitoring your home's efficiency throughout the year may not sound like a particularly exciting thing to do. Still, it can make a vast difference to your home's efficiency in the long term. Keeping track of your home will enable you to know exactly when your heating and cooling system needs to be serviced and will ensure that you do not miss out on having this done. Tracking your energy usage and household water consumption are also both effective ways to keep your energy use and the amount you pay for your energy bills low. 
Keeping track of your home and monitoring aspects of running a home, such as your bills and energy consumption, can help you ensure that your home always runs efficiently. When you have a clear idea of how your home usually runs throughout the year, it will become so much easier for you to manage your household finances and plan your spending for the year. With this level of efficiency in place, running your home will become so much simpler, and the chances of nasty surprises, such as unexpected bills, will be reduced.