Socially-conscious ZURU Changemakers also Introduce Recyclable Frustration-Free Packaging and Commit to Plastic-free Packaging for Multiple Lines by 2025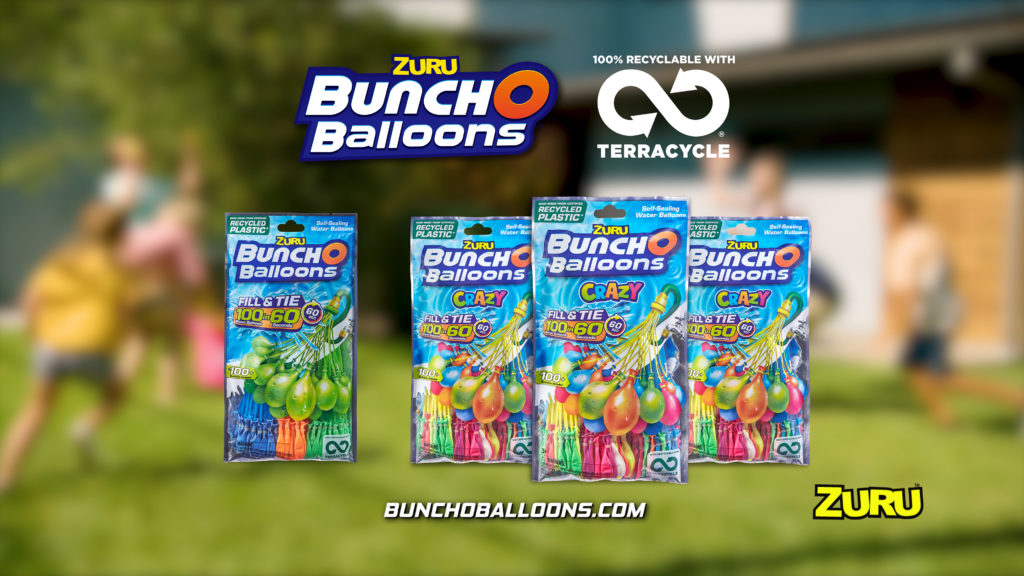 LOS ANGELES (April 21, 2021) – Leading global manufacturer ZURU® announced today that the company's deliberate 360-degree sustainability initiatives have led to over 1,200 tons of virgin plastic being removed from its top-selling and 100% recyclable Bunch O Balloons TM brand. The huge 57% increase over ZURU's original goal of 800 tons announced last year is a result of robust 2021 retail orders.
Over 704 million balloons in ZURU's Bunch O Balloons line distributed online thro ugh Amazon are now made with recycled (non-virgin) plastics, and will also ship with ZURU's new recyclable, frustration-free packaging (FFP) that will reduce excess Bunch O Balloons packaging materials, and which the company estimates will result in another 29 tons of plastic being saved through Amazon sales in the United States this year alone. 
"We're thrilled to report these significant milestones as part of our commitment to make a transparent and lasting global impact," said ZURU Chief Operating Officer Anna Mowbray, who was also named 2020 Wonder Woman in Manufacturing by the global organization Women in Toys, Licensing & Entertainment (WIT). "It's critical that we lead our industry by example and make meaningful, environmentally-conscious changes in our products with the future of our planet top of mind. We share this long-term commitment to conscious sustainability with both our business partners, as well as children and families around the world." 
Mowbray continued, "We were able to improve both the manufacturing process and materials used – today we source and upcycle 100% certified and traceable used plastics that are found in landfills and polluting our oceans, and ZURU consumers  in the United States, Canada, United Kingdom, Australia and New Zealand can recycle at no cost to them by sending their used Bunch O Balloons parts, balloon pieces and foil bag packaging to renowned recycling company TerraCycle."
ZURU also announces a move to plastic-free packaging on ZURU's Sparkle Girlz products by 2025, and ZURU programs that will reduce CO2 emissions by optimizing space required to ship its Tiny Town products. A unique stackable design and shipping method means that ZURU can pack three times the number of Tiny Town pieces per shipment, which reduces shipping and product costs and therefore reduces its carbon footprint.
From day-to-day operations to leading the change in the toy industry, ZURU operates with a continued commitment to a sustainable future.  From rethinking how ZURU designs new and existing products, reducing the use of plastics and their products carbon footprint, and offering consumers easy avenues to recycle, all while still delivering a top-quality experience.