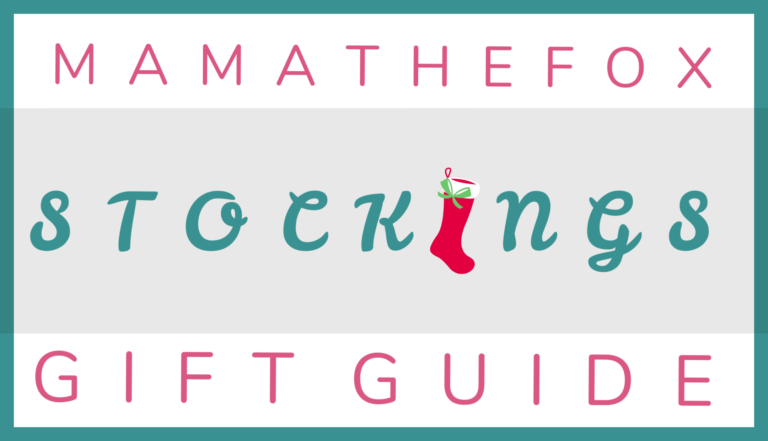 Microwavable Extra Large Body Heat Wrap
Aches and pains seem to cripple us at times. By applying a sooth warm compress you can help relief some of the discomfort. We love this versatile heat wrap. It feels amazing on your lower stomach, wrapped around the shoulders, around your cold toes or across your back. Simply pop it in the microwave or freezer for the best hot or cold therapy for your aching body. The pack is filled with whole grain wheat fill to efficiently hold in heat and ensure a flexible fit around your target areas. Pair this therapy up with some hemp flower from Lanco Hemp or similar stores (if you partake), and it should send you straight to bliss-land. Pain, begone. You'll feel better in practically no time!
Women's Bean Project Snacks
The Women's Bean Project is not like other company we have experienced. They help women who could not find employment due chronic unemployment, recidivism, welfare dependency, and a host of other challenges. They not only do they provide amazing gift baskets but they help enable women to thrive through their core curriculum of five classes: Financial Literacy, Computer Literacy, GED Coursework, Dress for Success and Group Therapeutic Workshops. Recovering addicts, homelessness and criminal histories can be part of these women's past, not their future with help from you. Support Women's Bean Project and fill a stocking with their snacks this holiday season. Snacks include: Greek yogurt covers blueberries, Ginger zing trail mix, Thai curry cashews, Raspberry gummy fish, Chili picante plantain chips and Chili spied mango.
Calico Critters Nursery Friends Set
If you are looking to add in some new Critters to your kids collection then you will appreciate the Nursery Friends Set. This Nursery friends is a set that includes babies in their nursery uniforms and adorable nursery accessories. Hopscotch rabbit baby, hazelnut chipmunk baby, Persian cat baby, shoes x 3, water bottle, hat, nursery bag (a total of 9 pieces). These Critters do have movable arms and legs, allowing your childs imagination to wander farther. These Critters are just too cute!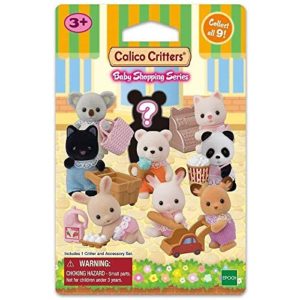 Calico Critters Blind Bags – Baby Shopping Series & Baby Party Series

Calico Critters is known to stay in tread and up to date with what is in demand, and right now Blind Bags are still a top request from kids. Baby Shopping Series blind bags contain a baby figure and a shopping accessory, which are fun to both collect and play with. What will you find inside? There are nine characters, including a secret one. Baby Shopping Series contains a shopping-themed accessory, and a baby figure. Take it on cute shopping adventures! Combine with shop sets (sold separately) for even more fun with shop play. Or place inside a home (sold separately) for the babies to enjoy a game of pretend shopping.
CleanWell
Live Free, CleanWell. Do you feel like you're constantly wiping your kids down? We feel you. We are in the same boat friend. Thankfully we discovered CleanWell to aid in our goal of keeping our kids clean and safe. CleanWell's products were born from a father's love for his son with an immune system disorder. When he realized the use of chemical-laden household products made his son's life immensely more difficult and unsafe, he tried to find a safer option. The MamatheFox crew is constantly using hand wipes and hand sanitizers. CleanWell's sanitizers are a botanically-based, alcohol-free, benzalkonium Chloride free, kid-friendly formula, that won't sting cuts, yet still kills germs, and is gentle on sensitive skin. With their huge success they have branched out into household all purpose cleaners (wipes and sprays). When you feel and smell the difference big CleanWell's provides you will be making a permanent switch to Clean Well.
SoapStandle

Meet your bar soaps best friend – the SoapStandle. SoapStandle allows bar soap to 'shed' water and dry, so "goo" never develops. Avoiding the goo is important beyond that it's messy. When goo develops soap deteriorates faster, and instead of cleaning it goes down the drain. It's simple to use. Just press your soap bar down firmly onto SoapStandle's rounded points. Your soap will last longer (saving you money) and it won't slip from your hand. When you're ready, move your SoapStandle to a new bar. This is a simple, useful and affordable stocking stuffer for any member of your family.
RazorExtreme PD from MyCharge
Portable chargers are the most useful product for family this year. With phones, tablets, headset and toys that all charge with USB connections we are constantly in a state of needing to recharge. With MyCharge you can find portable chargers that hold so much power that you can recharge laptops and phones at the same time, and still have power left! The Fox family really depends on the RazorMega. This portable external battery will charge some smartphones up to 13.5 times. The powerbank features three total USB ports, 2 USB-A ports, and 1 USB-C port and is perfect for anyone looking to charge multiple devices. Advanced Power Delivery technology guarantees the absolute fastest and safest charge. For the techie, for the mom, for the teen, this is the most useful thing you can gift a technology user this holiday season.
NanoTorch Twist by KeySmart
Having a useful tool can make all the difference some days. The NanoTorch Twist is one-of-a-kind product that will make the perfect stocking stuffer. Its rotating swivel head allows for light in any direction twisting from 0 to 90 degrees. Being battery free is features a rechargeable Li-ion battery comes with a Micro-USB cable and features a battery indicator light that turns green when fully charged. This battery gives you 6 times more light than an AA battery would. The NanoTorch Twist has a magnetic cap – allowing you to stick the Torch where ever need giving you the ability to use both hands on your project. Being slim in design it will fit in your pocket, and fit even better in someones stocking this winter.
KeySmart
Carrying your keys around all day can be cumbersome. Jingling all around, poking you through your pocket and just being a hot mess of a situation. If this is a problem with you or someone you know then check out the KeySmart. This easy to use and slim designed tool allows you to have all your keys in hand, but without dangling all over the place. It includes a loop ring to attach your car key fob and is expandable, holding up to 10 keys. It's as easy to use – just grab a penny to unscrew the KeySmart to add an remove keys. Better yet, turn your KeySmart Leather into a slick multi-tool by adding your favorite accessories like a bottle opener, pocket knife, screwdriver and USB drive.
ThinkFun and Crazy Aaron's Thinking Putty Puzzle
Do you have a child or adult who loves the feel and texture of putty? Aaron's Putty has been a hit for years, and now they have a fun and unique game that uses Aaron's putty to play. Each of the 60 beginner-to-expert level challenges will put your spatial reasoning skills to the test as you attempt to connect the dots for all 6 Thinking Putty colors on the Puzzle Grid. The paths can't intersect, so you will need to stretch and pull each color along different pathways, over bridges, and around blockers to succeed. First select your grid pattern, then stretch and shape the Thinking Putty separately to create paths along the puzzle grid, connecting same-colored dots without crossing paths with other colors of Thinking Putty. This is a great Stocking Stuffer for adults and kids ages 8 and up.
Prana Brush Ionic Dry Brush
Ever heard of dry brushing? Many health professionals recommend dry brushing due to the incredible health benefits it brings. Some benefits include: detoxifying the body, improving circulation, eliminating dead skin cells, exfoliating the skin, and many more. Dry brushing also stimulates the lymphatic system. In doing this, you are eliminating toxins and pathogens that can cause illness and/or inflammation. Made with extra fine, ion-charged copper bristles, negative ions are naturally created which protect your body from free radicals. Each brush is handmade with sustainably-harvested beechwood, natural wax, high-quality copper alloys, and all natural and ethically sourced boar hair. Allow someone you know to experience the health benefits of this ionic body brush.
Thames & Kosmos EXIT: The Game
Games are such a great gift for any person. The EXIT line of games are escape rooms in a box. Whether your playing by yourself or with a few other players, these games should take one to two hours. It's important to note that these games can only be played one time. This is because while playing you must markup, fold, and tear the materials in order to solve the riddles and escape. An app is available for help while playing the game. Animated instructions are also available on the app, so you can really learn and understand how to play. Different levels of play are available, so be sure to choose the proper level for whoever you're giving it to.
Caterpy Laces
Do you know a runner, walker, hiker, gym fanatic, sport fanatic, or kid? All of those people need and wear shoelaces, so why not give them a practical gift this year? Caterpy Laces are the number one selling no-tie shoelaces on the market. These laces are different than other no-tie laces because of their bump technology. This design allows the laces to hold customized tension through each and every eyelet. Caterpy Laces offer comfort, performance, and convenience; and they're the only no-tie shoe lace that are approved by podiatrist and sport medicine doctors.
Stitch People – DIY Stitch People Book
Stitch People is a fun gift to give someone crafty. Design and stitch portraits of your own with the diy book they have available. This book is a great guide that allows people to design and stitch characters, whether they be family or friends. Filled with hundreds of pattern elements, a design can be perfected through the book. The step-by-step process is good for all skill levels, so really anyone can do it! Additional patterns are also available for stitching things like hobbies, animals, sports, occupations, backgrounds, and more. Know anyone who is looking for a hobby? This is perfect for them!
Groove Life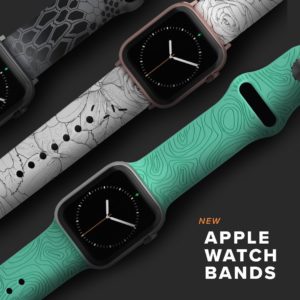 Silicone rings are super popular these days, and for good reason! Groove Life offers the highest quality rings and watch bands at an affordable price, for both men and women. New to their company is their silicone watch bands. Perfect for your Apple Watch. Groove Life is different than other brand because it is designed with patented breathable grooves. These grooves keep fresh air circulating and bad odors from bring trapped between the ring and skin. The Groove Life team is passionate and reliable; they offer great customer service and an incredible life-long warranty. They are dedicated to bringing functionality and fashion to a universal consumer; messy mama, dedicated nurse, workout jock, hands-on worker, and other life adventurers! Make this holiday season extra unique by customizing a Groove Life ring for that special someone!
DefenderShield
Electromagnetic Radiation (EMF) is something that [almost] every single person is exposed to everyday. DefenderShield technology reduces the exposure to harmful radiation which is emitted by devices such as laptops, tablets, and cell phones. This radiation has high possibility of harming the body, which is why it's so important to stay protected against it. Looking up the best forms of EMF protection can be beneficial to you and your family. Testing done by an independent FCC certified lab has shown that the DefenderShield technology blocks the full spectrum of harmful radiation.
Defender Shield Magnetic Car Vent Phone Holder
This car phone mount is just the perfect accessory when paired with the Magnetic Wallet Case. Attach the mount to the air-vent and for easy access to the cell phone while driving, simply place the magnetic case onto the magnetic mount. The car phone mount rotates and swivels 360 degrees which allows for adjustment for the perfect viewing angle. The magnets are super powerful which gives a very stable and secure hold. In case the vent holder is being used without the magnetic wallet case, there are 3M adhesive metal plates that attach to a cellphone or case. Any driver with a phone will appreciate this gift!
DefenderShield EMF Radiation Shield and RFID Blocker-Detachable Magnetic Wallet Case
The DefenderShield cell phone cases are perfect for anyone who has a cell phone. The radiation-shielding technology blocks up to 100% of EMF radiation and is the best on the market. Made from vegan leather, this cell phone case is resistant to scratching and staining. Three part of the case are all removable – the case itself, the rubber, anti-shock phone nesting, and the clip-on wrist strap. Each of these designs are specially formulated to give the best phone experience. An important aspect to note is that the detachable magnetic wallet case has three RFID-blocking credit card slots. It really is a phone case and wallet in one!
Yamazaki Storage Basket
Yamazaki has been creating common household items using smart and simple design. Keeping all their items streamlined they focus on organization, storage, and space-saving. Everybody could use another basket around the house, that is no lie. That's why this storage basket is great for men or women. The simple and sturdy basket will hold up around children and will make a statement with its bold white color and natural wood handles. Having this basket anywhere in the home will be useful in order to keep loose items tidy, organized, and safe.
The Car Seat Key
Anyone with kids will be grateful for this gift. The Car Seat Key allows parents, grandparents, and others who are taking kids in and out of car seats to have a much easier time doing so. This key makes unbuckling kids so easy. Whether someone gets manicures a lot, has arthritis, or just struggles with pressing down and unbuckling that red button, this handy key is perfect. The Car Seat Key comes in a multitude of colors that will peak anyone's interest. From neons to pastels, mom, dad, grandma, or grandpa will get use from this gift.
ZizzyBee Bags
Getting rid of plastic in the home has become a mission to a lot of people. If you know someone who is working towards this goal, the ZizzyBee Bags are perfect for them. These reusable and washable are useful for a multitude of purposes. Whether using them for snacks, toiletries, purse or diaper bag clutter, art supplies, swim gear, travel, they will not go unused. The adorable prints and multiple size availability offers a large rang of options to choose from.
Patch Strips
There is nothing better to find in your stocking than a useful household item. Patch are the adhesive strips for all types of boo boos for kids and grown ups alike. These strips are natural bamboo with the added natural goodness of activated charcoal, aloe vera and coconut oil. The 4 options available are Cuts & Scratches, Abrasions and Grazes, Bites and Splinters & Burns and Blisters. All 4 of these kits are free from plastics, latex and toxins and best of they are made with to be 100% biodegradable. The kits fit perfectly in any cars glove compartment, purse, backpack, office drawer or diaper bag.
Kirk's Soap – Since 1839
Kirk's is the only coconut castile soap brand continuously made since 1839. They use 100% natural ingredients for health conscious families. All surfactants used in Kirk's are biodegradable. This means all surfactants (sudsing/cleaning agents) are broken down into simpler compounds by natural biological action helping to eliminate sudsing/foaming problems in lakes and streams. Kirk's feature a broad line of soaps for your family. Their hydrating hand soap is well loved by the MamatheFox household. Knowing that our children are getting clean and not being exposed to hard chemicals gives us true peace of mind. We grown-ups love the Kirk's bar soap. It smells so light and fresh and always leaves you feeling soft and and healthy. Having only 5 ingredients in the bars and maintaining a GMO= free formula its great for the most sensitive skin.
Bruce Charles Designs
Working professionals work constantly at a desk. Trying to manage conference calls, waiting for that email to pop up and countless other office work. Being there all day you get antsy and need to use your hands to keep your mind focus on the task at hand. This is where Charles Bruce Designs come in handy – literally! Their fused aluminum & brass metal spinning top was made to look professional but work like a fidget device. With spin times that can exceed 12 mins you will keep an eye on the clock to see what long your spin can last. It has a knurled upper top for better grip and extra torque. Challenge friends, family or coworkers on a glass surface, a mirror or desk top. It is a great gift for men and women alike.
Tiger Tribe Bath Crayons
Tiger Tribe offers a wide range of award-winning compact and portable art, craft and activity sets for imaginative kids. Kids are bursting with energy and a desire to create, explore and express themselves. When you hand them a bath crayon the light bulbs in their little minds light up with exciting ideas. We love to have our children practice writing their name and other site words on the bath tub while they bathe. This set comes with 8 colors (blue, green, yellow, orange, red, pink, purple and black). Each crayon is in a plastic holder making it easier to hold and less likely to slip out of their hands. The plastic also keeps the crayon more dry and nightingale the life of the crayon. These crayons are best suited for children over the age of 3.
ChocZero
Chocolate lovers pay attention! ChocZero is going to be your new obsession. They make sugar free, no sugar alcohols, and no artificial sweeteners and chocolate. Sweetened with their own exclusive monk fruit and fiber blend. Being low carb: only 1g net carbs per serving it is perfect for Keto lifestyle and other low carb diets. They use fair-trade cocoa beans and are made in the USA. They offer us chocolate treat bites, sugar free syrups, chocolate almonds, and an amazing Peppermint Bark! These treats are so tasty and affordable they will be an easy add to any stocking.
Welch's Christmas Fruit Snacks
I love the nostalgic feeling from Welch's Fruit Snacks. I remember eating them with my mother when I was a child. Welch's released a line of Christmas Fruit Snacks just in time for the holiday's. They come in 2 convenient sizes: 5-count pack and a 28-count box. Whether you want to toss a few in your kids stockings or hand them out at your Christmas gathering, all the kids will be joyful with this fun and reliable treat. Being fat-free and with no preservatives even the choosy moms can be sure with Welch's Snacks. MamatheFox loves that the first ingredient is fruit! With fun shapes like Santa, a tree, an ornament, a snowman and a snowflake they will be entertaining as eat as well.
My Audio Pet Bluetooth Speakers
MamatheFox's kids are totally into music. They love to jam out to their favorite tunes while doing their homework after school. Now they can jam out with style with the new version of My Audio Pets. These Bluetooth speakers are not your average speaker. My Audio Pets Splash were created and manufactured with kids in mind – cause these new speakers are totally waterproof ! (*Original line of My Audio Pets is not waterproof) With 5 watts of power they are able to truly give you a real speaker quality in a fun and unique way. Each speaker is able to run for up to 6 hours, and with the auto shut off feature you don't have to worry about your kids draining the power as quick as other devices. Each device charges with a standard USB cable (included). You can connect your My Audio Pet with phones, tables and other Bluetooth enabled devices. My Audio Pet comes in 4 styles, Narmony (the narwhal), Auroara Bearealis (the polar bear), Rocktopod (the octopus) and MegaloSONG (the shark). Your kids are going to flip when they see a colorful and fun speaker in their stocking this year.
vitafusion Organic Gummy
We all need those practical items in our stockings. The old faithfuls like toothbrushes, socks and maybe a scratch off ticket. This year add in a new faithful – the gummys from vitafusion. They are America's #1 gummy vitamin brand for a reason. They are organic and packed with the nutrients you truly need. Certified Non-GMO, no high fructose syrups, no artificial flavors or sweeteners, no synthetic (FD&C) dyes, and its gluten, gelatin, dairy, nut and soy free! They are the only vitamin gummy with Clinically Proven Absorption, which means you get what you need out of these gummies. Some of the varieties include: women's multi, men's multi, vitamin B-12, vitamin D3, and Lil'Critters for kids. Using fruits they are going the extra mile to give back and they are on track to plant up to 200,000 trees by 2020! They have partnered with the Fruit Tree Planting Foundation to make a positive impact on the environment we all share now, and for generations to come, and to spread the seeds for growth in communities.
Zeus the Mighty: The Quest for The Golden Fleas
National Geographic is known for having the best books. They just released their new series – Zeus the Mighty. This book is the first in a new series. Here the reader is introduced to the Mount Olympus Pet Center in Athens … (Georgia!), where Zeus the Mighty rules over a crew of cute critters, all named after (and believing themselves to be) Greek gods and goddesses. By day, Zeus – a tiny, overconfident hamster with a mighty appetite for power – and his gaggle of gods run on their exercise wheels and take catnaps. But at night these fearless furry friends bravely take on legendary mythological quests! In the series' first thrilling adventure, Zeus the Mighty has one giant task in front of him: to find the "golden fleas" so he can solidify his position as "king of the gods." This book is great for kids ages 8 to 12.
Luster 2 Minute White Dental Whitening Kit
Have you been drinking extra coffee or red wine this holiday season? Feeling like your teeth are loosing their bright white shine? Luster Premium White had a new wasy way to fast-track a whiter smile at home. No messy trays or dental office visits. This affordable two-step at-home system is clinically proven to safely whiten teeth up to 6 shards bights in only 3 days. This kit includes a rinse for a pre-treatment. Then you use the Stain Lifting Serum which contains active dental peroxide to whiten teeth above and below the surface. You are going to love how easy and effective this treatment is. You can find it at Walgreens, ShopRite and other retail locations.
Green Grove CBD
Green Grove is dedicated to taking wellness to the next lever. They're creating the highest quality CBD to enhance the lives of the people and communities they serve. They provide us with pharmaceutical grade products that are grown in the USA. CBD oil is being talked about very frequently now-a-days and for good reason. CBD has huge variety of benefits. Some of those benefits are: pain relief, stress relief reduced inflammation improved memory and mood and better sleep. Green Grove features a large variety of products like candles, bath bombs, oils, salve and even products for your dog too! What makes Green Grove so special is that their hemp oil droplets are 4-200 times smaller than the industry standard so that they can be easily absorbed into the body. Being highly-bioavailable they and deliver the same results with a smaller amount making them more effective, and less expensive.
Hue Pets
Do you have a hard time getting your kids to try new foods? Healthy foods? Or a achieve a balanced diet in general? Hue Pets was created for you. Hue Pets is an interact app that makes it fun for kids to eat healthy and try new foods. Its easy as scanning real-life meals to feed your HuePet™. By using the app you can scan a food your child is eating or going to try. By doing this you can unlock prizes and help in raising your pet from a little egg to a HueMaster! Get your HuePets bundle, which includes a coloring book, Huey Plushie, and travel bag for you to bring fun eating wherever you go. Hue Pets is a free program and is just one part of HueTrition's larger mission to help families more easily integrate fruits and vegetables into daily meals. HueTrition™ is a nationally-recognized family wellness program that promotes a minimalist diet rich in fruits and vegetables, as well as an active lifestyle. They provide online consults and cooking classes, plant-based recipes, nutritional guides for kids, and fun web apps to promote balanced living. Check out their website for more information.
All Of Us: Bible Songs For Everyone – CD
Being in the car so often can get your kids antsy. Increase your joy and your hope in Jesus Christ with the fun new album by Parker & Alexander. This family friendly disk is a take on some beloved Bible stories. With upbeat, electric music it have a lifting spirit to it. The rhythm and pulse are great for kids up to age 10. This is an album the whole family and enjoy together. Songs include Noah, Good Samaritan, Humble Beginnings and The Lord's Prayer. By taking the stories and Truth we want to instilled in our children we can listen to this CD to help them absorb all the facts while dancing and signing along. With a run time of 29 minutes it is great for the drive to your holiday celebration this Christmas season.
Waiting for the Elevator – CD
For a fun and upbeat CD to jam out to with your kids the new album by Laurie Berkner is going to be your new go-to. Laurie wanted to create a CD filled with songs that really touch on the aspect of life that our children are experiencing and learning about. Topics like feelings, movement, letters, numbers, colors, months and relationships. Los Angels Times commented by saying, "Laurie Berkner does what Fred Rogers did: respect, validate and reassure young children." As a child myself I relied on Mr Roger's Neighborhood to lead and guide me. Now we can give this amazing CD to our kids as a way to help them learn these values we too cherish. Songs include: Big Blue Box, I Missed You, Did You Go To Ohio?, A Hug From My Mama and I Love You Daddy. Laurie has been working in the children's entertainment world for years and is a reliable source for family friendly music that you can trust.
AWESOME! – CD
Do you want to have an AWESOME day? We sure do! Being a Clevelander, I love to support local businesses, and that includes Jesse Jukebox, the artist who just released his album AMESOME! This CD holds a special meaning to Jeese Jukebox, as a person who has ADHD. ADHD is a common enough diagnoses that I'm sure you know someone in your family or friend base who has been effected by it. Jesse felt like he was misunderstood as a child. That he didn't quite fit in. Thankfully his parents never gave up on Jesse as he struggled in his youth. Jesse Jukebox wants to help kids with ADHD to feel accepted and to better understand themselves. The album AWESOME! includes songs like: Complicated Kid, Listen to Your Gut and I Wanna Learn! Jesse's passion for kids led him into a Masters Degree in early childhood education. His experience, personally and professionally, allows him to be a trusted artist your family can lean on. This CD makes a great stocking stuffer and a gift for children you know with ADHD.
Diamond Art Club
These fun diy art kits are perfect for anyone who loves to craft. A combination of cross-stitch and paint-by-number, this way of crafting is new to many people. Simply apply colorful rhinestones to pigmented canvas paintings, and the result is absolutely astonishing. The artwork dazzles, sparkles, shimmers, and shines. Place the rhinestones on the canvas one by one and quickly unwind, relax, and enjoy some quiet. Hundreds of kits are available to choose from and there will for sure be one that someone on your list will like.
Cracker Barrel
Are you looking for fun toys or nostalgic candy for your child's stocking this year? Head over to your local Cracker Barrel to see what they have in stock. The fun part about Cracker Barrel is that they always have new and different items. We love the exclusive World's Smallest Mystery Toy Barrel. They are blind bag toys that have tiny versions of classic toys like Lincoln Log, Rubik's Cubes and Crocodile Dentist. They also have a huge variety of candy and toys to browse through. MamatheFox loved looking at the glass bottles of soda and juice each time we visit our local Cracker Barrel. The kids section is always filled with the products your child is currently asking for. Pop in soon to see what is in stock.
Buddha Board
Give the gift of relaxation with Buddha Boards. These reusable boards allow people to paint mess free. Seriously! Touch your wet brush to the board and watch as the waters dries and disappears. The Buddha Board has a clean, sleek design and can be easily set up and cleaned up. Allow people to release stress and tap into their creative side with this fun painting tool. There are many different sizes that Buddha Board offers; it really is usable for all ages. Perfect for anyone on your list!
MamatheFox has been gifted the items above. For more information, on the FTC Endorsement Guides, go to http://bit.ly/1FRMynQ.