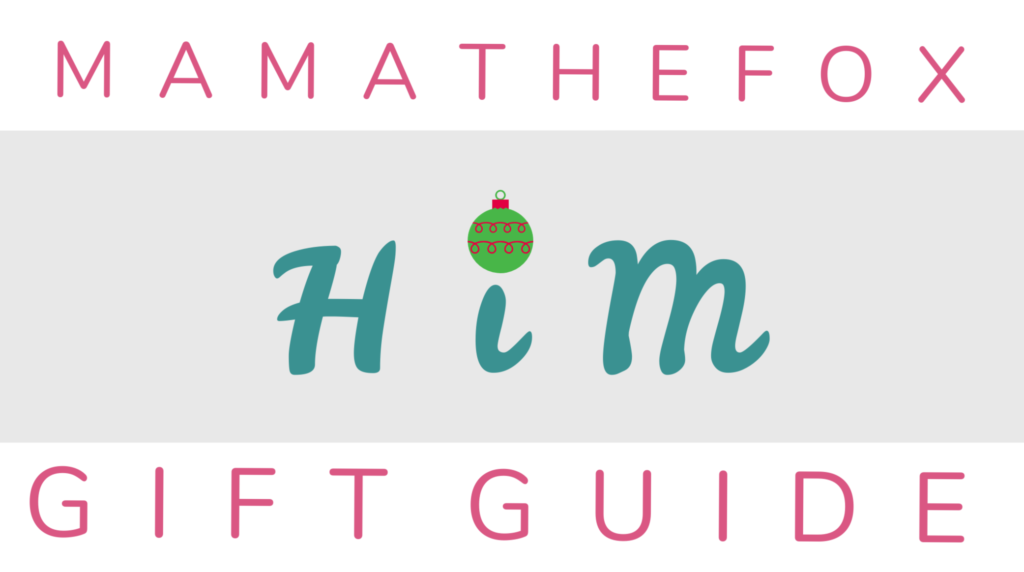 Microwavable Heating Wrap For Shoulder And Upper Back
This shoulder and upper back heating wrap allows for pain relief, is therapeutic and very comfortable. Whether you need a warmer during those cold, wintry days or a cold pack for overworked muscles in warm weather, this therapeutic pad have you covered. Each pack holds in heat for 30 minute intervals, maximizing your relief for fast and efficient recovery. Being machine washable (just remove the cover) and reusable this gift will give the men in your life the comfort they deserve.
Deluxe XL Bath Brush for Men by Rengöra
After a rough day there is nothing like a steaming shower to unwind. This bath brush is made with natural boar bristles, making it extremely durable and soothing to the skin. Able to be used dry or wet this versatile brush is a great gift for the man in your life. This particular brush is typically used in the shower as a back brush. It can also be used before the shower to awaken the skin and remove dead, dry skin. The head is removable if you want to have a tighter grip on the brush. The removable head makes it great for travel and business trips. He is going to love how healthy his skin feels after use. As an additional gift, you can give him a bluetooth shower head that he can use when taking a shower!
Woodies Sunglasses
Woodies are polarized sunglasses for men (and women) that feature 100% Walnut Wood arms. The lenses are specially designed so that they are both dark and polarized, offering 100% UVA/UVB protection even in intense lighting conditions. These glasses are stylish, durable, and natural for men or women. Each pair includes a durable black carrying case, a microfiber lens cleaning cloth and a wood guitar pick! Each pair is completely unique and has its own wood striations making the recipient feel special.
T|W Lunch Tote
If you know a man who is in a professional work setting then you are going to appreciated this lunch tote. The T|W Lunch Tote is made for business men who pack their lunches but need to maintain a sleek and professional look. MamatheFox's husband loves the look and feel of this tote. It has 2 separate compartment allowing you tote allows for you to carry both hot and cold items in its insulated sections. This hand sewn, vegan leather tote allows for you to proudly carry your lunch in a way that matches your personal style. Lastly the handle is durable to hold a full day's worth of meals. You cannot go wrong with this tote.
Waist Pack Bag
You know a man on the go? Well he is in luck because waist pack bags are back in style. This bag is perfect for men you need to bring their things along throughout the day. This bag features : akey hook, 2 small front pockets, 3 card slots, and 3 main compartments. The compartments are perfect hold your small camera, cell phone, earphone, cards, tissue, sunglasses, wallet, pens, water-bottle and more. If you know a man who is taking his family on a trip to an amusement park, rides the train or bus then they are going to very much appreciate receiving this bag as a gift.
Ravensburger Escape Puzzle Space Observatory
Do you know a guy who loves puzzles? This new concept puzzle from Ravensburger is going to get him excited. This puzzle is not made for kids, it is a whole new type of puzzle, its a game and puzzle in one! To do this game experience you first read the story to understand your objective. Then you assemble the puzzle, followed by solving 6 riddles hidden in the scene. Connect the solution pieces to reveal your escape! Ravensburger has been making the world's finest puzzles for over 130 years in Germany. Ravens burger puzzles for adults are made to fit precisely – no matter how large or small the puzzle pieces. All of their jigsaw puzzles are precision-made so that every piece fits perfectly, without frustration. Best of all, every single piece in this puzzle is unique, no duplicates, for the perfect interlocking fit.
Deep Dive Threads
If your guy loves tee-shirts that are uber comfy and super witty then you are going to love Deep Dive Threads. The owner, Don, loves to supply us with tee designs that are unique and with the current topics. If you love classic video games, movies and pop culture than you will understand why this brand is so great. Do you know someone who claims Die Hard to be their favorite Holiday movie? Then gift them a hilarious Nakatomi Christmas Party tee. Vintage looking tee's are trending and Deep Dive Threads has some amazing options for you. Check out their Cinematic page for new styles you are going to want.
JAWS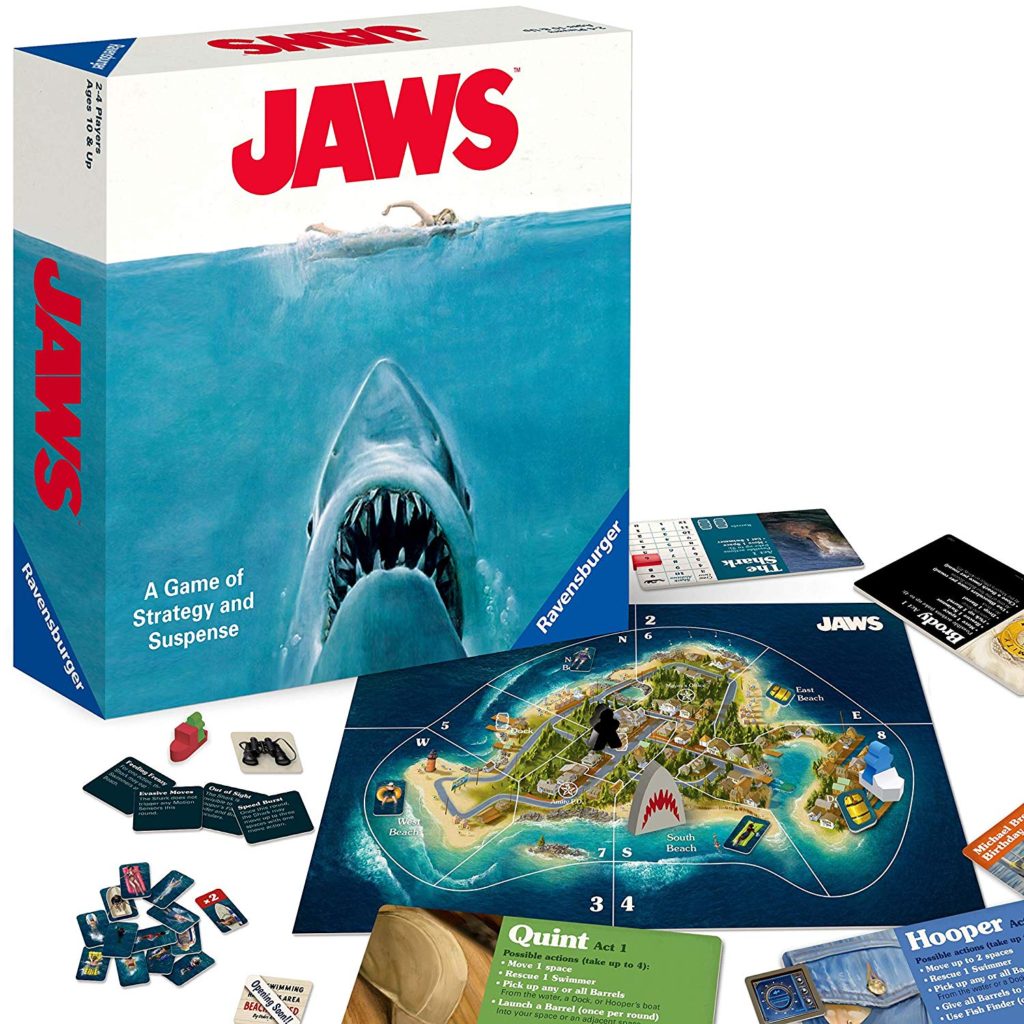 Gather 2-4 JAWS fans, classic strategy gamers, or family members to hunt and search for the dangerous shark lurking in the water. The clear instructions are perfect for any player at the recommended age of 12 years and older. JAWS has great replay value with the designed asymmetric style of play. Players can either play as the shark or cooperatively as a member of the crew. Get a chance to feel like you're apart of the JAWS movies and take the game further with movie quoting and character impersonations. Join the crew this holiday season and jump on the boat to play Ravenburger's game JAWS.
kNOW!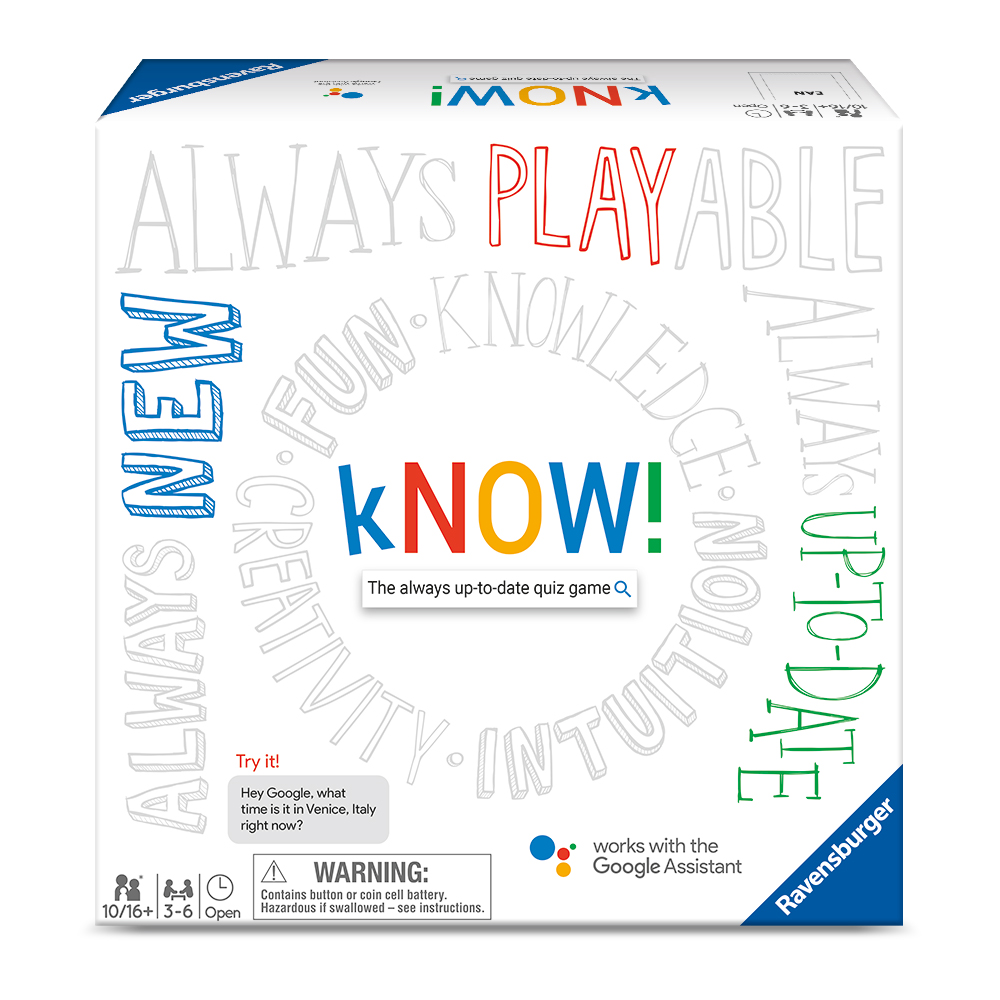 kNOW takes board games to a new modern level with internet use! Its the first quiz game that's always up-to-date, meaning its a one time purchase and can be used for generations to come. With kNOW!, questions are ever evolving like never before and the answers are always changing depending on when and where you play. Using Google Assistant, players research the most up-to-date answers. Don't have internet where you are playing? No worries! kNOW! includes an offline version. kNOW! is the quiz game that tests your creativity, strategy skills, and sixth sense to win!
Wine Condom
The brainchild of Millennial entrepreneur Mitch and his stand-up comedian mom, Wine Condom is a brilliant problem solver for wine drinkers and party partakers.
"Packaged and applied like a condom, this spill proof solution to storing an opened bottle of wine is the safest and most effective product for preventing unplanned spillage. Unlike corks or decorative stoppers, Wine Condoms seal flush with the rim for easier fridge shelf storage. Wine Condoms are made from 100% food grade latex rubber and can be used more than once."
Wine Condoms are growing in popularity and saving unfinished wine one bottle at a time! #Screwthecork and keep it safe with 99% effective WineCondoms.
Toys for Adults
Want to give the man in your life something fun and unconventional? This naughty little gift may be the perfect item to fuel the fire in your relationship. Discovering and trying new things help keep your relationship fresh and exciting. If your man has expressed his willingness to explore, take the initiative by giving him a gift that will bring your intimacy to a whole new level.
Runes and Regulations
A game of suburban sorcery that immerses players in a world of magic! Runes and Regulations allows you to summon mythical pets and cast powerful spells with 2 to 4 players. The game combines the aggressiveness of dragons with the passive aggressiveness of suburban unicorns. Collect 5 mythical creatures on your lawn to win! Runes and Regulations was created by the same people who made Unstable Unicorns, a 2019 People's choice award!
DefenderShield Blue Light Blocking Glasses – Flex Series
Blue light is emitted by digital and electronic screens and can cause many negative health effects including digital eye strain, premature eye-aging, and interfere with sleep. The DefenderShield glasses filter and protect up to 99% of blue light. A change in improvement in eye strain can reduce headaches, fatigue, dry eyes, and problems focusing. The modern, sleek frames are comfortable and come in wide, rectangular lenses. These glasses are lightweight, flexible, and durable. Two lense options include Amber lenses and Orange lenses. Amber lenses filter 50% of harmful blue light and are ideal for normal day-to-day use. These lenses look similar to regular glasses and allow colors to look most natural. Orange lenses filter 99% of harmful blue light and are ideal for nighttime use. These really help improve sleep quality; allowing faster sleep and REM sleep promotion. Protect his eyes with these protective glasses!
Fenrici School Backpack
Fenrici backpacks are slim, stylish, and ready for everyday wear and tear. The reinforced top handle makes this the perfect school bag for carrying around heavy books! The straps are adjustable to fit the needs of preteens, teens, college students, and adults. Shoulders are kept comfortable with the wide padding. The laptop backpack fits most sized laptops while securely keeping them protected with the heavily cushioned compartment. Fenrici donates a portion of their proceeds to Global Genes to fund research and education for children with rare diseases. They continue to help story tell for children touched by pediatric rare diseases and continue to inspire the spirit of the reliance.
Yamazaki Tool Box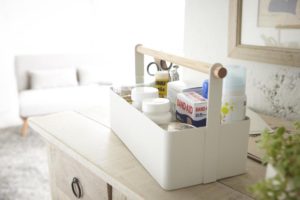 Yamazaki has been creating common household items using smart and simple design. Keeping all their items streamlined they focus on organization, storage, and space-saving. This tool box fits all of those categories. Staying organized is super easy with this modern and sleek toolbox. The Yamazaki ultimate-purpose steel tote with wooden handle is the perfect way to store small items in a classy manor. Two size options to choose from include large and small. This is a timeless piece and will certainly last over the years.
Nasopure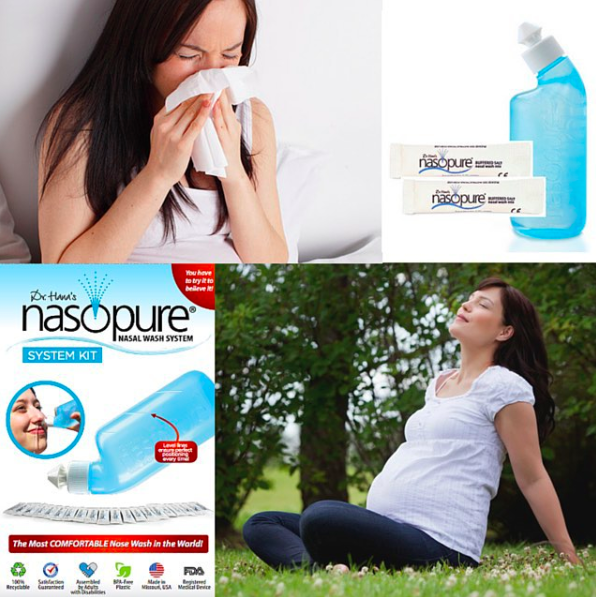 This holiday season give the gift of symptom relief with Nasopure. The most comfortable nose wash in the world! Dr. Hana's Nasopure is a natural way to breathe happier! It helps bring relief to allergies, illness, or exposure to irritants. What makes Nasopure different is the delivery and mix. The delivery system was designed by a pediatrician and is ergonomically designed for natural head and neck position. The specially designed bottle keeps control over pressure and prevents drowning sensation. The magic mix is a unique saline solution that is both natural and soothing. The ph balanced alkaline solution reduced irritation and is pharmaceutical grade! Join the Breath Happy club and save with a subscription! Nasopure is a convenient and affordable way to receive sinus relief!
COSCO SmartFold Portable Workbench
Man of all will enjoy this awesome, heavy duty workbench. This portable workbench can be taken wherever it's needed, and when work is done, simply fold it up and put it away. With a weight capacity of 350 pounds on the top and 250 pounds on the bottom, this industrial-strength steel utility table really is heavy duty. The bench not only gives a large work space, but also a place to store tools and equipment. All four wheels have locking capabilities, so the table will stay in place as work is being done. All of the COSCO products are well made and designed to improve and simplify life. Give a gift that will last, with COSCO.
Copper Tech Gloves
If you are looking for a gift for a golfer, the first thing that might come to your mind is golf polos. They certainly make great gifts. Nonetheless, there are plenty of other options available. This holiday season, upgrade your game with Copper Tech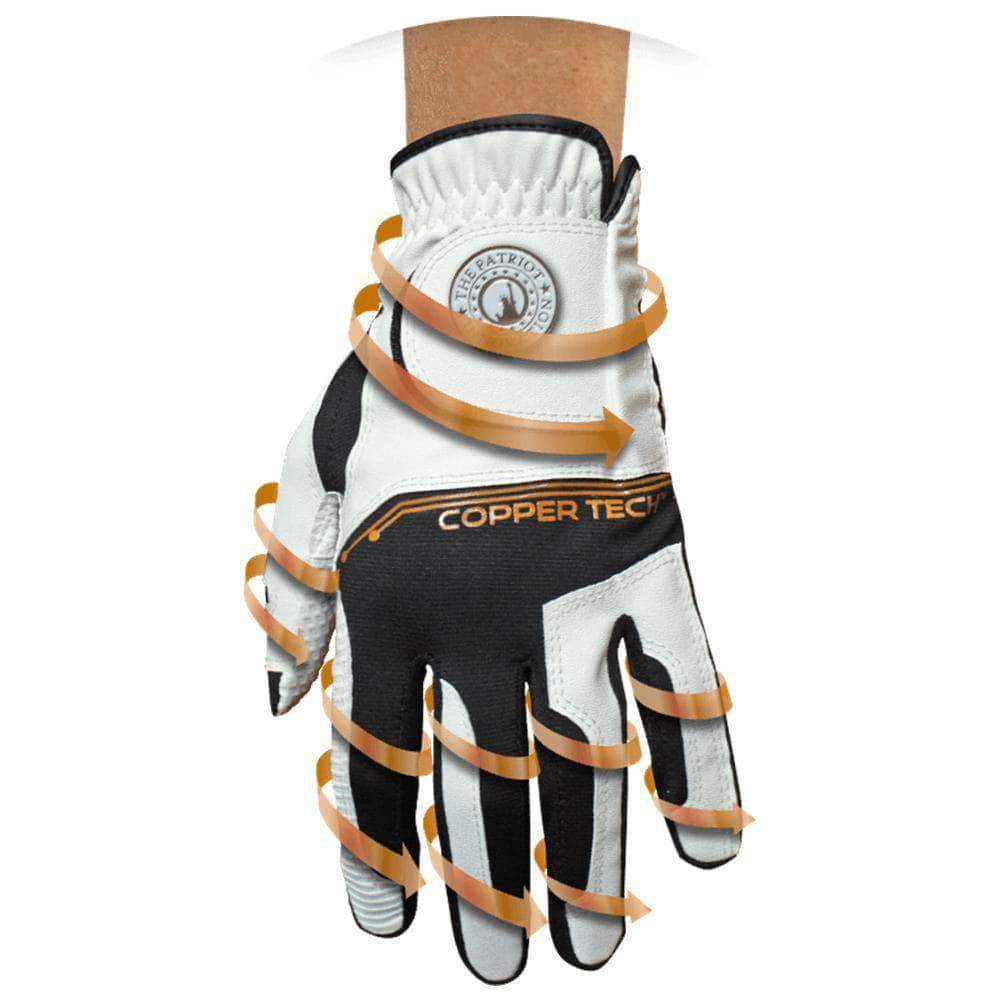 Copper infused Golf Glove. Copper compression technology has been an innovative advancement to the sports and medical world. Copper improves circulation, helps prevent strains, and supports muscles! Now with Copper Tech, golfers can reap all the copper benefits too. In addition, each glove is made with a non-slip patented spider weave, silicon pattern to improve slip resistance and reduce wear. With Copper Tech, golfers can perfect their grip tension and improve their overall game. Copper Tech offers a variety of golf glove styles and colors for both men and women, as well as 2 packs for those looking for support for both hands. If you want to go a step further, you may want to check out some of The most forgiving drivers that they can pair with their gloves. They'll be out the door with their golf bag before you know it. Be sure to check out Copper Tech's complete collection of gardening gloves and mechanic gloves, all made with the incredible infused copper technology
TrailKeg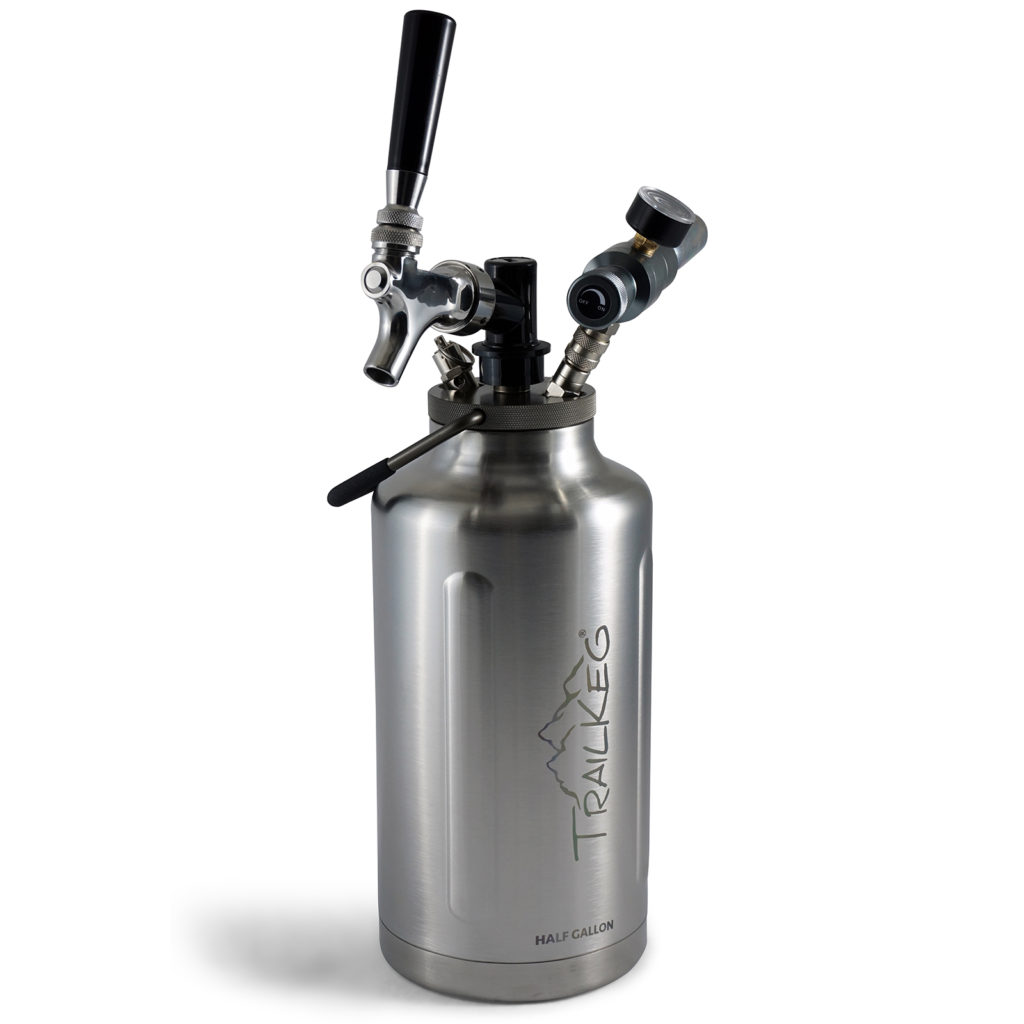 Not sure if you can get any manlier than the TrailKeg this holiday season. The TrailKeg gives any adventure seeker the freedom to take their favorite beverage on the go! The 64oz stainless steel, vacuum insulated, growler keeps drinks cold for 24 hours or hot for 12. The tap is based on proven beer tap design, but adds key enhancements that optimize drinking experience. The TrailKeg lid includes a modular stainless steel tap and dual stage regulator for a perfect smooth pour every time. The standard ball lock connection makes connecting and disconnecting the tap a breeze. The lid is universal for all of TrailKeg's insulated growlers so you can pick your size depending on the occasion. The half gallon bottle has the thickest outer wall making TrailKeg durable and ready for the rugged road! The TrailKeg pressurized growler preserves your favorite beverage in all your favorite places.
Walkee Paws
Living in a city may cause walking your dog to look differently than person walking their dog in a grass neighborhood. Cement gets hot. Trash and dangerous particles may be on the city sideways you take to get your dog a a walk or to the local park. Lisa Baronoff, the owner and creator of Walkee Paws, as a dog owner in Manhattan, she grew increasingly concerned over the germs, chemicals, rain and snow that her dogs were coming into contact with on their daily walks. Unfortunately, most pups hate traditional dog booties. She created Walkee Paws to keep you pup warm, safe and to protect their daily adventures.
The Fishing Caddy
Know anyone who loves to fish? This handy fishing caddy takes the long process out of planning a fishing trip. Just one thing is needed – the caddy! Simply grab the caddy and head to the lake! This fishing caddy features a cup holder, padded handle, two built in rod holders, tackle box lid with 14 compartments, and others – depending on which model is chosen. So there is plenty of space to keep your lures, bass flies, fishing rods, and all your fishing equipment in there. Very light assembly is required, so set up is easy. Keep family bonding together with this Fishing Caddy; maybe even pair it with a fishing trip for an extra special gift!
Twist and Seal
What better time to give a gift to product outdoor lights than at Christmas? The Twist and Seal product protect all the outdoor connection someone may have. Whether it be Christmas lights, pool cords, or even garden plugs. The simple design gives industrial grade protection that keeps all water out and all lights on. Their products come with a 5 year warranty, so lots of use can be gotten from them. Available in many different sizes and colors, this is a great gift for anyone who uses cords outside. This product will help keep the home safe – just what everyone wants.
Igloo
Everyone has use for a cooler, and they can be used at any time of the year. Back in 1947, Igloo created its first product which helped bring clean water to worksites. Quickly though, their brand moved to functional, quality ice chests. Now with more than 500 products being sold, they are the number one cooler manufacturer in the world. Their goal is to create products that enable the pursuit of happiness. That's where this fun cooler comes into play. Their new Star Wars collection will bring lots of smiles to any Star Wars buff. The C3PO cooler is 16 quarts and has the ability to fit 30 12-oz cans in it. This cooler will keep food and drinks fresh, all while looking great.
Coaltree – Kachula Adventure Blankets
Do you have a guy on your list that loves the outdoors? Someone who camps, hikes or loves to tailgate? Coaltree has created a blanket that is a real game changer. Their Kachula Adventure Blanket is a blanket, pillow, poncho, throw all in one! Both sides of the blanket are coated with an eco-friendly finish that keeps you dry. No more worries about spills on your blanket. The water beads right off. We also love this blanket as an option for children in strollers and adults in wheelchairs. The secret pocket can be used to roll the blanket into a pillow, making it great for your holiday traveling. It is super soft as it's made with soft cotton flannel blend on the top, durable ripstop nylon on the bottom. This versatile blanket will be the perfect gift for really anyone on your list this year.