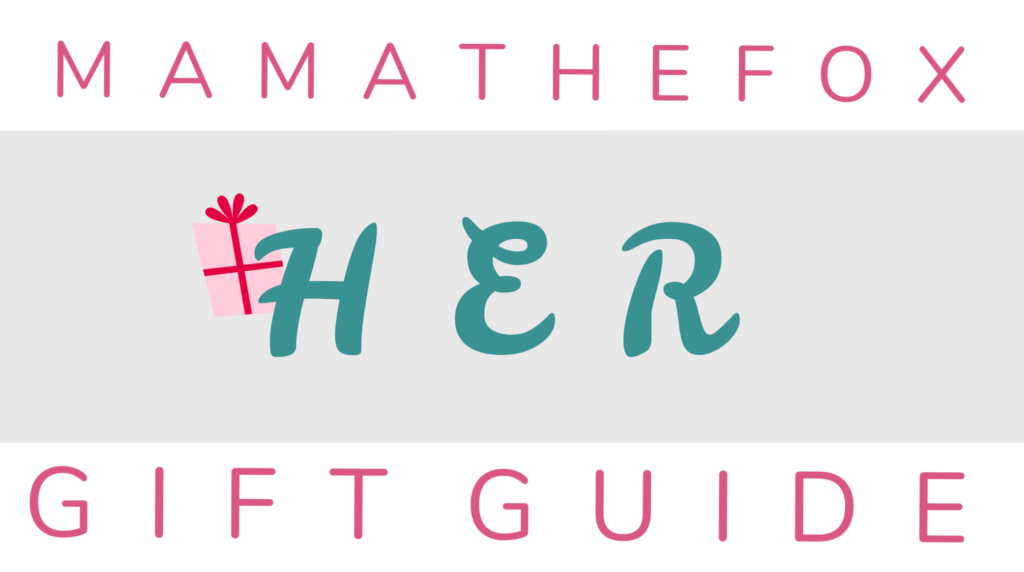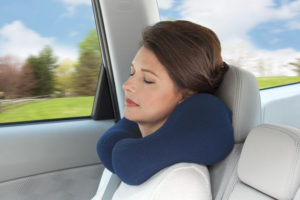 Sunshine Pillows Ergonomic Neck Travel Pillow with Cervical Neck Support
Do you often end the day with a sore neck? Sunshine Pillows has a broad line of helpful products, like their travel neck pillow. This neck travel pillow is narrower and softer at the cervical area and will easily fit in the small space between your neck and the head rest in the car or on airplane seats. It is also perfect for use at home while relaxing on your sofa watching TV and just as perfect to use while at your desk at work.
Hands-free Microwavable Neck Heating Wrap
If you need a neck pillow to be secured around you as you are moving around while wanting the therapeutic results from a heating wrap then this is the wrap for you. This wrap comes with a strap that can loop over the opposite end of the wrap helping to keep it in place without being restricting. It is going to be a game changer for you! Once your pillow is safely heated in the microwave, instantly place it on your neck for pain relief. Each pack holds in heat for 30 minute intervals, maximizing your relief for fast and efficient recovery. Stow your pad in your day bag or luggage for daily relief during travels near and far.
 Health Priority

100% Natural & Organic Vitamin E Oil
Are you looking to preserve your skin and achieve a youthful look? Vitamin E oil is the key, but make sure you dont buy any old oil, you need to try Health Priority's Vitamin E Oil. Their 100% Natural & Organic Vitamin E Oil (d-alpha tocopherol) contains twice the vitamin power as the synthetic version which means it's twice as powerful and works twice as fast finally giving you the skincare results you've been looking for and in record time! They offer a 100% money back guarantee (not that you would need it) assuring you that it is worth the purchase. MamatheFox uses it on deep cuts after they fully heal to help prevent scarring of the skin. It is perfect for those pesky wrinkles & crowsfeets.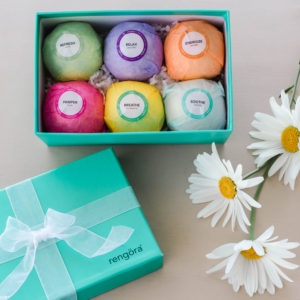 Rengöra Bath Bombs Gift Set
Give the gift of a relaxation with Rengöra bath bombs. This set comes with 6 lovely bath bombs in 6 different scents and colors. They contain only organic, natural, vegan and cruelty-free ingredients. They will never stain your bathtub and not lee your tub slimy after it drains. The set includes Relax – Lavender, Pamper – Rose, Refresh – Mint, Breathe – Eucalyptus, Soothe – Vanilla, and Energize – Orange. MamatheFox has been using these particular bath bombs for years and our children love them too. Since they are organic I feel comfortable letting the kids have a fun bath with a cruelty-free bath bomb.
 Luxurious Bath Brush with Mesh Body Scrubber by Rengora
The best way to start your morning is by feeling refreshed and awake. I love to grab this dry brush and softly massage my arms and legs before getting my cup of coffee to kick start my day. The feeling of the dry bristles removing the dead skin and increasing circulation is so satisfying. Rengöra's use of boar bristles makes the brushed softer and more durable. The long handle is removable so you can take control of of the brush head. Able to be used dry or wet, it makes for a great shower tool. It is wrapped in premium packing making it ready to give as a gift. With a 90 days or money back guarantee, there is no reason not to try one today.
AJ's Collection Three Charm Necklace  
Nothing makes someone feel special like receiving a custom piece of jewelry. AJ's Collection makes high quality, beautiful jewelry that any woman would be pleased to receive.  AJ's Collection Unity in Three Charm Necklace brings together the love and friendship of three children, nieces or nephews, siblings, best friends, and many more. With ready to gift packaging (comes inside an environmentally responsible recycled gift box, with an organza bag and hand-tied bow) it makes gifting easy. Each 925 silver charm is attached along with the Swarovski birthstone of your choice. This personalized three-pendant necklace is custom-made by selecting 3 names of your choice, each up to 9 characters. Check out their website for many more custom options and designs.
  My Ever Map from the Creators of The Night Sky
Having a custom piece of art is a beautiful way to create a unique look in any room. What could be better than viewing a stunning image of a beloved location? With My Ever Map, you can type in a geographic location and style it to look just how you desire. You choose the color, the layout and if you want it landscape or vertical.  You can even add a text at the bottom of the print. This make the perfect gift for that hard to buy for women in your life. With someone who has everything, what better than a personalized map that she can enjoy and appreciate.
High Beauty
High delivers the high-powered benefits from nature's most revolutionary plant, cannabis sativa. Some of the amazing benefits of High Beauty products are: it helps calm inflammation, balances all skin types with adaptogens, protects with potent antioxidants and hydrates & replenishes. MamatheFox personally uses High Beauty products and loves everything about them. The face cream is so rich and light that it feels like heaven going on your face.  The feel of the cream is creamy and light, but giving extreme levels of moisture, which is great for 30 something year old skin. Best off the is smell is pleasant but not overwhelming.  All of their ingredients are plant based and our suppliers do not test on animals nor do they test our products on animals. Their full line of products include a cleaner, facial oil, eye gel moisturizer and peeling mask.
 Ravensburger Escape Puzzle Space Observatory
Do you know a gal who loves puzzles? This new concept puzzle from Ravensburger is going to get her excited. This puzzle is not made for kids, it is a whole new type of puzzle, its a game and puzzle in one! To do this game experience you first read the story to understand your objective. Then you assemble the puzzle, followed by solving 6 riddles hidden in the scene. Connect the solution pieces to reveal your escape! Ravensburger has been making the world's finest puzzles for over 130 years in Germany. Ravens burger puzzles for adults are made to fit precisely – no matter how large or small the puzzle pieces. All of their jigsaw puzzles are precision-made so that every piece fits perfectly, without frustration. Best of all, every single piece in this puzzle is unique, no duplicates, for the perfect interlocking fit.
Larken X Nursing All in One Nursing and Hands Free Pumping Bra
The Larken company was designed by two moms and created for all moms. After being frustrated with the products on the market that didn't offer the benefits and comfort they wanted, these moms set out to create their own comfy, versatile maternity, nursing, and pumping essentials. Luxuriously soft and easy to care for, their products are machine washable and breathable. All Larken essentials are tag-free and elastic – aka no snaps, zippers, or buttons. Usable through all stages of motherhood, the thoughtfully designed pieces are perfect for any change your body experiences throughout motherhood. This is a perfect gift for a new or expecting mom; she will surely love any of the Larken products.
2020 My Infinite Agenda Planner
The My Infinite Agenda Planner is a vision board planner that is designed with busy lifestyles in mind. This planner will carefully and clearly guide you through prompts that will allow you to turn your goals into realities. Organize your daily schedule all while keeping track of your high ambitions. A portion of each agenda sold will be given to support four charities that have an infinite impact around the world. Allow someone to capture their goals and dreams throughout the year and watch them come to fruition with the My Infinite Agenda Planner.
Gracefully Made Jewelry
Gracefully Made Jewelry creates beautiful, custom jewelry to fit the needs of any. This necklace is perfect for nana, mom, or grandma and is representative of so much. When you give this necklace to your mom or nana, you are reminding her of how wonderful she is and how much her presence in your life means to you. Let her know you appreciate her by personalizing this gold vertical bar necklace with family members' names. Each necklace is custom made to order and appears in lowercase script style font. The charms hang from an 18 inch chain and appear on the chest beautifully. Women will adore this very personal gift.
Cultivate What Matters PowerSheets® One-Year Intentional Goal Planner
Achieve your goals with the intentional one-year planner. Powersheets are made for all types of people and women all over the world have found success with using them. Using 12 months to intentionally goal set really helps you allow your goals to become realities. There are seasonal worksheets to help you refresh and refocus your goals each season, and there is goal coaching on every page so you can stay on track and motivated. The planner is absolutely gorgeous and full of beautifully designed pages; stickers are included too. Hard covers and gold corner protectors keep the planner safe and durable. The gold coil binding and reinforced interior pocket keep all your necessary pages, notes, and stickers in one spot. This planner is beautiful and any woman will be thrilled to receive it.
Red Land Cotton Classic Quilt
Red Land Cotton is a family owned company that has been in operation since 1983. Their 100% cotton that's grown in  Alabama fields is rain fed and never irrigated. The cotton crop is produced under the most recent and sustainable farming techniques and are all hand-cut and sewn. Quality control is of utmost importance and so every step in the process receives testing. Reverse engineering is used in the weave construction and yarn size which brings heirloom-inspired bedding. All machine washable and dryable, these products are so easy to take care of. People will love any of the Red Land Cotton products you give them. They really are timeless.
Silverette Nursing Cups
Silverette Nursing cups are perfect for soothing and protecting nursing nipples. Since 2002, the nursing cups have been crafted by licensed silversmiths in Italy. These cups are different than anything else on the market because they use the healing properties of silver. Antimicrobial, antifungal, and antibacterial and anti-inflammatory are the properties that silver naturally gives. Silver has the ability to heal and prevent cuts, wounds, cracks, soreness, and infections. They are easy to use and comfortable and no additional creams or lotions are needed when using them. The cups are perfect for any woman who is or will be a mom. After using the cups, Silverette has a recycling program where you can convert them into a charm. In so doing women can remember the special time and bond they had while breastfeeding their kid(s).
Succulents Box Subscription Box
Do you have a girl who is always so hard to shop for? What better to gift than a simply, elegant houseplant that is super easy to care for. Succulents Box is a subscription box. They offer 1 single succulent box, 2 succulents, 3 succulents, 4 succulents and an air plant option.  They feature over 200 items, giving a surprise each month even after months of arrivals. They are quick to ship and come in a very pretty box keeping these live plants safe. Once your collection starts to grow you will probably want to branch out and start buying there modern succulent pots and planters.  For those of us who live up north and get colder winters you can add a heat warmer to the package to ensure it safety arrives at it's destination. Pop over to their website and click around. You're going to love what you find.
DefenderShield Blue Light Blocking Glasses – Signature Series
Blue light is emitted by digital and electronic screens and can cause many negative health effects including digital eye strain, premature eye-aging, and interfere with sleep. The DefenderShield glasses filter and protect up to 99% of blue light. A change in improvement in eye strain can reduce headaches, fatigue, dry eyes, and problems focusing. The pearl gray frames are square and modern and accented by clear top and bottom edges. Two lense options include Amber lenses and Orange lenses. Amber lenses filter 50% of harmful blue light and are ideal for normal day-to-day use. These lenses look similar to regular glasses and allow colors to look most natural. Orange lenses filter 99% of harmful blue light and are ideal for nighttime use. These really help improve sleep quality; allowing faster sleep and REM sleep promotion. Protect her eyes with these protective glasses!
Yamazaki Standing Coat Rack
Yamazaki has been creating common household items using smart and simple design. Keeping all their items streamlined they focus on organization, storage, and space-saving. Their modern and sleek coat rack will fit perfectly in any space. Using a combination of metal and wood, multiple textures are present which bring a great sense of design. The frame is slender and comes in a black or white option and allows the six wooden tip hooks to pop because of the color contrast. This coat rack is very easy to assemble and will appeal to most any woman.
Copper Tech Gloves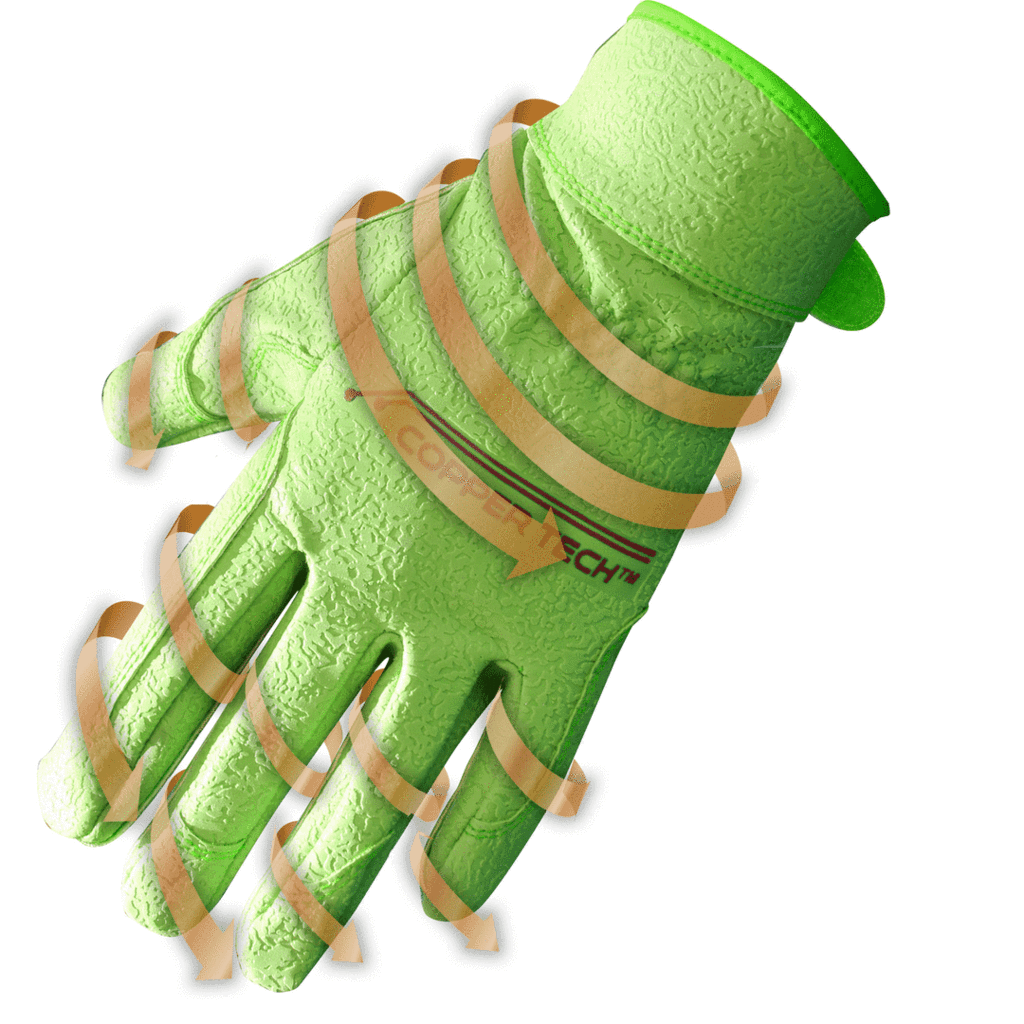 Get back to the love of gardening with Copper Tech gardening gloves. Copper compression technology has been an innovative advancement to the sports and medical world. Copper improves circulation, helps prevent strains, and supports muscles! Now with Copper Tech, gardeners can reap all the copper benefits too. With improved circulation and oxygenation of muscles and joints, gardeners can avoid strains and fatigue, aches and pains! In addition, gloves are made with moisture-wicking material to prevent chafing, rashes, and odor. With Copper Tech, gardeners can get back to landscaping and enjoy the outdoors longer. Copper Tech offers a variety of sizes and colors in their Copper Infused Gardening Gloves. Be sure to check out Copper Tech's complete collection of golf gloves and mechanic gloves, all made with the incredible infused copper technology.
Hope: An Anchor For The Soul
This new novel by Ani Tims is a memoir that will keep you reading long into the night. She lays out her story of growing up in a country where violent crime and AIDS are rampant. When parenting became a nightmare as she was afraid to even walk out her front door, constantly worried that her daughters—one of whom was born prematurely and barely survived—would be raped. She ponders the deep life questions of why and why me? She leads us to how she survived and how it was possible to more forward. We learn that God's timing is perfect. That He is here  – that we should never underestimate the power of prayer. We are never alone.
Previse MommyBalm Stretch Mark Cream
Each Previse product uses sustainably sourced ingredients that give top of the line skin care help. All ingredients are plant based and 'naturally free of parabens, petroleum, mineral oil, PEGs (polyglycols), xenoestrogens, phthalates, synthetic fragrances and dyes.' Their MommyBalm Stretch Mark Cream is no different. Designed to bring stretch mark reduction, this cream penetrates deep into the skin for a nourishing feeling. This cream helps reduce the depth, discoloration, and texture of stretch marks; something every woman wants to rid of. Give this caring and thoughtful gift to an expecting mom, and she'll be thrilled.
Isabelle Grace Jewelry
The inscribed, custom jewelry created by Isabelle Grace Jewelry is designed to be a keepsake. Timeless style and enduring quality is what sets this brand apart from others. Made by hand in Massachusetts, the designs and materials are expertly crafted. The classic, personalized gifts include charms, initials, and semiprecious stones to create one-of-a-kind pieces. They also sell a beautiful collection of everyday wear, that is simple but stunningly unique. Their "inspired" collection is inspirational jewelry that beautifully represents cancer survivors, mothers, faith, epiphanies and more. Isabelle Grace Jewelry is the perfect gift for friends and loved ones this holiday season.