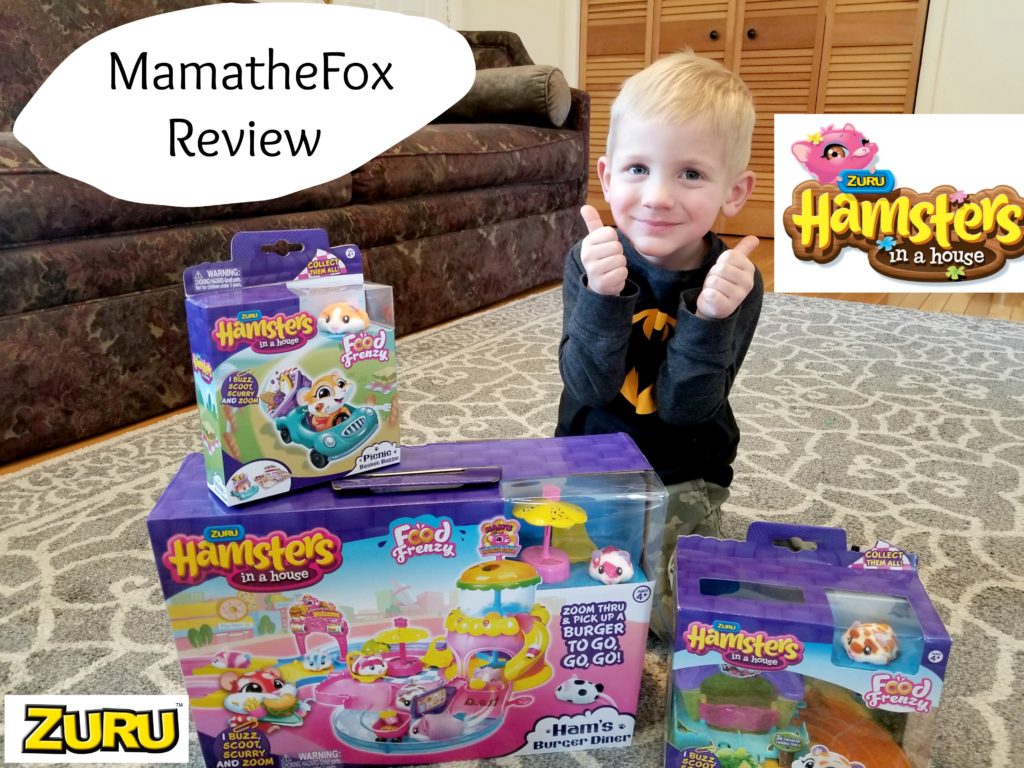 My son, who is 4 years old, talks about hamsters every day.  Hamsters are a cool pet that he see's tons of YouTube kids owning. He thinks they are the coolest animal and wants one SO bad   —-   and that is not ever going to happen!
I will not be spending my days cleaning out a hamster cage, smelling them and worrying about them getting loose, or worse – my cats getting one!
While I love my son, I cannot handle a real hamster, but Hamster in A House is the perfect compromise.
Hamster in a House is a super exciting toy series by Zuru, one of my top favorite toy makers.  These small, almost tiny, hamsters are battery operated to move around in a speedy and silly fashion.  You can collect all the hamsters, their playset's and add on's.
The 3 sets I will be showing you are from the Food Frenzy series!
There are 11 Hamsters to collect – each with a different color and attitude. Like Crumbs, he loves the grill and who never leaves left overs behind, but maybe a few crumbs! Or Honey (my sons favorite), who loves picnics and is sweet as honey.
Hamster in a House is now available at Target
Ham's Burger Diner
Watch your Hamsters scoot, zoom and scurry around Ham's Burger Diner. Kids can drop in the tiny foods (included) through the roof of the diner, and watch them spin around and drop down into a grocery cart. Then set your hamster behind the cart to zoom around the track. They can watch the hamster deliver food to patrons in the dining area, or just keep riding the track.
Each Hamster in a House set is compatible with the corresponding Hamster in a House sets – so you can create a huge track for them to wiggle though.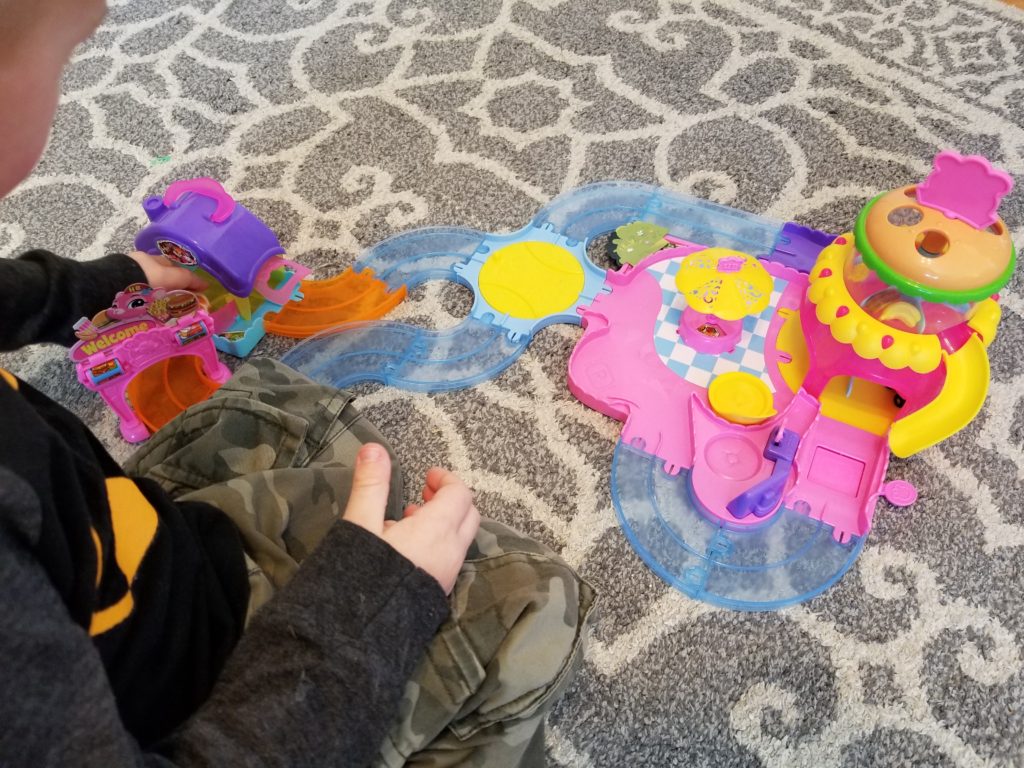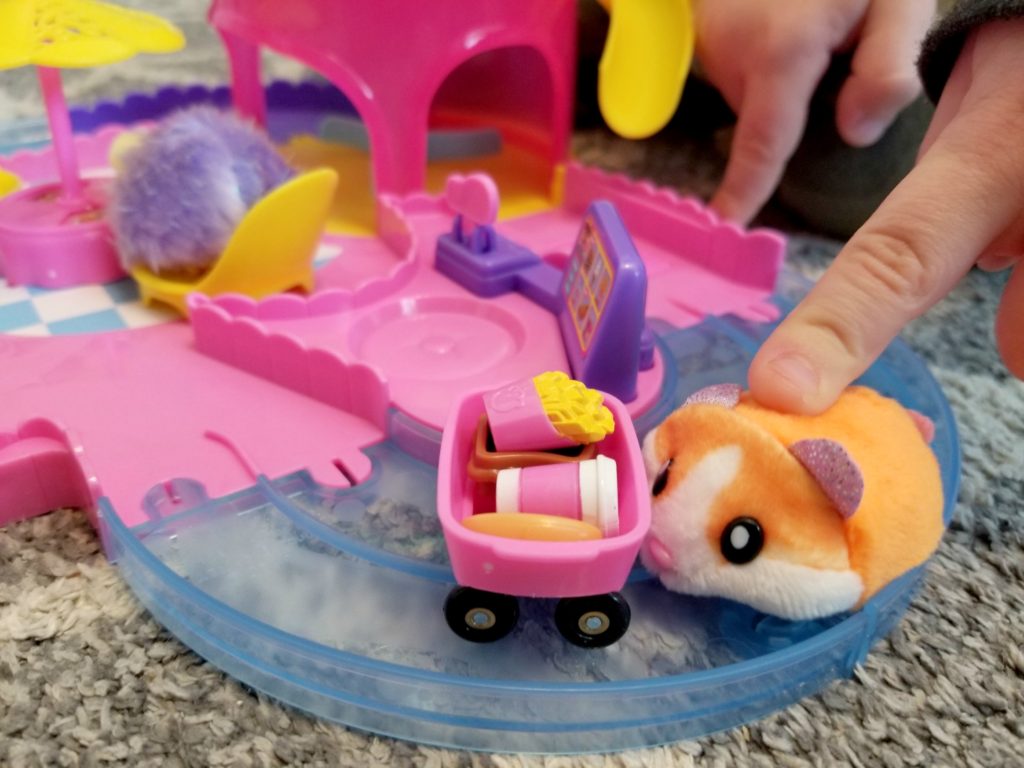 The Snack Shack
The Snack Shack is the perfect addition to your Hamster in a House collection.
It is petite and adorable!
It comes with 3 track pieces which can be used with all the other Hamster in a House tracks – making for even more fun. My kids love to build different tracks and create new paths for their Hamsters to run through.
The little house has 2 entry points with one gate like door. You can stop the Hamsters from going through by closing the door.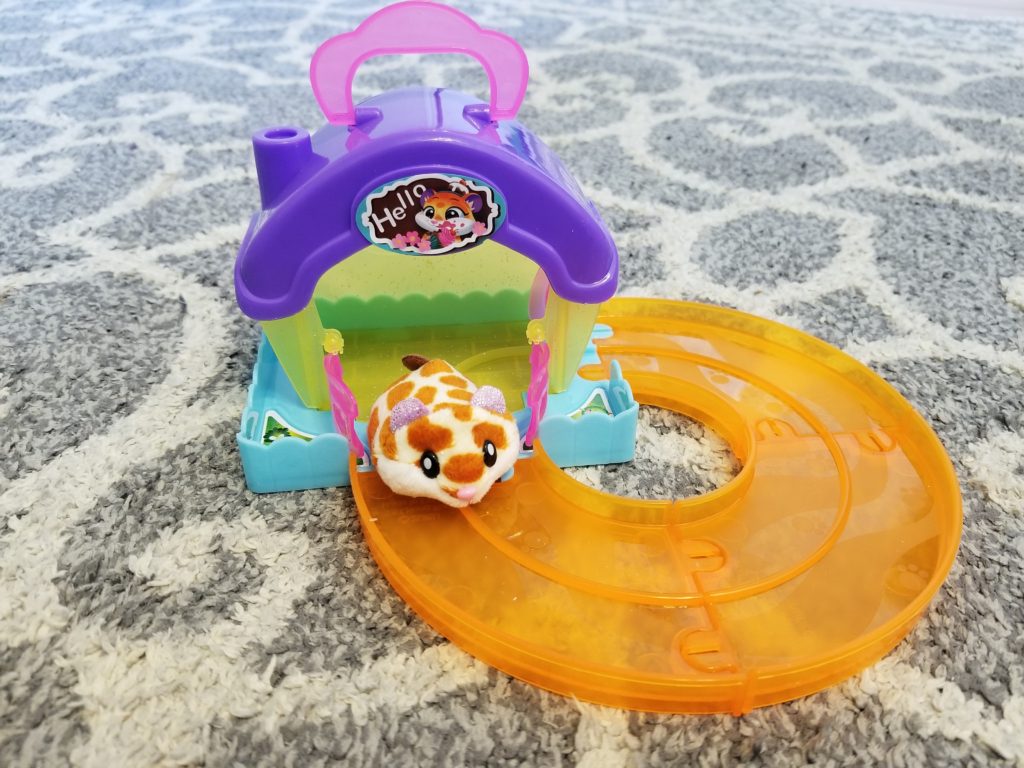 Picnic Basket Boogie
This is my favorite add on for the Hamster in a House Food Frenzy series
You get a little picnic image that your Hamster can sit down and enjoy a lovely picnic meal at.  It comes with a special basket cart that your Hamster can sit under and push as it boogies along.
Includes several small plastic food pieces to use with any of the Hamster in a House sets.
Click here to find this product at your local Toys R Us