Cloth diaper mommies, this one's for you! Buttons Diapers just released new prints and we had the privilege of getting a first look at one of them! Their new diaper print: Courage is perfect for your little one(s).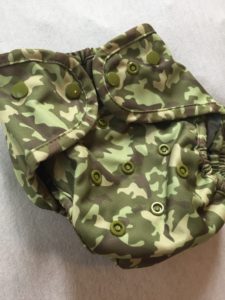 This diaper is so adorable and unique. It quickly became my husbands favorite diaper for our son to wear. We love the color green in our house so this green camouflage print is perfect. I really like how the camo print was designed. Often times I see camo print with large "splotches" of green and dark green; but not with this diaper. The Buttons courage print has many shades of green and the "splotches" are smaller and jagged, not a straight, wavy line.
Connect with Buttons Diapers
Facebook               Twitter               Pinterest               Youtube
……….
When I received the diaper in the mail I was SO excited. Who doesn't love getting fluff mail?! The diaper was wrapped in tissue and tied with a bow, a great touch that makes opening the package even more enjoyable; I'm a sucker for cute packaging. I even like how Buttons includes an instruction page with each of their diapers. Every diaper is wrapped around their thin cardboard instruction page, such a smart way to tell customers how to use the product! After un-snapping the diaper, tucking away the instruction sheet, and washing the cover, it was ready to go on baby's bottom!
::Top Three Reasons I Use Buttons Diapers::
All-in-2 –> The diaper consists of a shell (cover) and an insert. The cover is able to be used multiple times a day. When baby goes potty just change the insert out and use the cover again! This is so great because it lessens my laundry by a long shot! The cover has snaps to adjust the height of the diaper. These make it possible to use for babies from 9-35 pounds.
Gussets –> With the double leg gussets leaks are minimal. It's like there are two layers that protect the rest of the world from baby's mess.
For even more information on Buttons Diapers, check out this review that was written by our very own MamaTheFox.
………………..
Here are Buttons Diapers newest releases: