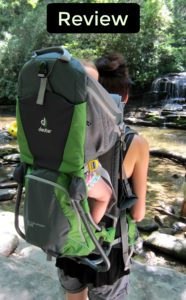 The Cuyahoga Valley National Park (CVNP) is a gem nestled in Northeast Ohio and I am lucky enough to be surrounded by it, it's literally in my back yard. My husband and I have always enjoyed hiking and once our daughter joined our family we loved taking her with us. With so much information on hiking now, it's so easy to get out there and reap the benefits. For example, you can find some great hiking tips and advice
at Outdoorcommand's website
if you're new to it or wanting to take a big step in your hiking adventures. She got joy from being outside and seemed to love all of the beautiful views. She got all of the benefits of hiking with none of the effort, so my husband and I set out to find a carrier that minimized our effort and allowed us to continue to enjoy our CVNP with our daughter.
For trail hikes when she was little we used a stretchy wrap or a soft structure carrier. These worked great for us when she was first born. My husband and I weren't taking long hikes or staying out in the heat too long. As first time parents, our feeling towards infants and the elements was the less exposure the better.
Now that our daughter is one, and we realize that kids aren't made of glass, this summer we have been spending more time on the trails. As this summer got warmer we quickly realized that our soft carriers were not meant for hiking. My husband sweats enough on his own, add a fifteen pound heating pad to his back, and he might as well jump in a pool. This definitely meant we were due a new hiking carrier. I guarantee though a more sturdy one that won't make us sweat like crazy, will put our balance off a lot too. However I've already sorted that one out by searching up the
best hiking poles
to use so we don't topple over!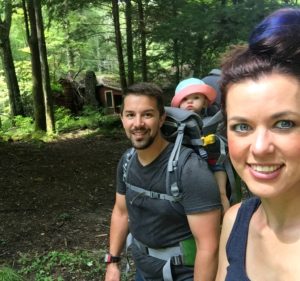 So when my husband said we were vacationing with his family in the Smoky Mountains, I was on the hunt for an actual hiking carrier. We were obviously excited to be spending time with his family in such a beautiful location, but we needed to consider our daughter. We would be hiking, as the smoky mountains are known for the beautiful trails and scenery, so we did need to work out where we could get a carrier from. Whilst we did that, we were also looking for different
places to eat
in the national park. Luckily, there are a number of different restaurants in the area. This is good news for us and the rest of our family as everyone will want different meals each night. As soon as we find a hiking carrier, we'll be able to actually plan some more aspects of the trip, then I can really let myself get excited for our
vacation in the Smoky Mountains
. The plan was to spend most of the vacation on the trails, so I needed my husband to stay dry for more than a mile. I perused my options on the internet and found The
Deuter
Kid Comfort Air and I couldn't be happier it helped make great memories on our vacation and kept my husband comfortable and dry while hauling our little sack of potatoes.
About Deuter
"Years of experience and constant development have made Deuter a market leader"
Deuter
was founded in 1898 by Hans Deuter in Augsburg-Oberhausen Germany, making them one of the oldest backpack manufactures in the world. Deuter started out supplying the Bavarian Mail with mailbags and post sacks and providing backpacks for the military. They slowly moved into manufacturing mess tents, belts and more. Since the early 1900's
Deuter
has used the experience of alpinist and mountaineers as influence for product development.
Deuter has a patent Aircomfort System allowing moist air to escape from 3 sides and is the most popular back support system in the world. Athletes using the aircomfort system sweat 25% less than using conventional backpacks systems. You don't need to be a athlete to enjoy the 3D Airmesh lining since every pack they make has either the Aircomfort System, Aircontact System or Airstripes System. With Hydration packs, Day packs, Hiking/ Trekking, Biking, Snowsports, Kids packs, Travel packs Deuter is sure to have whatever your adventure requires whether it be a hike through your local parks or tackling Mount Everest. Talk about one stop shop for hiking gear.
From the quality of my Deuter Kid Comfort Air, I can tell you they're a company that takes pride in every aspect of their products. I don't think I'll ever need it, but Deuter offers a Limited Lifetime Warranty on all their products. It covers against defects in materials and workmanship for the lifetime of the product.
Connect with Deuter
Facebook Twitter Instagram YouTube Blog
This Mamas Experience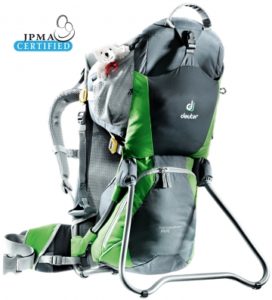 Although the carrier is large, don't let it fool you; it is not heavy (the website says it's 6 pounds and I didn't believe it. No false advertising here. I took it to the scale to see for myself and it does weigh 6 pounds, but it feels so much lighter). The Kid Comfort is comfortable for your child but also extremely comfortable for the person wearing the carrier. Features of The Kid Comfort Air that make the baby hiking experience better:
The Kid Comfort Air has a sturdy aluminum frame with a kickstand. The stability it creates makes loading your child safe and easy especially with the side access.
A padded 5-point safety harness that will adjust to the size of your child
Adjustable seat. You are able to adjust the height and width of the seat.
Adjustable foot rest, to add to your child's comfort, although my daughter didn't use these much since she on the small side, I see the benefit for longer legs.
Two grab handles at the top of the carrier. These handles make getting the carrier on and off extremely easy whether you are doing it by yourself or with the help of someone.
Adjustable hip belt.
The carrier itself adjusts to the person wearing it easily, simply pull the hip belt forward and it will securely slide into place. Between the grab handles and the easy to use hip belt we were able to effortlessly switch the carrier between my husband and I on the trails without slowing down. I have always dreaded readjusting my other carriers from my size to my husband's size. It is is a tedious task that just makes me want to invest in our own carriers. Deuter has somehow designed the perfect hip belt.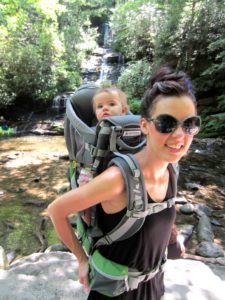 This carrier has storage too. Our soft carriers lacked the storage this pack offers. It has a convenient zippered pocket on the hip belt, which was perfect for my camera and car keys. There are two elastic mesh pockets on either side. They came in handy to hold snacks, sunglasses and my daughters sun hat; anything we wanted to be able to grab while hiking. My favorite is a large compartment under the seat. It was enough space to pack extra diapers (and cloth diapers take up a bit more room), wipes, a blanket, a water bottle and even our lunch.
The Deuter Kid Comfort Air added to the pleasure of our trip to the Smoky Mountains. Our daughter was able to go to more remote places with us, and my husband and I were more comfortable hiking with her on our backs. We are looking forward to using it on all our adventures and when our family grows again our next hiking carrier will be a Deuter.