Banza noodles are one of my favorite ways to sneak extra protein into my children's diets. My kids are your typical picky toddlers. Their diet consists of buttered noodles, poptarts, chicken nuggets and mac and cheese. When I heard that Banza was coming out with a new nice of Mac and Cheese I was thrilled!
Banza's noodles are not your average noodles. They are made with chickpeas, which packs them full of protein and tons of other nutrients. Banza noodles ditch the empty carbs found in traditional grain based noodles. With their chickpea based noodles you get 4 times the fiber and nearly half the carbs in each serving.

Banza's new Mac and Cheese comes in 4 new varieties.
All four of Banza's Mac types have 18g protein, 8g fiber and 28g net carbs! Banza mac is high-fiber, high-protein, lower carb, gluten-free, and rBST-free.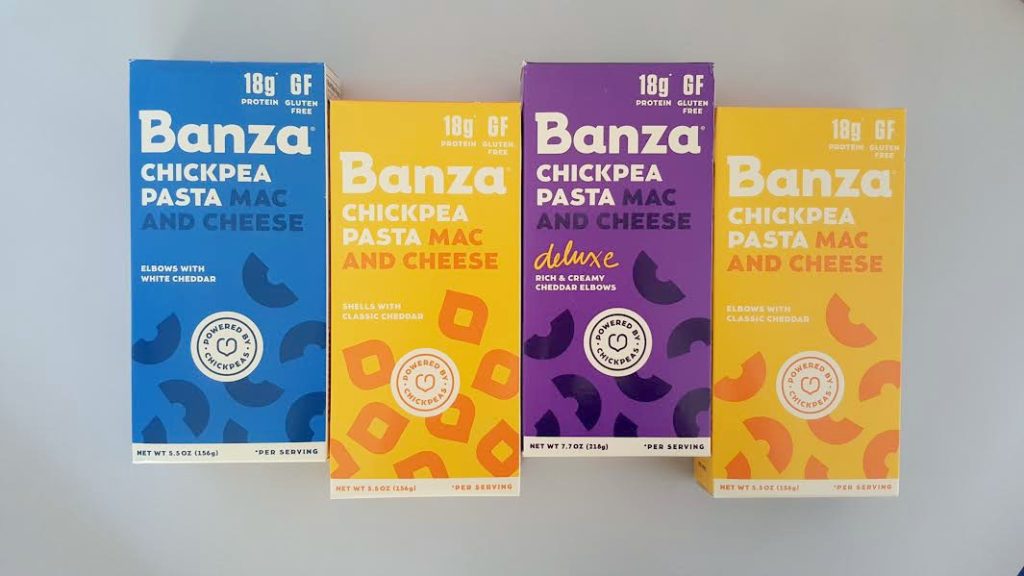 Banza Mac and Cheese products are slightly different from other mac and cheese brands you have eaten in the past. This is due to the use of chickpeas as the base to the noodles compared to a grain product. The chickpeas give it a thicker and more filling quality. This can make the noodles feel 'cheesier' as my 4 year old described it. If you want a less thick feeling I suggest adding a little but more milk to the dish, but not too much. Too much will water it down. I loved the White Cheddar the best. I felt that with the chickpea based noodle it paired very well. While each was fun and slightly different I would suggest grabbing a case of the White Cheddar to start with of not the variety case.
Here is my two cents on each of the new varities:
Mac and White Cheddar – smooth and rich white cheddar flavor.
Mac and Cheddar – original mac and cheese goodness. I added more milk to thin out the cheesiness.
Mac and Cheese Delux – cheese comes in a yellow sauce form (not powdered like the others) giving it a rich and more adult like texture. My personal favorite.
Keep your eyes opened because NEW Banza products are on the way!