As I have gotten older I find that I need more structure and organization to my life. I have become the queen of list making and feel the need to make sure everything I have has a "home". Now that I have a baby on the move making sure that not only does everything have a home, I need to make sure that it's out of reach of little hands. I have limited counter space in my home so keeping things "up" isn't always easy when trying to also use that space. That's where Holster has made my life so much easier; I get to add storage space while opening up my surface space.
 About Holster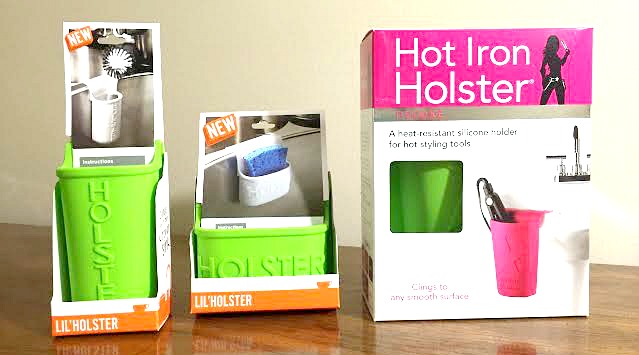 Holsters are silicone holders that attaches to any smooth, non-porous surface. Holster has it all, with their Hot Iron Holster, Hobby Holster and Lil' Holsters. The hairstylist in me favors the Hot Iron Holster; it is heat resistant up to 500 degrees and is perfect for storing flat irons and curling irons. The Hot Iron Holster is perfect for traveling since you can pack your irons and not have to wait for them to cool down. It comes in three sizes Professional, Deluxe and Original. The Hobby Holster is heat resistant up to 400 degrees which is perfect for hot glue guns and craft supplies. The Hobby Holster has dual pockets as well as a built in ruler. The Lil Holsters come in three sizes, The Any, The Skinny and The Mini. The uses of these are unlimited; they are heat resistant up to 250 degrees. They have small holes in the bottom to allow wet objects to dry as well as the Lil Holsters are dishwasher safe. Some great uses include remotes, tools, brushes, razors, toothbrushes, glasses, pens, soap, sponges, make-up, the list is truly endless. Holsters come in a wide range of colors. Making it easy to match your room décor or keep things organized by color coding.
  Using your Holsters is as simple as placing on clean dry surface. Once in place it is ok to get wet. Keep your Holster clean is easy and very important to keeping a good hold to your surface. Wipe your Holster down with a lint-free cloth and rubbing alcohol or simply rinse with water.
Follow Holster
Facebook          Instagram          Pinterest          YouTube          Twitter          G+
 This Mama Experience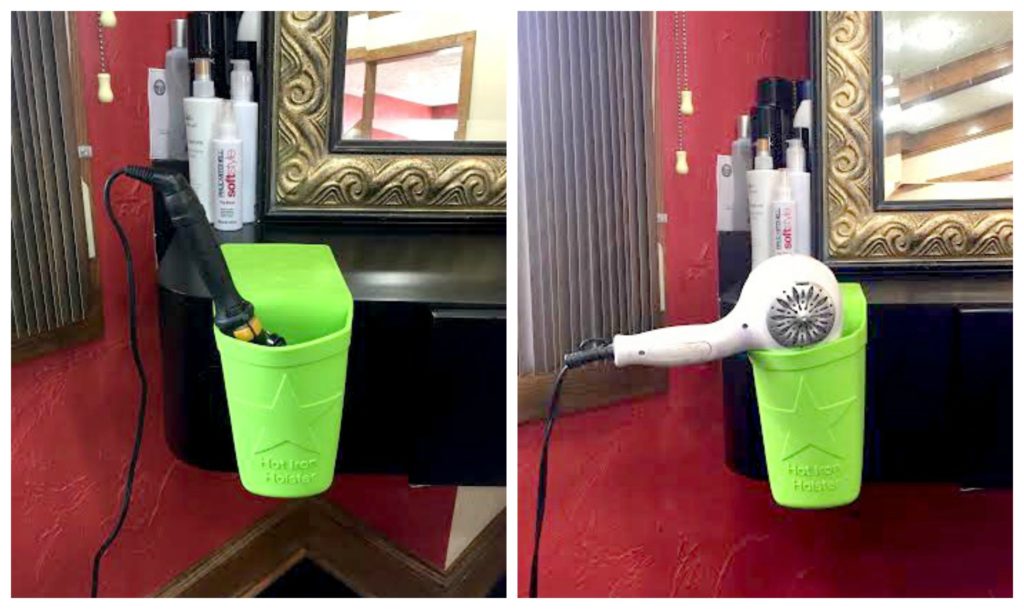 Like I said before being a hairstylist the Hot Iron Holster is my favorite. Getting ready in the morning has gotten a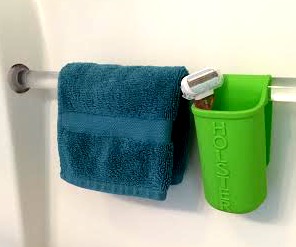 little more difficult now that I have a crawling baby. I love the grip that the Hot Iron Holster has to the countertop; I don't have to worry about little hands pulling the cord and my 400 degree flat iron falling off the counter. Not only do I use it at home, it has been put to work at the salon as well. With it being prom and wedding season I am always struggling for space while using multiple hot tools, it's so convenient to be able to have the iron I'm using hanging within reach.  Or my favorite feature is that when I travel to and from work I don't have to wait for my irons to cool down to pack them up.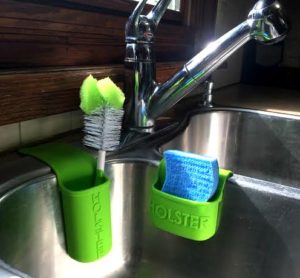 With a crawling baby comes baby proofing everything; the Lil Holster has so many baby proofing uses. The Lil Skinny Holster is perfect solution for keeping my razor off the side of the tub and out of reach of my little one. The Skinny and the Mini have come in handy for keeping the changing table organized. I am able to have her lotions and diaper creams within easy access for me and away from her.  I also love the Lil Holsters for kitchen organization, I have a small kitchen and I love that these keep my sponges and bottle brushes from just laying around.  Since the Lil Holsters are dishwasher safe I am able to easily keep them clean. The Lil Holters are exceptionally great for
mini flat irons
, which are in trend today. 
  You can order Holster online at
www.hotironholster.com
and they are now carried in many stores including Target.