As a mother I try to enjoy my alone time as much as humanly possible. Those precious rare moments when the house is still, kids are asleep and I have the motivation to stay awake I try to seize the moment and take what I call my 'tub time'. I relax in the bathtub with some fun spa like products, a cool glass of water or warm cup of tea and a good book. That to me is one of the highlights of my adult life (my 21 year old self would be laughing at this I am pretty sure).
I am currently in love with Bodylicious Skin products. Theses fun bath and beauty items are available through Etsy and are priced perfectly. So many times I find great products but I cannot afford to keep buying them over and over again. With Bodylicious Skin, they price their products reasonably so that you can use them daily, not only as special occasion treats.
Shirley is the owner of Bodylicious Skin and she makes of each product herself. Using a super high standard her quality control is on point. Nothing gets shipped out unless its perfect. The smells, textures, ingredients all are thoughtfully chosen and made with the end product in mind. Shirley has an auto immune disease, which limits the amount and types of products which she can use. She experimented for a while and started to make her own products so that she can enjoy bath products without harming herself. She makes all her products in a completely sanitized environment, which makes all the difference really.
Bodylicious products are
made fresh

, and

scents can be made to order

!
Follow Bodylicious Skin
Etsy               Facebook               Pinterest               Twitter          Instagram
Mama's Experience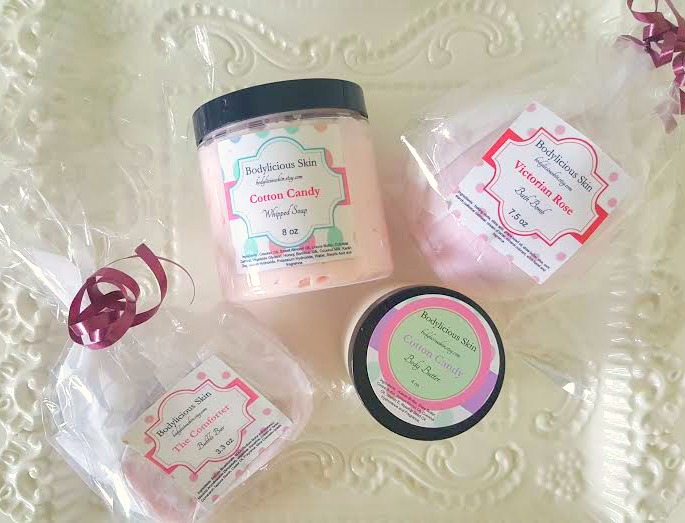 I was able to experience 4 different types of products from Bodylicious. My products arrived on a hot Ohio day, but the each of the products were still in great shape. The body butter and the whipped soap didn't become an oily or runny mess. This really stood out to me. The ingredients held up and that is pretty cool to a consumer like me.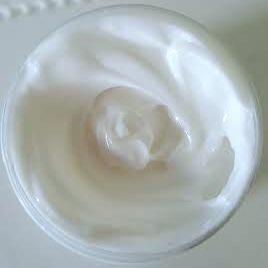 I have to use a good moisturizer on my legs after shaving. Its just how my body is. In the winter I have to use it because, heck its winter and dry! In the summer I need it because after I shave my legs they need that extra moisture to feel comfortable. My hands need moisture every so often because of the million sink fulls of dishes I do daily.  What I love about Bodylicious Skin's Body Butter is how smooth is feels, how quickly it absorbs and there is no greasy after feeling.
The Body Butter's contain high amounts of rich minerals, and hydrovance – a natural ingredient that delivers a immediate and long-lasting hydration more effectively than Glycerin.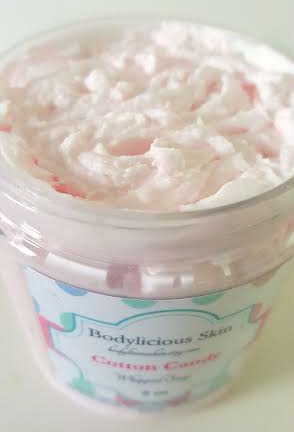 This Fluffy Whipped Soap is the top seller at Bodylicious Skin, and I can totally see why. I have heard of and touched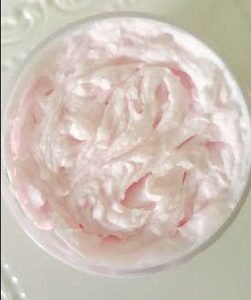 whipped soap products before. This whipped soap is in a class of it's own. It looks like it will dissolve when you touch it. As if my warm hands and body oil would cause it to melt at the slightest touch. But when you do touch it, it holds it's integrity while being silky smooth. It really blows my mind. It easily spreads over your skin, creating the nice lather you desire in a soap, and adding a soft cotton candy scent to your skin and the showers atmosphere. I let my 3 year old daughter use this soap and she felt like a real princess. This would be a perfect gift for that toddler who doesn't need 'another' toy. Its functional, fun and special. Plus their parents will be super grateful for a useful gift.
When you use this whipped soap you need much less than you may think. I have used other brands of body butters before. It takes a great handful to spread around and get the soapy clean effect you crave. With Bodylicious Skin's Body Butter I took just a pea sized to a dime sized sized amount my first time using it. Just to see how it was going to feel and work. To my surprise that tiny amount washed my entire leg and both arms! I bet it would have kept spreading and lathering. The value of this product is outstanding. You want it because its fun, pretty and smells awesome. You need it because it's a value that is worth every penny.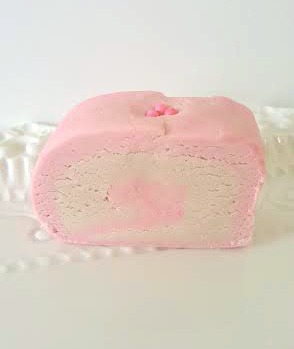 Bubble Bars are a really cool bath time treat. You break off as much or as little as you want and crumble them in the water that is filling your tub. As the water then fills into your tub the bar bites slowly fill your tub with creamy bubbles that smell out of this world! This particular bar is Cotton Candy scented, which is one of the best smells in the entire world in my opinion. This bubble bar is a super generous size, as you can see in the image below. At 3+ ounces, you really get a ton for your money. The stronger your water pressure is the more bubbles you get. If you want more just agitate the water by hand (which I tried and it totally works) to get more bubbles. This is also a great product for children. It makes bath time even more exciting and its safe for their sensitive skin. If you are allergic to a certain item just let Bodylicious Skin know and she can make you a custom bar at no additional charge!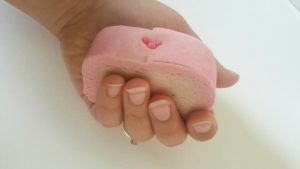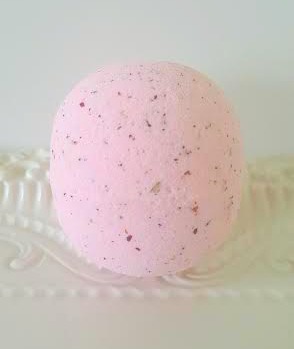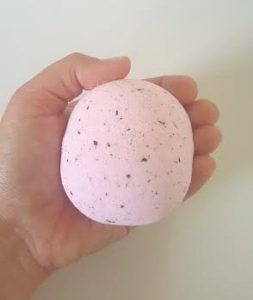 Bath bombs are literally my personal favorite tub time type of product. I love to watch them dissolve. Smell all the scents en-captured being released into my tub water and into the atmosphere.  Its so exciting and yet calming simultaneously. It creates the type of escape I strive for in my alone time. This bomb hit all key aspects I desire. It created a fun and calming environment. I loved soaking in the soft, elegant water that was created. The smells were so feminine and beautiful I felt like I was in a 1900's Victorian setting.
What is great about Bodylicious Skin bath bombs is that they are freshly made to order! These are made for you individually. The are not stale, sitting around for months or years. You can tell the difference in because when you touch them tiny granules of the bomb flake off (which is natural, and a good thing). They are huge in size, making them have the punch you want in your bath bomb. Some smaller bombs you need to use two to get the effect, but not with Bodylicious Skin's! These are made for maximum enjoyment.
Bodylicious Skin is MamatheFox's June 2016 Tub Time!