Belamere Suites Review

About Belamere Suites
As a parent, getting away is one of the keys to a healthy marriage. My husband and I take off 1 day a year to be 24 hour kid free. We do this in April to celebrate our anniversary. Each year we choose to go back to the same place, Belamere Suites. This is because it is the most wonderful option found in the Midwest. Belamere Suites is a luxury suite hotel that is a child-free, 21 and older only location. Rated at the #9th best hotel in America, you know that you will be experiencing the best there is to offer.
Each suite is completely windowless for privacy and intimacy. With your own private garage, you will enter into your suite with ease and comfort. Every suite features vaulted ceilings, welcoming fireplaces, a Jacuzzi tub for 2 and a large walk in 2 person shower. Every comfort and detail was taken into consideration when designing these one-of-a-kind suites.
There are a ton of wonderful upgrades available to make your stay even that much more special. Click here to read the full list of enhancement options. I was able to experience the Anniversary Package. This includes rose petals in a heart shape on bed, pre-lit candles, Biaggi's gift card (valued at $50), 2 in'spa'ration aromatherapy packets, early check-in, 2pm, late checkout, 1pm.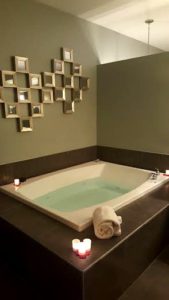 The spa packets are perfect for your Jacuzzi tub, allowing you to soak away your cares in a fun and relaxing environment. Plus, you know they are safe for the jets so you can splurge with peace of mind. Never use products in a jet tub like a Jacuzzi without being sure it wont harm the tub.
With the Anniversary Package upgrade your tub will be surrounded by gorgeous candles. The spa packets will be displayed and ready to be used. There is a flat screen TV that can be watched while you soak. You can enjoy each other company and watch a movie or show from the luxury of this massive tub.
Your bed will be covered with a beautiful rose petal heart along with rose petal accents placed by extra candles around the room. This gives you such a romantic and special vibe. The room is amazing in itself, but with the soft glow of the candles, it makes for a classy evening.
The Anniversary Package comes with a $50 gift card to Biaggi's Restaurant located just down the street from Belamere Suites. I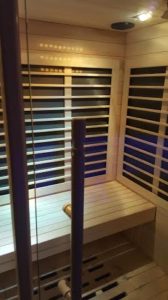 had the scallops and risotto and my husband had the steak salad. The wait staff was kind and fast. The food was delicious and well presented. Belamere Suites went ahead and made the reservations for us so all we had to do was show up and eat some amazing food. I loved that Biaggi's was so close to the suite. I hate to loose time driving around looking for food. I want to spend my time in my suite enjoying all the amenities. This trip I was able to eat food good and get back to my room fast. This was a huge benefit of the Anniversary Package upgrade.
The Grand Royal Swimming Pool Suite, which is the suite I stayed in, features a sauna for 2. This dry heat sauna features a radio so you can enjoy whatever music you want while enjoying the heat. I love to turn on the sauna and allow it to heat up while I hang out in the heated pool. This way it's all toasty for me when I walk in.
The pool is by far my favorite feature of this suite. The pool is heated and kept at 92 degrees. Keeping you warm, but not hot. This way I can stay in the pool for longer periods of time. There are ledges and seats around the edges giving you tons of options on where you want to sit and lounge. In the Grand Royal Swimming Pool Suite, there are candles (electronic) on the wall that can be controlled by light switch, giving the room that soft romantic lighting you swoon for.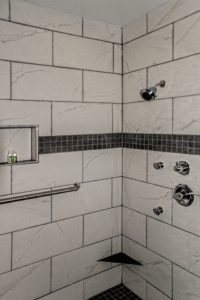 The pool is 18 feet by 11 feet, giving you able room to swim laps, float around and stretch out. While swimming you can listen to the radio, CD or Bluetooth with the built in speaker system. I love how I can control the music we listen to. Switching it up as our mood changed and the evening progresses.
After you take a dip in the pool or the Jacuzzi you can wash up in the huge two person walk-in carrera marble shower. Each room has Bath and Body Works shower products provided for you during your stay. I love how there are multiple shower heads and jets giving you a full spa treatment.
The Grand Royal Swimming Pool Suite boasts a huge king sizes bed with a plush down comforter, 300 thread count sheets and 5 amazing pillows. Having a queen sized bed at home, the feeling of a king bed makes me feel "Royal" as the suite name suggests. There is a huge flat screen TV with a crazy amount of satellite channels are free and available for your viewing pleasure. My husband and I were so excited that we planned out night on the Game Of Thrones first episode of season 6! We were able to watch one of our favorite shows all cuddled up with zero chance of a child walking on and interrupting us! That was priceless in itself.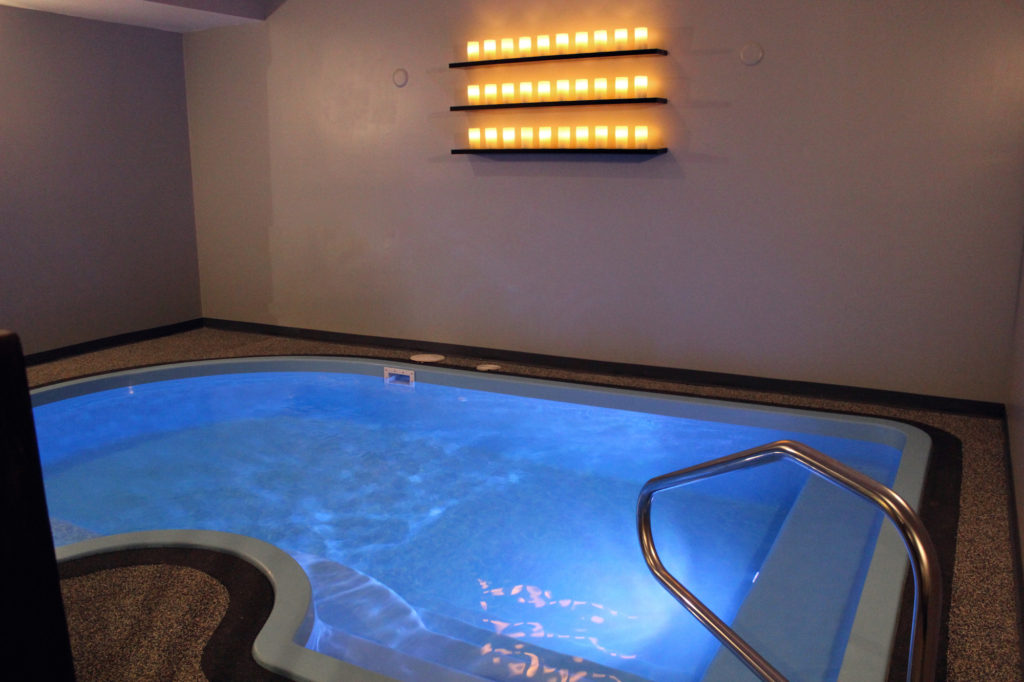 The staff at Belamere is first class. Each person I ever saw, whether the front desk staff or housekeeping they smiled and made you feel at ease. There kindness is so honest and sincer that I remember it as a primary reason I wanted to return after my 1st stay several years ago. Staff can make or break any experience and with Belamere Suites they only enhance the full experience. If you choose to stay for 1 night or several, you will not grow tired of these beautiful suites. Be sure to book in advance! These room go FAST! They are such a popular destination that I made sure to book several months ahead of time for the night we wanted. Get the best deals on rooms when you book Sunday-Thursday. Fridays and Saturdays book faster and cost more for the convenience. After your stay at Belamere Suites come back here and let me know how much you loved it!