Terra Bella March Box Review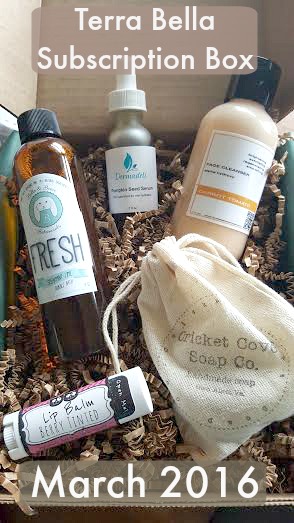 Terra Bella is by far one of the best subscription boxes on the market. They are ahead of the curve on what is new and hot. Always a step ahead, making you feel like you are keeping up with the Jones'. Each month in your Terra Bella box you receive a lovely sampling of cruelty free beauty products. Each month there are not only new brands but different types of products. I don't get the same old 'staples' like other beauty boxes. The large variety of different  kinds products is is what makes Terra Bella really stand out. Products I would not buy for myself and wouldn't even think to buy. Terra Bella keeps a hand on the heartbeat of beauty products, feeling the pulse of what is hot and what consumers are looking for.
I have been receiving boxes for 3 months now and I have not been disappointed yet. I love how there is always at least 1 time in each box with a product I have never heard of yet. This month is was a Carrot Tomato Alpha Hydroxy Face Cleanser. This is a face cleanser without soap in it! Yes, that is a thing (and yes it even removed my eye make-up!)
Occasionally throughout the year you may be looking to splurge and get yourself a treat, or needing a unique gift for a beauty product lover in your life. Terra Bella is going to be your safety net. You will not be disappointed in them. Whether you want to get a 1 time box or a subscription you can get your hands in the hottest beauty box on the market.
The newest feature for Terra Bella is their Bridesmaid Box. This is a special box that is hand designed while keeping bridesmaids in mind. Every bride gives a gift to her ladies. A necklace. Their shoes. A manicure. Boring! Why not spice things up and get them a gift they will use and remember forever. I love being remembered by the gifts I give. It gives me joy. Now you (or a bride you know) can give joy (and receive it back) with the gift of Terra Bella Bridesmaids boxes. Each box has a $65 value and comes with a card thanking the recipient for being in the bridal party. Click here to see more about these Bridesmaid boxes.
Follow Terra Bella
Facebook               Twitter               Instagram               YouTube               Pinterest
Mama's Experience
Lucasea Botanicals ~ Carrot Tomato Alpha Hydroxy Face Cleanser
I have never washed my face with anything but soap. I have heard of people trying different types of cleaners that are 'soap-less' but I never bit the bullet and tried it out for myself – until now! The fabulous part about Terra Bella is they include fun and different products, ones you may not think to try for yourself. Now that I have used this soapless cleanser I can see why people talk about it so much. It cleans my face, and even got my eye makeup off (almost all the way…like 80% off) without stripping my delicate facial skin of its natural oils. Our skin produces oils to protect us and keep us in prime condition. When we use harsh soaps with chemicals we extract those precious natural oils, which can have negative effects on our skin.
This face cleanser is to be applied on dry skin. I messed up the first time I used it and wet my face first. I can totally tell a difference in using it with water and without. They tell you not to use water to allow the awesome ingredients do their work on your skin. Its rich in vitamin C and protein rich, and you want that to soak right into your skin. I let it sit for around 1 minute before rinsing. Because I am not really used to the soapless cleaner game I have used it 2 times in a row a few times because I just didn't think my skin was clean. I am a creature of habit. But, when I exited the shower and looked at myself in the mirror I could see I was clean.
Bella & Beau Botanicals ~ Bubble Bath in Fresh Spearmint Lime
I am a bath guru. Okay, maybe not like officially but I LOVE bath times. It's my special leave-me-alone time. I soak in the tub with a glass of ice water and a good book and I am in heaven. Finding new bath times is one of my favorite things in the world. I have tried loads and loads of bubble baths. What makes this Bella & Beau is the scent combo. Spearmint and lime. I would never in a million years thought to combine those two scents. But they are AMAZING together. I read the label and was like….okay…hmm… Once it poured it in the hot water and started to smell the light and fresh scent I was in shock. What a special combo, each, fresh, light and exciting.
I have been using this bubble bath for a few weeks now and the smell is not tiring on me. I love it every time. I have even used it a few times in my kids baths. They love bubbles just as much as the next kid. What I love about putting this in bath is that it contains no chemicals. This product is all natural and contains essential oils. Those oils are what give this bubble bath its lasting and safe scent. Obviously, you can tell I love this product!
Cricket Cove Soap Co ~ Cuticle Butter in Pink Grapefruit
Cuticle butter is one of those things women always seem to want. It is fun and makes your hands feel fancy. It can spice up an average day. When I worked in an office all day I would keep a cuticle butter at my desk. Every day when making phone calls I would apply the butter. This kind of routine keeps your nail beds healthy and your nails in prime condition. If you are wanting healthy looking and feeling nails, you need to use a good cuticle butter. After using this butter I can tell a positive impact on my nails. The smell is awesome, the texture is smooth and the container is easy to put in your pocket, purse, makeup bag or desk drawer.  This fun product comes in its own little carry bag, that makes it feel that much more fun.
Dermadeli ~ Pumpkin Seed Serum
Serum is not the first thing I think of when shopping for a new face product. My mom never used it and so I never learned about it. Most of what I know about beauty products came from my mom or other female relatives. They used creams, so I used creams. Now that I have tried this Dermadeli serum, man, I am making the switch. I love serums! At least this one. I thought my face would feel oily or that I would break out after using the serum, but I am willing to try things out fairly and give them a chance. I am so glad I stuck it out. When I first applied this serum I was amazed at how fast it soaked in my face. I did not ever feel greasy. When it first hit my skin, yes I thought it felt too oily, but then again it is a serum. But after rubbing it in it felt natural. I read up on this Pumpkin Seed Serum and saw that it's packed with antioxidants and nutrients and can heal and nourishes the skin. What is great about this serum is that it can be used on not only your face but your whole body. It's great on fresh shaved legs. Dry elbows, feet and hands. This serum is the signature product for Dermadeli, and I can totally see why.
Moody Sisters Natural Skincare ~ Berry Tinted Lip Balm
I am addicted to and dependant on lip balm. If you know me personally you know that is a fact. I used too much lip balm as a child and my lips lost the ability to naturally moisturize themselves. They became dependent on the constant application of lip balm and that natural born ability exited my body. Sad huh? Well its a thing you can look it up 😉 Now back to Moody Sisters. I have quite the expert when it comes to lip moisturizers. I have tried more lip products than you can shake a stick at. I know what I like and what I don't like. I can say that I do like Moody Sisters Berry Tinted Lip Balm. It has a very light scent and flavor. You can tell it has a delicate nature to the stick. It was hand made and not packed with additives and preservatives. All those fillers make a lip balm feel either too processed or too over worked. When you put on this Berry Tinted Lip Balm you can feel the natural, fresh ingredients immediately.
This product is lightly tinted to add a small amount of color to your lips. Because of that tint I would not suggest heavy application or else you will have crazy looking lips LOL 🙂 I forgot once and my kids thought it was hilarious. Its light mind you, not a lip stick by nay measure, but its tinted non the less.
Click here to look more into Terra Bella Boxes