Disclosure of Material Connection: I received one or more of the products or services mentioned above for free in the hope that I would mention it on my blog. Regardless, I only recommend products or services I use personally and believe will be good for my readers. I am disclosing this in accordance with the Federal Trade Commission's 16 CFR, Part 255: "Guides Concerning the Use of Endorsements and Testimonials in Advertising."
French Broad Chocolates Review
About French Broad Chocolates
French Broad Chocolates is not your average chocolatier. It all started when a young couple fell in love. So naturally, as all young couples in love, they took a fun and exciting trip to Costa Rica. After experiencing life in Costa Rica, they both dropped out of graduate school, bought a 40-foot vegetable oil power bus and hit the town running. Living in the area they did, they were exposed to cocoa beans as well as a town that truly understood the bean. The young lovers studied chocolate for over a year and opened a chocolate shop. They soon knew that they were meant to be chocolate people. And we are sincerely grateful that they discovered their calling!
Their first shop was Bread and Chocolate located in Costa Rice (has been since sold) this is where they bought one of their first chocolate tempering machines, this is the machine that mixes and heats the raw chocolate which helps makes their chocolate some of the best I've ever tasted, they are now back in the United States and own French Broad Chocolates Lounge in Asherville, North Carolina. When in Costa Rica they helped restored an abandoned cacao farm, as well as helped a friend build a fermentary. By helping their local friends, they now have the connections to directly buy small batches for always fresh and perfectly grown beans. This allows French Broad Chocolates to be miles ahead of any other chocolatiers as far as quality and freshness goes.
French Broad Chocolates are one of a handful of chocolatiers in the world to be bean-to-bar-to-truffle.
My Simple Green Living series is focused on all types of business and products that are in someway 'green'. French Broad Chocolates supports local businesses by buying their honey from local sources. They strive to buy all their ingredients (like the fruit found in some chocolates) from organic suppliers to ensure the highest quality product to their customers. They even compost things like their egg shells and certain packaging. The most impactful (in my personal opinion) is their support of fair trade. "To ensure that this hard work is valued fairly, we can rely on direct contact, conscientious middlemen, association with like-minded chocolatiers, and fair trade certification." – French Broad Chocolates Website
Follow French Broad Chocolates
Facebook               Twitter                Pinterest               Instagram
Mama's Experience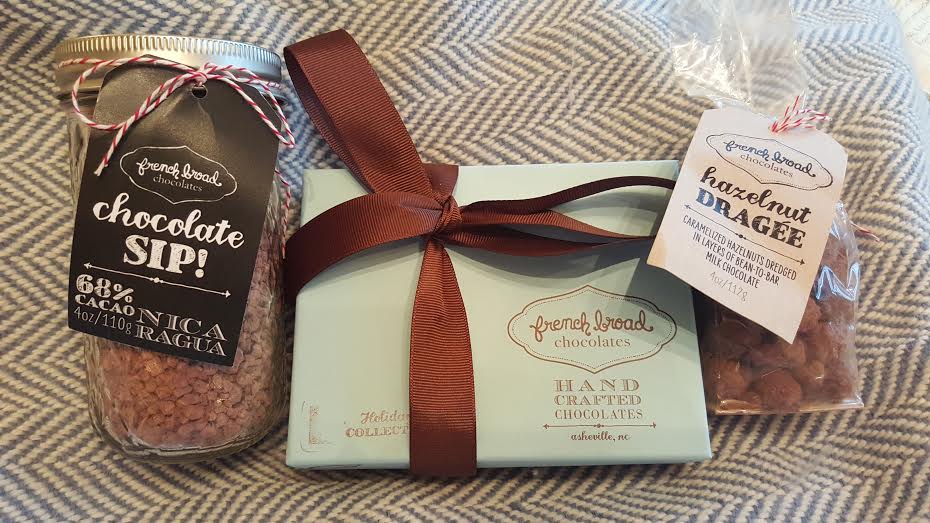 I was able to review 3 amazing products by French Broad Chocolates: a box of truffles (Holiday Collection), Chocolate Sip and Hazelnut Dragée. Each was far more decadent than I would have expected. After researching the company I knew that this chocolate was not going to be any old chocolate. I knew I was going to be able to taste the difference when indulging in a French Broad treat.
As the seasons change and the different holidays come and go, French Broad Chocolates keeps things fresh and current. By ensuring you always get the most fresh batch possible they have limited qualities of special edition treats (like the one I was able to review) and others that are (while still fresh) available year-round.
Currently they have 4 stunning collections of truffles to choose from:
My box was the 2015 Holiday Collection. This box featured the following truffles: gingerbread, peppermint, eggnog, champagne, fruitcake and pecan pie caramel.

These are not the type of treat you keep popping into your mouth one after the next, as you mindlessly watch a Chopped marathon. These are the real deal when it comes to top self truffles. Relax. Slowly take a bite. Let is fully melt in your mouth. This allows the palette to fully take in the depth of flavors as well as the silky smooth texture. By slowly enjoying these fine chocolates you will have so much respect for the love that was put into every cocoa bean.
French Broad Chocolates makes 2 types of dragée: almond and hazelnut. I was able to review the hazelnut.
When it comes to sweet and salty snacks, French Broad hit the mark! These are one of the coolest chocolate treats I have ever tried. Its a simple yet stunning creation. A whole hazelnut was lightly dipped in chocolate and then dusted with the same soft chocolate flakes. This gives you 2 chocolate flavors to take in as well as the salty, crunchy nut at the center. These are great for that moment you are craving that tiny bit of sweetness but not wanting to ruin your waist line. You can have a little something without the guilt of slamming half of a chocolate bar. I highly recommend grabbing a bag to help you stay in check if you crave chocolate but watching your figure.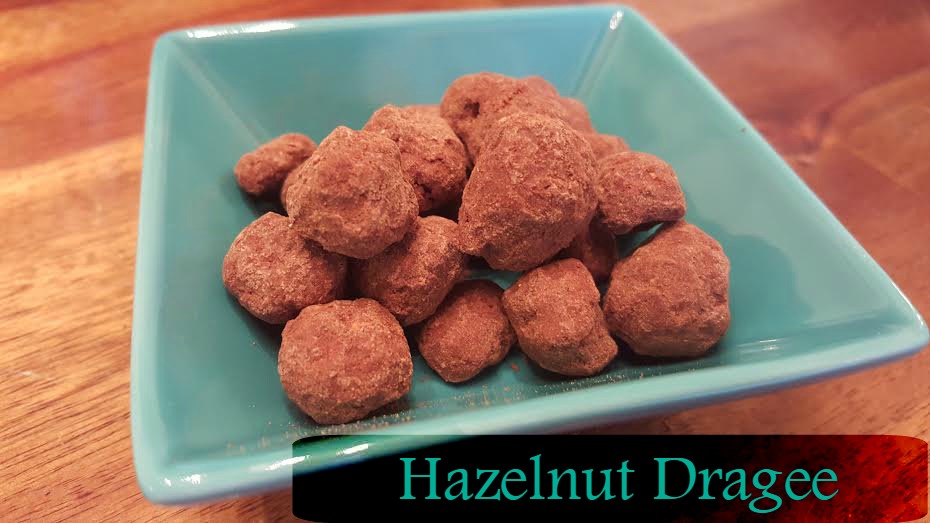 This is not a hot chocolate. This is a chocolate sip! French Broad Chocolates make their Chocolate Sip with house-ground chocolate, and suggest that we steam it with just enough water to be sippable. I boiled 1/4 cup of water and poured it over 3 tablespoons of this house-ground chocolate. I quickly whisked it to make a deeply flavorful sipping chocolate treat. You can also make it with milk, for a thicker treat or heavy cream for a full on party in your mouth.
Be sure to drink it sooner than later if you only make it with 1/4 cup of liquid. this is because it will go cold faster due to the small amount of liquid in the cup.
(PS – the sipping chocolate bites are good enough to eat raw! )
Please head over to French Broad Chocolates website. Check out their amazon selection and try out a few things today.