Rifle Paper Co Review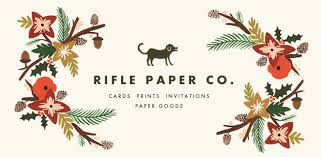 About Rifle Paper Co
Rifle Paper Co was founded by a Anna and Nathan, a husband and wife team who believe that personal stories and moments are best told through through the gift of a handwritten note or journal. They hope to inspire people with their unique and beautiful designs. Starting with classic stationary as their roots, they soon branched out into the world or calender's, planners and home decor. They use FSC-certified paper stocks with recycled content, environmentally responsible printers, and select high quality materials that allow for products that are both well-made and beautiful.
What Rifle Paper Co Sells
Follow Rifle Paper Co
Mama's Experience
I fell in love with Rifle Paper Co at first glance. Their designs and color concepts are modern and classic at the same time, giving me an immediate sense of comfort and joy. Being that they are an eco-conscious company, and try to use recycled materials and environmentally friendly printers, I knew that they would really appeal to all my readers.
As I clicked through pages and pages of amazing products I bubbled with excitement and ideas. When I hold a new, crisp stationary product, whether it's a note card or a journal, I feel the potential which it holds. The thoughts, words, feelings and moments that will be captured inside are priceless.
Art prints have a very large appeal. In the day and age of Pinterest we live in, the wall art collage is something many people are now displaying on their walls. Some people go to places like Lulu & Georgia to get their wall art that brightens up their home. Of course I totally jumped on this bandwagon. My husband and I picked out rustic and earthy toned frames, mirrors, display case and chalkboard. Our home has cream walls and very old hardwood floors, so we choose to run with those earthy/rustic vibes. I love flowers, trees and leaves. I would much rather spend my time in a forest than a beach. Guess it's a good thing I live in Ohio, right?!
I was immediately drawn to so many of the Rifle Paper Co's prints. From floral to locations to modern graphics, they have something for everyone. Keeping true to their design and color schemes, they were still able to make a huge variety of art prints to choose from. These are such a fun gift to received and give this holiday season.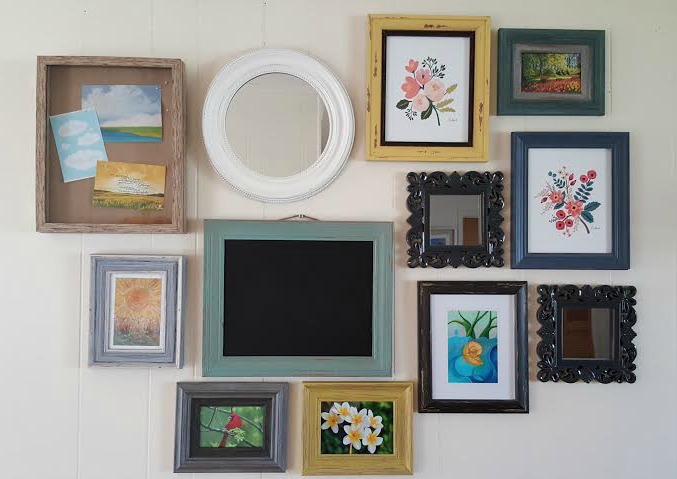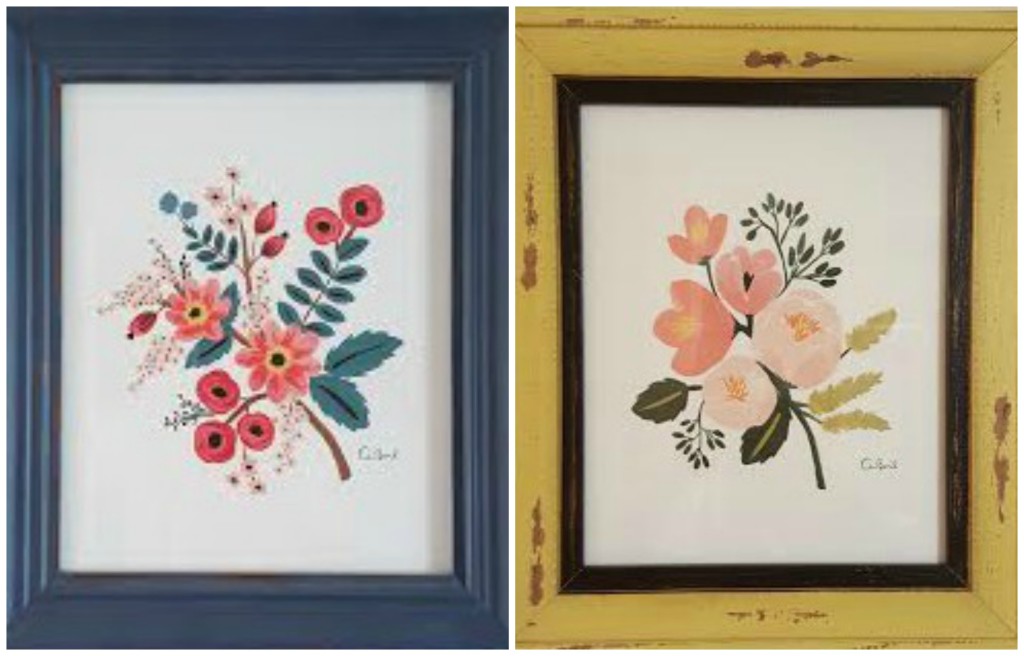 Blue framed image on left "Coral Botanical" can be found here. Yellow framed image on right "Rose Botanical" can be found here.
These prints and many more can be found at RiflePaperCo.com (Images in 6 pack below are courtesy of RiflePaperCo.com)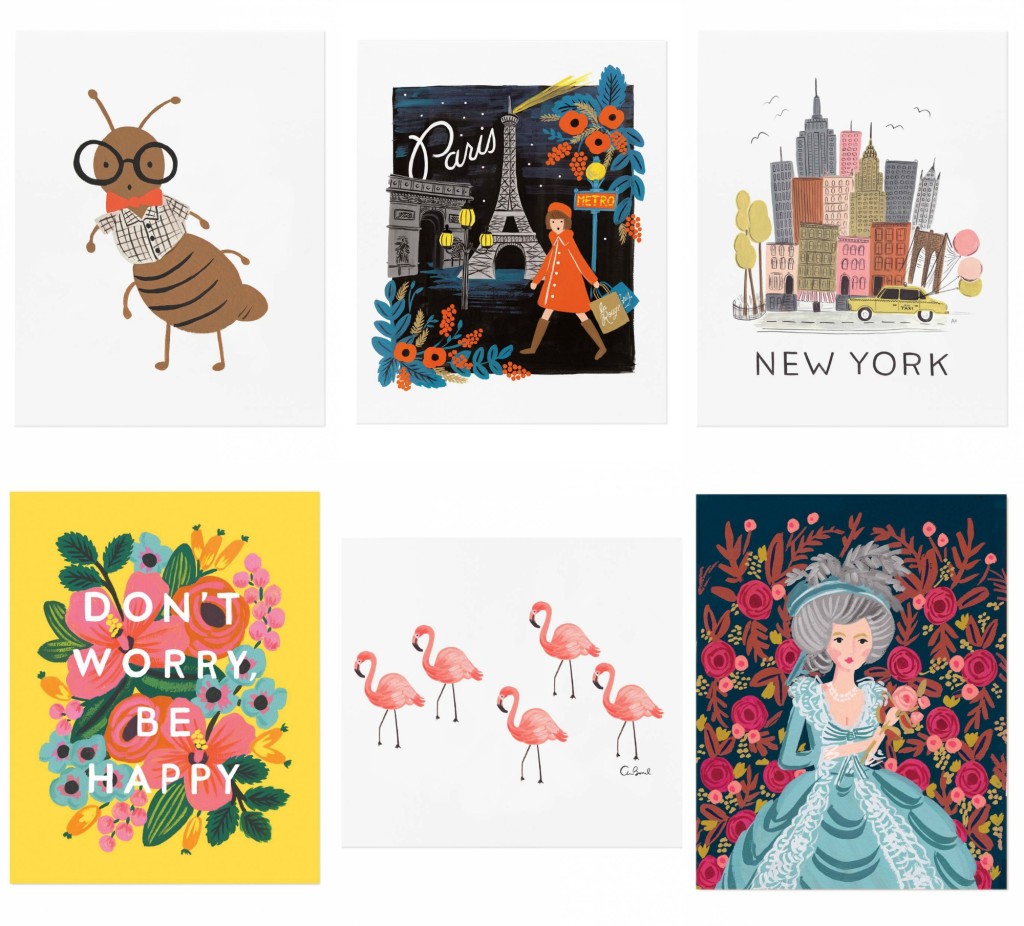 So many times throughout the year I am in need for a blank card. It may be for a thank you, a hello note, a note with a gift…the list goes on and on. Instead of holding onto a plethora of cards, I love having blank cards that can fill any topic. By choosing a monogrammed stationary set, I will always have the appropriate card on hand. A simple flat card with a beautiful initial. It's classic, personal and fun to receive. Check out all the monogram options here.
"The linen envelopes have a scalloped edge giving the flap a unique
look. All 8 notes and envelopes fit tidy in a reusable linen paper box." – Rifle Paper Co Website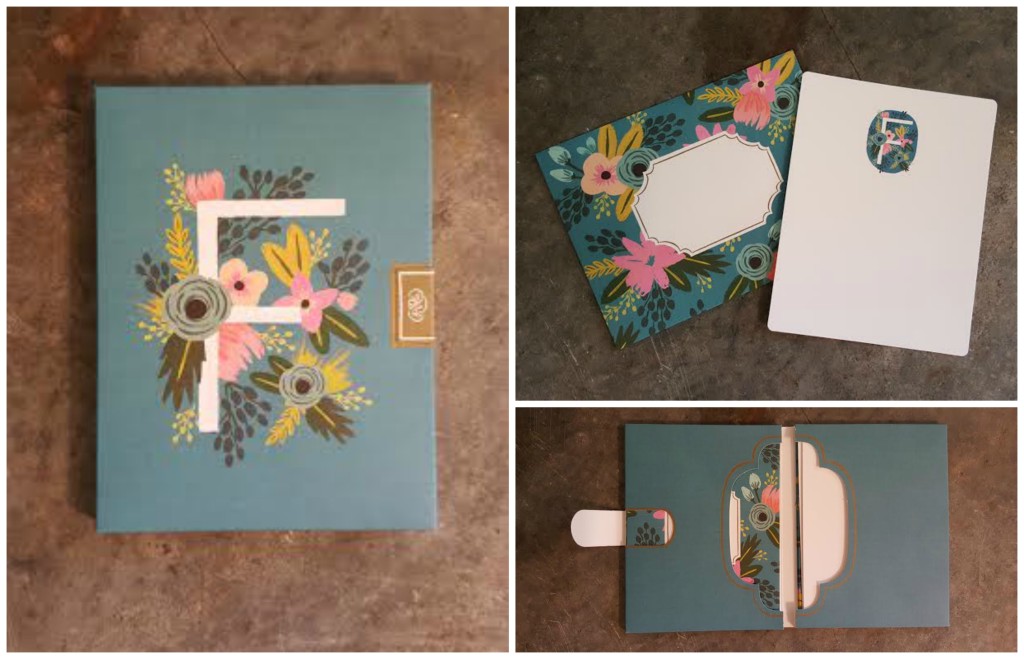 Sending a card in the mail is so much fun. Receiving one is every better! I try to take the time to get a really personalized card when mailing someone a greeting card. With so many options your head can spin. I am now able to check out Rifle Paper Co's selection and easily find the perfect card all the time. Each card features a fun print that you would find on their stationary. art and other products. This allows you to maintain consistency in your personal stash at home. They also have a large selection of just fun and simple cards. Check them all out here.