Disclosure of Material Connection: I received one or more of the products or services mentioned above for free in the hope that I would mention it on my blog. Regardless, I only recommend products or services I use personally and believe will be good for my readers. I am disclosing this in accordance with the Federal Trade Commission's 16 CFR, Part 255: "Guides Concerning the Use of Endorsements and Testimonials in Advertising."
Crayola Cling Creator Review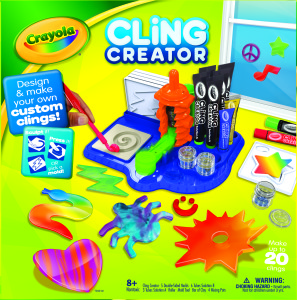 With each holiday my family loves to put fun and festive window clings on a few of the windows in our home. This is a fun way my kids can participate in the decor each holiday and season. I have fond memories of my brother and I playing with the window clings growing up in our home. Making up stories like our own story book come to life. Hours of screen-free entertainment. Crayola, always a step head of the game, now sells the Cling Creator. This amazing product allows us to make our own clings to use as we see fit. Making fun everyday designs, or customizing them, I can make a cling for anything I desire.
Being that this kit if for children ages 8 and up, and my daughter being only 3, I was able to have her help with small sets, making her feel as though she is really making the cling. The Cling Creator comes with everything you will need to get started.
Modeling clay
Clay rolling pin
5 double-sided molds
Multipurpose molding tool
Cling solution
Four mixing pots
Color solution
Shaker maker
Refill packets are also available
In as little as
15 minutes

you can have your own homemade window cling!

https://www.youtube.com/watch?v=7iNHMdDjQZo

This Cling Creator is so easy to use. Buy following the simple 4 step process you will have your own original cling in minutes. This is such a fun and family friendly activity. Spending time with each other is priceless and Crayola helps your family make memories that will last a lifetime.
Complete Clings in Just 15 Minutes
Kids will love how easy it is to use the Cling Creator to create custom clings all on their own. Labeled color mixing pots make it easy to pour the correct ratios of color and firming solution. Once you pour the liquid cling solution into the mixing pot, drop the pot into the mixing chamber and blend it using the fun mixing mechanism. Then pour the solution into the molds and let your clings solidify. The process only takes 15 minutes.
Design Your Own Mold from Clay
In addition to five pre-made double-sided molds, the Cling Creator comes with clay you can use to create your own mold designs. Use the included drawing tool, a stamp, or a toy to make impressions in the clay where you'll pour your cling solution. Kids get to experiment to see how different shapes create different kinds of molds.
Make up to 20 Clings
With enough color and firming solution to create 20 custom clings, the Cling Creator provides hours of creative entertainment. Specially designed storage nooks for the solution tubes, mixing pots, multi-purpose tool, and molds mean you won't have to worry about misplacing anything. Refill packs of additional color and firming solution are sold separately.
Decorate Your Window, Mirror, and Locker
Apply your custom clings to flat, smooth surfaces like windows, mirrors, and even metal lockers. The clings stick for as long as you want. When you get tired of your old designs or want to show off new ones, simply remove the previous clings. You can also re-position the clings if you accidentally apply them unevenly, and you never have to worry about cling residue or stains on surfaces.
Follow Crayola
Facebook          Twitter          YouTube          Pinterest          Instagram 
Buy it
The Cling Creator can be found in major retailer as well as online.
Mama's Experience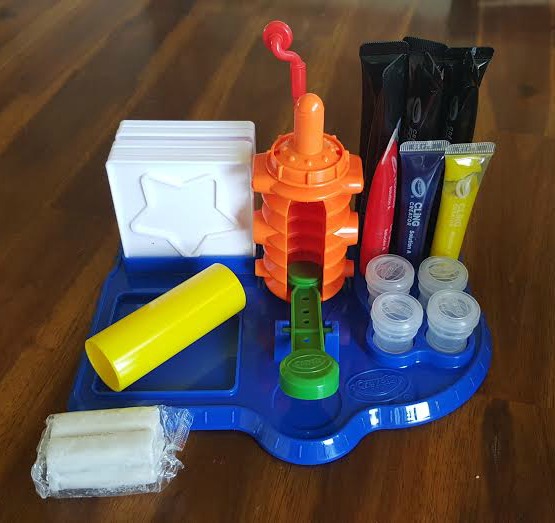 This kit is so fun and easy to use. The directions are very clear and easy to follow.
Simply combine liquids, mix and pour into molds. Waiting it the hardest part!
Having the 3 primary colors provided in the set, you are able to make them solids or mix to make new colors like green or purple. This really allows for creativity to blossom and ideas to flow. Add googly eyes, glitter or drip in a second color to create polka dots. Keep your mind turning and you will come up with dozens of great ideas. This is the perfect too-cold-to-play-outside activity. I highly recommend this to any child who is being home-schooled as a multi-step learning activity.


My family celebrates Christmas each December. Not as simply another gift based holiday, but as Jesus' Birthday! We count down the days to baby Jesus's birth. We talk about what He has done for us and for all people. Keeping our holiday faith based we don't focus on Santa, but on Christ our Lord. Using the clay which comes with the kit we choose to make a cross for our own homemade symbolic nativity scene. Making a cross to be the center, 2 stars to show how the shepherds and wise men followed the star to find Jesus and a music note to symbolize the angels singing in heaven above for His glorious birth.