Disclosure of Material Connection: I received one or more of the products or services mentioned above for free in the hope that I would mention it on my blog. Regardless, I only recommend products or services I use personally and believe will be good for my readers. I am disclosing this in accordance with the Federal Trade Commission's 16 CFR, Part 255: "Guides Concerning the Use of Endorsements and Testimonials in Advertising."
Imagine Cloth Diapers Review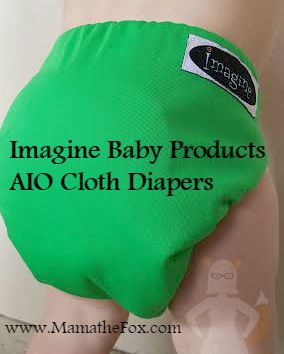 Who Is Imagine Baby?
"Nicki, owner of Nicki's Diapers and creator of Best Bottom Diapers came up with the idea for Imagine Baby Products and the Imagine Program when she saw a need for spreading education about the new ease of cloth diapers and began getting questions about how people could start their own cloth diapering businesses" – Imagine Baby Products Website
Get 5% off an order with code: MamatheFox (ends 10/31/15)
What is the Imagine Advocacy Program?
"The Imagine Advocacy Program is designed for YOU! Smart, passionate parents who want to see cloth diapers on every baby's bottom and who want to earn FREE products too! It's all about friends talking to friends — spreading knowledge about cloth diapers and showing just how EASY they are! You've done the research, now you can make it easy for them to switch." – Imagine Baby Products Website
What this basically means is they offer a host-a-party like sales opportunity. As a consultant you can have your friends buy diapers through you like any other party-based organization (think Avon). You do not have to have any product on hand; all sales are virtual. You get to redeem your credit in free diapers or percents off a purchase. There is a support system in place to help you along and get started and stay ahead of your game. You don't have to touch product or money. Orders are placed straight threw their website and orders are shipped directly to the buyer. It is a win/win!
What Does Imagine Baby Sell?
Shipping
There are no minimums on orders with Imagine Baby Products. All orders (for the continental US) have a flat rate of $4. I think this is just amazing!
Imagine also cares deeply about the environment and occasionally ships their packages in slightly "used" boxes. Such a great idea! Anything to cut back on our waste. Even when placed in a recycling bin that item is not guaranteed to be broken down and recycled. By reusing we can surely help keep our waste down.
Follow Imagine Baby Products
Facebook               Twitter               Pinterest               YouTube
Washing Instructions
Knock solids into toilet
Cold rinse or light wash (no detergents)
Warm or hot wash (with detergent)
Extra rinse, tumble low or line dry
**No bleach, softeners, homemade detergents, or diaper creams without a barrier.
Mama's Experience
I really like Imagine AIO diapers, like a lot. I can trust them for overnights, which is not something I can say about every diaper. If you have read some of my other cloth diaper reviews you know how my son has very skinny legs. He is just a petite little man. Most diapers leak out of the leg gussets, but not Imagine Baby Product diapers! I'm just thrilled that we have another overnight diaper to use and to suggest for other skinny legged babies.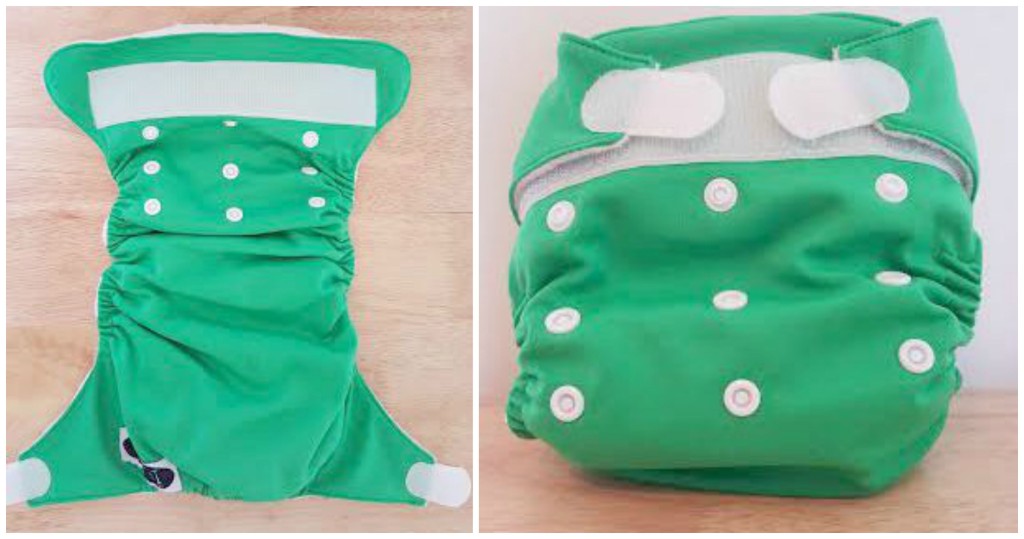 The AIO diaper has a super luxurious insert. The fleece is a dream. So soft I want to cuddle up to it. I got too antsy and did not fully pre-wash my diaper the recommended times (I know I know) and the first 2 times we used it the fleece kept getting stuck to his man parts LOL! It was not an issue and caused NO irritation but I do recommend that you pre-wash your diaper according to packaging instructions to avoid the surprise fleece on your child's skin. Just a friendly I-am-a-human-too heads up mistake.

I really like the hook and loop velcro and laundry tabs. It is really easy to pull opened with one hand when changing a diaper but strong enough to stay on your child. The laundry tabs are placed in a great spot and very reliable in the wash to stay connected. I hate when a hook and loop style diaper detaches during the wash and then sticks to a nice insert or diaper. I don't worry about that at all the Imagine Baby Product diapers.
The insert is really smartly designed because it has two snaps instead of one. This makes the insert have a smaller chance of shifting inside the diaper while in use. I really think that feature makes Imagine Baby Products diaper stand out.
Enter to win an Imagine Baby Products Cloth Diaper
Now you can enter for your chance to win an Imagine Baby Products Cloth Diaper!
(runs 8/20-9/5, Open to US & Canada)