Green Mountain Diapers Review
When I started my journey into the wild world of cloth diapers I knew that I wanted to support other mothers. I wanted to buy natural products. I wanted to find reliable and strong businesses who have a solid and positive reputation. After some initial research I came across Green Mountain Diapers. I took a gander around their website. I was instantly impressed with the easy to read set up, huge selection, helpful tips and information (so important to the newbies like me). Check more reviews like this in StapleSearch.
Who is Green Mountain Diaper?
Green Mountain Diapers "are the leading online resource for natural fiber cloth diapers and healthy organic diapers serving families who choose reusable diapers for over 15 years. Diaper covers with quality natural fiber and organic cloth diapers make healthy baby diapering soft, fun and hassle-free." – Green Mountain Diapers Website
The founder, Karen, is a mom just like me. She wanted to use cloth diapers with her first child but was discouraged by others and felt so overwhelmed by all the information and things to know about cloth diapering. She found out first hand that if you are not using quality products then your journey will not be very smooth. Why waste your time and money on products that will not work? That is just not being a good steward of your money or time, and that is why unbiased reviews are so useful for new mothers. They help you to make the best decisions on all of the new baby equipment you have to buy, which you will have had no experience with until then.
Green Mountain began in 1998. Their mission is "to communicate information about cloth diapering and provide the very best of today's wonderful cloth diapering products focusing on natural fibers". – Green Mountain Diapers Website. Now they have grown to be one of the leading leading natural fiber cloth diaper retailers nationwide and became a true corporation.
Why Choose Green Mountain?
There are so many online resources today. You can buy diapers from so many places. Why Green Mountain?
They have one of the leading natural fiber prefolds – Cloth-eez Prefold diapers
They have their own fitted prefolds!
They have FREE SHIPPING at $75
Free How to Wash Cloth Diapers Booklet with every purchase! – ***MUST HAVE FOR NEW TO CLOTH*** (Can buy additional booklets for $4.95 each)
Free Booklet You Say?
With every purchase from Green Mountain Diapers you get the opportunity to get a FREE How To Wash Your Cloth Diaper Booklet. I have referred to this amazing booklet every day since I received my copy. It's such a helpful and comprehensive resource. It covers everything from how to prep, how to wash, how to select your detergents, how to care for wool, how to change a baby (so great for new parents or parents like me switching over), answers to comment questions like odors, leaks…and so much more. I cannot express how great this booklet is. Do yourself a solid and place an order at Green Mountain and be sure to add the booklet to your order in the "add to cart" option – it will NOT automatically be placed in your shipment. This is such a nice feature. I have a booklet. Next time I don't need another one so I will not add one; waste not want not.
If you cannot afford to place an order at this time but still would like some essential information, then you can read them for free here: How To Use Cloth Diapers, Washing Cloth Diapers, and New To Cloth Info.
What Does Green Mountain Carry?
Mama's Experience
I will review a few items which are available through Green Mountain Diapers
These are the very first prefolds I have every put on a baby. I have used them for years as rags. They are super soft & absorbent so of course they would make great diapers.
sold in dozen or individual quantities
available in white, unbleached, organic
edges are colored for easy identification (example: the smalls edges are yellow, mediums are red…)
free pins with order (need to be added to order through link on this page)
easy to wash and dry – no special cloth diaper soaps needed
Putting a prefold on my wiggly/cant-stop-moving 16 month old proved to be a fun adventure. After a minute of trying I was able to get the prefold diaper properly on him. I think he really loved the feel. It was simple and soft. My son as super thin legs. I was able to roll the fabric around his legs up. Typically people use a cover over a prefold. This helps keep everything in…ya know…everything.
You can use diaper pins to keep a prefold on or a more modern fastener. I prefer the modern version as I get nervous with pins and my cant-keep-still-child.
I love that these are super easy to wash and they can go into the dryer. The fast and easy cleaning cycle is a huge selling point.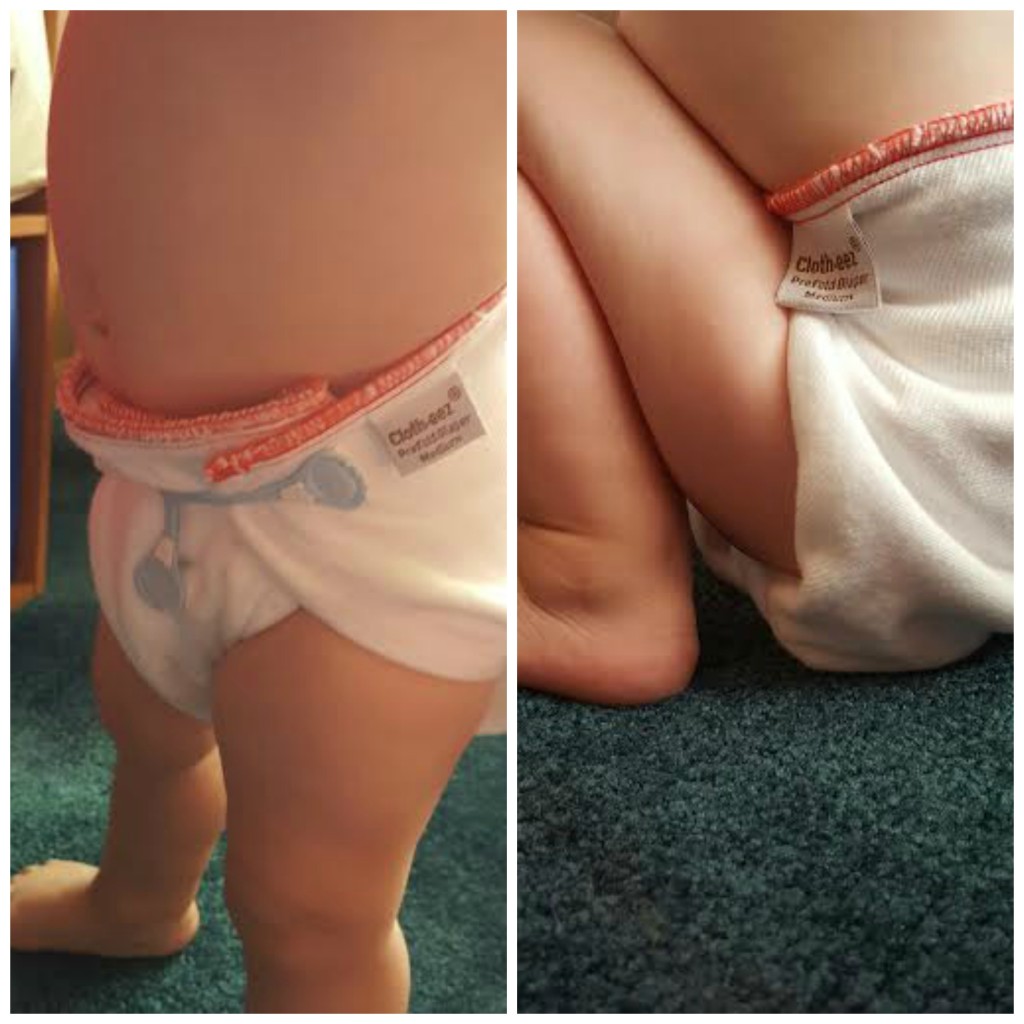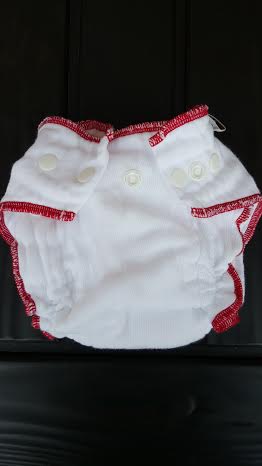 Cloth-eez Workhorse diapers are like a fitted version of a prefold. You get soft, absorbent, 100% chlorine free cotton in a fitted diaper. It has all the benefits of a prefold but with the convenience of being fitted.
Newborn, small, medium, large & extra large sizes
Snap or no closure options (no closure is a fitted diaper but you would need a fastener to hold it on)
100% cotton
Chlorine free
Free pins with no closure option
Available in organic cotton
***This product won an award for excellence in 2015 from Baby Maternity Magazine!
GMD has a variety of doublers and liners, sometimes referred to as inserts. I reviewed 2 from their vast selection:
Malden Mills Polar Fleece Stay-Dry Liner "One layer of virgin "Malden Mills" 200 weight polar fleece with a finished edge. Line your cotton diaper with this top quality polar fleece and obtain dryness next to baby's bottom since it allows the moisture to go through it but it doesn't feel wet. It really works."
This is the coolest and most interesting liner I have experienced yet. It is made of a special fleece. It keeps you child feeling dry longer. This is the product to get if you are transitioning from disposable to cloth!
These are a GMD exclusive. Available in 4 options: small white cotton, large white cotton, small organic cotton and large organic cotton. They are available in sets of 12 or individually.
There are a few different types of fasteners on the market for prefolds and fitted no closure diapers. The ones which are available through Green Mountain are:
I have yet to have the courage to hold my son down to get the pins in. I did use the snappi few times now with great ease. I was reluctant to believe it would really hold onto the diaper. Or that it would stay on once my son was running around. It did! With no issues. I am very pleased with snappi.
While Blueberry is not a Green Mountain house brand, it is a brand which Green Mountain carries. Green Mountain Diapers carry several types and brand of diaper covers. We use covers over a prefold or fitted cloth diaper. They keep things in if you will.
You can place a diaper on a baby with fasteners then place the cover over it OR you can tri-fold the prefold diaper and place inside the cover (sorta like how you would stuff a pocket diaper but minus the pocket part). Either way works. It is a personal preferance really.
Follow Green Mountain Diapers
Place an order
Now that you have seen some of the amazing items that Green Mountain Diapers has to offer head over there now and grab a few things today! Click here to view their website.