Ava Anderson with Erin Review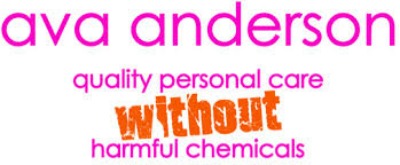 Ava Anderson is the premier provider for non-toxic & safe personal and home products. Founder Ava Anderson, at the spry age of 14, noticed that the market is flooded with "organic", "natural", "safe" and "pure", yet there were almost always toxic ingredients included as well. "Ava had become truly disturbed at how consumers were unaware of the risks of common brands and how those who thought they were making safe choices often did not know what was really in the products they were purchasing. After months of research, Ava realized that she needed to create her own products. Through a family friend, she located a manufacturer with research facilities that could develop and produce products to her standards. It was a great challenge to develop these revolutionary formulas, but with her vision and persistence she succeeded." – Ava's Story. 
There are tons of hidden toxic ingredients in the products we use. To see a comprehensive list of these chemicals click here.
Ava Anderson has products for every area of your life:
Ava Skin
Ava Face
Ava Body
Ava Sun
Ava Scent
Ava Kids
Ava Hair
Ava Home
Ava Smile
Ava Baby
Ava Garden
Ava Men
Ava Auto
Ava Bugs
Ava Pet
Ava Candle
Ava Gifts
What a list?! I am so impressed with such a well rounded product line.
Ava Sunscreen 30+ SPF 2.9 oz
Broad spectrum UVA/UVB coverage for any age, with organic beneficial essential oils and ingredients. Water resistant. Best safe sunscreen on the market
Ingredients:
Active ingredients: zinc oxide (23%, non-nanoparticle). Inactive: beeswax (organic), theobroma cacao seed butter (organic cocoa butter), butyrospermum parkii (organic shea butter), olea europaea oil (organic olive oil), simmondsia chinensis (organic jojoba oil).
Cost: $15.95
Ava Sunscreen Sticks 30 spf – set of 2 – .5 oz. each
Su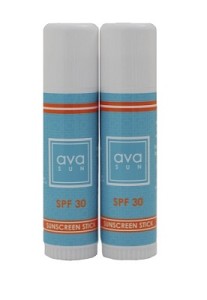 nscreen sticks are perfect for facial application.
Ingredients:
zinc oxide (21%, non-nanoparticle), cocos nucifera (organic coconut oil), helianthus annus (organic sunflower seed oil), butyrospermum parkii (organic shea butter), beeswax (organic).
Cost: $23.98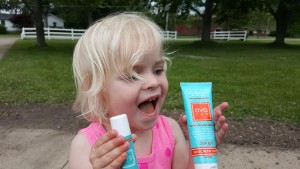 My order included a fun little extra fact sheet that I just love. It tells you how to store, apply and use the product. They even include a quote from the Centers For Disease Control, "Sunscreen is not meant to allow children to spend more time in the sun than they would otherwise. Combine sunscreen with other options to prevent UV damage. Sunscreen reduces damage from UV radiation, it doesn't eliminate it." 
The sun screens do not contain extra perfumes, so the smell is really refreshing as the natural scent of the product. I know that I won't get a headache when re-applying it on my children all day. It goes on smooth and wants to absorb into your skin, it doesn't just move around on the top layer of skin like some other brands of lotion do.
So please do yourself a favor and tryout a few of Ava Anderson's products. You will not regret it.
Follow Erin with Ava Anderson