Jamberry Nail Wraps with Toni Review
If you have not heard of or seen Jamberry Nail Wraps in person yet, I am confident it won't be long until you do. Sweeping the nation by storm is the newest nail sensation, Jamberry. Toni is a prime representative who is able to help women like you have beautiful nails which last for days and days without the chipping we are used to. You may also want to try gel nail polish, as this lasts for weeks and don't chip as well! You can still add your favourite Nail Art as well. Moms, working women, retirees, stay at home moms, and young girls all love to have fun and unique nails. We all have seen elaborate designs but know they are just too time consuming and too expensive when at the salon. Jamberry is here to solve this problem.
"The story of Jamberry Nails begins with three sisters who possess distinct personal tastes, but share a love for style. After an expensive afternoon together at the nail salon, Lyndsey, Christy and Keri vowed to find a simpler, more cost effective way to keep their hands looking polished, while still spending time together. "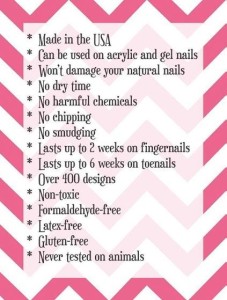 Jamberry nail wraps are made of a vinyl surface and adhere to the surface of your nails (fingers and toes). When applied correctly they are watertight, durable and have a glossy finish. The wraps should last up to 2 weeks on your finger nails and up to 6 weeks on your toes. After an order is placed they typically ship within 6 to 10 business days.
Jamberry offers a Mommy & Me line. You and your little girl can have fun and beautiful matching nails! What a perfect treat for Mother's Day. This is a a great product for holidays and family photos. The full sized adult wraps come with 18 nail wraps on a sheet. The Jamberry Junior wraps come with 42 wraps per sheet.
There are even Jamberry Nail Wraps with Sorority prints! What a perfect and classy way to wear your letters?! These are perfect for Greek Week events, Bid Day, Big and Little gift exchanges, recruitment events, Alumni gatherings, and every day occasions!
Just in time for Mother's Day. Need a last minute gift for the mom friend who does so much for you? Get her a few sheets of Jamberry nail wraps! You wont break the bank and she will think the world of your thoughtful gift.
Once you start to wear Jamberry products and building your stash you will see how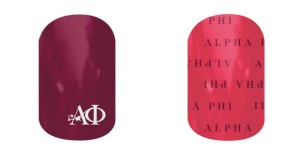 fun and addictive they can be. If you are interested in helping other women buy Jamberry you can even throw a party yourself! When you host a party you can do so online or in person. When you host an in person party you can see and touch the wraps and even see how to apply them first hand. If you would rather buy in between juggling your kids, job, doing the dishes and running your errands then shopping online through a virtual party will be more up your alley. Toni is available through her Facebook page found here. Click over and follow her so you can see current specials and promotions. New styles come out every 6 months, so you can always stay fashion forward.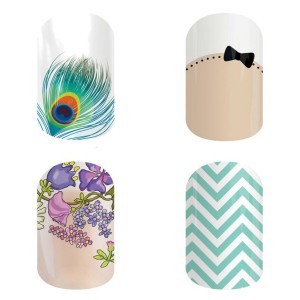 When you are a consultants you make a minimum of 30% commission. This is one of the best sales commissions in the community. If you want to try it our and host a party, you get to earn free product. They equip you with free marketing and business supplies, earn product credit and the possibility to travel to amazing destinations. Find out how much you can really earn by clicking here. One of my friends was able to quit her full time job and now exclusively sells Jamberry as her primary income. It's fun, lucrative and has a wonderful support system.
If you place an order through Toni and mention MamatheFox you get a FREE accent sheet!
Pop over to Toni's Facebook Page to see what is new and exciting with Jamberry.
Want to win FREE nail wraps? Check out the cool stuff Toni is giving away by clicking here!
(Giveaway runs 4/7/15-4/21/15; US only)