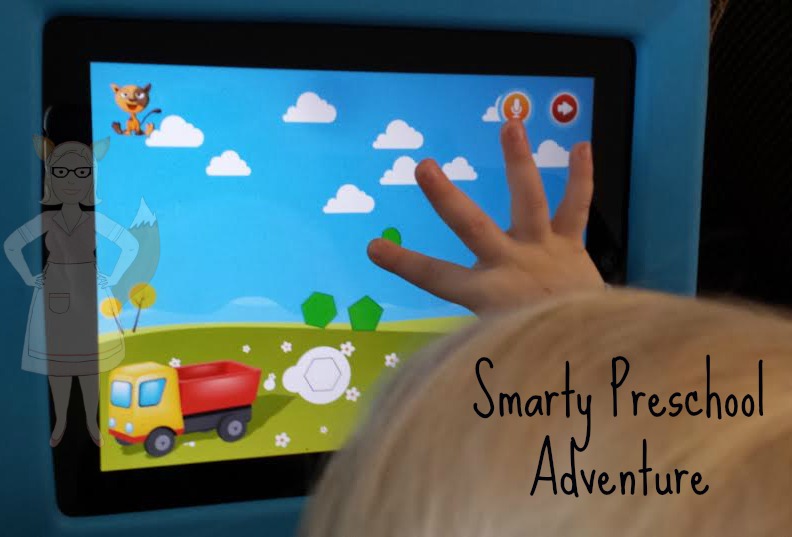 Raising a child in society today its hard to not be bombarded by technology. Television, DVRs, blue-ray players, cell phones, iPads, tablets, cell phones, iPods, and who knows what is next. We try to limit our children's screen time so that they can use their imagination and be exposed to people and nature. Reality is we also need to have our children exposed to technology because it will be an integral part of their education and future in general.
When I brought home my second child I saw the value that could be seen in an iPad/tablet. When I needed to sit with my newborn and nurse (which as all mothers know can be ALL day sometimes), I needed to have my toddler distracted and entertained; otherwise she will want to crawl and be on my lap too, which can be quite the balancing act. I now still exclusively breast feed my youngest and still need those 20 minutes to side track my daughter. Finding a good, quality and educational app for your child is not as easy as one would think. Some are full of advertisements which can lead your child into the internet (which is not appropriate for young children), some are full of glitches which freeze and turn off that game. That is horrible when a kid cannot play something they started due to a app error. Some are non sense and will not provide any value or gain in the play time.
When I was given the app from Anna, the creator/owner/developer I was excited but hesitant. You just never know what it is you are installing onto your tablet. I let my daughter be the first to open the game. She easily was able to independently open the game and get it started. She likes being able to figure the buttons out on her own.  The main menu is the games main character, "Smarty" cat, juggling different shapes of multiple colors as well as fruit. The user touches an item being juggled to choose the game they wish to play. This is a fun concept but too hard for my 2 year old to fully understand. She want to play the "match the color game" but is unable to know which item to touch for that game to appear. This can causes stress for my daughter and me. I tried to figure out what shape or fruit goes with which game and I cannot find any association between them. It's almost as if its random. If only the items being juggled would more easily identify with the wanted game then my daughter, and other users, would have an easier time navigating.  A few times she has turned the game off because she cannot figure out how to get into the game she wants. When she is on a roll, however, she will play this app for a solid 20 to 30 minutes.  We also get a screen where you can tell it is showing you how many levels you have unlocked with stars and numbers. I cannot figure out exactly what it is trying to tell me.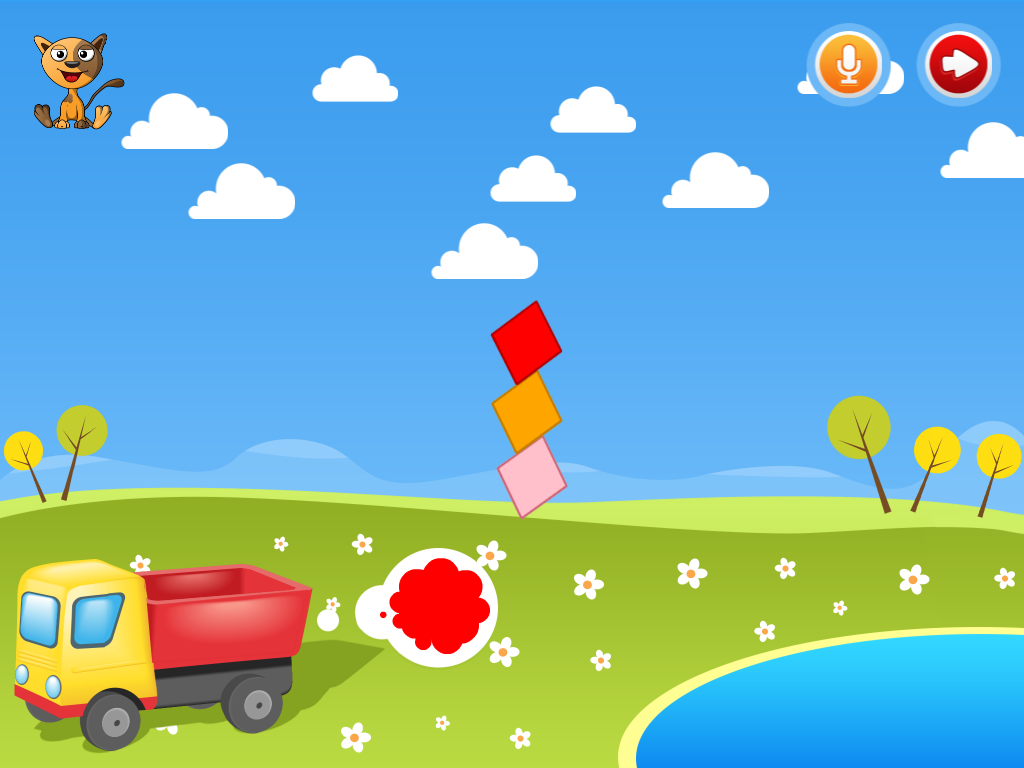 Colors:
My daughter has never been very good at her colors. She could count to 20 by 2 year but colors allude her. No interest in learning them either, until this game! She loves matching the colors to the thought bubble with the lead color! I was thrilled to see her repeating the correct colors! Saying them out loud with the game. Then later recalling those colors correctly. Happy mama here.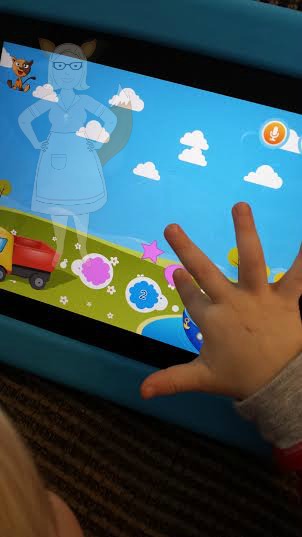 Shapes:
There will be multiple shapes to drag to the matching shape bubble. If there are 2 hexagons then it will count as you drop them in the bubble. She loves numbers, so this feature is great. Another shape game is when you get to physically shake the tablet back and forth to make the shapes fall from a cloud. This is a great interaction my daughter loves. She like to drag them back like puzzle pieces.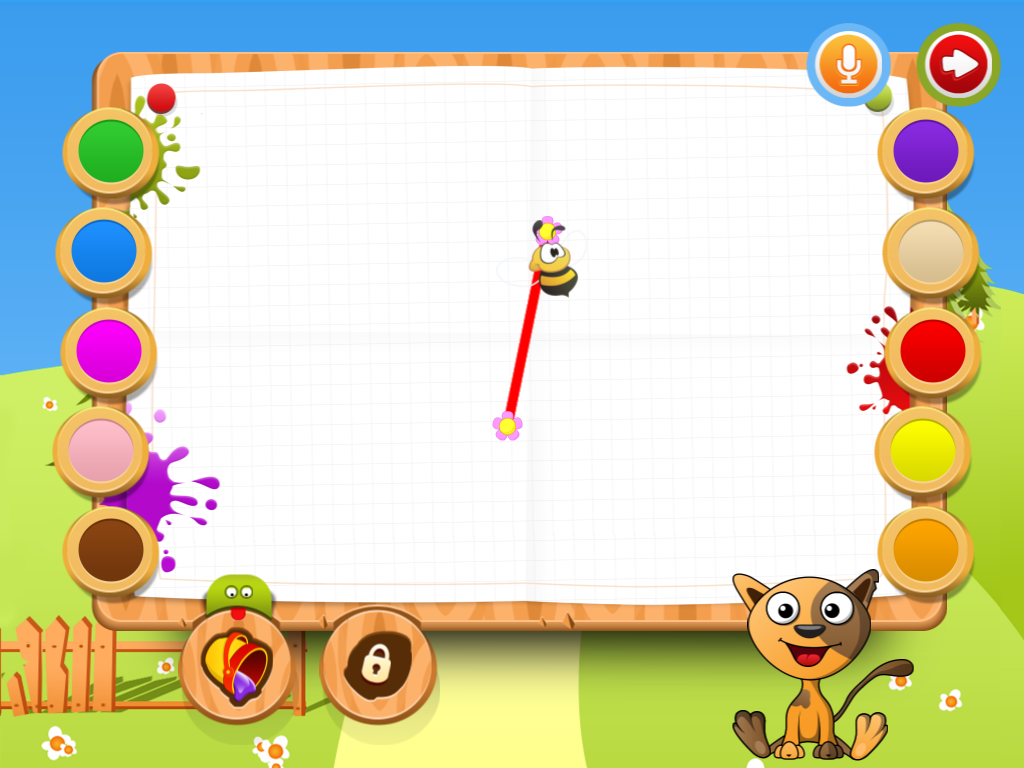 Join the Points:
This is my daughters most captivating and most frustrating game on the app. In this game you take your finger and touch a small flower. Then dragging your finger you create a line which you move to another flower. You do this to make different shapes such as a line, triangle, hexagon, etc… My daughter wants to play this game all the time, but being only 2 years old, her fine motor skills are not fully developed. The screen is very sensitive and you have to have your finger exactly on the center of a very tiny flower for it to recognize your touch and make the line for you to be able to connect. I would suggest that the screen allows a larger area for a finger to be able to start the line, or to make the flowers a bit larger. This would help the younger children. I really love this feature because it is using their fine motor skills. It allows the user to pick a color that they want the line to be. The most fun part is when you finish connecting the lines a tiny bee goes around the shape showing you that you did it correctly. Sometimes my daughter will get confused on which flowers are supposed to connect. I would also suggest that when a line is being held for a few seconds and has not connected with the correct flower yet that the flower you are looking for starts to change color or gets slightly larger. So the child playing can recognize where they need to drag their finger to.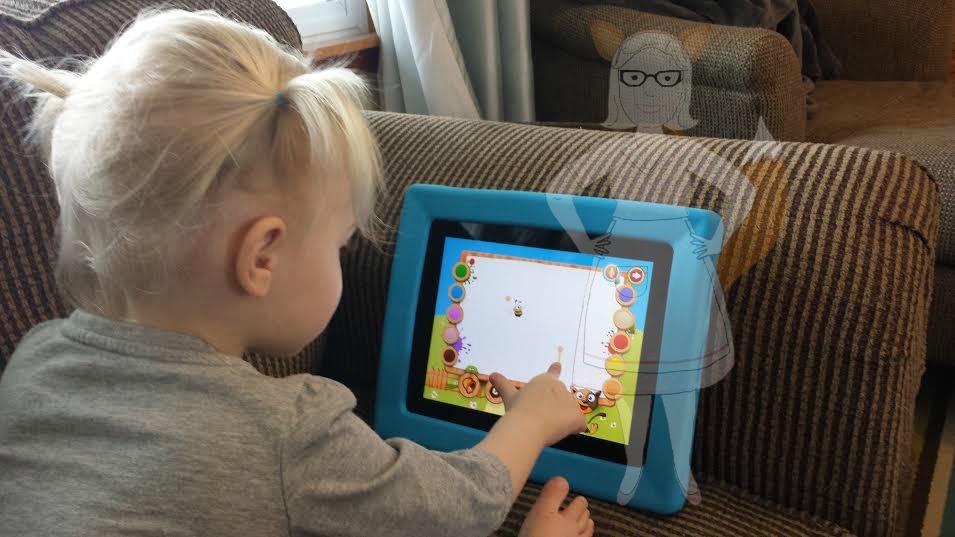 Paint the Shape:
This is a great color learning game. You will see a large shape in the center of the screen. Then at the top of the page you will find the name of a color, in that color (the word red and the writing is in red). On the sides of the screen you can see all of the color options. Here the child touches the color they are looking for then touches to shape. The shape fills up with the correct color and you get a new shape and color to play again.  My daughter forgets to look at the word at the top to see what color she is looking for. I would suggest making that word larger and maybe make it enlarge if the child guesses wrong, so they can see what their reference point is again.
Encouraging:
When a user completes a task correctly they are encouraged with a celebration and congratulation. A bunch of stars or confetti shapes will fall down and you will hear a phrase like "Magnificent" or "Great you are"! I am not familiar with the phrase "great you are" but this game is available across the globe in many languages so it must fall in a non American English phrase category. My daughter loves the praise of a job well done when she completes the level.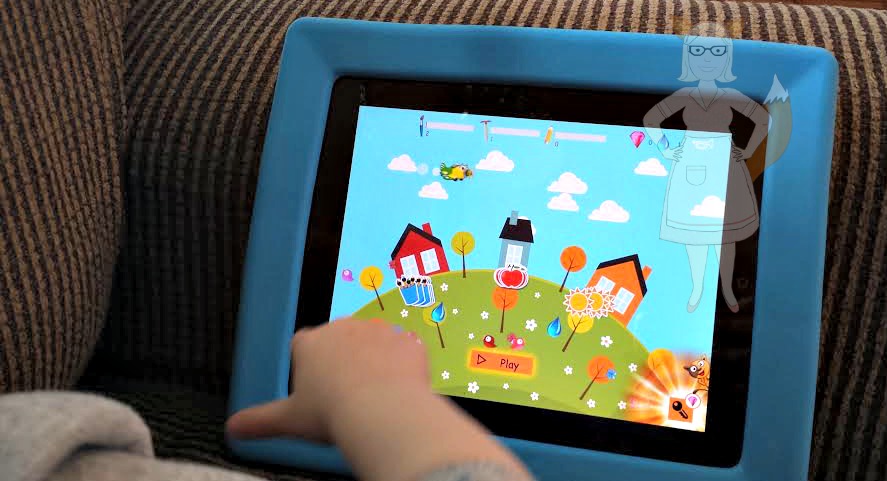 Overview:
This app is a lot of fun. Its very educational and fairy easy to use. My 2 year old really likes it and has opened it daily since it was downloaded. I would recommend this app to others who have children within the 2 to 6 year age range.
I would suggest purchasing this app. It is by Kendal Investments Ltd and currently costs $2.99. I will be running a giveaway shortly for a chance for a free download of the game! If you don't win a copy that is okay, you wont regret paying $2.99 for this fun fill game.
Also, please visit them on Facebook at https://www.facebook.com/smartykids

I received one or more of the products mentioned above for free using Tomoson.com. Regardless, I only recommend products or services I use personally and believe will be good for my readers.