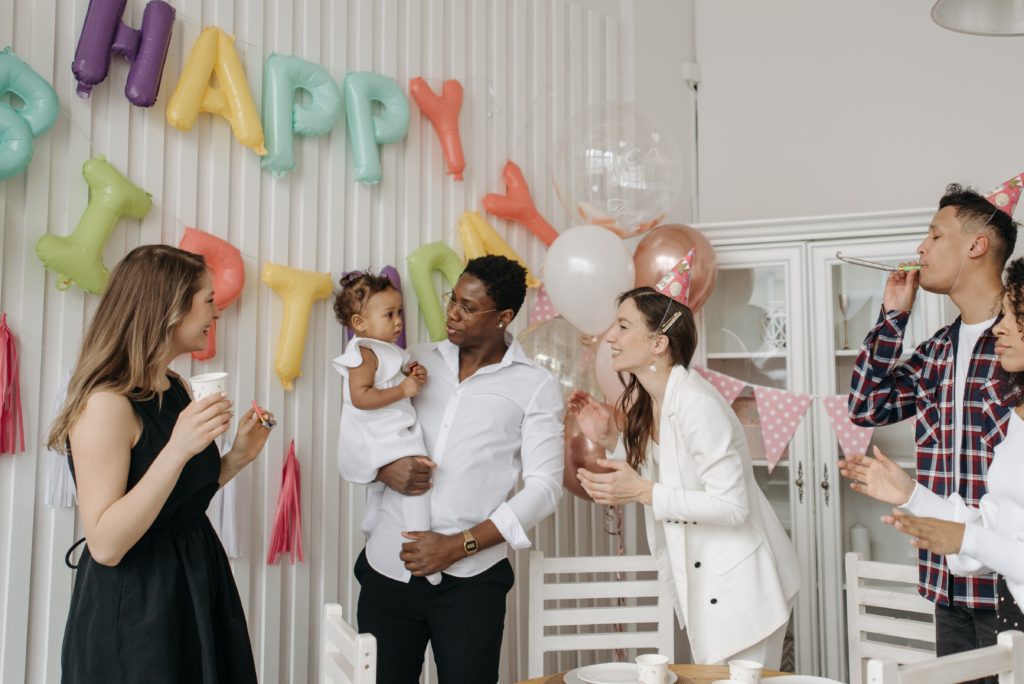 Photo by Pavel Danilyuk from Pexels
As a child, your birthday is often the highlight of the year. It is your time to get together with all your classmates and friends and just have great fun. This is why, as a parent, you want to make sure that their party goes without a hitch. You want to ensure that the day goes well and that it is revolved completely around them and what they want. The idea of a kids birthday party can feel stressful – the pressure that it needs to be great coupled with the thought of looking after (and then cleaning up after) dozens of children, is enough to fill any parent with fear. Luckily, we have put together some top tips that should help the day go without a hitch.
Plan far ahead of time
With a birthday party, it is important to be prepared well ahead of time. The last thing you want is to feel like you are super rushed at the last minute, trying to get everything organised. Instead, plan well ahead of time so you know you can get everything you want to. This could be booking the entertainment that your little one really wants, to ensuring decorations arrive in time and that you can hire the venue you're after. So call the company and get those water slide rentals well before time, maybe even weeks. Plan the theme, find the venue and book it, arrange caterers, the works. Plan, plan, plan. Get everything sorted so you won't have last-minute prep jitters. It also means there's less chance of people having things in the diary already, meaning more people should be able to make it. If you leave it until the last minute then chances are families are already busy.
Ensure you have enough activities planned
When it comes to a kids birthday party, it is important that they are kept entertained. You want to make sure that there is enough for them all to do and that they aren't bored. If they do happen to get bored, this is when they might start misbehaving or causing chaos! There are a plethora of activities that you can choose from, including getting someone in to do face painting, a foam party, a clown to entertain them and much more.
Give a clear start and end time
It is important that you give a clear start and end time and think about the time of the party. You want to try and do it over an afternoon – usually around lunchtime. This means that you can feed them and they won't be up buzzing on sugar all evening! Decide how long you want the party to be as if you are going to be responsible for other people's children can be a lot of hard work, particularly depending on how many you invite. Usually, 2-3 hours is more than enough time for them to enjoy themselves, have fun, eat and then be ready to go home by the end of it.
Think carefully about the location
Location is one of the most important factors when deciding where to have a children's birthday party. There are many positives and negatives to deciding the location of your kids birthday and you need to think about what is best for you and your child too. You could decide to have the party somewhere external such as a swimming pool or at a children's play centre. Often these places offer packages where they provide food or snacks and can offer entertainment included. They will sort out the setting up for the party and can also sort out tidying up after – depending on the package that you go for. This can be great as you don't have to worry so much about the mess and keeping the children entertained, but it can be more stressful having to worry about a number of children in a public place – particularly if you don't have the venue exclusively and there are numerous other people there. In this case it might be a good idea to ask parents to stay and help supervise. You could also choose to have the party somewhere such as in a hall or at your own home. These will be exclusive to you and your party guests meaning it is a lot less stressful trying to keep an eye on everybody. The only minus is that it can mean a lot more work for you such as having to tidy up afterwards, decorate the space and keep the kids entertained for the duration of the party.
Decide on the food you are going to serve
When you are throwing a children's birthday party, the food you serve needs to be considered. Will you do something such as a pizza party? This could mean you cook up loads of pizzas fresh, or even that you go out and buy a range of takeaway pizzas that the kids feast on. This can mean a lot less hassle and prep! Or perhaps you want to offer a buffet of party food? This can be cheaper but can involve a lot of time spent on getting it all prepared and tidied up after. If you have a party in an external venue, they can sort out food for you in some cases, so be sure to check what it is that is included. It is also important to check with parents if any children have any allergies or dietary requirements and what to do should they come into contact with any allergens. This can help to prevent any kids from becoming ill or having a bad reaction to something they have eaten.
Think about what party favours you are going to offer
When you throw a party, one of the things you need to consider are the favours you will give out at the end. A lot of party throwers opt for party bags that have a number of little items in them such as birthday cake, small toys and sweets. You could put in things that incorporate the theme of the party if there was one, such as Disney, Dinosaurs or something else. You could get notebooks, pens, stickers and more. If you don't want to give away gift bags, then you could give away a larger gift to each child. This could be a cuddly toy or a colouring book and pencils – the choice is entirely up to you and what your budget is. It could differ depending on how many children are coming – perhaps you want to spend more per head if you have less children coming.
Follow up with before the week before the party
The last thing you want is to prepare for a certain number of people to come and then people forget about it or double book and don't show up on the day. It is important for you to follow up with attendees about a week before the party to double-confirm that their child will still be coming. Some people could have simply forgotten, particularly if they RSVP'd to you a few weeks previously. By following up you will ensure it is still fresh in their minds and they won't forget when it comes to the day. Make sure you give your phone number to parents so they can get in touch with you on the day should some last minute mishap occur. While sometimes things can go wrong such as a child being ill on the day, most people should show up!
Allow parents to stay if they want
Some parents are going to want to stay and see their children at the party, particularly if they are young and they don't want to leave them just yet. This can be a great thing for you as any extra pair of hands is always useful when throwing a party! They can be there to help you set up and also help with things such as if the other children need their lunch cut up for example. The more pairs of hands to assist you the better.
Ask your child for their input
While you might have a vision in your head of what your child will like, get them involved for the best chance of success. You have the final say but asking if they have any ideas such as the sort of theme or the food they want is always a great idea. Sit down with them and go through ideas, asking their input and seeing what they think of your ideas too.This can be a fun activity to do to spend some quality time together too.
These are just a few simple tips to help your child have a birthday party they are sure to never forget. At the end of the day, as long as you are organised ahead of time and have plenty of food and activities it is sure to go well. Even if something goes wrong on the day, try not to stress and instead just go with the flow. The likelihood is that your child will be having too much of a good time to even notice anyway. What are some top tips you have for when you throw a kids birthday party? Let us know in the comments below – we would love to hear from you!