During the height of the COVID-19 pandemic, the majority of office workers and business owners found themselves working from home. This quickly became the easiest and most effective way to maintain social distancing while keeping businesses running and effectively firing on all cylinders. Now that we are starting to see a recovery from the pandemic, it is expected that things are about to settle down and people will return to the office.
However, experts aren't predicting this is what's going to happen. Instead, it's widely assumed that people are going to continue working from home. Why is this? Well, there are a few reasons.
First, working from home provides a more flexible lifestyle and it's perfect if you have a lot of commitments that you need to juggle at any given time. The other point to keep in mind is that for businesses, working from home is cheaper and more cost effective. You don't need to worry about issues with managing the heavy costs of a company office. This can really eat into your business budget.
However, if you are planning on working from home or even running your company from home, there are a few things that you need to understand. This guide will explain how to work from home the right way and ensure that you avoid some of the more common mistakes.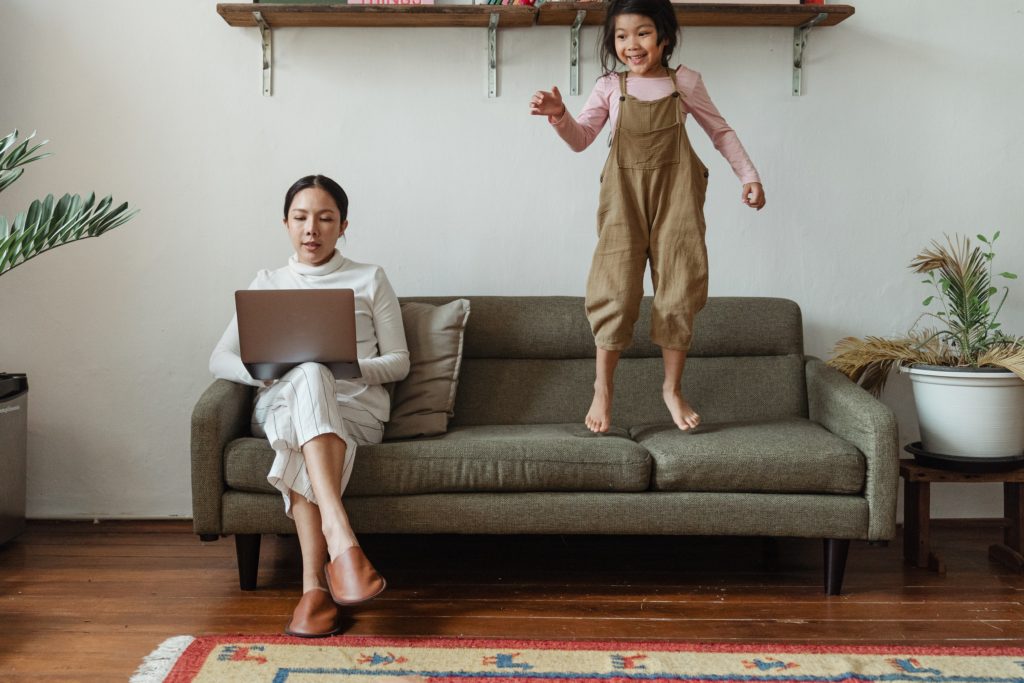 The Right Set Up
First, you should think about ensuring that you have the right setup for your business office. Let's start with your furniture. It can be tempting to work in the most comfortable place in your home such as in bed. However, this could be a problem because it might stop you being as productive as you need. It could also mean that you struggle to work with the wrong posture. This can lead to issues with chronic pain and that will slow you right down.
Instead, you should make sure that you do set up a space in your home that is specifically for working. At the very least, you'll need a desk and a chair. The desk needs to be large enough that you can rest your wrists and forearms on it comfortably while you are typing. You should also think about choosing ergonomic furniture. Ergonomic furniture will guarantee that you are typing using the right position. This is going to guarantee that you do remain comfortable while you are working and avoid issues with pain completely. Ergonomic furniture is always going to be more expensive, but in the long term it will be worth the investment. Particularly when you can avoid issues with low levels of productivity.
You might have a separate room when you are working from home. Or, you could need to use a space or area of another room like your living area. If that's the case, then you might want to consider investing in a room separator. This can be a great way to guarantee that you have a productive space where you will be able to work effectively without distractions.
You might also want to think about how you design your office space. For instance, you could add some artwork to the wall. This is a great way to inspire yourself to be creative as well as innovative.
Important Tech Options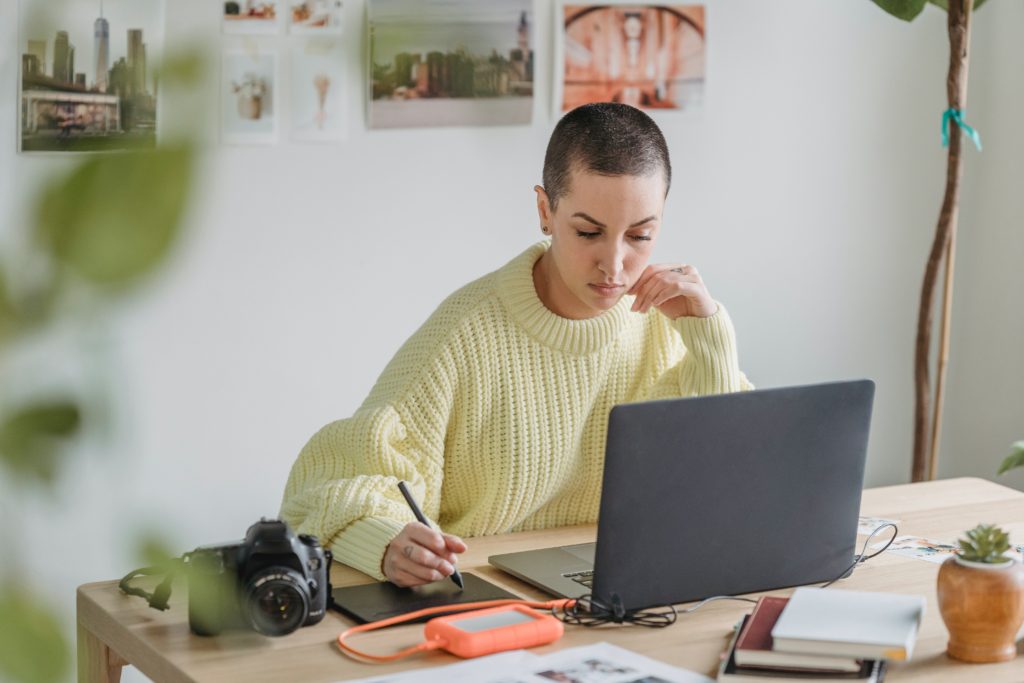 Next, let's consider some of the tech choices that are available to you when you are setting up your business from home or simply working from home for your job. You will definitely need either a desktop or a laptop. There are numerous different types of computers available on the market to choose from. We recommend that you look at the reviews to find the best one for you. Be aware that you don't need to spend a fortune to get the results that you want here.
When you are choosing a computer, think about everything from battery life to speed and of course the screen. Some people will benefit from getting two screens because it will mean that they can use one for working and another for research. This saves you using software to either show two displays on one screen or simply switching between different taps which can be far less efficient than you might like.
You also need to make sure that your computer or laptop is running effectively. For instance, if you are using a Mac it could be worth looking at how much Mac storage space is free. If you have a low level of free space then you're going to struggle with a computer that operates significantly more slowly than you would like. That's the last thing that you want when you are working from home.
There are a few ways that you can speed up a slow computer. For instance, you might want to think about rebooting it. You could also consider condensing down some of your larger files to guarantee that they take up far less room on your hard drive. The steps required to complete this action will depend on the computer that you are using. However, there are various guides only that you can explore which will help you on the way.
You should also consider getting your employees their own work phones and tablets from somewhere like My FoneTel. Supplying state-of-the-art equipment to your employees helps them to be more productive and allows them to get on with work without being distracted by their personal contacts on their own phones. Employees are often reluctant to use their own phones for fear of filling them up with work-related contacts and files that they don't want to look at whilst at home, so supplying them with a work phone can help them to switch off at the end of the day too.
What About Security?
There's a common misconception that businesses that are run from home don't need the same level of security as a typical business and this is not the case. Instead, businesses that are run from home are more likely to be targeted. The reason? Criminals and hackers are expecting you to have a lower level of security. You can't afford to prove them right and this means that you need to make sure that you do invest in the right security options.
At the very least, you should have antivirus software running in the background on your computer. It's important to understand that a virus is still the option that most hackers will use to gain access to your company.
You can of course go further than this, such as hiring an IT management team. IT management teams can operate remotely and will ensure that you do not have to worry about holes in your home security set up. They will often provide a scalable solution so it is going to fit into the budget that you are working with in your company which is great news.
Besides IT protection, if your business comes under data protection policies like GDPR, it might be best to hire a consultancy to be compliant with the government regulations. Regardless of the physical location of the work, GDPR requires the same security measures to avoid data breaches. You can approach Privacy Helper (learn more straight from the source) or similar GDPR consultancy services and protect your business from the pitfalls of non-compliance.
Keep Productive
We've already discussed a few of the steps that you can take to ensure that you do remain productive working from home or running a home company. But there are other options that you can consider. For instance, you might want to think about exploring a screen time tracking app. An app like this is great if you think that you are wasting time on social media or different websites that aren't relevant to your company throughout the day.
Another way to ensure a high level of productivity would be setting a schedule. If you set a schedule, you are always going to be in a far better position. You need to avoid working at times when you are going to be less than effective.
You should also consider how you're going to stay organised in an effective way. If you work across different departments, between marketing and revenue, for example, you'll need a quick and easy way to cooperate with the rest of your team. You can click here to see how different operating systems might be able to help you stay on top of things.
Think About Connectivity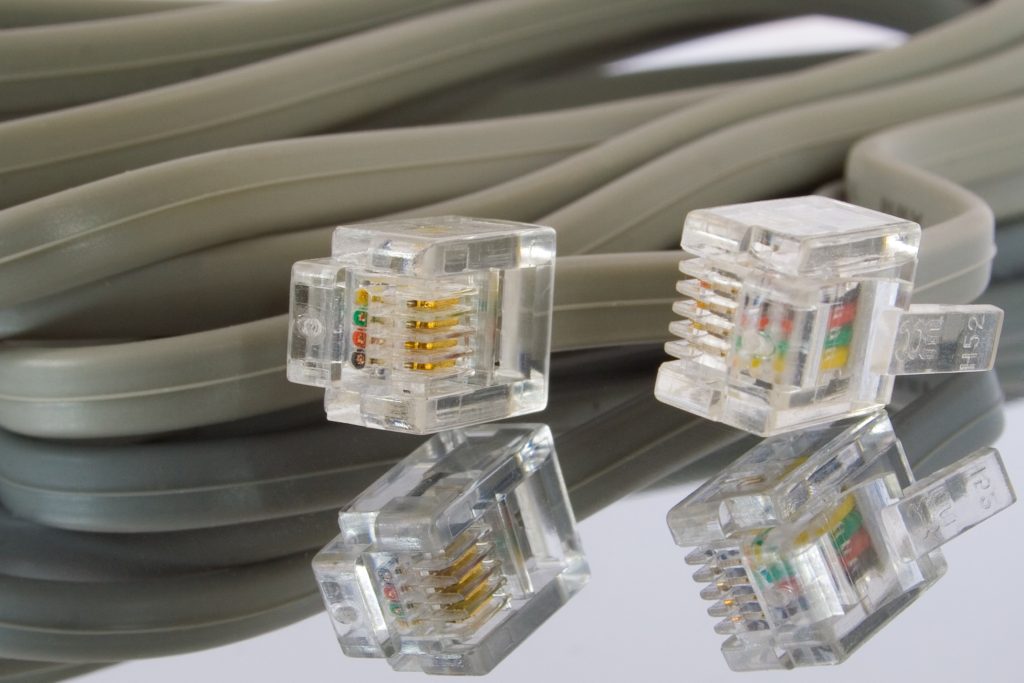 Finally, you should think about connectivity when you are working from home. It's important to make sure that you do take steps to guarantee that you can stay connected to everyone from your employees to your customers. One of the first things that you will need to think about here is your broadband connection. It needs to be fast enough to deliver the right results. You might want to compare a few different broadband providers to discover the speed that will work for you.
Next, look at the apps and software available to ensure that people remain connected to your home company. One example would be WhatsApp and other instant messaging apps. The big benefit of instant messaging is that you can get immediate responses to queries and questions without any concerns about delays. That's vital because it will ensure that your company is always on the ball. Another benefit is that these apps are free so you don't have to worry about some of your team members being unable to access them.
Another option that you could explore would be a shared platform. You can set up a shared platform for your company using the right solution. A great shared platform can be custom built and created specifically for your business requirements and goals. For the customization part, you might want to contact service providers like the ones who deliver job management software australia, for instance. Shifting to an online platform can replace all your paperwork and manual processes that you do. You can also stay connected with your employees and customers together anytime and anywhere. What better ways than to stay connected with the help of technology!
Alternatively, you might want to consider using a cloud server. The big benefit of cloud servers is that information can be sent in your business instantly. Again, this means that there will be absolutely no delays. It's also a great way to ensure that your business feels more professional to clients. That's important, particularly when you consider that there is still a certain stigma attached to home run businesses.
We hope this helps you understand some of the steps that you need to take to guarantee that you can work from home effectively. If you explore these options, then you can make sure that working from home isn't going to be a handicap for your business or even your career. Instead, working from home can be one of the best choices that you can make.