Eating indoors can be a lot of fun – especially if you get a great group of people together. But there's nothing quite like sitting down to a meal in your garden in the open air. Al fresco dining is just so relaxing and adds tremendously to your sense of wellbeing.
In this post, we take a look at some inspiring outdoor dining spaces that you'll want to try in your garden. Which will you choose?
Add A Magical Feeling With Festoon Lighting
Festoon lighting is like the next level up from regular fairy lights. Manufacturers string a bunch of large bulbs along a long wire in series, allowing you to pepper your outdoor dining space with multiple sources of illumination. During the day, the lights create a beautiful ambience – great for afternoon tea parties. But they really come alive at dusk and at night. They create a warm glow that illuminates both guests and their foods, creating a unique atmosphere.
Extend Your Living Space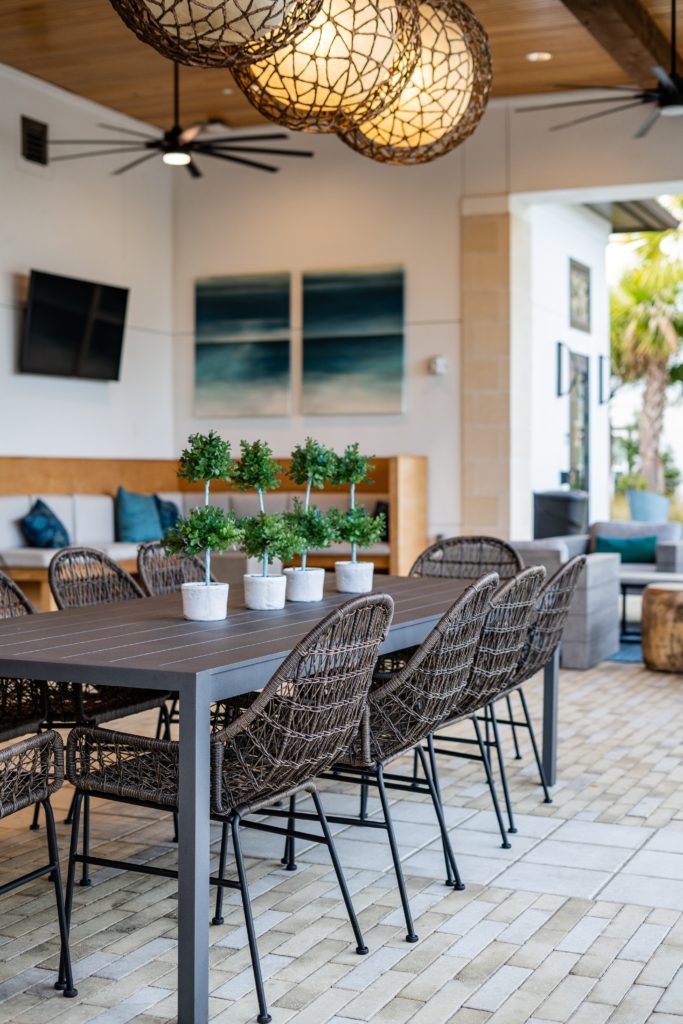 Here's another idea you might want to try: extend your living space.
The concept is actually quite simple. If you have a pair of double doors that back out onto your garden, then try to replicate the interior floor's aesthetics outside in the form of a new patio area. Doing it this way will help to maintain continuity between the two spaces, connecting them to together. You can bring out those comfortable outdoor chairs and cushions, and maybe even add a touch of color by using cushion covers from the likes of Fig Leaf Cushion Covers.
Choose The Most Stunning Location In Your Garden For Your Furniture Set
Next up, try finding the most stunning location in your garden possible for your furniture set. Placing marble round tables under sun shades overlooking beautiful views, for instance, can provide a beautiful backdrop.
If your garden doesn't have a natural view, then you can always use your existing features as the setting for your furniture set.
Create A Relaxed Picnic Setting
Take a tour of your garden and ask yourself whether there are any locations that naturally lend themselves to having a picnic. Next to a stream or under a weeping willow are the best spots. But sometimes, just a patch of grass under a tree will suffice.
Add Weathered Furniture
Some homeowners love to add weathered furniture to their spaces – even if they don't plan on using them. Weathering helps to create a charming, rustic effect, completely changing the atmosphere of the space. For instance, if you have a patio you don't use often, try adding some old, rusty dining chairs and tables. These tend to pair well with honeyed drystone walls and paving stones.
Turn The Space Under Your Loggia Into A Dining Area
Loggias are wonderful additions to homes because they act as a bridge between indoor and outdoor settings. And because they are so weatherproof, they give you more furnishing options. In fact, it's not unusual to find homeowners creating full interior dining rooms outside, especially in hot parts of the country.
Try surrounding the exterior of the loggia with flower baskets and pot plants and then save the internal space for tables and chairs. Use your home's main structural walls for hanging things like decorative plates.