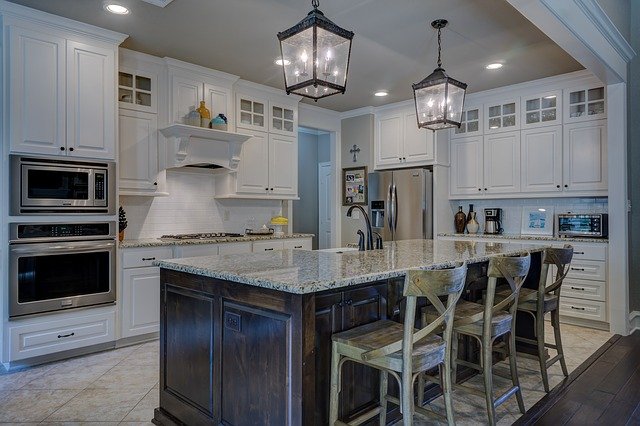 The kitchen remains one of the most functional spaces in your home. However, it can cost you thousands to give it a refreshing new look. According to HomeAdvisor, a square foot kitchen remodel can cost you an average of $150, while an entire renovation cost may depend on the upgrade you intend to carry out. However, you don't need to break down your walls for that new look when a simple upgrade on your existing cabinets and shelves can get the job done for just a fraction of your budget. In fact, you can also opt for custom built ins from reputable service providers. This can make your renovation project as seamless as possible and you can also save time. Now, are you wondering how to transform your kitchen cabinets without breaking the bank? Here are a few practical and stylish tips.
Try some new paint colors
To give your kitchen a modern look, you can try out something different beyond the all-white paint you're used to. Why not pick a new, fresh shade to breathe life into your old cabinets. To achieve that, you could get in touch with a Vancouver cabinet painting company in your area, or just do-it-yourself. However, you need to bear in mind that while a fresh coat of paint might instantly spruce up your kitchen, a lot can quickly go wrong if you don't do things the right way. So why take the risky route when professionals can do it perfectly for you. On top of that, for an absolute kitchen transformation, there are a few tips to consider when painting, including;
Allowing yourself enough time

Cleaning your wood before beginning painting

Removing drawers and doorways (don't paint everything)

Being realistic with your expectations
Install removable wallpaper
When upgrading your kitchen cabinet, you may decide to change its doors or go for an entire glass front. Regardless of what you choose, removable wallpaper is excellent for adding a color pop and pattern to your cabinet interior. Removal wallpapers offer a creative and affordable way to add style to the often-overlooked areas in your home interior. However, if you don't own your home, you can consider installing your wallpapers in areas such as your drawer sides, cabinet backs, server trays, and canisters so you can easily take them off.
Kitchen zoning is one of the fundamental approaches for nurturing kitchen harmony. This option entails assigning a specific function to every cabinet. For example, you can have one cupboard for your breakfast items like coffee mugs, granola, and a toaster, while having another for your flour jars, baking recipes, and measuring scales. Doing this makes it easier to find items when you need them without combing through all your cupboards.
Another excellent approach is to have your mugs hanging underneath your cabinet for a more functional feel. You may likewise check out some of the best copper mugs for both display and drinking.
Replace the boring hardware
Trading just your old knobs for new ones is the fastest and cheapest way to upgrade your kitchen cabinet. There are several new and trendy alternatives available in your local hardware shop. Even for the inexperienced DIYer, you can accomplish this like a pro. Match your new drawer width knob to the old ones before purchasing. This way, you won't need to drill new holes. However, when removing the old ones, chances are you will knock off some paints on your cabinet, so be ready to sand and cover those areas with fresh paint.