While tradition board and card games are very popular and fun, it seems that most adults and teens have been transition to online gaming. The gaming world is constantly changing, building and releasing new types of gaming and technology advances. If you want to start playing games via your computer this article will help you get organized and provide you with some helpful tips and tricks.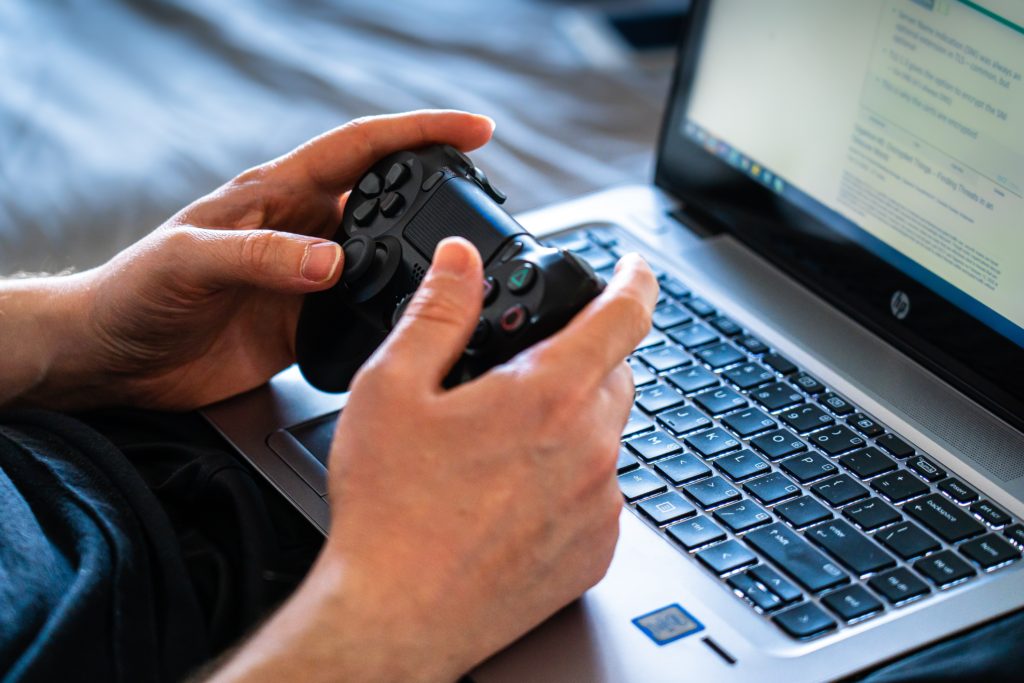 image credit: https://www.pexels.com/photo/person-holding-black-game-controller-3951449/
Systems
There are so many ways to play. You can use your computer, a smart TV or a gaming consoles like a PlayStation, Xbox or Nintendo Switch. Many gamers use a combination of platforms, which allows for more games and play styles. While you can purchase a gaming system online, like through Amazon, you may also check your local Facebook buy/sell/trade groups and even Craigslist. 
PlayStation
The PlayStation was developed by Sony. They first tried to work with Nintendo – they planned to release the PlayStation as the Super Nintendo Entertainment System–CD in the early 1990s. Instead, Sony made the decision to market its own console – which birthed the PlayStation. As the years pass they have kept up with whatever was hot and new, creating new consuls and games to stay on the cutting edge of technology. The most popular PlayStation games are currently: Gran Turismo, Final Fantasy VII, Gran Turismo 2, Final Fantasy VIII, Tekken 3, Harry Potter and the Philosopher's Stone, Crash Bandicoot 2: Cortex Strikes Back and Crash Bandicoot: Warped.
Nintendo
Nintendo gaming has a deep history. They started years before releasing the original Nintendo console, but that consul really changed the gaming industry. It used cartridge's and while in todays eyes it is a rudimentary system it lead up to the technology we use today. The newest system from Nintendo is the Switch. he Nintendo Switch is a device unlike any other. If you are a child of the 80's and 90's then you know about the original Nintendo system and Game Boy. Now take these two gaming systems and make then into a combination system. This is basically how I think of the Switch. This unit is a handheld gaming unit that is powered via a wall charger (new USB-c port). You can use it exactly like a modern version of a Game Boy. The Switch can also link up to a smart TV and be played like a box based device. Here, you can use additional Joy-Con gaming controllers to have more than one player link up and join the game. The Switch allows up to 8 players to participate, the largest available situation on the market today. The top games as of now are: 'The Legend of Zelda: Ocarina of Time' – N64., 'Super Metroid' – SNES. , 'Super Smash Bros., 'The Legend of Zelda: Breath of the Wild' – Wii U/Switch., 'Metroid Prime' – GameCube., 'Super Mario 64' N64., 'The Legend of Zelda: A Link to the Past' – SNES, and 'Super Mario Sunshine' – Gamecube.
Online Gaming
While using a gaming system like Nintendo or PlayStation many people are preferring using their computers to play online games. The most common types are First-person shooter game (FPS), Real-time strategy game (RTS), Massively multiplayer online game (MMO), Multiplayer online battle arena game (MOBA), and Battle Royale games. " The development of web-based graphics technologies such as Flash and Java allowed browser games to become more complex. These games, also known by their related technology as "Flash games" or "Java games", became increasingly popular. " – wiki When you are streaming so much though your computer you need to consider the speed of your connection, which can drastically effect your gaming experience. Remember to keep checking your speed with www.speedcheck.org.
When you are playing games the computer system is producing a high stream of energy. Many gamers add a cooling system into their computer to help lower the heat and keeping the console from crashing. Consider adding a video card cooling fan to help your computer maintain its integrity.
Above all else just have fun. Ask your friends for suggestion and help. You can also visit a local gaming store and talk to the staff. Those employees have a wide variety of information and most will be happy to chat and help you get started.