By now you have heard people talking about how amazing the Nintendo Switch it. It is revolutionary to a mom like me. I grew up playing the original Nintendo system and Game Boy. This is a huge part of my childhood. Thankfully, Nintendo has kept up with the times and is still a leader in gaming technology. This article will help break down what the Switch is, how to use it, and what games we suggest you start getting. If you are buying it for yourself or for someone else, then you may want to consult with a gaming guide, you can click here if needed, which will be able to help with tips and tricks for some games that you'll be buying, or you can use it for other gaming devices that you frequently use too.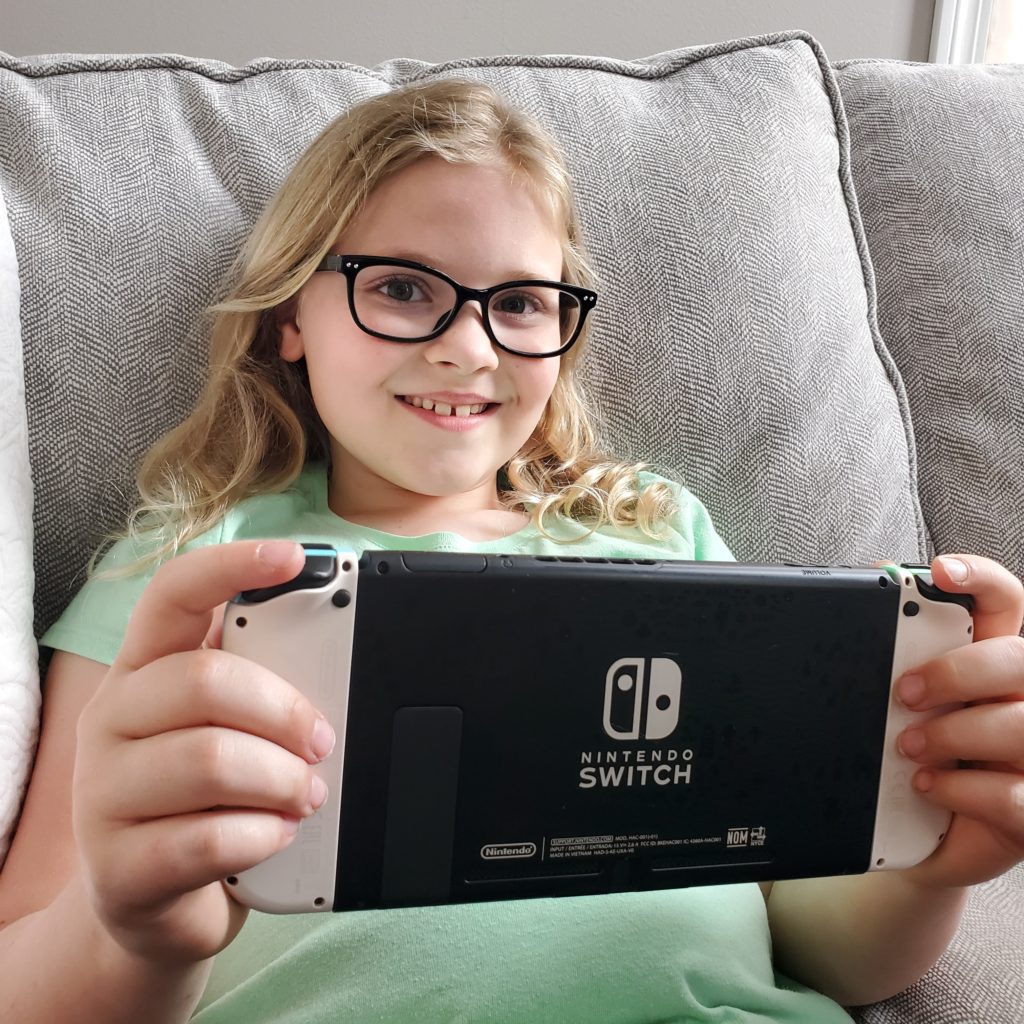 What is the Nintendo Switch?
The Nintendo Switch is a device unlike any other. If you are a child of the 80's and 90's then you know about the original Nintendo system and Game Boy. Now take these two gaming systems and make then into a combination system. This is basically how I think of the Switch. This unit is a handheld gaming unit that is powered via a wall charger (new USB-c port). You can use it exactly like a modern version of a Game Boy. The Switch can also link up to a smart TV and be played like a box based device. Here, you can use additional Joy-Con gaming controllers to have more than one player link up and join the game. The Switch allows up to 8 players to participate, the largest available situation on the market today.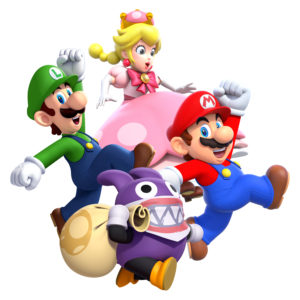 How to play
Once your Switch has been charged you can start to play. Choose a game and place the cartridge into the designated slot. When you open the main screen you will see the games logo appear. From here you can select that game and begin to play. It is very fast and easy to go from unboxing to game play. As you buy and play more games the Switch will hold all past gaming information. This way you can move from game to game with out loosing the past data.
There are three modes of play with the Switch: TV mode, tabletop mode and handheld mode. The handheld mode is perfect for individual play, play on the go and has the smallest footprint. You simply pick it up and play with the Joy‑Con™ controllers attached. With the TV play you dock your Nintendo Switch to enjoy HD gaming on your TV. Each Switch unit comes with the adapter for TV play. For table top mode just flip the stand over to share the screen, then share the fun with a multiplayer game. Here you can use your Joy-Con remotes to play and your friend can use their own Joy-Cons for a team or group game.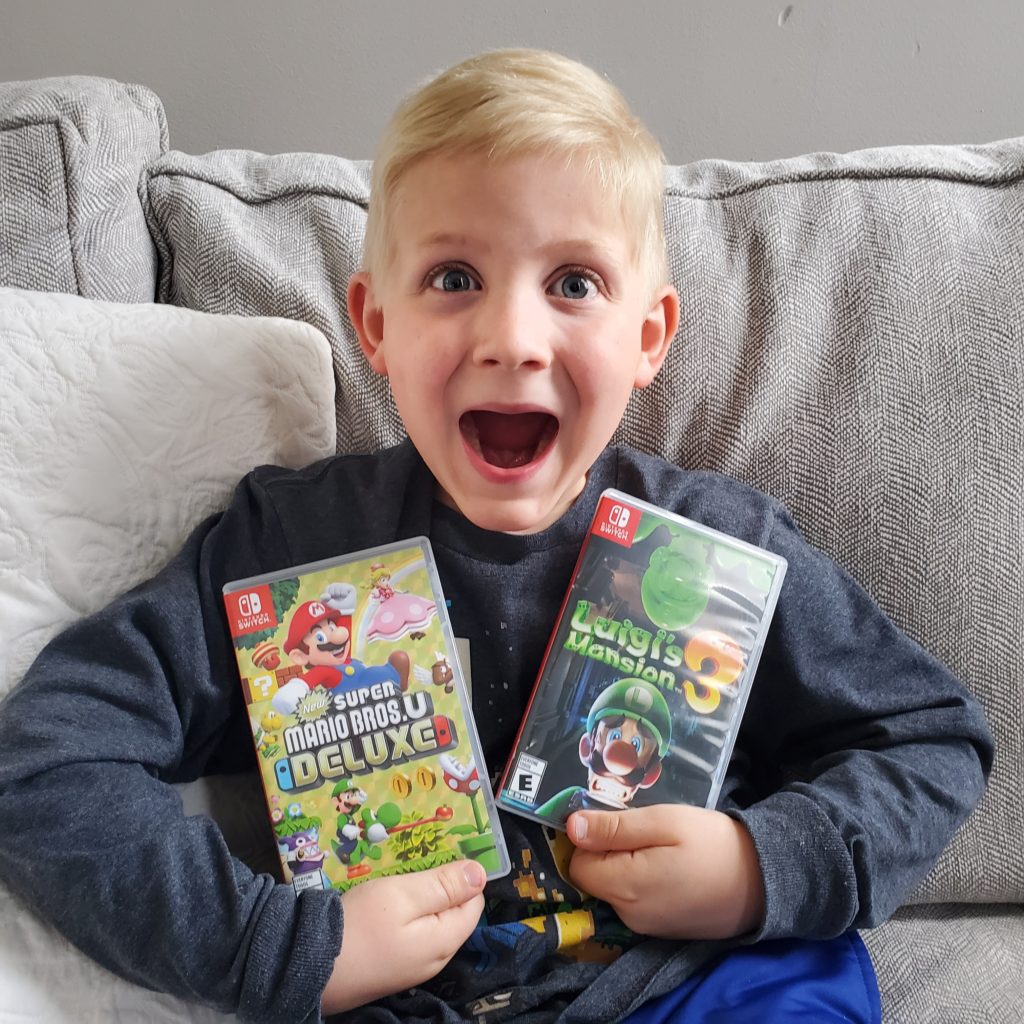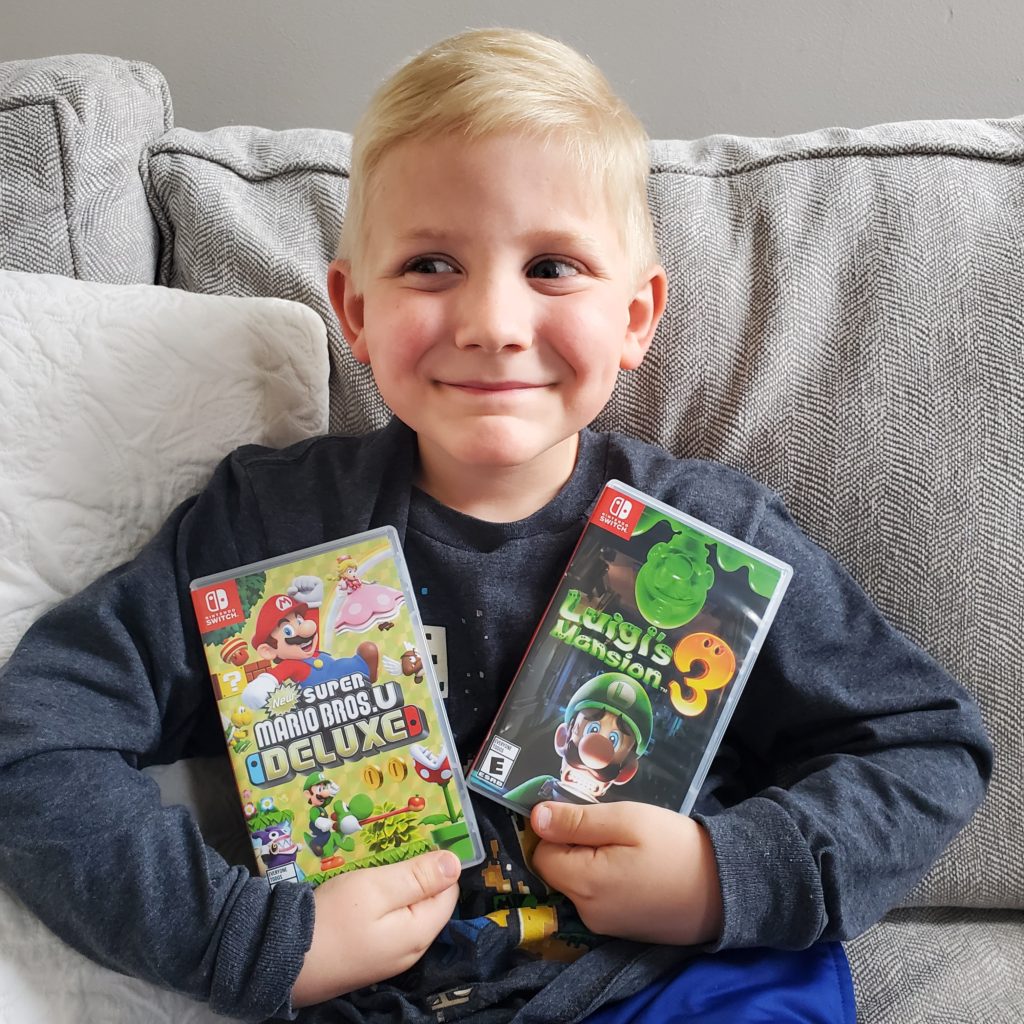 Suggested Games
If you are planning on using this system a lot and have friends who also have the system and you want to connect with them virtually then consider paying for the Nintendo Switch Online Family Membership. With a Nintendo Switch Online Membership, you'll get access to online play in compatible games, an ever-growing catalog of classic NES™ and Super NES™ titles with newly added online play, cloud backup for your save data in compatible games, extra features for the free Nintendo Switch Online smartphone app, and access to members-only special offers! – Nintendo
If you aren't sure what games to start off with here are a few of my suggestions:
The hotel is haunted. Mario is missing. And our only hope is…Luigi?!
Luigi's invited to the towering Last Resort hotel, but when Mario and friends go missing, our green-clad hero will have to conquer his fears to save them! Slam, blow away, and vacuum up ghosts with the all-new Poltergust G-00, and join forces with Gooigi to overcome the puzzling contraptions and mischievous boss on each themed floor. And that's just the Last Resort. Enter the ScareScraper for 8-player local wireless or online co-op gameplay.
See if you can defeat all the ghosts, rescue all the toads, or clear other objectives before time runs out…in the ScareScraper! And for more mini-game madness, compete on teams at the ScreamPark! Whether you play with friends or wander the hotel alone, you'll be sucked in by the atmospheric music and ghoulish décor of every cobwebby corner you explore. Why not take in the cinematic sights and sounds with a friend? In the main adventure, you and a friend can play together as Luigi and Gooigi in two-player co-op! Gooigi can walk on spikes, slip through tight spaces, and help Luigi overcome obstacles he can't tackle alone. Never hurts to have a friend in this hotel; it may not be very spooky, but Luigi begs to differ! – Nintendo
Two Super Mario Bros. games in one, for double the fun!
Join Mario, Luigi, and pals for single-player or multiplayer fun anytime, anywhere! Take on two family-friendly, side-scrolling adventures with up to three friends* as you try to save the Mushroom Kingdom. Includes the New Super Mario Bros. U and harder, faster New Super Luigi U games-both of which include Nabbit and Toadette as playable characters!
Two games in one, for double the fun! Simple, straightforward controls, new playable characters optimized for younger and less-experienced players, and a wealth of bonus content-like a Hints gallery and helpful reference videos**-make this a perfect choice for anyone looking to introduce their family to the wonderful world of Mario. All a player needs is one Joy-Con™ controller, so two people can team up right out of the box! Tackle 164 platforming courses in the two main game modes and enjoy extra replayability with three additional game modes in which you can also play as a Mii™ character: Challenges, Boost Rush, and Coin Battle!
Get ready for the next Pokémon adventure in the Pokémon™ Sword and Pokémon™ Shield games.
A new generation of Pokémon is coming to the Nintendo Switch™ system. Begin your adventure as a Pokémon Trainer by choosing one of three new partner Pokémon: Grookey, Scorbunny, or Sobble. Then embark on a journey in the new Galar region, where you'll challenge the troublemakers of Team Yell, while unraveling the mystery behind the Legendary Pokémon Zacian and Zamazenta! Explore the Wild Area, a vast expanse of land where the player can freely control the camera. Team up with three other players locally or online in the new multiplayer co-op Max Raid Battles* in which players will face off against gigantic and super-strong Pokémon known as Dynamax Pokémon.
Certain Pokémon can even Gigantamax to gain a new look and a powerful set of G-Max moves. But there's more to being a champion than honing your battle skills: you can pick your own clothes and get a new hairdo while visiting the stores in town, so you can be the trainer you want to be. Throughout your journey, you'll encounter newly discovered Pokémon as well as familiar ones that will look a little different in their new Galarian forms! For another way to level up your Pokémon, assign them Poké Jobs to complete, and for fun, you can even play with your Pokémon in Pokémon Camp!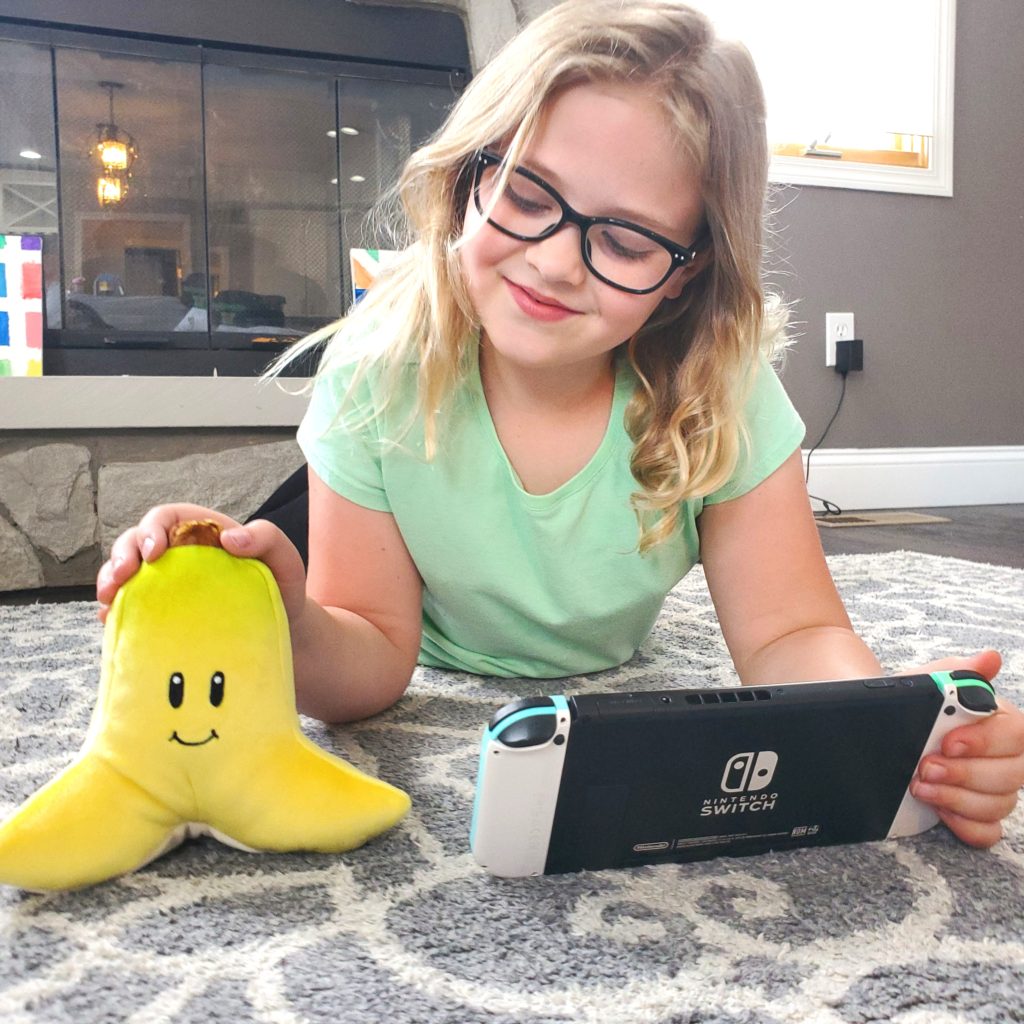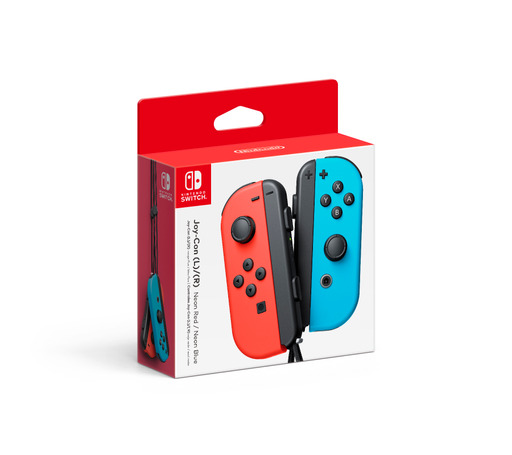 Accessories
Don't forget to get a pair or Nintendo Switch Joy-Con's!
The versatile Joy-Con offer multiple surprising new ways for players to have fun. Two Joy-Con can be used independently in each hand, or together as one game controller when attached to the Joy-Con grip. They can also attach to the main console for use in handheld mode, or be shared with friends to enjoy two-player action in supported games. Each Joy-Con has a full set of buttons and can act as a standalone controller, and each includes an accelerometer and gyro-sensor, making independent left and right motion control possible.
MamatheFox received these products for free in exchange for an honest review.