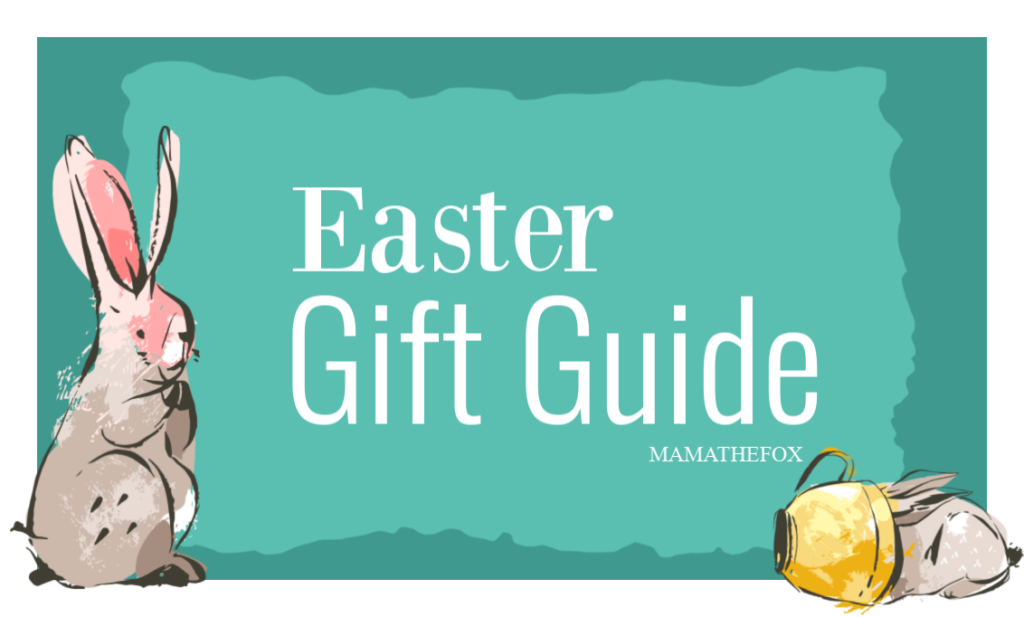 Easter is one of MamatheFox's favorite holidays. Celebrating the gift of salvation which is obtained from Christ is celebrated and remembered during this holy time. Jesus died on a Friday, taking the sins of the world with Him into the grave, then conquering death and rising again to life on the 3rd day, Easter Day! John 3:16 tells us that "For God so loved the world that he gave his one and only Son, that whoever believes in him shall not perish but have eternal life."
Happy Easter to all
For Kids
Rainbowcorns – Sparkle Heart Surprise 
We love all things surprise! When you get a surprise toy the kids get so pumped up. This Easter we are hiding some Rainbocorn Sparkle Heart Surprise toys around the house along with the eggs. There are 6 surprises to uncover. Collect all 6 adorable plush including the Unicorn, Puppycorn, Flamingocorn, Llamacorn, Bunnycorn and Kittycorn. Each package comes with a plastic egg, a surprise color changing stamp boo-boocorn and the Sparkle Unicorn plushie. Keep your surprise in the reusable plastic egg for easy storage.  Which will you reveal first?
Click here to see Rainbocorns Sparkle Heart Surprise
 5 Surprise Unicorn Squad Series 2
Unbox a magical unicorn surprise with 5 Surprise Unicorn Squad! Unwrap, peel and reveal each capsule to find a brand new member of the glitter Unicorn Squad. Every unicorn comes with surprise accessories so you can style her and swap the accessories with rest of the squad! The surprises keep coming with all new stickers for you to decorate and a matching comb so you can groom your unicorn's glossy neon tail and have her looking fab ! Every unicorn also comes with magical scented glitter Unicorn Poop compound for you to squish and stretch! Can you collect all 13 including the RARE PLATINUM UNICORN? They are the ultimate #glittersquadgoals
Click here to see 5 Surprise Unicorn Squad
Smashers Ice Age Ice Surprise Egg
Slime, fizz and SMASH your way through over 25 icy surprises inside to build the exclusive frozen Smash-o-saur Dino! Use the Arctic Scratch Map to excavate the Dino Ice Age to defrost compounds like the Growing Snow and Crystal Slime with hidden Smash-o-saur pieces. Collect all the pieces to start building one of 3 exclusive frozen Smash-o-saurs! Unfreeze more surprises like Smash Eggs and rebuilders. With access to Rare and Ultra Rare characters like the Blizzard Bear, the icy smashing will never end! Smash your frozen Smash Eggs on the ground, to the wall or anywhere you can think and start building your Dino Ice Age Smashers collection today! Keep track of your entire roar-some collection with our free Collector's Guide inside every pack or download the Smashers app! The Smashers app allows you to interact with your collection and earn Smash Points to become the ultimate Smashers champion!
Click here to see Smashers Ice Age Surprise Egg
The Bunny EggMazing Egg Decorator Kit 
Looking for a fun way to decorate your Easter eggs this year? Look no further – Using the EggMazing Egg Decorator Kit you simply place a hard-boiled egg in the center slot atop the four rubber-lined wheels, switch it on, grab one of the 8 included markers, and start coloring. The spinning action makes it easy to make perfect stripes and lines all around the entire egg!
Click here to see the EggMazing Egg Decorator Kit
Think Tank Scholar – Sight Words
Flash cards are something that has been such a huge help over the past year with homeschooling our children. These high quality flash cards from Think Tank Scholar are the perfect little gift for kids of any age. Their cards are geared towards kids off all ages, so there is something on the site for every kid. I love the fun colors that our cards are decorated with, it makes learning all the more engaging. Their different categories include preschool, sight words, and math flash cards and each box and/or set is organized so well. There are also a few free worksheets available on their site which is perfect to add to a homeschooling corner.
Be Lenka – Play Shoes
This kids shoe that Be Lenka has available is a great addition to Easter baskets. With the changing of the seasons, new shoes are almost a must, at least here in Ohio. Goodbye winter boots, hello tennis shoes! These Be Lenka Play Shoes are so perfect for the shoe shape of a child. The wide toe-box is accommodating to any foot; no more squished toes. Absolutely flat with no arch at all allows for foot muscles to work properly and grow stronger. The flexibility moves with the foot, just how a shoe should; no firm sole that restricts the foot. Possible the best feature is that these shoes are ultra light weight. They are easy for children to put on, and not super clunky like many other shoes. Lots of color options are available for these Be Lenka Play Shoes. Kids will love them!
Star Kids Company – The Easter Story Egg
This unique product has quickly become an Easter tradition favorite. The Easter Story Egg comes with a book and a set of 7 wooden nesting eggs that are beautifully painted. The eggs are a visual tool to use in addition to the Easter Story book in this set. The Easter Story Egg takes you through the 7 Holy days leading up and includes Easter Day. Palm Sunday, House of Prayer Monday, Teacher of Love Tuesday, Give and Take Wednesday, Last Supper Thursday, Good Friday, Holy Saturday & Easter Sunday. AS the child opens the next Egg they are reminded of the next step in the journey of Easter that focuses full on Jesus and His amazing gift of salvation.
Splay Athletics
Spring is the perfect time to update shoes, and these Splay Athletic shoes are just perfect. These shoes completely move with the child's feet. They are flexible, thin soled, and have a wide toe box (very wide on in the toe). The single strap allows the shoes to be easily taken off and put on. 100% cotton makes up the majority of the shoe, which is perfect because it naturally fights odors. There are multiple color options available and would make any child, girl or boy, happy on Easter morning.
Cultivate What Matters – Write The Word Journal
Many of us want our children to grow and learn in the Word. This journal will help kids love the Word and it will help parents teach it to them. The Write the Word for Kids journal is created for kids ages 5-12 and allows them to focus and learn about the Fruits of the Spirit. Daily art pages, sticker pages, simple scripture pages, gratitude space, emotional "I feel"spaces, and more are all included in this cute journal. The leather cover is not only durable, but water and smudge resistant. This is such a perfect Easter basket filler for kiddos who are ready to jump in to learning more about the Bible.
SimplyFun-Save the Pie 
SimplyFun is a direct sales company passionate for playtime. They took the traditional board game and effectively developed them into a line of educational games. From preschool to adult age, SimpleFun has a vast collection covering a diverse number of academic categories. Each game is designed to help children develop unique skills and learn to love learning. For each game SimplyFun provides the educational standards it meets, skills the game focuses on, as well as special needs adaptations. Save the Pie is an adorable collaborative game for children 6 and up working on prediction and memory skills. Players work together to get all 5 characters and their berries to the pie maker before Beary Bear catches up and eats all the delicious berries. Save the Pie is a perfect game to break out during the beautiful spring season! Check out SimplyFun games for all your educational game needs and to encourage a fun and easy way to spend face-to-face time as a family.
Click here to see SimplyFun games
STICK-O First Friends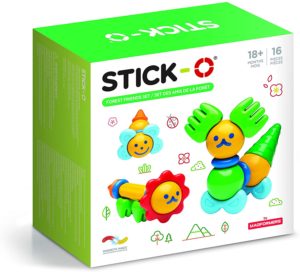 Magnet tiles are all the rage in the toy market because they are a wonderful STEM activity for growing minds. However they take quite the skills to build and use effectively. Stick-O created adorable magnet sets that can be enjoyed by children as young as 18 months. Rainbow colored magnetic shapes are fun and safe and perfect for brain development. With Stick-O's First friend set, children work on critical thinking as they use the different shapes to create recognizable objects such as flowers, animals, and bugs. Each Stick-O pieces uses magnets that rotate so your creations will always stick together, assuring playtime is frustration free. This Easter holiday be sure to check out all of Stick-O's magnet building sets!
Click here to see Stick-O products
Camp Castle Play Mats
This family owned company was created by a mom of boys who love playing with cars. After searching for the perfect play mat and coming up short, she created one of her own. These durable, wipeable, super cute and engaging play mats are so great. The play mats are adorable and are available in many different options including: Dino land, dollhouse, farm, outer space, race track, and more! There are bundle options available too, including a carrying bag and wooden cars. A screen-free, battery-free, and noise-free toy is such a good toy option for Easter baskets. The mat is stylish and super durable, so moms and kids love them!
Softstar Shoes
These adorable little moccasins are just perfect for kids of all ages. Sued leather and smooth leather options are available in sizes from infant 0-6 months through youth size 4; kids of all ages can sport these little shoes. The moccasins are fully customizable, so ordering shoes based on a child's personality or favorite color. There are lots of color options available and personalizing includes choosing the front color of the shoe, the back color of the shoe, and the little button motif inside the circle on the front. These are seriously so cute and such fun, unique gift for an Easter basket.
Kiddobloom
This made to last stainless steel dinnerware for kids is a great way to get plastic out of the home. Kiddobloom's unique products are super cute and very practical. They have sets available that include a divided plate, a cup, and a bowl. Their silverware is available in two sizes – baby & toddler and kids. All the products are stackable too, so storage is a breeze! Their products are engraved with either a fire truck, airplane, frog, or princess, which makes it super fun for kids, they'll love the figures on their dinnerware! They also have an option available that is plain and doesn't include any engraving. This practical gift is not only great for kids, but for parents too!
Sugar Plum – Gourmet Easter Egg Hunt Set
Sugar Plum creates exciting and delicious treats. They offer everyday treats as well a specialty treats for holiday, like Easter. This Easter you can now purchase a set of 6 gourmet eggs. Easter Egg Hunt Sets includes six unique decorative metal Easter eggs, including one egg filled with each of the  following: .85oz Mini Pretzels, 1.6oz Pastel Mello Creme Candies, 2oz Assorted Gummy Flowers, 3oz Pastel Egg Jelly Beans, 2 – Milk Chocolate-Covered Sandwich Cookies,  and 1 – Milk Chocolate-Covered Marshmallow. By coming in beautiful pastel egg shaped containers they make for a sweet décor for any kitchen or dining area. Click them link below to see all Sugar Plum has to offer.
Two Sisters –  Squishy Surprise Toy Bath Bomb's
Two Sisters is one of MamatheFox's favorite brands. They have created fun and affordable children's bath bombs. What makes these special is that in each one of the bath bombs you will find a surprise toy! This bath bomb weighs about 5 oz and is about the size of a tennis ball. Ingredients: sodium bicarbonate, citric acid, Epsom salts, fragrance oils, olive oil, water-based colorant, witch hazel, and colored sugar. Two Sister's bath bombs will leave your kiddo's skin super-soft, and the scents will linger on their skin and in their room long after bathtime ends. This bath bomb pack comes with Easter themed surprise toys. We love the Egg with the Bow the best. Which one do you think is the cutest?
Click here to see Two Sisters Bath Bombs
Mamask Bunny Mask 
It seems we will be wearing masks for a bit linger still. Being that our children are not able to be vaccinated due to their age we are still getting new masks to keep our stock fresh and clean. This Easter be sure to order a few masks from Mamask. They have adorable cloth masks, like the bunny one seen here. They are 100% cotton & hand-made masks with bio-washed inner lining & copper ion fabric filter. Double-layered with antimicrobial effect. Flexible nose tip and adjustable silicone stoppers on the ear band for secure fit and minimizing external transmission. Due to the composition of these masks they are not machine washable as they require hand washing only. Click the link below to see all the masks they have to offer.
  Doctor Plotka's – Toothbrushes
As a mom who loves making Easter baskets for my kids, I also love to toss in a few needed products like socks, Chapstick and toothbrushes. This year I am adding some toothbrushes from Doctor Plotka's to their baskets. Their kid sizes toothbrushes are perfect for ages 3 to 12. They work great with braces, which is such a plus. Their break through technology is what really make them stand out. They use silver-infused bristles – these naturally eliminate 99% of bacteria, viruses and fungi within 6 hours.  It also has dual-layered flossing bristles are 10x thinner than leading brands and as thin as a human hair at the tip. They reach places other brushes miss and deep into grooves where 95% of cavities form. Click the link below to see more about these perfect toothbrushes.
Click here to see Doctor Plotka's Toothbrushes
Think Tank Scholar – Math Flash Cards 
If you want to add some educational products to your child's Easter basket then you should toss in a few sets of flash cards from Think Tank Scholar. They have addition, subtraction, multiplication and division cards. The full set of flash card comes with 681 math flashcards for kindergarten, first, second, third, fourth, fifth & sixth grade students learning all addition, multiplication, division facts 0-12 & all subtraction facts 0-17 +16 bonus facts!  Click the link below to see all the flash card sets Think Tank Scholar has to offer.
Click here to see Think Tank Scholar
UNiTE Food Bars
If you want a few healthy edible items in your child Easter hunt and basket them consider UNiTE Food Bars. They are shaking up the run-of-the-mill bar aisle – uniting globally inspired flavors with wholesome, gluten-free ingredients and superfoods for a nourishing, high-protein snack. From comforting peanut butter and jelly to crave-worthy churro, UNiTE Food Bars represent real people and places. The bars are packed with proteins like nuts, hemp seeds and dates, as well as prebiotic fibers. Inspired by their love of travel and adventure, UNiTE Food is a reflection of vibrant cultures from around the world.
Click here to see UNiTE Food Bars
Thames & Kosmos Gravity Bugs 
This Spring season give a STEM themed gift that will keep kids learning, even from home. Thames & Kosmos is a company passionate about bringing high quality and fun science educational resources to families. They have published more then 250 unique science kits ranging from single experiment kits to cutting-edge science projects. Gravity Bugs is a fairly simple build that teaches children about air pressure and suction cups. With third-generation wall-walking technology, Gravity Bugs can be assembled to defy gravity and climb walls and ceilings. Assembling the bug gives children the chance to learn about inner mechanisms, including gears and an electric circuit. Kids can then experiment with the different surfaces, testing the suction cups ability to work or not work. Young engineers will be enthralled with any of Thames & Kosmos science based kits!
Click here to see Gravity Bugs
Thames & Kosmos Creatto
This Spring season give a STEM themed gift that will keep kids learning, even from home. Thames & Kosmos is a company passionate about bringing high quality and fun science educational resources to families. They have published more then 250 unique science kits ranging from single experiment kits to cutting-edge science projects. Thames & Kosmos's line of Creatto's are magical, practical, and fun for any kid. Creattos are simple yet versatile building sets made up of flexible yet durable plastic interlocking tiles. In the magical Moose and First Friends set, 35 tiles easily interlock to construct the 4 different given models. However, children can let their imagination take over and create anything they want! Once a creation is complete 2 AA batteries can give it the power to glow and become a striking piece of art work or night light. Young creative thinkers could play endlessly with any of Thames & Kosmos Creatto kits!
 mpix – Personalized Photo Playing Cards
Our kids are getting into playing cards, and this Easter we are so excited to gift them some photo playing cards from mpix. Kids have been stuck at home during the Covid-19 pandemic and we have been having family game nights a lot now a days. They learned how to play war, old maid and some other classic card games. With mpix, you can easily upload a photo and have them put it on a deck of playing cards. They are on premium card stock and feel like any other real deck of playing cards. These also makes an amazing stocking stuffer for teens.
Baby Delight – Go With Me™ Uplift Deluxe Portable High Chair  
If you have to travel on the holidays, or if you host your Easter celebration then you probably have at least 1 baby or toddler in tow. To make your life easier you should really purchase a Go With Me™ Uplift Deluxe Portable High Chair. We love using this chair! The Uplift is standard table height and is made of a durable indoor/outdoor fabric that can easily be wiped clean. The fully removable plastic tray is wide enough for a plate and has a convenient cup holder for sippy cups or bottles. And when Easter dinner gets really messy, the tray can be put in the dishwasher. It has a 5 point harness to keep the child in position. Recommend ages are 6 to 36 months and has a weight limit of 50 pounds. Click the link below to see this high chair and all the other great products Baby Delight offers.
Click here to see Baby Delight 
(ages 4-8) With 1,000 stickers and fantastic graphics and text, these high quality, superfun sticker books are a great way for kids to learn about animals and the natural world. The Baby Animals sticker book is chock-full of the cutest creatures on the planet: pandas, piglets, wolf cubs, ponies, polar bears, elephants, bunnies, kittens, puppies, and many more. With a fun, brightly colored design and loaded with animal facts and games–such as mazes, counting, matching and more–this book is sure to provide endless entertainment.
(ages 2-5) – From fuzzy ducklings to graceful birds, waddle your way into this adorable early reader, all about ducks!
Perfect for beginning and young readers, National Geographic Pre-readers include simple, expert-vetted text and large, engaging photos on every page. A vocabulary tree at the beginning of the book introduces kids to key words in concept groups, helping kids make connections between words. Plus, a wrap-up activity gives kids a chance to use what they've learned, while expanding their understanding of the world.
(ages 8-12) – NEW SERIES ALERT! Meet the world's most adorable animals and learn fun stuff about them in this aww-some first book in a brand-new series from National Geographic Kids. Whether you like mammals, aquatic creatures, insects, birds, amphibians, or reptiles, this browsable book contains kids' favorite animals that would ALL be contenders for the grand prize in a cute competition. Big photos pair with upbeat descriptions that highlight each critter's crazy cool skills and unique behaviors. This adorable book showcases popular animals such as hedgehogs and pandas as well as unusual species such as tapirs, kakapos, and pangolins. Special features include a head-to-head cute-off, sure to keep readers amused and informed. Perfect for curious tweens, animal lovers, and future veterinarians alike.
by Donna Jo Napoli, illus. by Christina Balit (ages 8-12)
A worthy cultural treasury with appeal to both the faithful and irreligious." — Kirkus
Noah's Ark, Moses, David and Goliath, the ten plagues, Daniel and the lions' den, Jonah and the giant fish, and many more of the Bible's most powerful stories — 27 in all — are compellingly retold in this beautifully illustrated treasury. Readers will be fascinated by the ancient people and events they encounter, surprised by some of the lesser known accounts revealed, and inspired by the lessons these tales impart. Stories cover important ground beyond religion, such as culture, history, and geography, and they touch on issues that remain relevant today–faith, loyalty, kindness, violence, generosity, greed, jealousy, and more. These accessible, readible stories give kids a rich picture of biblical times, which encourages them to think about our role in the world and to learn more.
Napoli's magical storytelling is sure to ignite children's imaginations. Along with Balit's stunning art, this is a book kids will want to explore again and again–a classic that families can read aloud together.
Click here to see Treasury of Bible Stories
(ages 8-12) This book is literally busting its covers with fascinating, fun-tastic facts on super, sensational topics that kids love. Who knew that there were so many sweet  things to learn about chocolate or that a dozen delicious details about peanut butter would show up on a page with a few splotches of jelly to whet our appetites? Keep turning and a terrifyingly toothy shark tells  you all about himself, while other spreads lay out tons of tips on toys and games, mysteries of history, robots and reptiles, sports and spies and wacky words.   A visual feast of colorful photographs surrounded  by swirling, tipping, expanding, and climbing bits of information in a high-energy design, this book will satisfy both the casual browser and the truly fact obsessed.
(ages 6-9) – The joyous celebration of Easter is seen through a global perspective in this National Geographic volume featuring over 25 vibrant photographs. Witness the holiest day on the Christian calendar as it is celebrated throughout the world: from the famous Easter Egg Roll at the White House to the traditional bonfires throughout Europe, to colorful customs, to the universally popular dying of eggshells worldwide.
The first-person narrative leads young readers through the origins and traditions of this springtime festival of rebirth and hope. Reverend George Handzo gives parents and teachers a historical and cultural background in his informative note.
Paint Your Own Squishy
If your kids are anything like mine, then they are squishy obsessed. If this sounds like your kids then you have to get them this paint your won squishy kit. This kit contains perfected tested, curated 3 fabric paint pots in teal, pink and white, one brush and a super slow rise bunny in a mug. This super slow rise Squishy Kit contains all you need to paint your own adorable bunny squishy along with a color mixing chart. Your kiddos are in for loads of fun with this squishy painting kit! If they want to use any colors that are not included with this kit you can use any fabric paint. Feeling this Easter Bunny themed squishy in their hands can give them a great sensory toy and can be used as a stress relief tactic too.
Click here to see the Paint Your Own Squishy
Little GF Chefs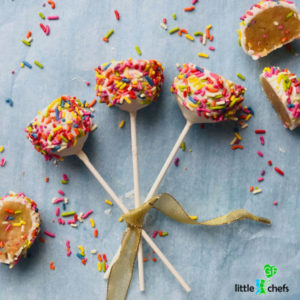 Cooking and baking with kids is such a fun activity to incorporate in daily life. These Little GF Chefs Subscription kits are such a great gift for kids and parents. Their allergy-friendly baking kits are really good for families who need some special help in the kitchen. The kits have everything you need to make different things like cake pops, pizza, rainbow pop tarts, and more. Subscription options are available every 1, 3, 6, and 12 months. This is such a fun option for kids of all ages!
Click here to see Little GF Chefs
Readeo
This awesome platform is perfect for kids who have family members that live far away. A combination of video chat and children's library books, this virtual story time platform is such a great way to have family read all together from miles away. Multiple accounts in all different locations can read the same book all together; so grandma could read a book with multiple grandchildren families who live in different places. Readeo has an extensive library with many award-winning books included. There are also new books added each week to the platform, so children never get bored! This is such a unique gift, and one that will keep on giving.
For Teens
Naked Nutrition
Veggies are super important for people of all ages, especially adolescent. This Green Super Foods Powder is such a great way to hide nutrition in food and/or drinks. The powder is detoxifying, stress reducing, and supports gut health and immune function. Packed with not only six different vegetables and grasses but also probiotics, probiotics, and adaptogens. There are no artificial sweeteners or additives, which is maybe the best part! This is a unique and yummy Easter basket filler that will benefit parents and their kids.
 Rooted and Grounded – Prayer Journal
Is there a better way to celebrate the resurrections of Christ than with a prayer journal? Probably not to a young teen. As your children get older and their relationship with God strengthens you will want to encourage and enable them to keep growing. By gifting them this prayer journal you will help them grow through guided questions and scriptures'. By using this journal daily, it will help them to stay focused on the Lord and to 'pray continuously' like we are commanded to in 1 Thes 5. This journal has 5 sections: The Lord is my Shepherd, The Lord is Lovingkindness, The Lord is my Righteousness, The Lord is my Peace and The Lord is my Healer. Check out this journal and all the other great products at Rooted and Grounded in the link below.
Click here to see Rooted and Grounded
 Sequence – The Game
Looking for a preteen Easter gift? Look no further because here it is. It's fun, it's challenging, it's exciting, it's SEQUENCE! Play a card from your hand, and place a chip on a corresponding space on the game board. When you have five in a row, it's a SEQUENCE. Learn to block your opponents or remove their chips, and watch out for the Jacks – they're wild! With a little strategy and luck, you'll be a winner. This game is great for STEM skills and can be spiced up by playing that the Jacks with 2 eyes can place a coin anywhere on the board! Best for 2-12 players, ages 7 and up.
Mastermind Vertical Box – The Game
Test your code-cracking prowess with Mastermind, the challenging game of logic and deduction. Can you crack the code in 10 moves or less? Can you create a code that can't be cracked? With more than 55 million units sold, Mastermind is a great strategy game . . . and one of the world's most popular games ever. It's easy to learn and fast to play, and with more than 2,000 possible codes, it's different every time. The Codemaker sets a secret code, and then the Codebreaker tries to match the code using logic, deduction, and maybe even a little bit of luck. After each move, the Codemaker gives clues to the Codebreaker. Make the code even more devious by using multiple pegs of the same color or by leaving one or more peg holes empty. With so many possible code combinations, every game is guaranteed to be a brainteaser. For 2 players, ages 8 and up. Includes game console with built-in storage tray and code peg shield, 108 code pegs in 6 colors, 30 key pegs in two colors, and complete instructions.
Click here to see Mastermind Vertical Box
Rummikub – The Game
With more than 55 million units sold, Rummikub is one of the world's best-selling and most-played games! It's really no surprise that Rummikub is so popular – it has all the elements that make a great game: it's easy to learn and fast moving, it's different every time it's played, it combines luck and strategy, and it changes quickly so every player has a chance to win until the very end. Players take turns placing numbered tiles in runs (consecutive numbers of the same color) and groups (three or more of the same number in different colors), rummy style. It's easy to learn, but packed with strategy – the "board" changes all the time as players adjust the tiles on the table. The Joker tiles add to the fun and can be used as any color or number. Be the first player to play every tile on your rack to win! Reinforces STEM skills like sequencing, pattern recognition and planning. Rummikub includes 106 high-quality plastic tiles, 4 plastic tile-holder racks, and complete instructions. For 2-4 players, ages 8 and up.
Click here to see Rummikub