FogBlock
FogBlock is a real game changer. As a person who wears glasses I constantly dealing with fog on my lens. Whether it's from wearing a mask now due to the coronavirus or just walking in and out with humid weather I struggle with fogged glasses. FogBlock works on eyeglasses, sunglasses, goggles & more. Safe for Anti-Reflective and Non-Anti-Reflective lenses. The formula lasts up to 24 hours and comes in a small bottle making it easy to keep in your purse or pocket.
Goldilocks Beeswax Wraps
Goldilocks Beeswax Wraps is a wonderful tool every household can benefit from. They are an all natural, reusable & eco-friendly alternative to plastic wrap in the kitchen. Goldilocks beeswax is sourced from Canadian bees and beekeepers. The average person uses over 2000 square feet of plastic every year. Goldilocks Beeswax Wrap's main goal is to help reduce this to zero, one of the added bonuses of our wraps is that they will actually keep your food fresh for longer!  MamatheFox uses her wraps for many things. From sandwiches to fruit. We also love to use it as a cover for a dish when putting it back into fridge. Plus, its easy to wash. Just use cool, soapy water.
Marcellamoda NYC – Face Masks
Wearing a face mask is our new normal. We will be using them a lot in the future too. When you need to dress up and go to your office, take a client out for dinner or just wanting to look put together, you need to think about matching your mask to your outfit. Marcellamoda NY is a high fashion brand with practical yet cutting edge in fashion. Living in New York deeply influenced their design sensibility. Like the city, itself, their garments combine clean lines and geometric construction with the occasional surprise of asymmetry. Adopted New Yorkers, they like to think that they bring forward the best of both our European pasts and our American present – the result being an elegant but edgy "upscale street" style. MamatheFox completely agrees. Their new standard size mask fits women and men with small to average head sizes and comes with adjustable ear loops, plus a built-in metal nose wire to improve the fit and help prevent glasses from fogging. It's made with two layers of tightly-woven 100% cotton and includes a filter pocket with a washable filter, made of German recycled polyester (OEKO-TEX® Certified). Check out all their styles and colors in the link below.
Grand Fusion Housewares Pet Hair Remover Dryer Balls
Any pet lover can tell you that pet hair sticking to your clothing is a drag. When you wash your clothing or blankets with cat or dog fur it seams to never really detach and wash away. We have spend countless hours lint rolling and picking at ourselves. Thankfully Grand Fusion Housewares created dryer balls that are designed to help remove pet hair while in the dryer.  They are soft foam balls making them gentle on clothing. The balls create friction allowing it to knock hair and lint loose on contact. It also softens and cleans during the drying cycle. They are long lasting with a durable design.  We are so happy to eliminate the need for lint rollers. As a bonus they keep clothes looking clean and new. Use 2-3 balls for small dryer loads and 4-5 balls for large loads.
Unstable Unicorns
If you are looking for a fun game to play this holiday season, then you have to buy Unstable Unicorns. This game immediately became the most requested game to play. Playing it daily even! The goal of Unstable Unicorns is to be the first person to collect 7 Unicorns in your play area, also known as your Stable. You do this by gathering up your own Unicorn army and using a combination of their magical powers and Magic, Instant, Upgrade, and Downgrade cards to hinder the other players' progress and destroy their Unicorns instead. But beware — each player has all of these tools at their disposal as well, and you may just find your plans foiled by a well-played "Neigh!" card. It is very easy to play and takes 10 to 20 minutes per game. It is recommended for ages 14+, but I have my elementary age kids play. This is the game we are playing with our family at Christmas. This is the new game you have to buy.
Kirk's
Kirk's is the only coconut castile soap brand continuously made since 1839. They use 100% natural ingredients for health conscious families. All surfactants used in Kirk's are biodegradable. This means all surfactants (sudsing/cleaning agents) are broken down into simpler compounds by natural biological action helping to eliminate sudsing/foaming problems in lakes and streams. Kirk's feature a broad line of soaps for your family. Their hydrating hand soap is well loved by the MamatheFox household. Knowing that our children are getting clean and not being exposed to hard chemicals gives us true peace of mind. We grown-ups love the Kirk's bar soap. It smells so light and fresh and always leaves you feeling soft and and clean. Having only 5 ingredients in the bars and maintaining a GMO free formula makes it perfect for the most sensitive skin.
The Grandpa Soap Company
Back in the early 1800's Jess Hoffman started a line of soaps. But not an average soap, a better one. During an era of innovation, this family recipe was proclaimed for it's restorative and cleansing benefits. Grandpa's Pine Tar Soap has earned praise and popularity throughout the years. A product that truly stands out is their Pine Tar Soaps. Grandpa's Pine Tar Oil is 100% pure kiln-burned Wood Tar, imported from Sweden. It is manufactured in a closed vacuum system at high temperatures that does not generate creosote and is manufactured and tested under closely controlled conditions to ensure quality and uniformity. Pine sap is an astringent substance that has antiseptic and anti-inflammatory properties along with being anti-bacterial as well. All being said, this soap stands out for a reason. Pop a few of these into anyone's stocking this year for a fun and useful gift.
South of France Natural Body Care
This brand was started in 1999, and has grown to be one of the top-selling brands of all-natural bar soaps and liquid hand soaps sold nationally. This is because of the carefully chosen ingredients and beautiful packaging.  Today, South of France® soap is manufactured in the USA, still kettle cooked in small batches using this traditional Marseille recipe with all natural vegetable ingredients. Their luxuriously lathering all-vegetable soap is triple-milled in the Marseille tradition for a pampering cleansing experience. Coconut Oil and sustainable Palm Oil create a creamy lather; natural Glycerin combines with organic Shea butter to leave your skin soft and deeply moisturized. Their line of products spans from hand soaps, to body wash, then to sugar polish and hand creams. For a special treat in someone stocking drop in their Sugar Polish – it deeply moisturizes with Shea Butter and nourishing Sunflower Oil, leaving their skin smooth, glowing and hydrated.
TP Kits
This gift is unique, but perfect for many different people. Campers will find the most use out of these toilet paper packets, but moms, dads, grandparents, and others will find them helpful too. Made of 100% biodegradable materials, each individual pack contains five 2-ply tissues and two wet wipes. These little packets are perfect for throwing in the backpack or diaper bag for using them when in a pinch. The packages are resealable, so if all contents aren't used at one time, they can be used at a different time. Created by father and son hikers, this toilet paper is durable and holds up better than most. Lite, resealable, and biodegradable, this is a gift that will get used.
You're Pulling My Leg – Junior
If you are looking for a new family friendly game for the holidays, you have to grab a You're Pulling My Leg! It comes in both adult and kids versions. Start with a question, like…have you ever eaten too much pizza? Gotten gum stuck in your hair? Surprised a friend? You'll laugh out loud as you and your friends and family try to fool each other with stories about your lives as you play this hilarious storytelling game. After you choose a question, the secret flip of the coin tells you if your answer should be true or made up. When you hear a story, vote points on if you think your friend is telling the truth or pulling your leg. You'll win points if you're right but lose them if you're wrong. Score more points when you bluff other players or land on a Wild Card. This is a perfect game to play on Christmas Eve and on Christmas Day while you sit around after opening gifts to have some quality family time.
Doctor Plotka's Toothbrushes
Everyone needs a toothbrush, so why not give a gift of practicality this year. These toothbrushes that were invented by a dentist are very unique. Each brush is infused with silver which is a natural cleaner. It eliminates 99% of bacteria, viruses, and fungi from the toothbrush within 6 hours after use. Silver has the ability to suppress the respiration and metabolism of bacteria cells. That's how the bacteria is eliminated, the silver inhibits the cell growth. The bristles are superior to other toothbrushes too. Super strong and as thin as a human hair, the bristles go between the teeth and work similar to floss. These unique brushes are a great gift for anyone on your list!
7th Heaven Peel Off Masks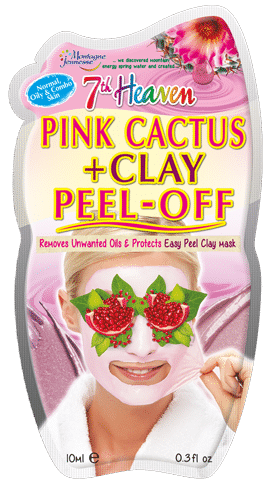 What better way to spoil your loved ones than filling their stocking with self care products! 7th Heaven creates products that are packed with natural goodness! Their company began in 1989 with a campaign to 'Save the Seal' and they have continued to stand against animal testing for over 30 years. They take pride in being Cruelty Free accredited and running their headquarters in a 'super energy efficient' Green Barn! They have a vast variety of skin care products including face masks, SPA range, pore strips, foot range, and men's products. 7th Heaven's website even provides a beauty match maker. Take their quiz and discover the perfect products to meet your needs. Most of their products are the perfect size to fit in a stocking or light enough to ship to loved ones staying away this season. Give the gift of rest and rejuvenation with 7th Heaven.
Elyptol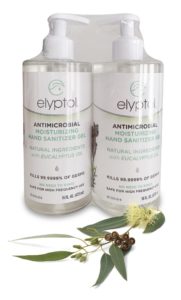 After the year we have all had, most people wouldn't be the least bit surprised to be gifted social distancing "tools."  However, if I am going to give my love ones supplies for staying healthy and safe, I want to be sure the given products are healthy and safe themselves. That is why we love elyptol! As a company who puts natural at the forefront of their company, they work from the ground up to produce highly compatible skin-care and hygiene products. Naturally sanitizing eucalyptus oil is pared with ethanol derived from sugar and corn to creates a perfect combination for eliminating germs, while still being gentle and safe. Elyptol has a large collection of sanitizing products from simple hand sanitizer gel to carabiner clips to hold your favorite elyptol product on the go. They even making gifting easy with a 4 piece gift set that fits in a stylish handy travel pack. Embrace the year and give your family and friends, teachers and coworkers, a safe and gentle gift they will especially use and appreciate.
CBDent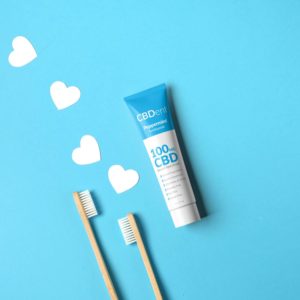 CBDent's toothpaste is formulated by dentists using the best all natural ingredients. Chosen ingredients are backed by science and shown to kill bacteria, fight inflammation, reduce sensitivity, and whiten teeth. CBDent is an American made company that follows cruelty free practices. All their products are gluten free, vegan, and 100% natural. CBDent supports  healthy and safe oral hygiene routines while keeping your mouth feeling fresh. We love the simplicity of giving someone new toothpaste in their stockings, my children always love it! So what better way to surprise them by giving your loved ones the opportunity to try something new that is a healthier and more natural route! Check out CBDent to purchase up to 3 tubes of peppermint toothpaste at a discounted price!
GoSili Reusable Straw
It's estimated that 8 million tons of plastic ends up in the ocean each year! In response, chain restaurants and large cities have begun banning the use of plastic straws. The GoSili Reusable Straw and Keychain case is the perfect solution for on-the-go sipping. Measuring 8 inches tall with an opening of 0.5 centimeters, these straws are perfect for any of your favorite drinks. GoSili reusable straws are 100% platinum European-grade silicone. Included with each reusable straw is a GoSili keychain straw case that easily hooks onto your keys, backpack, or purse. GoSili is passionate about taking everyday products that are toxic or single use and redesigning safe, sustainable, and affordable alternatives. Founders began using 100% nontoxic silicone as a better alternative to plastics and have continued to design stylish, and functional eco-friendly products. Be sure to check out GoSili for all your sustainable, nontoxic, plastic alternative solutions.
Boost Oxygen
As seen on Shark Tank, Boost Oxygen is a portable oxygen supplement that gives access immediately anytime, anywhere. 95% pure oxygen, there is no prescription needed for use of this all-natural respiratory support. This supplemental oxygen gives support for cold weather, outdoor adventures, and indoor air quality. The oxygen booster offers recovery, enhances performance, and improve health. Oxygen is vital to our bodies and is used to create energy. Boost Oxygen offers more pure oxygen than the air we breathe. The majority of air that our bodies breath is made up of nitrogen, so we are really lacking. These oxygen boosters are perfect for anyone on your list!
Giftgowns
Hospital visits are not very fun, but with Giftgowns the experience can be a little more tolerable. These stylized gowns are super comfortable and will for sure lift the spirits of whomever is wearing them. Many design features are available with various slogans options. These gowns can also be worn when not in the hospital. They would make for great nightgowns at home too! Giftgowns also offers face masks too. Their fun and and practical masks are a great accessory, especially during this time in our lives. Their masks are double lined with a pocket in between for a filter. 100% machine washable so you can stay safe with a clean mask. A few kid masks are available on the site as well as filters too!
Shore Buddy Straws 
Single-use plastic straws are being phased out more and more each day. The repercussions of plastic are starting to become alarming and it is time we all do our part. Shore-buddies has created three different straw solutions while following a mission to make the world a better place. Choose from one of Straw Buddy's reusable straw options; OneClickOpen dolphin straws, stainless steel straws, or bamboo straws. OneClckOpen straws are super easy to clean as you can open the whole straw for a good scrub down. Each set of straws comes with a cute straw buddy carrying case and a cleaning brush. Besides doing their part to prevent filling landfills, Shore-Buddies help fund educational outreach campaigns to educate children about pollution and saving marine life. Shop with a purpose with Straw Buddies and give the gift that keeps our planet green!
Angry Putty
Have you heard about Crazy Aaron yet? Crazy Aaron is a self taught math enthusiast who took on a quest to improve and better engineer putty. Thinking Putty was his first creation which led to a booming business that gives back. Crazy Aarons works with seven Philadelphia-area vocational centers to employ exceptional individuals with intellectual and physical disabilities. Crazy Aaron continues to keep his mind and eyes open to new innovative ideas for putty. Angry Putty is one of Putty World's newest releases. Angry Putty™ features a unique formula that builds resistance as you play. This amazing putty actually absorbs your tension— getting tenser and tenser with each stretch—to leave you feeling happy and relaxed. Be sure to check out the complete collection of Crazy Aaron's Putties. They have holiday and winter colors as  well as putty that changes colors with temperature changes. Crazy Aaron's Putty is the perfect stocking stuffer for ages 3 and above.
Bamboo Body Brush
This is a versatile gift for anyone's stocking as it's a great body massager. It can also can be used for ingrown hair treatment. We love it for cellulite, lymphatic drainage, keratosis pilaris but above all for the exfoliation of dry skin. This brush is perfect for a first time body brush user. It comes with a booklet that guides you in the proper and most effective uses. The circular design makes it easier to hold and use. It is made with natural boar bristles, and has soft massage nodules mixed in with the bristles. Check out this brush on Amazon with the link below. 
Wild Republic Wild Smiles
Get a little wild during this crazy time with Wild Republic Wild Smile masks. Fabric designs follow Wild Republic theme with vibrant animal prints and animal faces. They also have holiday theme masks including an adorable bearded Santa face! Wild Smile face masks are made of 2 ply poly cotton fabric, making these masks safe AND comfortable. Wild Republic Wild Smile masks come in Adult and Child sizes. Your whole family can fashionable match while supporting wild life conservation. Wild Republic partners with two organizations to help support their efforts towards preserving and supporting wild life around the world. Bring smiles to your friends and family this season by providing them with Wild Smile face masks!
SPLATZ Hand Soap 
We are all washing our hands a lot more lately. Kids and adults alike can rush while washing their hands. Putting too little soap in their hands, or even worse, not rubbing the soap but just letting the water wash it away without even moving the soap around to clean. Splatz is the perfect solution to this problem. Splatz are the bursting and fun soap balls that literally splat in your hands. Take a ball of Splatz out of the container and simply squeeze or squish it. It pops opened, full of soap, to make hand washing fun! Being developed by MIT and Harvard you can trust the quality and effectiveness. It is all natural and made with bio-degradable materials. This makes the perfect stocking stuffer for anyone.
Simply Organic Bamboo
Sleep is so important for every single person, and good sleep is hard to come by. Luckily sleeping is just what Simply Organic Bamboo is all about. Their organically grown, 100% bamboo bedding is designed for superior comfort, softness, and breathability. The luxurious bedding is not only good for you, but is good for the planet too! Bamboo creates a fiber that aids in sleep, just the way nature intends – without toxic chemicals. Their line of products includes: sheets, comforters, duvet covers, pillowcases, throw blankets, and sleep masks. I can confirm that their products are ultra soft; the texture is so dreamy. Order
Baby Bala Masks
Every kid seems to like different types of masks. Finding one that fits a kids face and is comfortable can be tricky. Baby Bala knew this was an issue, so they created a whole new style of mask. They start with an antimicrobial fabric  – which is any textile that offers protection against bacteria, mold, mildew, and other hazardous microbes. In combination, these yarns fight microbes from developing while simultaneously promoting moisture movement, thereby maximizing comfort and extending the life of the fabric. The design, in MamatheFox's words, is like a standard style mask combined with a gator style mask. The mask can be pushed down around the neck when it does not need to be worn. I also have the ear loops, which help keep the mask in place. This way the mask wont fall to the ground while also staying in place. Your kids are going to love these masks.