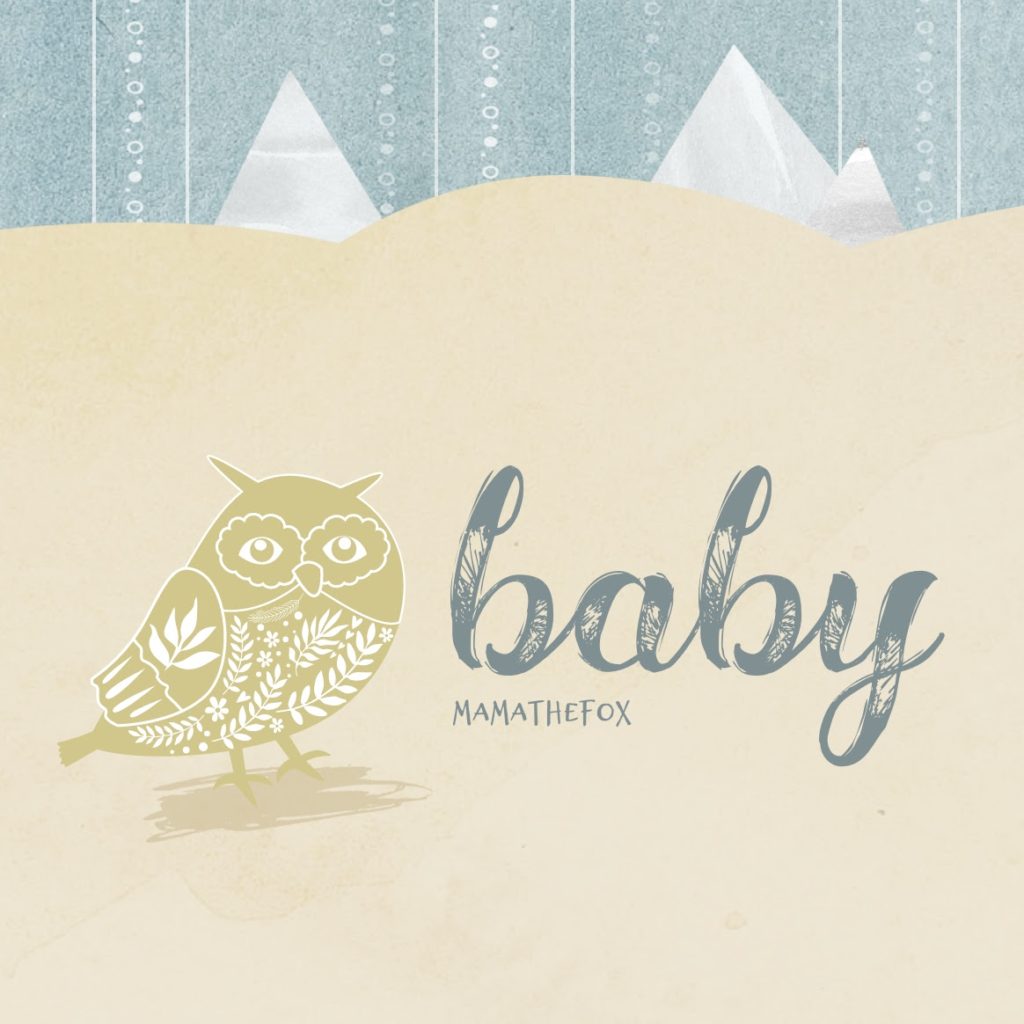 Letter Teether
Smiling Tree Toys is built by fun-loving parents whose mission is to bring meaningful, long-lasting toys that encourage creativity, while supporting a green earth. The family owned business works hard to transform raw lumber into beautiful, safe, and all natural keepsake wooden toys. Their heirloom gifts are ideal for any age! Their user friendly website helps any shopper search for the perfect toy by age, occasion, or season. One of MamatheFox's favorite gifts for new little additions is Smiling Tree's Letter Teether.   From A to Z….Alice to Zander….choose any letter and personalize it for a unique gift. A safe, all natural, and meaningful heirloom toy that can be functional or decorative. Be sure to check out all of Smiling Tree Toys gorgeous collection this holiday season!
Zoey Naturals
After having a hard time getting pregnant, then having fertility treatments, founder of Zoey Naturals finally had a child. Being so precautious while trying to conceive and then while pregnant she found herself constantly reading labels and learning about what ingredients are in diapers, creams, shampoos…She then was convicted that she needed to create a line of products with a transparency that parents are looking for. They keep their products free of harsh chemicals. They offer tear free shampoo with gentle PH, that is hypoallergenic, sulfate free and paraben free. They offer a whole line of products, from shampoo and body wash, to diaper cream, to sunscreen and so much more. If you have a new baby on your shopping list this year you need to check out their Gift Sets. Click the link below to see all they have to offer.
KeaBabies Keepsake Ornament
Memories last a lifetime, and with this cutie ornament set parents can remember the little years. Two clay ornaments are provided so that a hand and footprint can be imprinted and a keepsake can be cherished. Gold, silver, and glaze finishes are available to dress up the clay prints. Included in the set are two high quality easels that give a different option to display the clay art. The box set is everything you need to create two keepsake art pieces. Parents will love this thoughtful gift set that will allow some memories to be kept alive.
Inklings Toys – book + plush
Inklings are a new line of stuffed toy and book gift pack. They are designed to excite children's imaginations while also teaching them what diversity and acceptance look like. Each Inkling baby doll has pops of color and has audible features like crinkling or a rattle noise. Each plush also comes with a book that tells a story about imagining a new friend, so that you are never alone. There are 3 Inklings: Wobby the Wild Eared Wala, Ollie the Oddball Oddbird  and Gus the Toothy Tusked Rus. Check out all three varieties at Target.
mpix – Birth Announcement Cards
Were you lucky enough to have your family welcome a baby in 2020? What a blessing! During the holidays we often send holiday cards to our family, but if you have a new baby that means an announcement card instead, or even both. mpix has a huge variety or holiday cards and baby announcement card templets to choose from. They only use the highest of quality paper and printing methods to ensure the quality is better than you even hoped for. They offer all the accoutrements you want with an announcement card, the preprinted labels, envelopes and return address labels.  Click through all the card options with the link below. Use the code mpix2520 for a 25% discount 
Cece's Capsules Christmas Ornament
Speaking of special ornaments, you have to check out Cece's Capsules. This amazingly unique ornament gives you a special twist on holiday tradition. Now you that you have a new baby for the holidays you want to keep those memories forever. This Christmas Capsule Ornament is an antique chest shaped ornament designed that holds a small book with blank pages ready for your written memories. Each page of the book asks a question such as "What were the milestones of the year?" It is designed to inspire conversation and togetherness with family as you record your family's yearly history. Once the book is filled out, put back into the ornamental chest and hang on the tree for a beautiful and perfect keeper of your family's memories to be revisited in years to come.
Solly Baby Wrap
As a pregnant mama, snuggling my baby close is one of the things that I most look forward to when I picture her arrival!  The Solly Baby wrap provides this much-awaited experience with the added benefit of being hands-free while I cuddle my little one.  The sustainable wraps at Solly Baby are made from 100% certified Lenzing modal (which is buttery soft!), providing both mom and baby with a lightweight and breathable baby-wearing experience.  In addition to the top-notch quality of these wraps, the luxuriously soft Solly Baby wraps are designed to benefit both mom and baby as baby wearing is shown to: promote bonding, help reduce postpartum depression, help relieve baby's gas and reflux, and has even been shown to reduce infant crying by up to 43%! All of these benefits come in stylish and classic colored wraps that any mama would be excited to wear!  With the thoughtful attention to detail and quality included in their product, its no surprise that Solly Baby wraps were designed and started by none other than a mom.
Bath Buddy – By Starlux
Babies love bath time. It allows them to learn more about their sense and is a relaxing yet fun experience. This glowing toy floats atop water or partially submerged. Your baby or toddler can use it to pour water or use it as a ferryboat having it carry a small toy across the bathtub. It helps children ages 1-3 improve hand eye coordination. With its vibrant colors it act as a sensory toy and is great for Montessori style self-guided play. It can be used out of the tub, as it is fun  for pools and sensory bin usage.
Green Toys – Tugboat & Board Book Set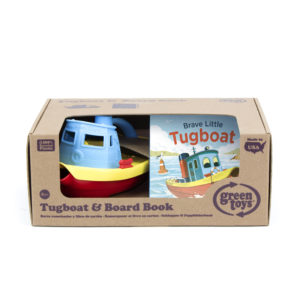 Green Toys are a fan favorite in our home and extended family. All their toys are made in the USA and made from recycled plastics. They uphold the highest eco-friendly standards and committed to sustainability. Green Toys are designed with children safety as a priority. Their toys lack glue, screws, metals, and paints and are meticulously designed to inspire imagination, open play, and creativity. The Tugboat is a delightful toy to play with in the bath, pool, or playroom. The front even features an open spout that is perfect for making hair washing and rinsing in the tub fun. Also included is a board book of Brave Little Tugboat; an adorable story of one little tugboats journey in a busy harbor. All Green Toys are easy to clean and dishwasher safe, which makes cleaning and sanitizing a parent's dream. This holiday season be sure to check out Green Toys award winning 100% recycled plastic toys.
Feltman Brothers Holiday Collection
Christmas is always such a wonderful time to celebrate with family and making lasting memories. One of my favorite parts of Christmas is taking a holiday photo with my family, as well as looking back on past holiday photos from over the years. I love seeing my family all dressed up and watching my extended family's reaction to the cuteness overload. Feltman Brothers' Holiday collection is beautiful, timeless, and memorable. Each piece has a vintage inspired design and delicate intricate hand-embroidery. The holiday colors of the stitching are the perfect pop of holiday spirit against crisp white.  For Early Christmas morning, Feltman has a collection of soft cozy velour holiday loungewear. Be sure to check out the whole collection of Feltman Brothers for authentic and timeless fashion for babies and toddlers!
MAM
Every mom loves a practical and simple gift for her new little one, especially one that comes highly recommended. MAM is a global authority on baby care products because of their innovative technology and contemporary design. MAM produces a wide range of award winning product solutions; feeding, nursing, teethers, and oral care. MAM's Learn to Brush Set promotes oral care for babies. The set comes with 2 brushes: one with a long handle for baby and parent to brush together and one with a short and compact handle for children that have learned independent brushing. The soft, rounded bristles on the toothbrushes clean first teeth and remove plaque and bacteria.  The simplistic friendly bear design make brushing fun and engaging, while the safety shield ensures safe brushing. All of MAM's products are innovative, medically functional, and are eye catching with bright colors and patterns. Products are free of BPA, BPS, lead, and phthalates. Parents can have peace of mind knowing their bundle of joys are using safe and developmentally engaging products. So whether you're shopping for a newborn or toddler, MAM has something for everyone!
Eco Pea Co.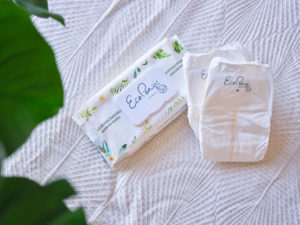 Diapers are a necessity when caring for a baby; wipes are too. Eco Pea Co. products are safe, eco hypoallergenic and made from bamboo. There are no harmful ingredients and no added fragrance; as well as no chlorine, latex, alcohol, dioxin, or phthalates. Eco Pea Co. wipes are 100% biodegradable and the diapers are 87% biodegradable – degrading in just 2-3 months! No matter the diaper size, each pack is filled with 34 diapers, and the wipes packs have 60 wipes. Give the gift that all parents and babies need with Eco Pea Co. eco-friendly products.
Love
Released in October, Love is a board book that is inspired by 1 Corinthians 13:4-8. "Love is patient, love is kind and is not jealous; love does not brag and is not arrogant, does not act unbecomingly; it does not seek its own, is not provoked does not take into account a wrong suffered, does not rejoice in unrighteousness, but rejoices with the truth; bears all things, believes all things, hopes all things, endures all things. Love never fails." Casey Rislov does an excellent job at taking this verse and putting it to words for children – love is a powerful thing. The illustrations by Rachel Balsaitis are so unique and one of a kind. This adorable children's book  QR code is included in the book that can be scanned to download corresponding songs – so fun!
KeaBabies Deluxe Baby Bamboo Washcloths
Newborn skin is so sensitive and delicate that parents want only the best quality when looking for products to take care of it.  KeaBabies Washcloths provide the top quality that new parents are looking for as they are made from 100% Organic Bamboo Fiber.  This means that the luxuriously soft, KeaBabies washcloths are not only gentle on your little one's skin, but also free from harmful chemicals.  Additionally, the bamboo fiber naturally provides a washcloth material that is highly absorbent, antibacterial, and environment-friendly.  From bath time to burping and diaper changes, the KeaBabies Deluxe Bamboo Washcloths are a versatile and practical gift for the new parents in your life!
Earth BABY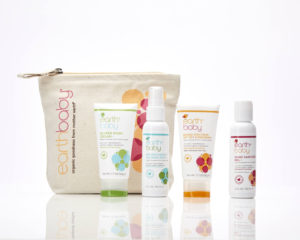 Organic goodness from Mother Earth is what Earth BABY is all about. Crafted from a grandmother who saw a need for a product line that was committed to high standards, she took matters into her own hands. Earth BABY is just that. Their products are made of certified organic fruit and vegetable based ingredients. Truly non-toxic and gentle and effective on baby – something every parent wants for their kids. The Earth BABY products are made in the USA and are free from many chemicals like Parabens, sulfates, phthalates, formaldehyde, mineral oil, and many, many more. Their products include: hand sanitizer, lotion, sunscreen, shampoo + body wash, conditioner, bubble bath, and diaper rash cream. Earth BABY is a brand parents can trust and is perfect for moms of any stages!
Adorology Organic Nursing Pillow Slipcover
Any mom will tell you that a nursing pillow has many uses in those first months of newborn life – tummy time, feeding support, and general back relief when holding baby.  However, without a proper nursing pillow cover, your pillow won't hold up long against the messes that a newborn can dish out.  Thankfully, Adorology has come to the rescue with their line of stylish and practical nursing pillow covers! The Gray Ivy nursing pillow cover is made from 100% GOTS certified organic cotton and has been made with function and washability in mind.  The modern gray and white ivy fabric has even been sized up to allow the appropriate amount of room for shrinkage after the first wash.  The nursing cover also unzips on the bottom for easy washability…convenience and practicality that every newborn mama can appreciate!
Adorology Minky Blanket
The Adorology minky blanket is made of such luxuriously soft fabric that you'll wish you had one in your size too! The blanket is well-constructed, made with a double layer that provides added warmth on chilly stroller walks without feeling bulky.  It is thoughtfully made to be machine washable, making it a practical choice for play time or tummy time as well.  The gray and white feather design adds a whimsical touch while still being neutral enough to blend in to your decor.  It's quality and practicality make it a perfect gift for the new baby in your life.  Check out the link below to order yours today!
Moby: Bump & Beyond T-Shirt Wrap
With the high volume of gear and apparel that is needed for the transition from pregnancy to newborn life, its always exciting to find goods that can transition with you through both of these exciting stages.  The Bump & Beyond T-Shirt Wrap is creatively designed with this extended usability in mind.  During the later stages of pregnancy, the t-shirt wrap can be worn 2 different ways – tied under the belly providing extra lift for your bump or wrapped behind you to support your posture and lower back.  When baby arrives, no need to stick this shirt back in your closet until the next pregnancy, as the t-shirt wrap easily transitions to a cozy skin-to-skin carrier for your new little one, holding babies up to 19.8 pounds.  This unique, transitional carrier was designed with ergonomic support, breathability, and a nursing-friendly design in mind.
Dolce Primo Kangaroo
This adorable kangaroo is super engaging for baby and exploring senses. Dolce is an acronym and seeks to help babies develop their sensory skills through quality fabric. Babies will observe the colorful fabrics while learning cause and effect. Role play is easy to create and educating through play is so fun!  The many features include ribbon ties, crinkle ears, removable baby with a shaker egg, peek-a-boo door, and lots of soft and textured fabric. Develop, Observe, Learn, Create, and Educate baby with this Dolce kangaroo, and many others!
KidCo Hearth Foam Cushion
As I look forward to the holidays with a little one around, my mind quickly conjures cozy images of our growing family curled up together by a well lit tree or reading a Christmas devotional in front of a roaring fire.  But any parent will tell you that the reality of navigating the holidays with a little one in tow feels closer to the role of a defensive lineman as they shuffle from decorations to fireplace and back, blocking little, curious hands from encountering danger or tearing down holiday decor. Thankfully, the comprehensive line of child home safety products at KidCo can take over the "defense" for us, allowing parents to sit back and enjoy the holidays knowing the little hands that they love are protected.  Featured here, the KidCo Hearth Foam Cushion provides a foam barrier for those sharp, brick fireplace corners.  The kit provides you with 8 feet of foam that can be adjusted to custom fit your fireplace, providing a layer of protection (and a sigh of relief!) as littles run around with holiday glee in their slippery footed pajamas.  From baby gates, and cabinet locks to bed rails and outlet covers, KidCo has parents covered to safely navigate having a child in the home this holiday season…a gift that any parent is sure to appreciate!
TOPPIN Comfy Air Ultrasonic Cool Mist Humidifier
While the chilly, winter weather brings us beautiful landscapes blanketed with snow, for some, the dry air that comes along with cooler temperatures also invites less pleasant side effects such as dry skin, sinus pressure, and scratchy throats. For our little ones, any one of these symptoms can lead to one fussy baby!  As an avid humidifier user myself, Toppin Comfy Air Ultrasonic Cool Mist Humidifier has become a personal favorite of mine with its thoughtful and practical design that makes using a humidifier so much easier and more convenient.  Unlike many humidifiers that fill from the bottom, Toppin provides an easy to use top-fill design that makes refills and cleaning a breeze. The humidifier features 3 different mist levels to choose the right humidity level for your needs, 3 different timer settings and, one of my favorite features, a Night Mode button which turns off the LED indicator lights, runs at a low mist, and silences all of the buttons providing undisturbed sleep for all! 
KeaBabies Organic Baby Burp Cloths
Every new parent knows that while the newborn phase is adorable, it sure can be a mess!  The KeaBabies Organic Burp Cloths were designed with messy babies in mind.  The generously sized burp cloths are thoughtfully shaped like a figure 8, to allow space for your neck to rest without losing any coverage on your shirt.  Additionally, they are made from 100% Organic Cotton, ensuring that no harmful chemicals are touching babies skin.  With their high level of absorbency and ultra-soft feel, KeaBabies Organic Burp Cloths will quickly become a staple for any new parent!