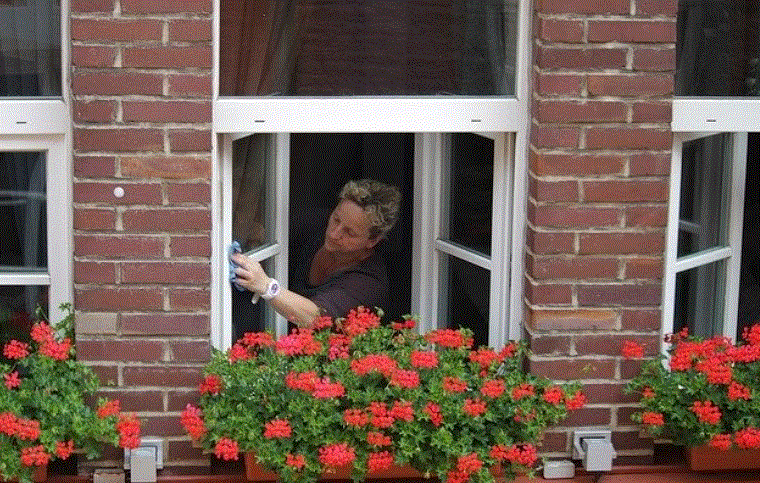 Image by Anja🤗#helpinghands #solidarity#stays healthy🙏 from Pixabay 
As the Coronavirus pandemic has given many of us lots of time at home and the weather has been kind to us of late, it's the perfect time to get on with some jobs around the house. While you're spending so much time there anyway, you want your house to be in it's the best possible shape, somewhere you want to be, and somewhere you are happy to spend lockdown. So, what summer DIY and cleaning jobs should be on the agenda right now that are not only important for your house but will also keep you busy?
De-clutter and deep-clean
While it's important to do your regular cleaning and you'll probably need to be doing it more often now that everyone is at home all the time, but why not have a huge clean of the whole house and start with throwing out all those things that are cluttering up your home. Do it room-by-room so that you don't get overwhelmed, you can even do a room a day. Whether you're sorting out your wardrobe or the kids' old toys, generally clearing things and getting organized will not only give you more space in your home but your mind too.
Once your house is free of clutter, it's time for a deep clean, from curtains to carpets, get rid of all the dust that's been building up. It'll make your house smell great, reduce allergies and coughs and colds by making the air cleaner, and you'll be set up for the summer. Cleaning can also help to clear your mind and organize your thoughts – it's very therapeutic.
Clean your drains and gutters
Getters and drains can easily get blocked over the winter due to debris, so now is the time for some serious drain cleaning and gutter unblocking. There's not a lot you can do to prevent this, but keeping on top of blockages will stop any problems from getting worse. 
Give your home a fresh lick of paint
When the weather is dry and sunny, it is perfect for doing any exterior paint jobs as there is less chance of rain ruining it, and there will also be a much quicker dry time. It's a good time to do interior paint jobs too. Even if you're not looking to re-decorate or change colors in your home, a fresh coat of paint in every room can make your home feel cleaner and fresher.
Clean your windows
While most of us love the sunshine, one negative thing about it is that it highlights all the dirty marks on your windows. However, the warmer weather is again the perfect time to get out there and clean your windows. This will not only cool you down, but it can also be pretty fun too. 
Get into the garden
Start paying attention to your garden as you're going to want to spend more time in it. Start by watering your plants and clearing up, and then it's time to get creative. Could you put some decking down during lockdown? Build a BBQ area or simply plant some new plants? There are loads of things you can do with the garden and now is the perfect time to do it. Now could also be the time to tackle those bigger outside maintenance jobs that you've kept putting off. Things like hiring a jet washer to get decking, patios and driveways sparkling clean, repainting window frames and doors, unclogging the guttering to prevent any leaks and looking into asphalt shingle roof installations to upgrade garages or outbuildings. Or perhaps you've been thinking about adding a garden studio to your property. This can be a great way to add more space into your home, perhaps as a home office, a studio for crafts or yoga or a place to hang out and entertain guests. It can really make the most of your outdoor space and even give you the room you need without you having to think about moving house. Now that's a clever home upgrade!