Who is Kindred Clothing Co.
When MamatheFox finds a small shop run by a power house mom, we just have to jump right in and support!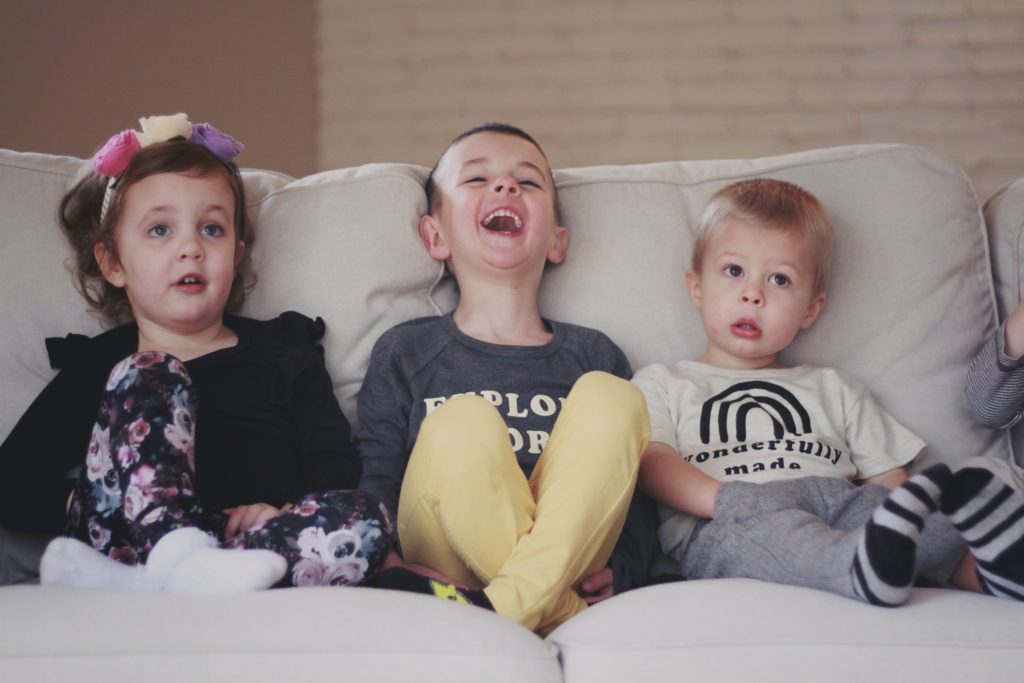 Kindred Clothing Co. is a design studio and boutique, as well as the headquarters for their premier line Little & Lively.
The dream was built when the owner, Carmen West, started making her daughter's clothes due to frustration in finding locally-made baby leggings that fit cloth diapers!
I know all our Fluff Love Mamas can relate!
A family making clothes for families led to the beautiful name The Kindred Clothing Co. 'Kindred' literally means family; it was a perfect way to encompass their passion and heart for all families! Each article of clothing is styled and designed for taking on life with littles. Clothes made for messes, snuggles, games, errands, school, and every other adventure a family faces.
Ethically Made
Carmen's goal as a family focused business was to honor and uphold the principles and philosophy they had as a family, that meant being an ethical and transparent business. They designed a system to source materials from ethical factories, manufacture locally, set narrow price margins, and manage resources efficiently.
They live in the same community as their headquarters location and sewing facilities. The owners take pride in seeing how The Kindred Clothing Co. is enhancing and bringing life to the community they love so dearly.
Seasonal Fabrics, Same Style
One of my favorite elements of Little & Lively is their changing of seasonal fabrics but continual simplistic design of clothes.
We've all done it, at least I know all of our kids have…
We find a shirt, dress, leggings, or pullover that fits perfectly. We wear it until it embarrassingly becomes apparent it is loved. Then we return to our favorite store to buy said article of clothing, and its gone.
Little & Lively design clothes that are minimalist and classic. The cuts and shape of each of their pieces are timeless and leave you feeling confident and true to self. So when your family becomes obsessed with their most perfectly designed leggings, you don't have to fear. Little & Lively stay tried and true to their designs but spice it up with new fabrics each season.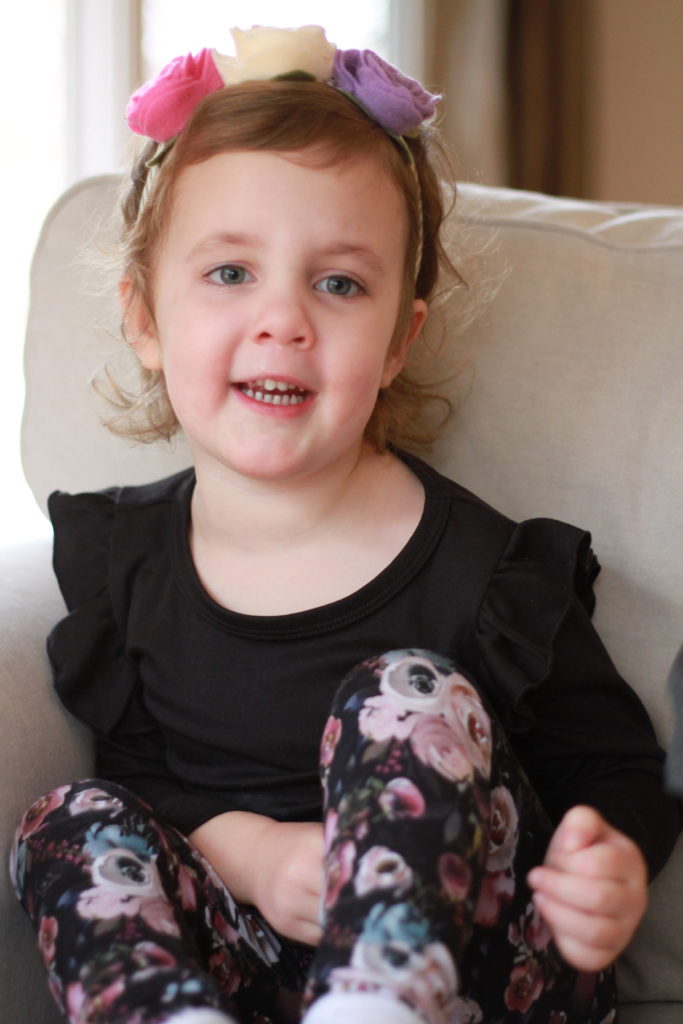 Throughout the year new collections of prints, patterns, florals, and solids are released, sparking a whole new love for modern fashion and style. Their fabrics beautifully reflect the moody hues of the season as well as what is trending in today's market. We are greatly anticipating the Spring Collection inspired by the colorful Latin cultures of Central and South America!
The newest collection drops 10am (PST), February 6 so mark your calendars! 
So when your daughter insists on only wearing the Little & Lively Daphne dress, you can fill her closet with a collection of stylish prints and colors! Then when a growth spurt hits, you size up and indulge in the next season's collection of fabrics.

Our thoughts on Little & Lively Collection
There are so many things to love about the Little & Lively collection!
The first think I noticed when we opened our box of Little & Lively clothes was how soft the fabric was! Made with a blend of bamboo, cotton, and spandex the fabric is welcoming to any little who prefers to run around in their birthday suit. My son who would prefer to live life in his pajamas, was happy to wear his new pullover. He immediately  commented how cozy he felt and I immediately commented on how stylish and put together he looked.
Both of my boys rocked a graphic and inspiration design from the Little & Lively Courageous Creatives Fall Winter Collection. Just like their fabrics change so does their pressed graphic designs; some of which are created by a local artist. I am not one for letting my kids wear text on their clothing, so it was a big deal for me to happily choose not one, but two, text shirts! I just loved the simplistic, universal, and modern presentation of their graphic attire.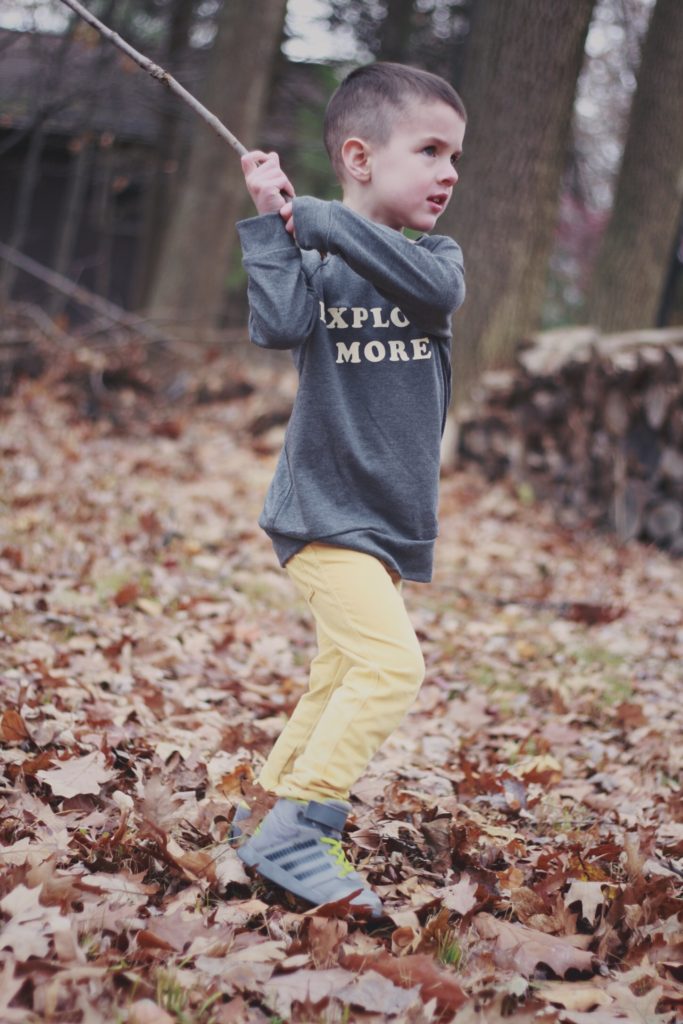 "Explore More" perfectly depicted my rambunctious, nonstop, curious 4 year old.
"Wonderfully Made" was for our son who we just recently adopted because yeah, he is wonderfully and perfectly made!
However, my son is not modeling his shirt due to sizing. My adorable nephew was a great stand in model for our review pictures. It seemed like all the clothing ran on the bigger side. The Wonderfully Made T-shirt is a size 1T-2T and my nephew is a very average sized 2 year old. My sister and I both agreed it was still a tad too big.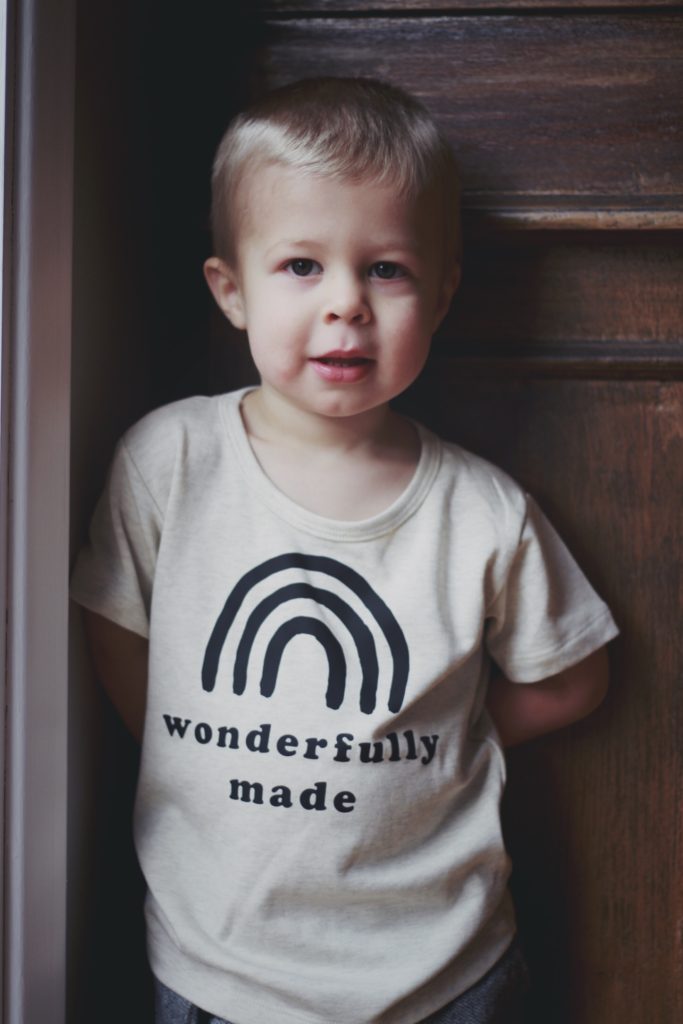 I do however think some of their clothing is meant to look over sized and styled as baggy. Long cozy sweaters or scrunched up cardigan sleeves are adorable paired with fitted leggings. So just be sure to check out their size charts before ordering.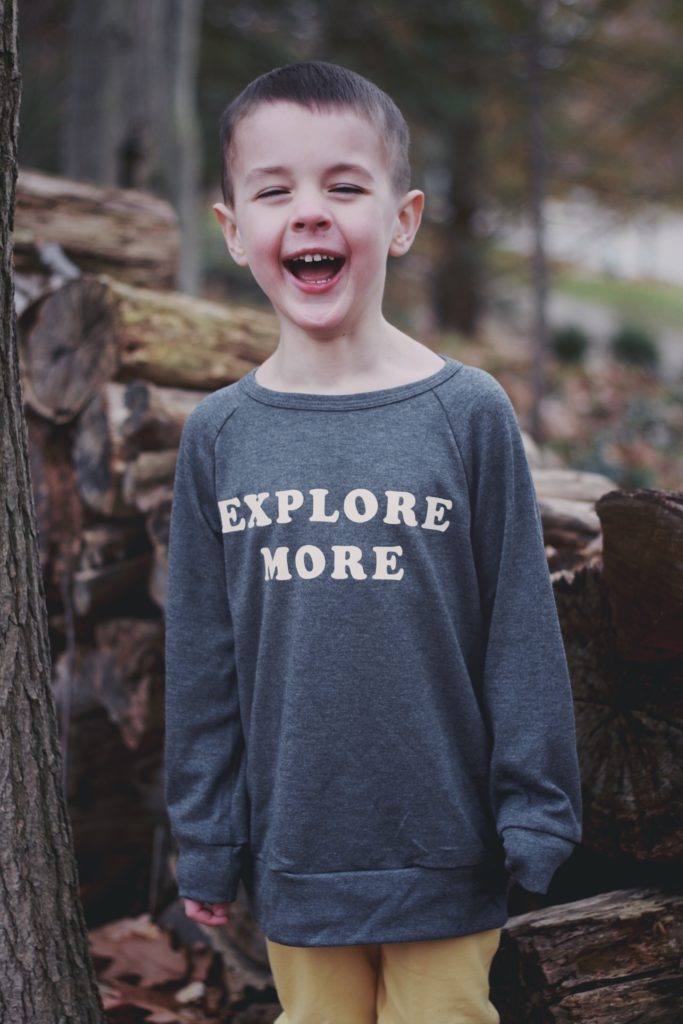 My daughter, also feeling cozy, was too adorable in her ruffle-sleeved shirt and floral leggings. At a recent party she got endless compliments on her outfit including:
"I don't love ruffles but her shirt has just the perfect amount. I need one in my size"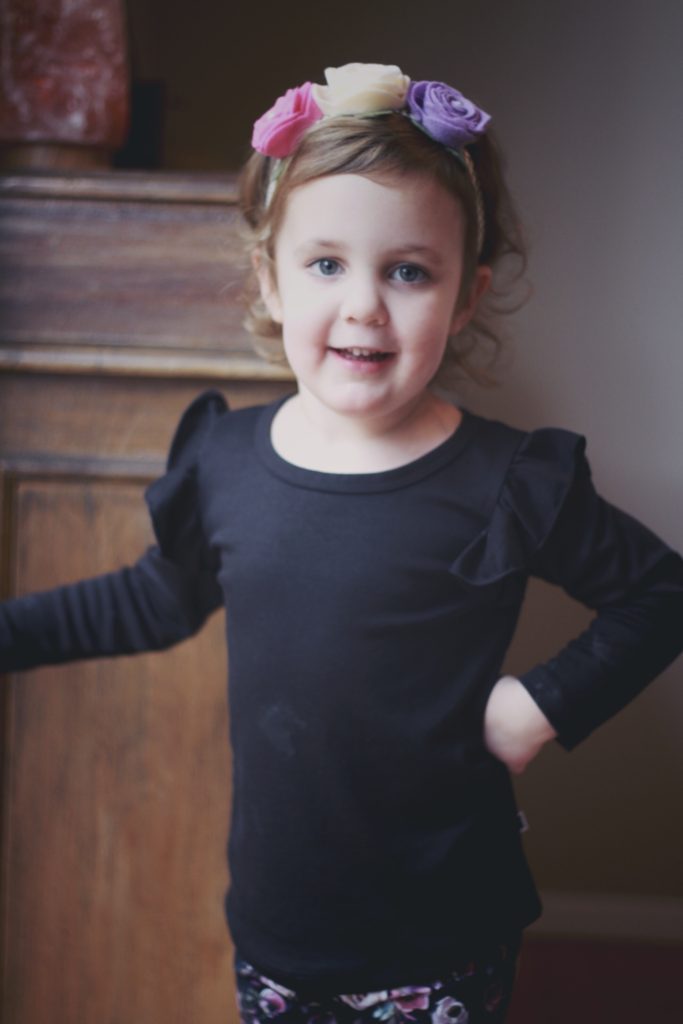 She put to test the durability of Little & Lively when she ate chili and then chocolate dessert at the party. Her shirt was black so I can't completely attest to staining, but to me it seemed like her clothes washed easily and came out looking new while still feeling as soft as ever!
It was love at first sight when it came to Little & Lively leggings. Made with the same gentle bamboo blend fabric, these leggings were a hit! The best part is their baby leggings (0-24m) feature a "pitched" waist band that is higher in the back than the front to offer ample room for diapers!
And yes mamas, they didn't forget about you! They make leggings all the way to women XL.
Little & Lively actually sell clothes for the whole family!
They design clothes for men, women, children, and infants; ranging in sizes from mens XL all the way to newborns! They also include accessories, hats, beanies, swimwear, and bonnets. Almost all their fabrics and pieces overlap into each collection making family coordination simple! Mom's and daughters can wear matching dresses, dads and sons can have matching pullovers, or everyone can be wearing the same fabric in a variety of pieces!
This will not be the last time Little & Lively dress our family! With Little & Lively, my husband can be happy he doesn't have to sacrifice his style, if you can even call that, to match the family. The boys are happy because their clothes are comfortable and durable and let them explore and create.
My daughter takes delight in feeling pretty and feminine while having staple wardrobe pieces that can be bought again. I am relieved because everyone looks put together and not begging to change the second we get dressed.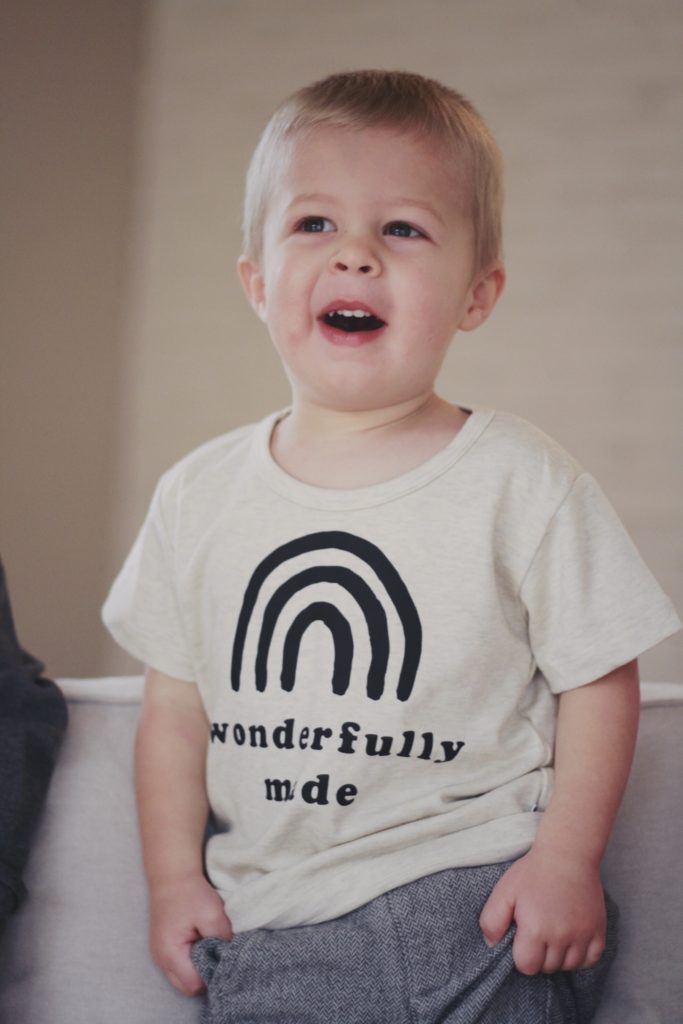 And the world is happier because another company is delivering style and creativity while still upholding ethical and quality business principles.
I call that a Win! Win! Win!
So don't forget to mark your calendar for February 6, and dress your family in Little & Lively's newest collection! 
Get Connected with Little & Lively.