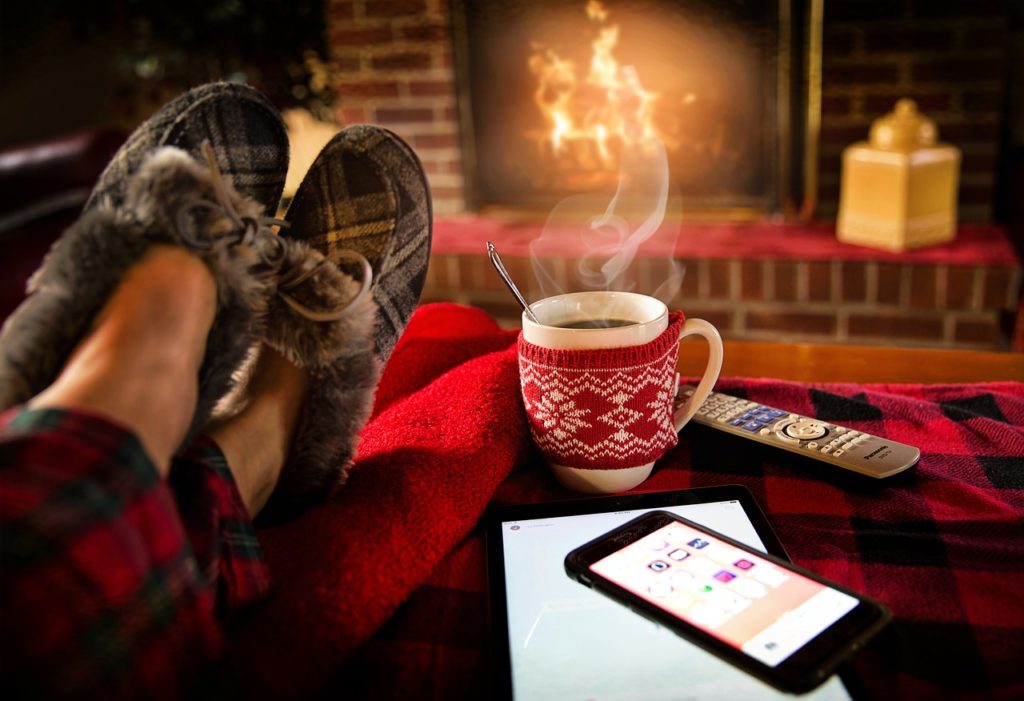 There's nothing like snuggling up all warm and cozy indoors as the wind howls and the rain beats down on the roof, or even better, as you watch the snow falls in flurries. But so many of us struggle to enjoy our home in winter because we haven't properly prepared for the dark and stormy season ahead. It's time to change that by preparing your home for the coziest winter yet. Here's how:
Home Maintenance
Ensure There's Heat
In the run-up to winter, one of the most important things you can do is ensure that you have a functional heating system. Whether that means having your HVAC checked over by a professional or cleaning the chimney so you can light a roaring fire, do it now so that you won't be left in the cold this winter. Oh, and if you require propane or heating oil, be sure to order enough in now for the winter. Quarles heating oil and propane can ensure that you have everything you need ready so that you don't have to worry should a snowstorm, for example, hit. Of course, there are lots of options available depending on where you live so be sure to shop around in order to find the best price for your heating oil. Sites like PayLessForOil come in very helpful when trying to find the best priced fuel as they cut out the middleman to be able to provide low prices. Be prepared and be warm.
Check the Weatherstripping
Another thing you might want to do if you want to be as cozy as you can possibly be is to check the weatherstripping in your home. If it's old, loose or damaged, those biting winter winds will be able to seep in and you'll definitely feel the chill. It's really easy to install new weatherstripping, so you should be able to do it yourself without too much effort.
Check the Roof
While you're checking the property, it might be a good idea to get up on the roof to check for loose tiles, cracks, and leaks. The last thing you want is for your roof to leak in the dead of winter when conditions can make it hard to patch up and leave you with puddles in the loft and damp on the walls when you're trying to be all warm and cozy. Nothing ruins the festive mood more than a big mouldy patch above the Christmas tree!
Somewhere like Blue Ladder Roofing Company of Indianapolis can fix your broken tiles, slates and guttering, helping to protect your home from winter storm damage. Remember that it's not just water that can damage your home – ice can cause problems too. Your roof needs to be in pristine condition to allow as much water to run off your property as possible. This helps to prevent ice build-up which can cause severe structural damage if left unchecked over the winter months.
Insulate both the Attic and Roof
If you're serious about having your coziest winter yet at home, and you can afford it, you should definitely think about insulating your attic and roof space, by using spray foam solutions, for example. Though it's a fairly simple job, you'll probably want to call in a professional in order to make sure that your structures will keep warm air in your home and where it belongs this winter. That should mean a cozier home and lower heating bills! Oh, and when the summer comes around, that very same insulation will also help to keep your home cool, so you'll feel comfy at home whatever the weather.
Interior
Create a Reading Nook
Once you've ensured that the property is in good condition and your heating system is in good condition, it's time to work on creating a cozy atmosphere indoors. If you're the kind of person who likes reading, one of the most fun things you can do to ensure a cozy winter is to create your very own reading nook.
Simply pick out a cozy corner, preferably by the fireplace if you have one, where you can curl up and read a book, and make it comfortable by adding lots of cushions, pillows, quilts, blankets and of course, a decent light. Then, whenever the mood takes you, you can retreat into your cocoon and be transported to another place and time.
Blast the Place with Blankets
If you're looking for a cheap and cheerful way to make the whole house more cozy for the coming winter, simply gather up as many blankets and quilts as you can find and put them anywhere a blanket could conceivably go. On the back of the couch, on the beds, in the TV area – wherever you're likely to sit (or lie) and relax, make sure there is an abundance of blankets ready and waiting for you.
Hang Heavy Curtains
Heavy curtains are the ideal window treatment for winter, not only because they look thick, luxurious and cozy, but also because they actually help to keep the cold out. They can also make the room even darker, which might be exactly what you want when you're curled up in front of the TV with a hot chocolate and your favorite scented candle burning away, which brings us to…
Light Your Candles
Candles are the perfect lighting solution for cozy winter nights spent at home. They are far more gentle than electric lightbulbs and they diffuse the light in a softer, more magical way which helps to create just the right mood. Choose candles that have typical winter aromas like cinnamon, pumpkin spice, and pine and your home will always be warm and inviting this winter.
Lots of Lamps
Ceiling and recessed lights can be a bit harsh on the eyes in winter when it's darker than usual, and they hardly create the kind of cozy atmosphere that makes the winter so magical, which is why, as well as candles, you might want to think about dotting a few floor and table lamps around. They're far more flexible, so you can really target the light to the areas they need it and the way they diffuse will keep the cozy feeling going for longer.
Add a Pop of Color
If you're someone who struggles with the gray days and dark nights that come with the territory in winter, make your house a beacon of light in the darkness, not only by lighting deliciously scented candles but also by adding a pop of color wherever you can.
You don't have to repaint, although adding a feature wall in brilliant blue or radiant yellow wouldn't hurt, you can add color by choosing primary-colored cushions, vases, flowers, blankets – you get the idea. Anything that will catch your eye and make you smile will help you to feel warmer and cozier in winter.
Invest in a Few Rugs
If you have wooden, tiled or stone floors in your home, you'll know that it can get pretty cool in the winter. There's nothing like the shock of warm feet on a freezing cold floor to wake you up in the morning! Luckily, it's easy to remedy this by buying a few fluffy, furry, warming rugs and placing them in those areas where the floor is likely to get cold. They're fabulous for lying on in front of a roaring fire, if you're lucky enough to have one, too.
Plant Life
It might be cold outside and the brilliant greens of the trees may have vanished leaving a sea of brown behind, but that doesn't mean you can't enjoy the plant life -just bring it inside. Whether you choose easy to look after succulents, beautiful bonsais or bold, greenhouse plants, bringing some vegetation into the home is a great way to give yourself a boost in winter. Some houseplants are even known to purify the air, which is great when you have candles burning and fires roaring.
Rearrange the Furniture
If it isn't already, try to rearrange your furniture so that it is centered around your fireplace. If you don't have a fireplace, arrange it around another focal point like the TV or coffee table, in such a way that everyone can see each other and cozy winter chats will be more likely to pop up spontaneously.
Winter may be harsh, but it is also the coziest time of year. It is a time to relax, spend more time with family, reflect and give thanks while you reflect on the year gone by. That is why preparing your home for the season is one of the best things you can do.