Days get long and our bodies get tired. What a better way to unwind and relax than with a comforting heat wrap for your neck. MamatheFox personally uses and loves this neck wrap, especially on a cold winter night. To warm this neck wrap up you simply place it in the microwave for 1 minute. I then take it out, move around the inside 'beans' and then warm in the microwave for another minute. The weight of this wrap is so soothing, not at all a burdening feeling. You can use it on not only your neck and shoulders but around your knees, feet, hands and other body parts. Its pain relief that works.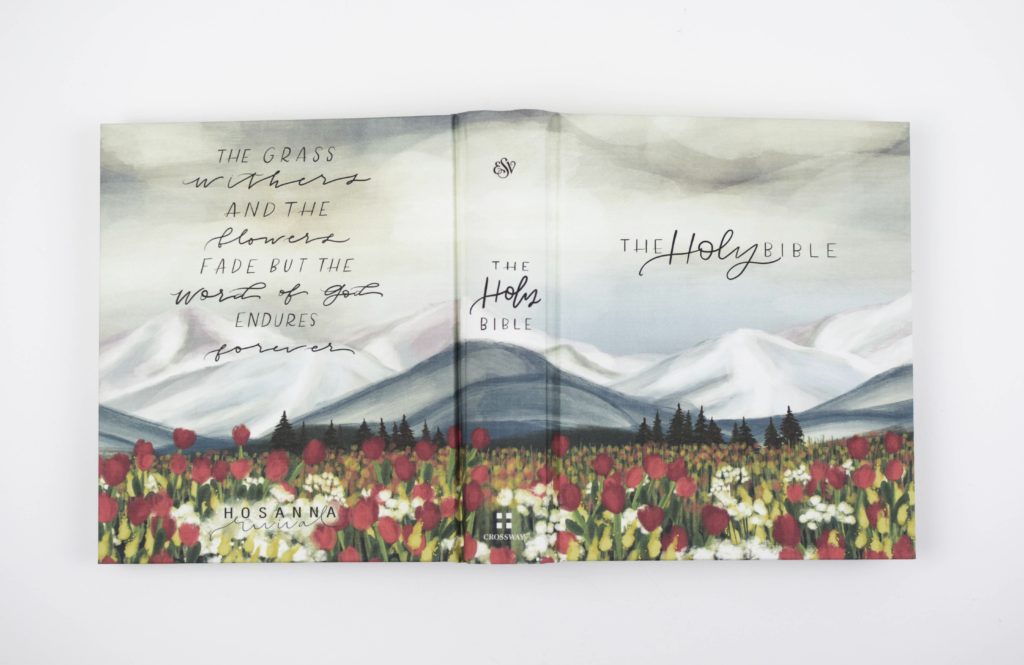 Hosanna Revival is a beautiful company inside and out! Katie, the founder, made the first steps to now Hosanna Revival when she hand painted her personal Bible. Her goal was to personalize the precious book that was so special and significate t0 her. Today her passion has expanded to designing Bibles, journals, stickers, and more. Katie's loving heart is to inspire women to be excited about digging into the Word! A beautiful heirloom Bible might just be what someone needs to excite and engage them into opening up their Bible and start studying. Hosanna Revival shop has a vast collection of unique hand painted products that can even be customized. In addition, they also carry digitally printed products that are carefully designed by the Hosanna Revival team. This season give the gift of inspiration and encouragement by gifting one of Hosanna Revival's beautiful products.
As a mom I love nothing more than showcasing the love I have for my children. What a perfect way to show your affection and to hold them close all day than with a Mother's Necklace from AJ's Collection. Each necklace is handmade and personalized, featuring children's names engraved on charms. There are more than 100 different designs and styles to choose from. Swarovski birthstones can be added as well. We love the high quality of these necklaces, they are durable but dainty. The chains are smooth and dont get tangled in our hair. AJ's Collection pieces are made in the USA and available on Amazon.
I love a good monthly subscription box – but when it's full of healthy foods and fitness fun, I am all in sister! The most exciting subscription box this holiday season is the Fit Snack. Each month the box heading to your home or office is jammed packed with healthy chips, snacky treats, jerky, drinks, snack bars and a new workout series for you to do at your own pace, wherever you work out. The workout comes printed on a pretty, easy to read sheet and contains a 30 minute workout, including a warm up and a Trainer Tip to help you achieve your personal goals. I love the easy to understand details of how to do the moves and how many reps to do of them as I go. I can do them at the gym or at home, depending on my schedule and how my week looks. The foods are hand picked by nutritionist, makings sure eat product contains at least 2 of the following: GMO Free, High in Protein, Low in Sugar, Gluten Free, Organic, Raw, Vegan and/or Natural. This is a perfect gift for you to add to your own wish list or to gift to the hard to shop for friends on your list.
I am always looking for affordable ways to better my skincare routine. By adding Vitamin E oil to your skincare routine you can: smooth your fine lines, fade your dark spots, natural hydrate and repair damaged skin. The key to Vitamin E Oil so to use REAL oil, not synthetics. We love Healthy Natural Products because they not only use the best oils. They use Vitamin E that is 100% natural and only includes ORGANIC: jojoba oil, avocado oil, rice bran oil, lavender oil (not in unscented version), palmarosa oil (not in unscented version)…and that's it – nothing you can't pronounce and nothing that doesn't come straight from Mother Nature! Being so confident in their top notch product they offer a 100% Money back guarantee. Try a bottle by clicking the link above.
If there is a women in your life who loves a glass of wine, then you are going to hit the gift jackpot when you gift her the Winsulatore Gift Set from BrüMate. This set includes 1 Winesulator and 2 matching Uncork'd XL 14oz Wine Glasses! The Winesulator was designed to fit a full bottle of wine and keep it in it's ideal temperature range for over 24 hours. Whether the wine lover wants a crisp cool white or a warm red, the Winsulator can beat the outside weather that would otherwise mess with the temperature or your wine. Crafted using high-quality, double-walled stainless steel ,with an extra copper layer to keep your Wine as cold as science allows. Best of all the two glasses which come in this set keep it the same temperature from the time you uncork your bottle and pour until the last drop.

Lorena's collection of beautifully handcrafted baskets make for a perfect gift for any home. Each storage unit is not only functional but uphold a high standard of integrity and exceptional design. Each piece has it's own unique character as its handmade by artisans in northern India using ancestral techniques. Baskets are constructed of 100% braided cotton and colored with non-toxic non-polluting dyes. The hues of Lorena's designs are modern and subtle which make for the perfect pop of natural color in any living space. Baskets are easily cleaned and can be thrown into a conventional washing machine. Lorena not only sells baskets but has a line of decor and textiles you won't want to miss!

There is nothing like the cozy feeling you can get from a fluffy, soft blanket. But what makes this better? Toasty warm toes! My feet, along with a lot of other people, get cold at night and throughout the day. The new blanket, PediPocket has created a blanket that is going to change they way you snuggle up. PediPocket is 6ft of plush fleece with a spacious foot pocket to keep you warm from head to toe. Plus, it's machine washable and dryer friendly. In styles and prints that match all types of styles, decor and personal preferences. It is perfect to use inside on the couch, in the car, outside while camping or on your back porch while enjoying a cup of tea. After you buy your first PediPocket Blanket your kids see how fun these blankets are and will beg for one too…but not to fret, you can also buy a kids sized version! If you are looking for something a bit more personal but still cosy, then you may want to check out a t-shirt quilt company to see how they can get a blanket made up for you so your whole family has a little piece of something personal.
A simple and classic holiday gift is the funny or inspirational coffee mug. DigiBuddha has more printed coffee mug options than you can shake a stick at! We laughed ourselves through so many pages of hilarious designs. There really is something for everyone with their selection. Digibuddha mugs are made using fine white ceramic with a flawless glossy glaze finish. Each original custom made mug is permanently fused so the art becomes part of the mug, not decals or stickers. With topics like humor, religious, love & friendship, inspirational, lifestyle, quotes, pets, professions, and more your options are practically endless. As you scroll through the pages you will find mugs for everyone on your holiday list – as well as a few you will want to buy for yourself.
Collage walls are extremely popular and growing in popularity. I have one in my office and living areas. They are a fun a creative way to display artwork, family photos and quotes which make up feel happy or motivated. I love to spice things up and change some of the images as the seasons change, as my family takes new family photos and as the holidays approach. I love to showcase the unique images that Digibuddha™ made by hand in their small shop just outside of Philadelphia. Digibuddha™ real foil art prints are not only customization (you pick the color foil and paper used) but they are made with high quality materials to last over time. You can even make custom prints with your own quote or scripture from the Bible. Check out all the options they have available at the link above.
We love Canvas on the Cheap. The quality products that look great in home are a perfect gift for anyone you know. Museum quality canvas prints will leave your guests wondering where you purchased your prints. Not only are canvas prints offered, but their decorative frames add an extra touch when making things look pretty. Choose the size and the wrap thickness of the canvas so it is personalized to the tee. Be sure to click the link in order to purchase from Canvas on the Cheap. They even gave us a MamatheFox exclusive sale of 88% off all canvas prints; so get them while you can! Seriously guys, these prints are the best value you'll find anywhere.
The inscribed, custom jewelry created at Isabelle Grace Jewelry is designed to be a keepsake. Timeless style and enduring quality is what sets this brand apart from others. Made by hand in Massachusetts, the designs and materials are crafted expertly. The classic, personalized gifts include charms, initials, and semiprecious stones to create a one-of-a-kind piece. Isabelle Grace Jewelry is the perfect gift for friends and loved ones. This is a website you're going to want to check out!
The Write the Word journals are the perfect place to write our Gods word and your thoughts and prayers. This will help cultivate your faith and what matters to you. These journals give a simple and impactful way to connect with God, wherever you are in your walk. Preselected scripture that is specific to the the journal topic will cultivate the needs in your life. Write your thoughts, prayers, and anything that God is placing on your heart. Dig into God's word yourself, or give as a gift so someone else can. Be sure to see the Cultivate What Matters Kids Journal in our kids page of the gift guide!
Who doesn't love a good calendar, right?! These Digibuddha desk calendars are absolutely gorgeous and will give a face lift to any desk. With many options to choose from, you will be able to find a calendar for anyone and everyone on your list. Be sure to check out the other products on the Digibuddha website, they are all beautifully created. It includes 12 cards, one for each month, printed on their gorgeous 130# Signature Paper and a clear acrylic stand.
Fill-in Important Dates on the back of each month. Keep as a perpetual calendar.
When it comes to style and quality Ivy & Fig have figured things out. Their bags are made with today's trends in mind. They take the time to research their materials and find what works best in a high quality hand bag. All of their manufacturing is done in a 100% sustainable way to insure continuity of our planet for future generations. They want to show the world that looking your best can be done without the needless killing of innocent animals. They feature a variety of handbags, wallets, backpacks and cell phone purses. There are days when you need all those coupons and baby wipes, and the backpack is a great choice. Then date night comes and you just wants a slim handbag to bring the bare essentials. Check out all that Ivy & Fig have to offer at the link above.
Do your friends and family really know you? Do you really know them?! With the new game from Pressman, True Colors, you can ask and answer questions that will really prove how well you know each other. Perfect for FriendsGiving, Thanksgiving game nights and the Ugly Sweater Party you through every year, this game will get people interacting and talking with another. It will lead to laughter and help with bonding with each other. Featuring over 170 hilarious questions, true colors is the perfect choice for game night. What will true colors reveal to you? for 3-6 players, ages 13 and up.
There is nothing like doing a home spa day. A simple way to add some fun to your weekly bathing routine is to add in these exfoliating gloves from Smitco. They fit on your hand like a winter glove does. What makes these gloves special is they had their gloves made slightly longer in the fingers to fit most hand sizes. Also they are thicker to last longer – along with a medium roughness to it actually exfoliates your skin. It is perfect way to remove deal skin cells. The best part is that they are machine washable! Wash and dry after each use to keep them fresh and lasting for a long time.
Having a backpack purse is key to surviving some days as a lady. I need to bring all my stuff around town with me, but need full use of both hands and arms with 2 little kids on tow. When you see those leather prices sometimes they are just not in your budget – especially if you are a college student that desires a hip, usable backpack style bag. My sister-in-law is in college and this is a great bag for her to use around campus. If you want a fun leather backpack that you can afford but is made with quality in mind, you need to grab this backpack from Estarer.
There is nothing more calming that resting in a warm bath tub after a long day. Whether you had another crazy day with the kids, worked out so hard your butt felt like it was going to fall off, or had to deal with "that guy" at the office, you know that you can benefit from a soothing bath. Nothing makes taking a bath better than a bath bomb. We love the bath bombs from Rengora. They are affordable, smell great and dont stain you bathtub. Each set comes with 6 bath bombs: Relax (Lavender), Pamper (Rose), Refresh (Mint), Breathe (Eucalyptus), Soothe (Vanilla) and Energize (Orange). Being hypoallergenic they make a great bomb for women of all ages and skin types. Click the link above to learn more and order some today.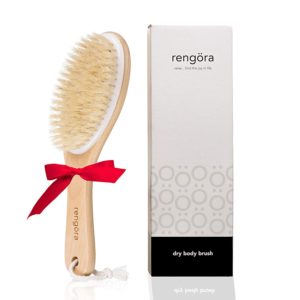 Have you heard about Dry Brushing? Its is all the rage in the beauty industry. You can detoxify your whole body by stimulating your lymphatic system by gently brushing your skin. Dry brushing can help improve circulation, removes dead skin cells, gives a glow to your skin, and can even reduce the appearance of cellulite! This brush is made with natural boar hairs and cherry wood. It fits perfectly in your hand and its easy to use and store. MamatheFox uses her dry brush each morning before getting out of bed. It really helps simulate me before my morning up of coffee and get my body ready to move. If you know a women who loves beauty product you will really impress her with this fun and unique gift.
If you didn't see the product above this one, check it out! The new hot product this winter for holiday gifts are Dry Brushes – and the ones from Rengora are top notch! This brushes handle is about 18 inches long – making it great for using on your back and the rest of your body. This brush also has the added benefit of having an extra cloth grip on the handle for closer usage. Start from the feet / ankles and work your way upward in long fluid strokes on limbs and circular motions on torso and back. Move in an upward direction towards the heart. Sensitive areas (abdomen, breasts and neck) require lighter pressure. It is suggested to use once daily and to shower afterwards. Check out the link above for other dry brushing tools and tips!
Sunshine & Glitter is a fun product line that gives us loads of exciting and sparkling beauty products. They feature glitter lotions, lip balms, sunscreens, body gel and more! We love their adorable gift sets, some of them look like they are in ball like ornaments, perfect for those work and school holiday gift exchange parties. They 3 feature items for this holiday are: Holiday Slay (warm sugar cookie scent), Holidazzle (warm vanilla scent) and Pink Christmas (sugar plum gumdrop scent). When you put on their products you are going to feel fun, festive and smell amazing. These make perfect gifts for girls young and old. Sunshine & Glitter believe that life should be pure expressions of joy – and we couldn't agree more!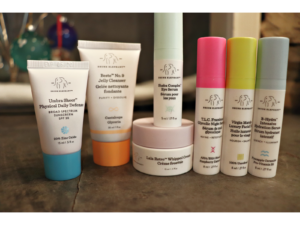 Do you know someone who loves beauty products? Do you have sensitive skin, like the kind that seems to always get irritated? Its probably because most products have tons of ingredients that cause negative skin reactions. Drunk Elephant is committed to using only clean ingredients that either directly benefit the skin's health or support the integrity and effectiveness of the formulations. You won't find what Drunk Elephant calls "the suspicious six" of any kind in their products (1. silicones, 2. chemical screens, 3. sensitizing colorants/perfumes, 4. sodium lauryl sulfate (SLS) 5. essential oils, 6. drying alcohols), making them appropriate for all skin. It has the Clean Seal from Sephora, as a top rated product for sensitive skin. This set is a perfect size, as it gives you 8 small size containers of the top items from Drunk Elephant. It includes: Beste No. 9 Jelly Cleanser, Firma Day Serum, B-Hydra Intensive Hydration Serum, Virgin Marula Luxury Facial Oil, TLC Framboos Glycolic Night Serum, Lala Retro Whipped Cream,Umbra Sheer Physical Defense SPF 30 and the Shaba Complex Eye Serum!
Deep Dive Threads is a tee shirt company that is brimming with modern and classic original tees that modern women are falling in love with. Finding inspiration from favorite TV shows, movies and superheros the design teams got a knack for funny and unique tees. MamatheFox loves her tee's from Deep Dive Threads. Bobs Burgers is a favorite adult cartoon of her's and she loves to wear her Bob Burger themed tee while out around town and to the gym. Scroll through the site and you will be sure to find a few tee's that will be perfect for a fun loving women on your holiday shopping list.
When it comes to unique tees that feature your hometown pride Brain Tees Designs has your back. This Etsy seller can custom make any zip code into a fun and unique tee design that is sure to be an instant hit in your circle of friends. Contact them through their Etsy site and tell them what your zip code is and they can even help you make a design featuring the colors of your favorite local sports team. With football season here, and baseball coming up in the spring you can get the guy in your life a fun and special sports tee they can wear to games and to sports bars.
We all use notebooks, am I right? The Corso brand makes professional products that are designed to make your life a little easier. Their Live Happy Notebook is perfect for women in your life. The cute design will complement any office and/or office supplies. Each page of the notebook is accented with a quote, design, or tip. These are the perfect pick-me-up when your having a bad day; or if you just need a breath of fresh air. The bright, fun colors on the cover of the notebook and filled through the pages will also put a smile on your face. There's even a place on each page to note what your grateful for; what an amazing reminder to stop and dwell on the good things in life. The notebook is on preorder right now an will be deliverers before Christmas for any lady on your list!
We just love Bun Maternity and the clothes they create for moms, nursing mothers, and moms-to-be. The Cozy Nursing Hoodie is a popular classic on the Bun Maternity website. Having one myself, I can attest to how amazing this hoodie is. Wear it while pregnant, nursing, or neither; this hoodie is great for all stages of motherhood and beyond! The snap-n-go design is perfect for breastfeeding and can easily be un-snapped and re-snapped with one hand. Because lets face it, moms do 80% of things with one hand. The cute design is unique too. The diagonal fabric that points up to the snap gives the hoodie a super cute look. This hoodie is so soft and fits very true to size. Ladies on your list will thank you for this adorable hoodie!
The perfect game for the Disney fan with a twist. You are the villain; a Disney's villain. Command your henchmen, defeat the heroes, and enact your evil scheme. Each Disney classic villain has a different way of playing the game, offering rich and new ways to strategize! This game is great for 2-6 players who are 10 years or older. Be the first to achieve your villain's devious objective and you win!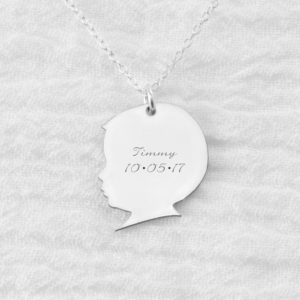 Give her a timeless gift to cherish forever with Gracefully Made jewelry. We love this dainty and custom necklace using the silhouette of your child. Gracefully Made takes a clear picture of a little one and turns it into a piece of art. The pendant is 5/8″ tall with an 18″ long chain with the choice of sterling silver, gold, or rose gold. An extra personal touch is added with an etched engraving which can be done through a desktop laser engraver or something within the same line. Stop time and hold those adorable features forever with a Gracefully Made necklace. Moreover, an added benefit of gifting a piece of gold or silver is that they can be encashed in times of trouble from a known gold buyer in Warrington, or elsewhere proving them to be a pretty good investment as well.
Give the gift that goes beyond Christmas Day and lasts for months and months. With the Ellie subscription box, you can give comfy workout (or everyday wear) clothes to someone on your list. The best part – it's delivered right to the door of whoever you gift it to! Seriously amazing. The Ellie brand works to create clothing that is comfortable; they want to help take your workout to the next level. Having workout clothes that are comfy and cute can change your attitude and mindset, feeling good in what you're wearing is a huge confidence booster. The subscription box is simple; just choose a collection, and wait for it to be shipped to your door. With a minimum of three items in each collection, you'll be sporting the cutest trends. Any woman will be happy with this subscription box as a gift!

The perfect game for the Disney fan with a twist. You are the villain; a Disney's villain. Command your henchmen, defeat the heroes, and enact your evil scheme. Each Disney classic villain has a different way of playing the game, offering rich and new ways to strategize! This game is great for 2-6 players who are 10 years or older. Be the first to achieve your villain's devious objective and you win!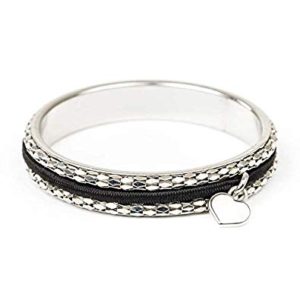 I knew this was the gift to give this holiday season. Between a sister in health care, a mom working on her property, a mother in law chasing grandkids, and a runner friend, Busy Girl Bangles were needed. A stylish bangle secures any hair tie around your wrist without leaving indentations while keeping you looking stylish regardless of where the day takes you. The minute you need to put your hair up just grab the hair tie off the bangle and make that adorable topknot or pony tail. Your bangle will still be just as adorable without the tie and ready for you when you let your hair down again. Bangles come in a variety of styles, colors, and designs meaning you can find one for everyone!