When you come across a company with the mission of: make the world smile, then you know it's going to be a hit in your home.
That's exactly what Toomies toys did for our family.
Toomies is a brand underneath the umbrella brand of TOMY. Some other brands that TOMY represents are John Deere, Lamaze, and the First Years. Their innovative, high quality toys are products that your children will love.
Seeing their mission come to life didn't take much with toys we were able to play with. That's why we are a big fan of the TOMY toy line – Toomies.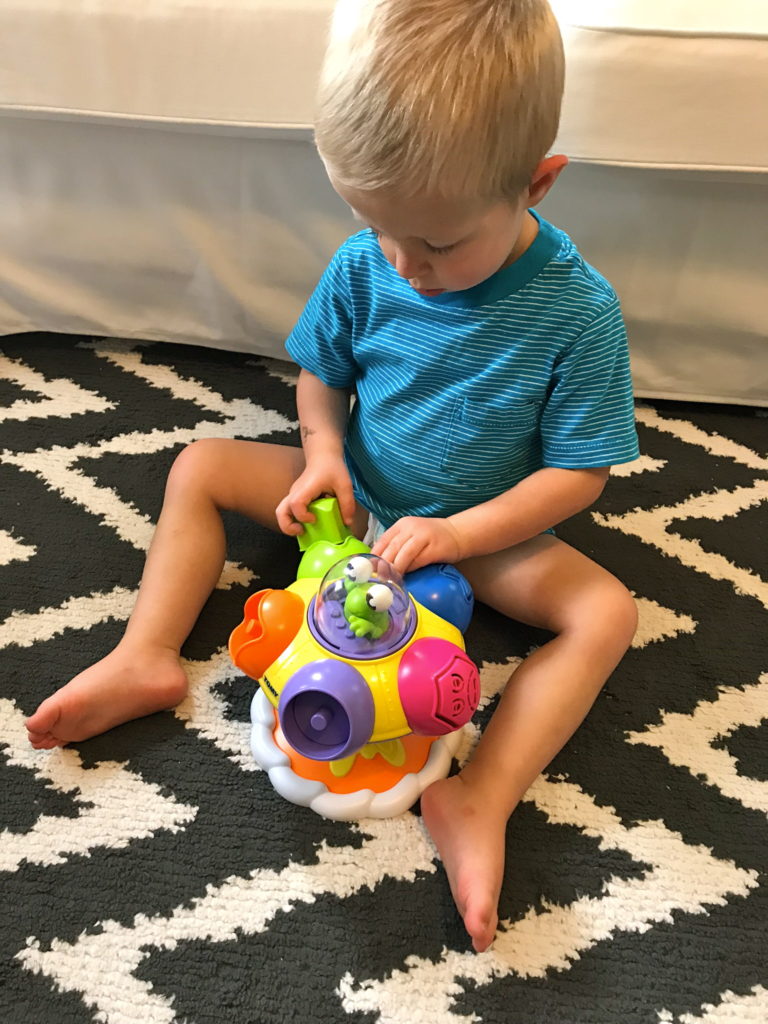 Available at Target and Target.com, the Toomies toy line is very easy to come by. And trust me, you're going to want to check them out.
One of my favorite aspects of these Toomies Toys is that they don't require batteries. Each of the toys we're featuring are free of batteries and 100% child (or parent) operated. Like, seriously, what more could a mom of two boys want (besides a massage :D).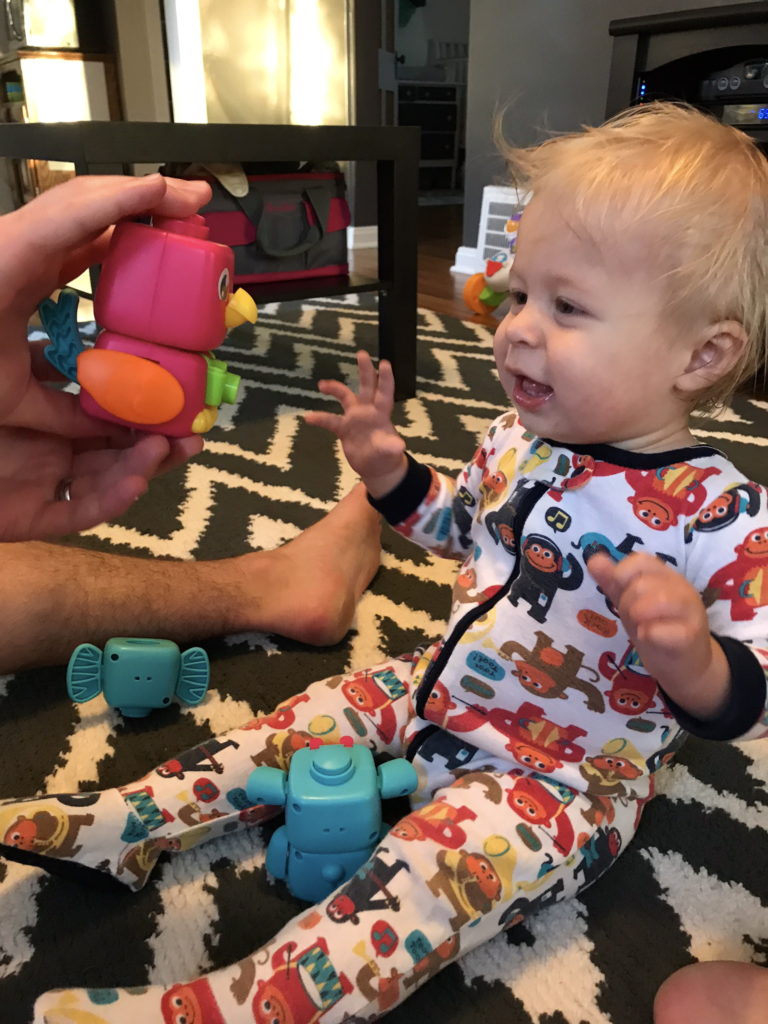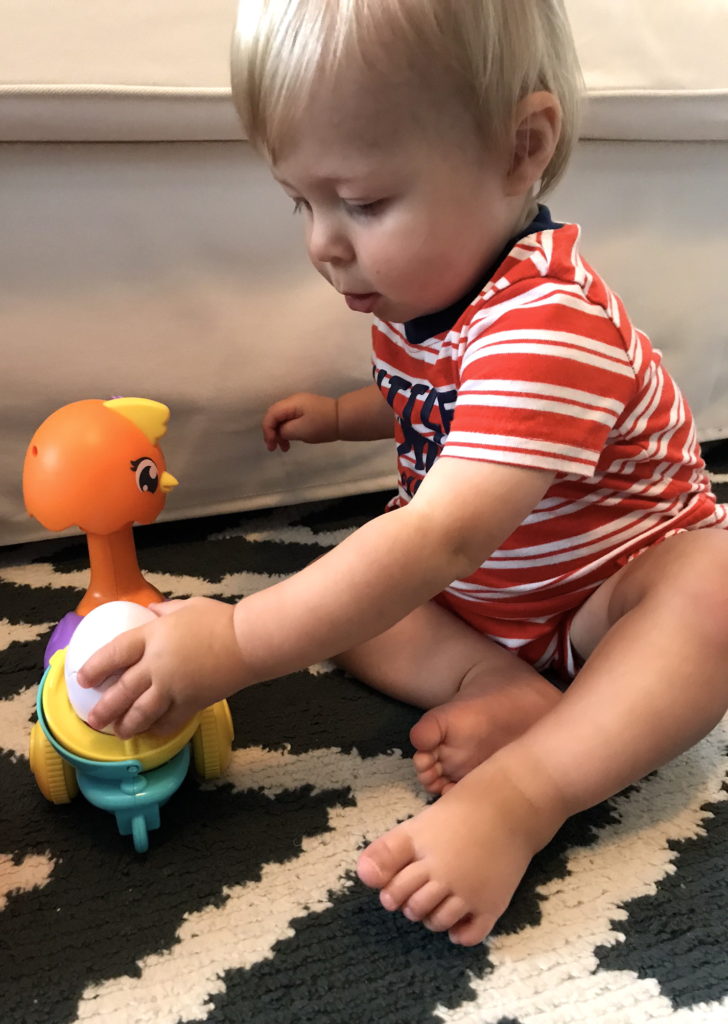 This cute little mom and chick toy is perfect for an older infant/young toddler. My one year old loves this one. Push down the head of the chicken and off she goes!
The push and go action of the chicken gets your kiddo moving. My son has tons of fun chasing around the mommy chicken. My husband even commented on how fast the chicken moves; he was pretty impressed!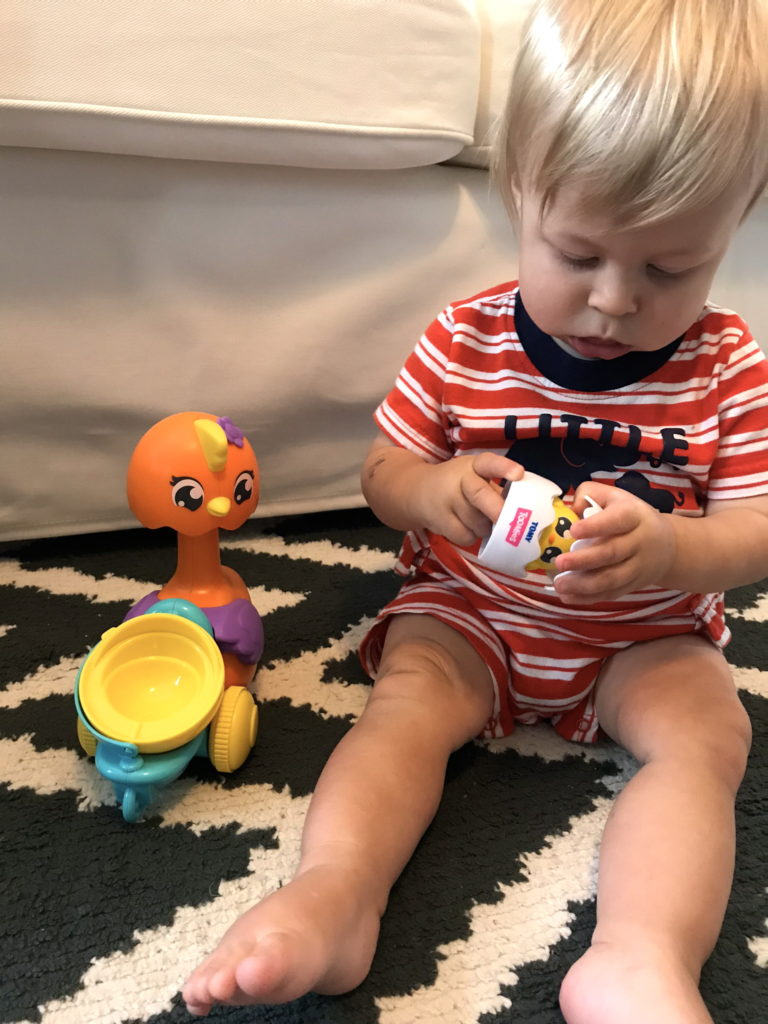 The chick is a hit too. It hides in the egg and then pops up; great cause and affect for him.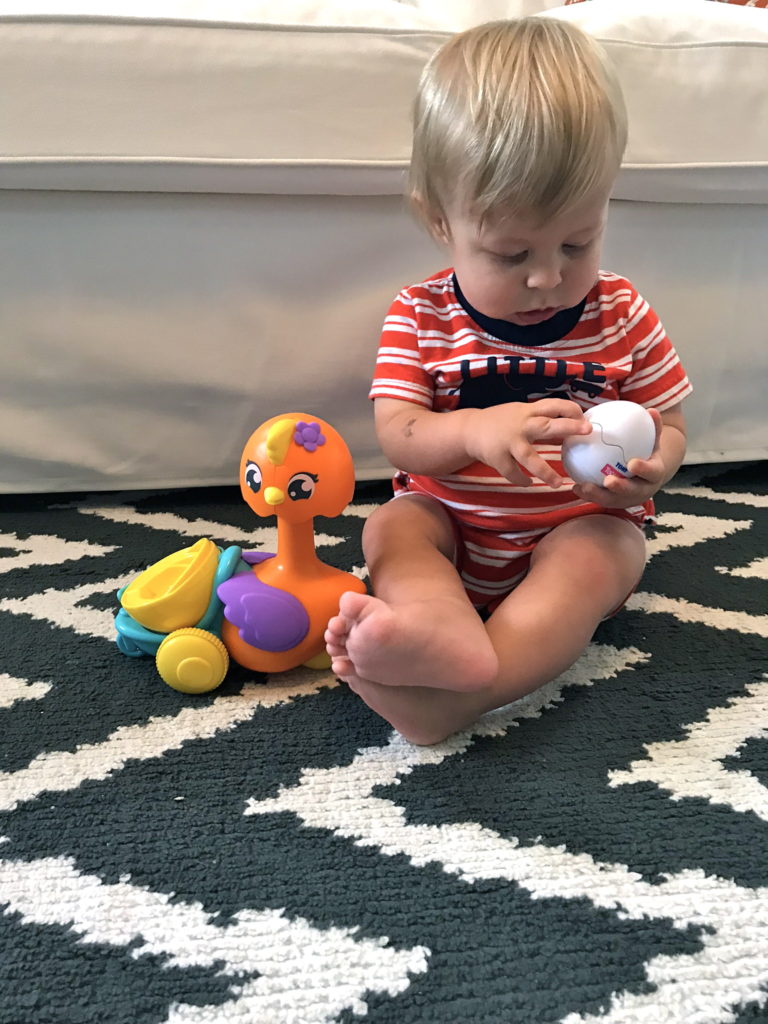 This is my two year old's favorite. Similar to a shape sorter, putting the shapes in their corresponding holes will cause a fun reaction that your toddler is sure to love.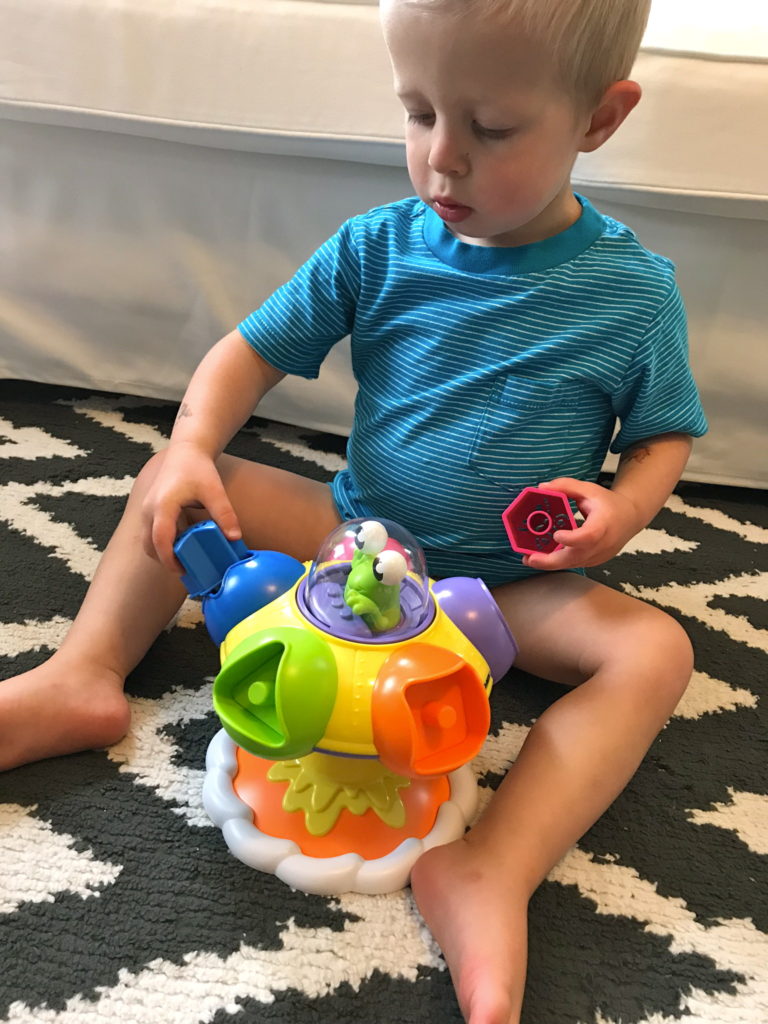 This toy is educational; allowing your child to differentiate the shapes.
Another learning opportunity that presents itself with this toy are the colors. The bright and vivid colors give your child great potential with color recognition.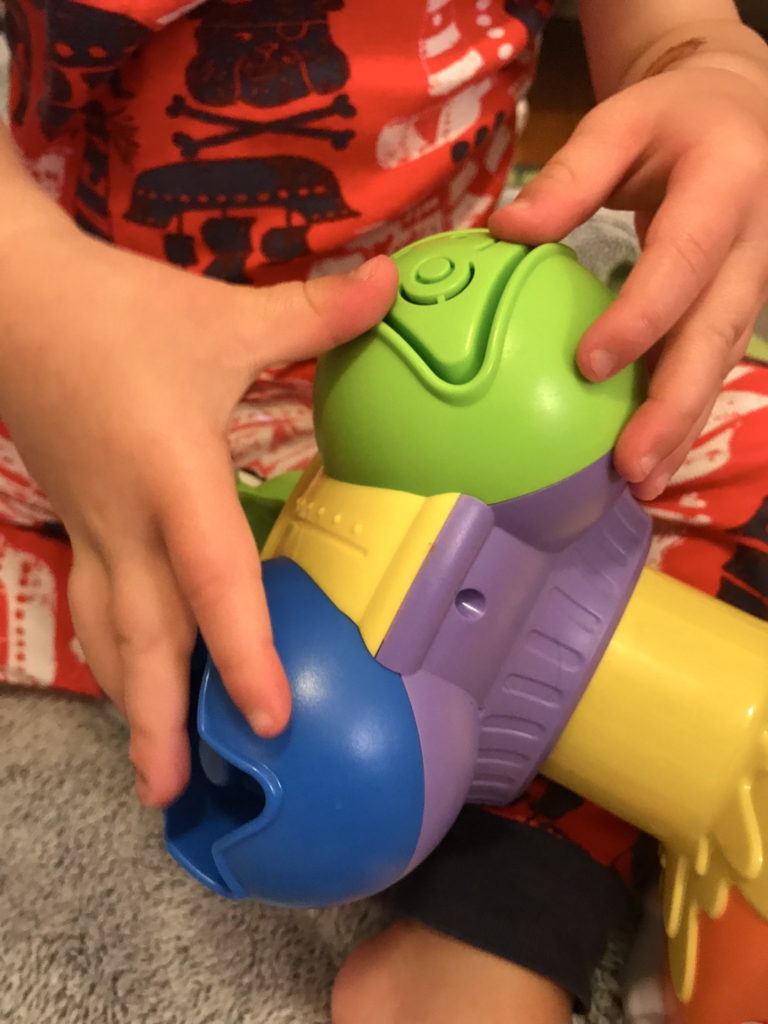 My sons favorite aspect of this toy is the 'pop and spin' feature. Once the shapes are in their correct spots, push down on the middle on the UFO then let go. Watch as the toy spins, then POPS!
Seriously endless amounts of fun.
This feature is a little difficult for my two year old to do. It's hard for him to push down enough on the center piece in order for the toy to spin. He needs just a little bit more muscle power. Luckily he is very persistent, so he eventually gets it to pop and spin on his own.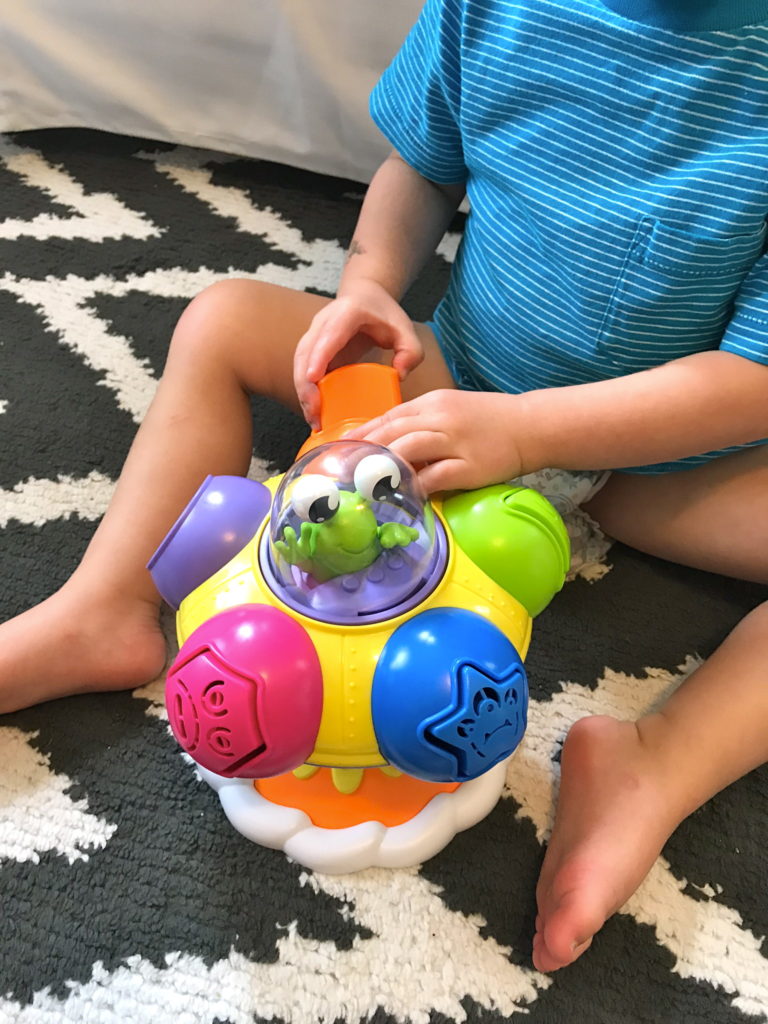 ---
Connect with Toomies
---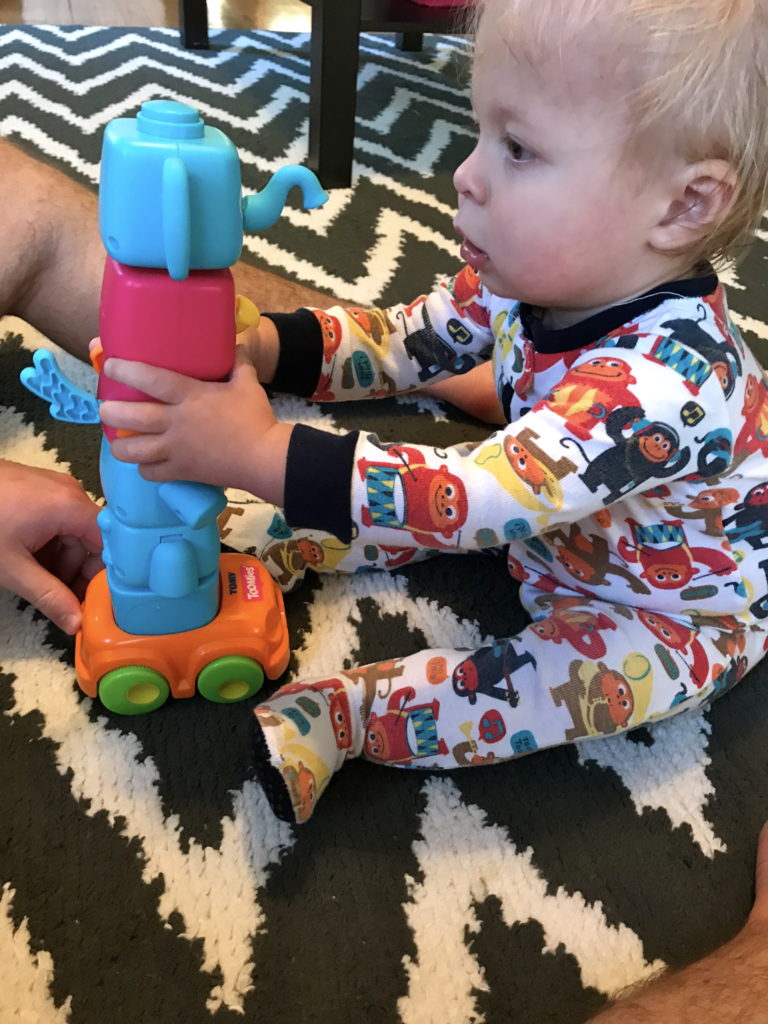 This toy is my favorite out of the ones we tried out. I love the colors. The blue and pink are adorable, then add in the orange car; what more do you need?!
This is a fun one because no matter how you stack the different pieces, they all fit together. Just like the name says, this toy is stackee. Creativity is endless with this toy because there are many different options stack it; you could stack it different every time!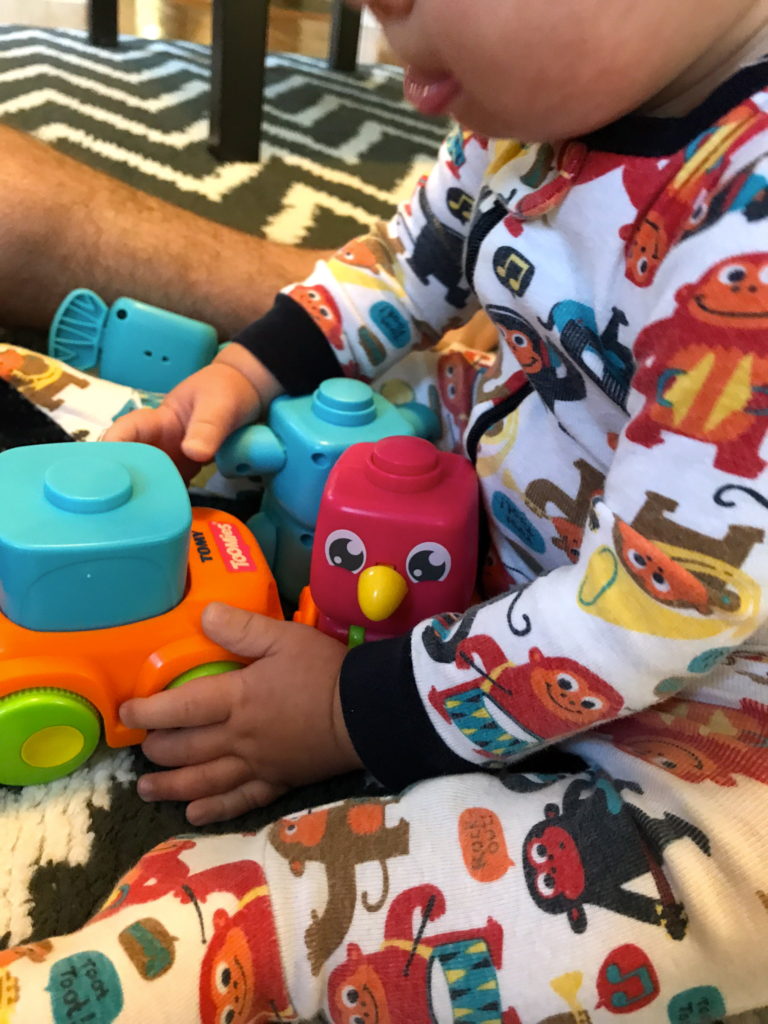 When you push down on the pieces that are connected to the car, off it goes!
This is another great one to have your child chase after; continuous fun.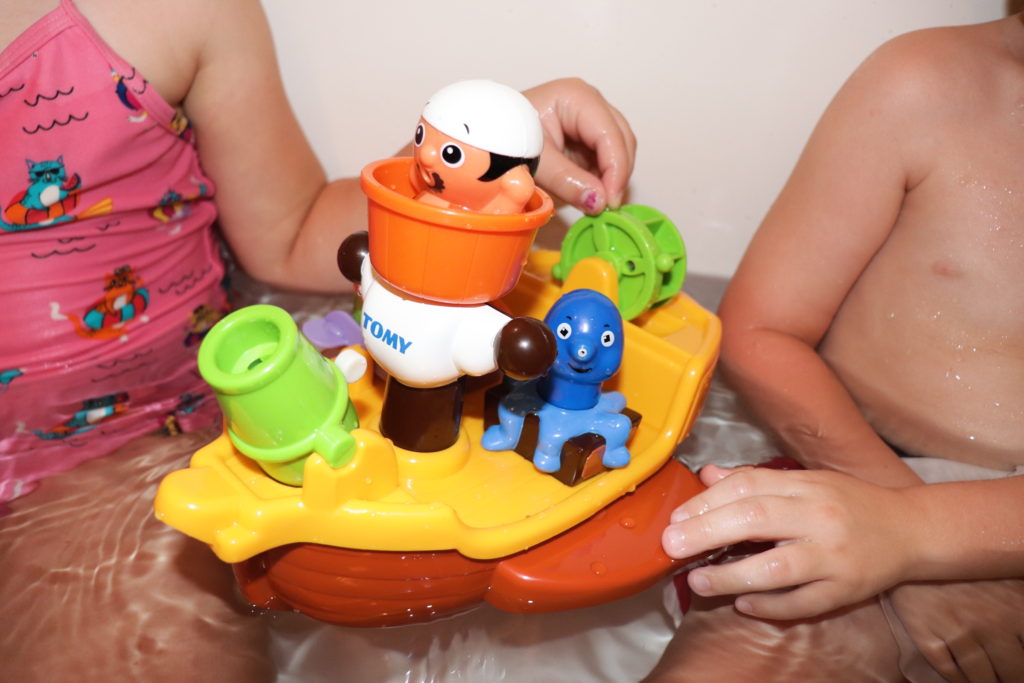 Making bath time a tug-a-chug blast is the new Pirate Bath Ship from Tomy.  This interactive bath toy will get your imagination stirring and make bath time a true pirate adventure. With a canon that splashes out water, a tiny separate boat to send your pirate a' sailin' and a squirting octopus you will have tons of fun while scrubbing your kid clean.
This toy is not only great for bath time, but it's perfect for water tables and can be uses as a pool toy too. No batteries are required for this easy to dry toy.
Disclosure of Material Connection: I received one or more of the products or services mentioned above for free in the hope that I would mention it on my blog. Regardless, I only recommend products or services I use personally and believe will be good for my readers. I am disclosing this in accordance with the Federal Trade Commission's 16 CFR, Part 255: "Guides Concerning the Use of Endorsements and Testimonials in Advertising."