Did you push yourself during yesterdays workout and now have a sore back?
Did pushing the stroller around all day get your shoulders all tensed up?
Do you do manual lifting and have tired and achy knees?
Thanks to Sunny Bay, a BioMed Design, I am able to get my body back to where I want it to be with some heat and cold treatment options. Here are my top favourite products I relay on from Sunny Bay. A friend of mine was also suffering from aches, so she took it upon herself to look into something like chiropractor kidderminster, to get the help she was looking for. As she also has kids, she thought this would be in her and her children's best interests, especially when it comes to doing activities with them. Plus, as she realised the pains would only get worse, she thought this was the right time to try a CBD product from somewhere like Blessed CBD. After hearing her story, I thought I should listen to my body and find a solution to my pains too. Speaking of pains, before you decide to visit a chiropractor or any other specialist, doing some research into the benefits of cbd oil and how it can play a part in pain relief may be something worth considering. Even if you search how to take cannabis oil orally (if this is the route you aim to go down), this may be a start to managing the pains a lot better than before. However, this depends on where you live in the world. For example, in the United States, some states only allow CBD and other cannabis products for medical use – you may require a medical marijuana card. Talking to your doctor about your pain and enquire whether or not you qualify for CBD products could be an excellent step to take. You can find out more by talking to your doctor or visit a local dispensary (similar to plpcsanjose.com) to learn more. Here are some other ways to aid your with pain relief: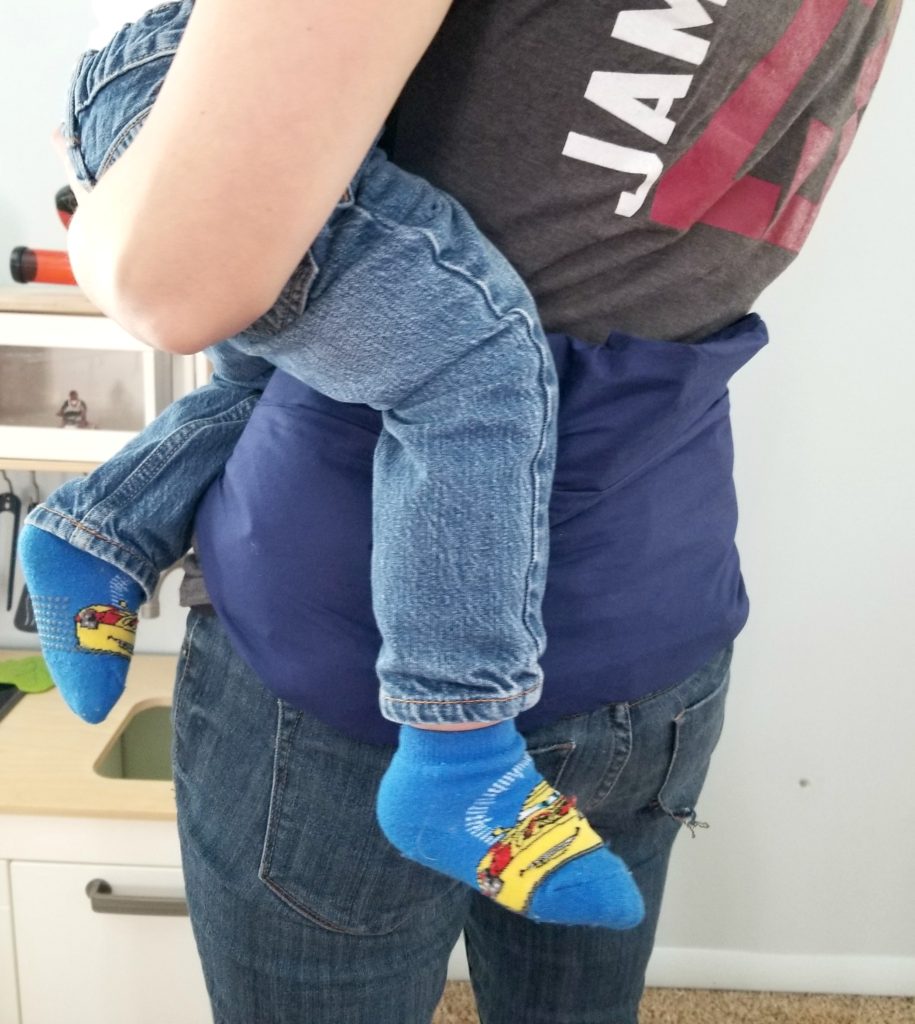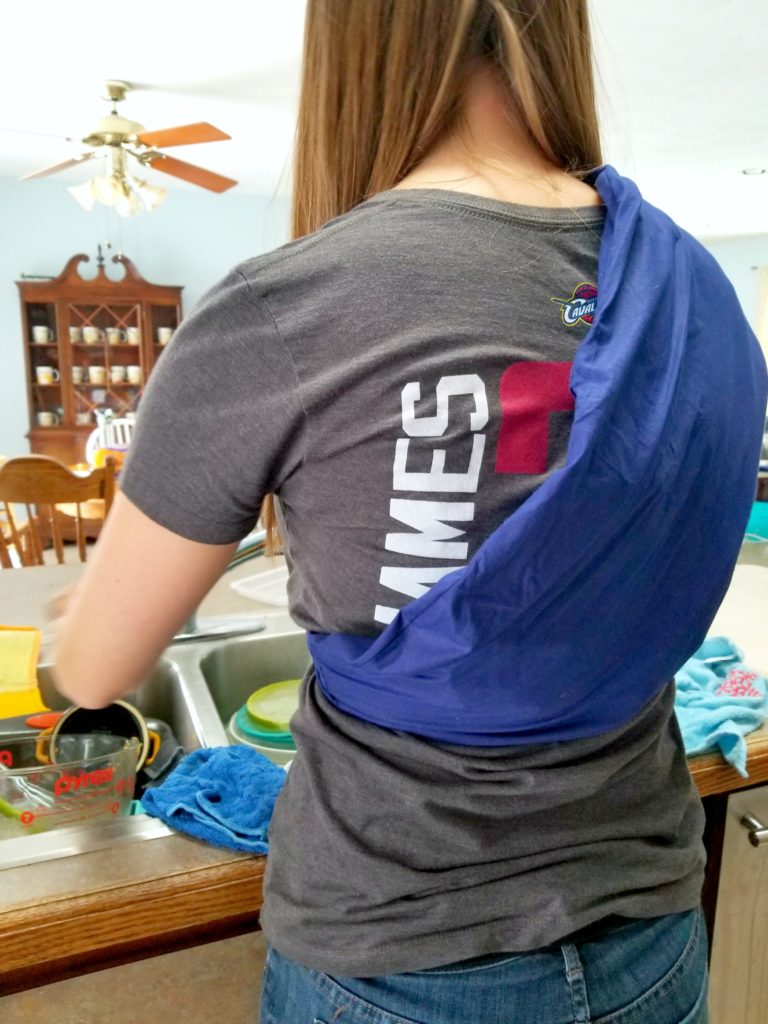 This reusable wrap is able to be used again and again, and best of all you can use it hot or cold! It is so convenient to have one product that can both heat and cool your sore muscles. There are no cords getting in the way, allowing you to move and get around your home or job without keeping you stuck on a chair with an extension cord.
The long straps make it so that if your plus sized or petite, odds are it will fit!
This Hot & Cold Wrap has a removable, machine washable cover – so you can keep it clean easily.
When you freeze it (takes 1-3 hours to freeze), it stays soft! This is such a wonderful feature as you can mold it to the area which you are applying it for maximum efficiency.
When microwaving it is suggested to start at 1 min then then add 10 second intervals to the timer until it reaches the desired temperature. I like mine hot and sometimes let it go for 2 minutes. It may not feel warm enough on your hand right away, but I suggest moving around the inside parts and then placing it on the area you were going to warm, and it will feel hotter than you expected.
This product is ideal for: back, shoulders, legs, arms and knees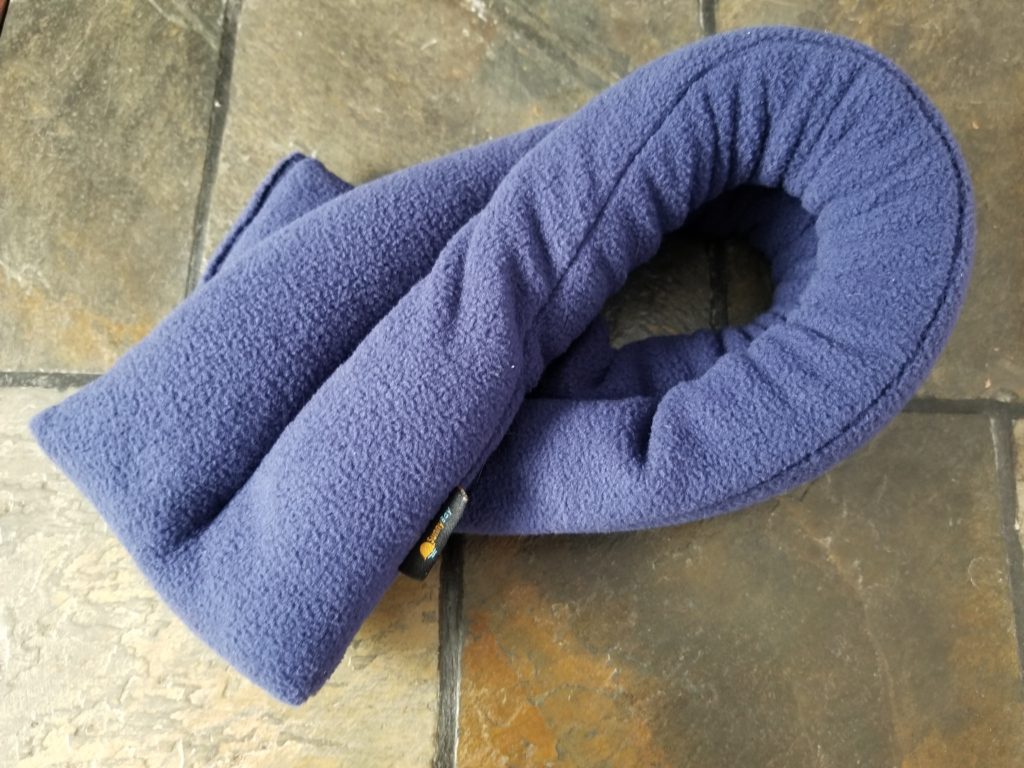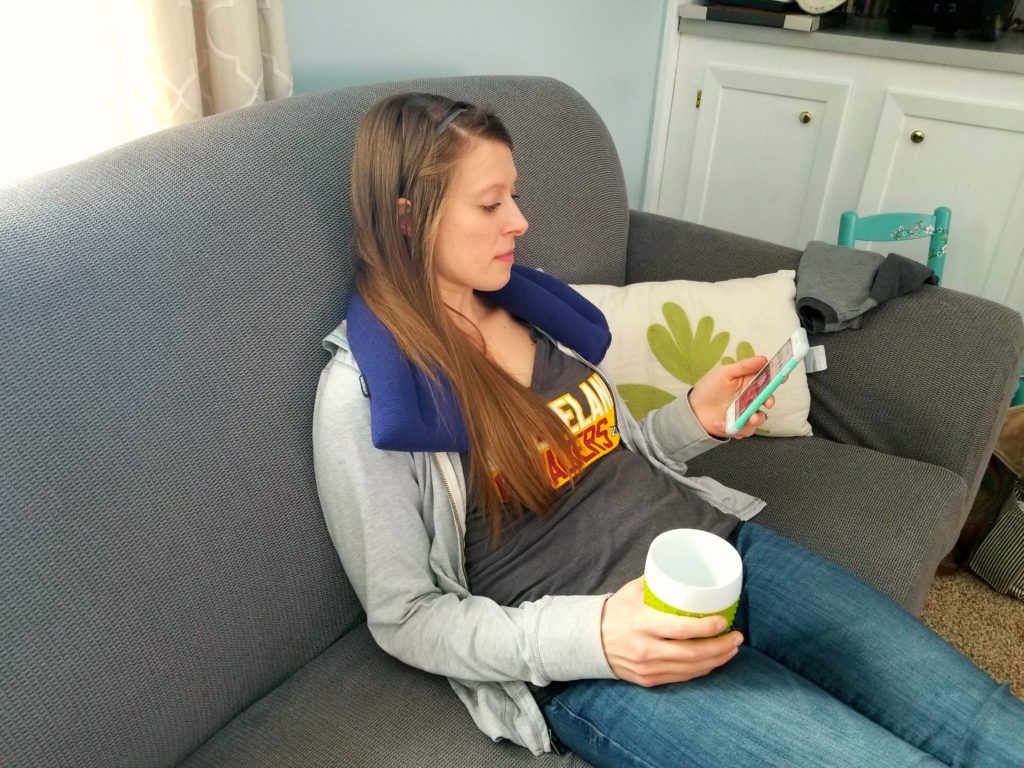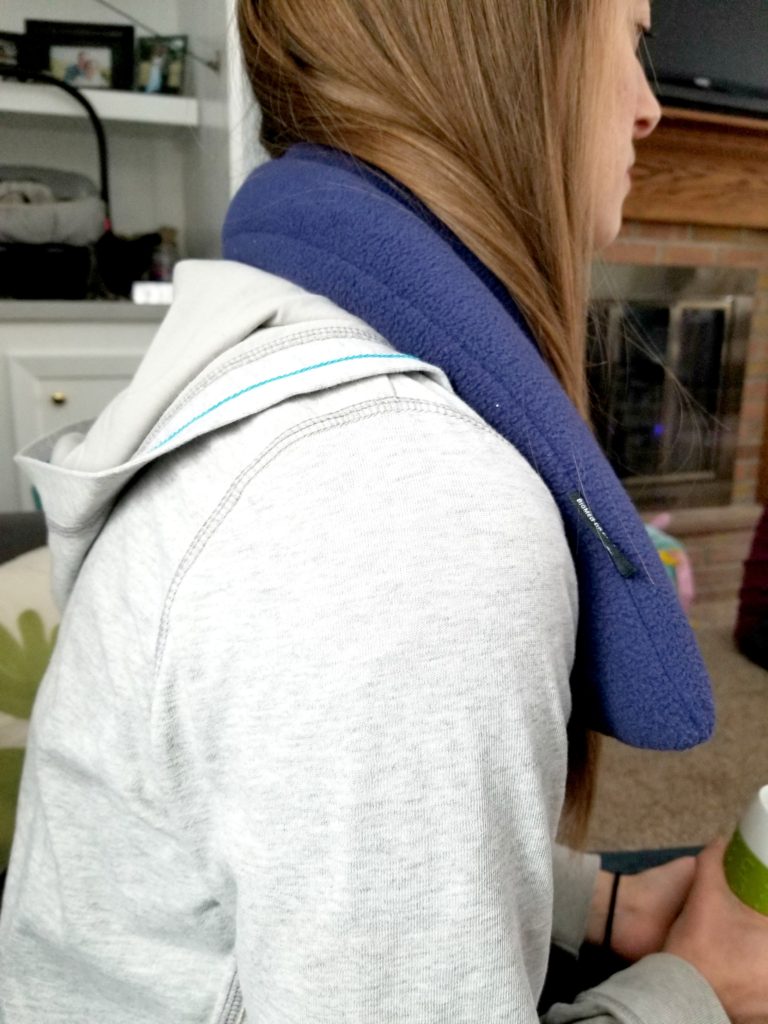 This ergonomic design makes for the most soothing heat wrap I have ever used on my neck. I love I can walk around my home in the evenings, letting it set softly around my neck and shoulders, giving me some warmth while also soothing my muscles. It also relaxes my overall attitude as well.
This is a great product for people who don't like the standard "u" shaped neck wrap, as its loose and can form to your neck as you like. If you have a smaller or thicker neck, then this is the wrap you want!
I love to warm this product in the microwave for 1 minute. I remove, mix around the inside contents, and place back in the microwave for 1 more minute. It stays warm for over an hour, making it perfect for when you sit down to read a book or watch some TV.
You can also use this product cold, by freezing it in the freezer for 1 hour. This product is not machine washable, so be sure to only spot clean as needed with a damp cloth.
This neck wrap is perfect for this old evenings you need crave some warmth. It is great for wearing around the home, office or in the car, as its easy to put on and take off. You can microwave it for just 1 minute and it will be a perfect warmth. If you want it warmer only heat it in 10 second increments to avoid it burning or getting too hot.
This can also be used cold, just place in the freezer for at least 60 minutes for it to cool down for you.
The cover retains heat, as it is made of fleece – which also makes it machine washable. Always remove the inside component before washing.
This classic style neck wrap is going to be the perfect solution for your neck pain relief.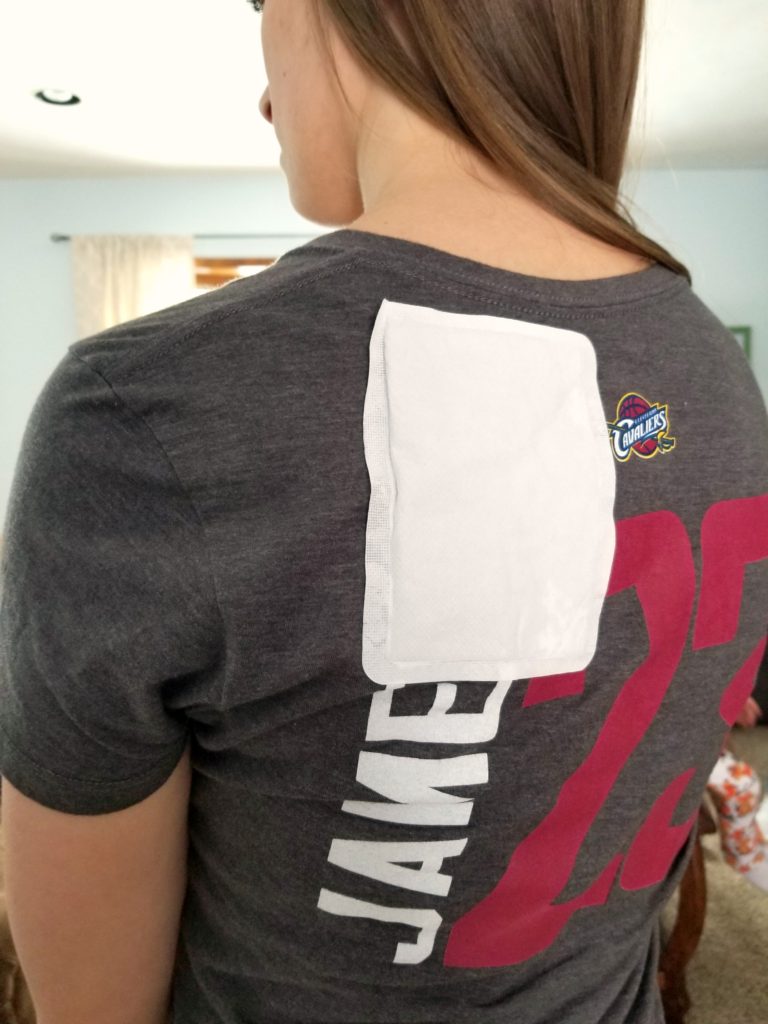 If you are on the go and need real pain relief, then you can count on these Heat Pads! They are self-adhesive (stick to clothing – NOT to your skin as they will get hot) and disposable. The heat lasts for 12 hours, making this the ideal product for those how work in the cold.
I put one of these pads on in the evening and it stayed very warm, almost hot for around 5 hours. I went to bed and in the morning the pad was still a tiny bit warm! I was so impressed at the true length of heat these provide.
The pads get up to 113 degrees, so be sure to only apply to your clothing.
They are activated by being exposed to the air, no breaking pods or monkeying around. Just apply to the area and within 20 minutes it will be toasty and perfect. If you are going to wear a sweater and want it to be more effective I would recommend wearing a tight fitting tee or undershirt to apply the pad to. This way it will stay closer to your skin and help the effected area.
The pads come in average square size or more rectangular shaped/larger size – so if you just need a little warmth or a larger area, Sunny Bay has you covered.