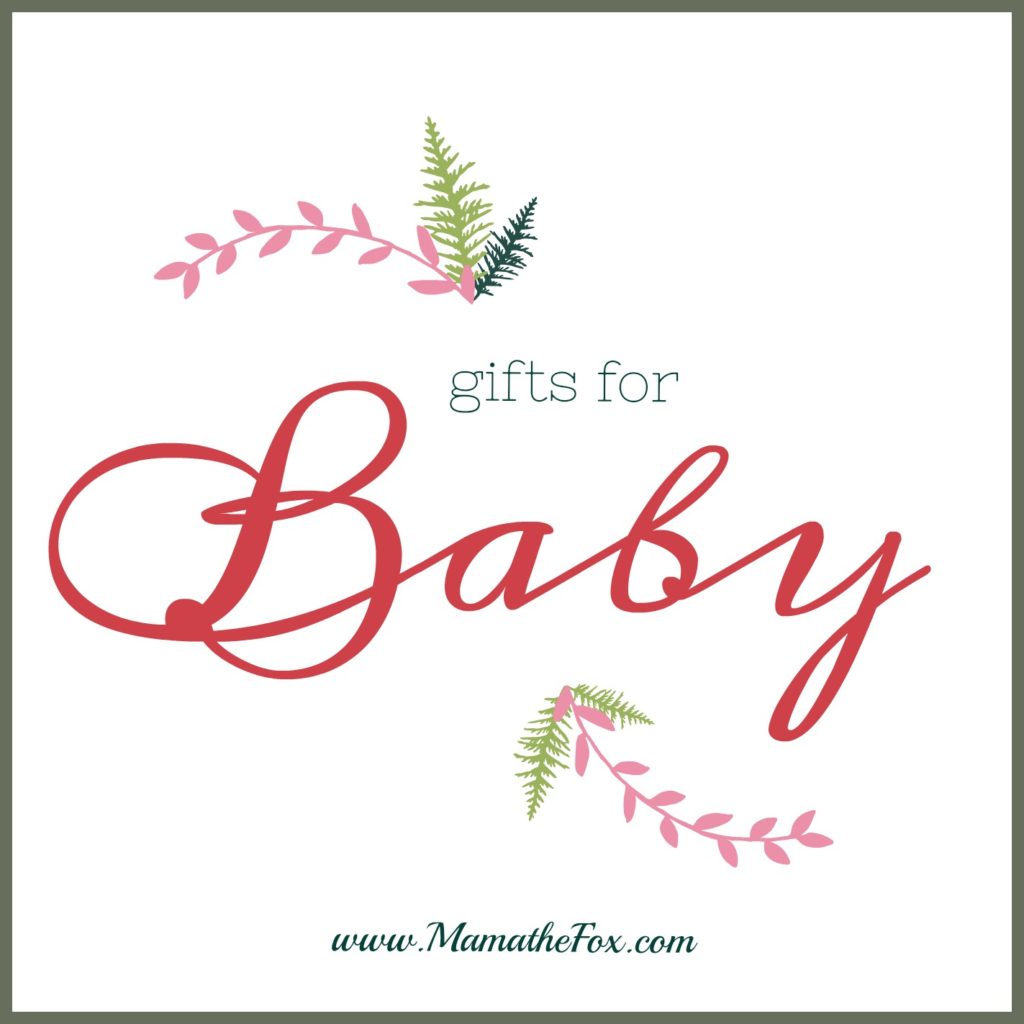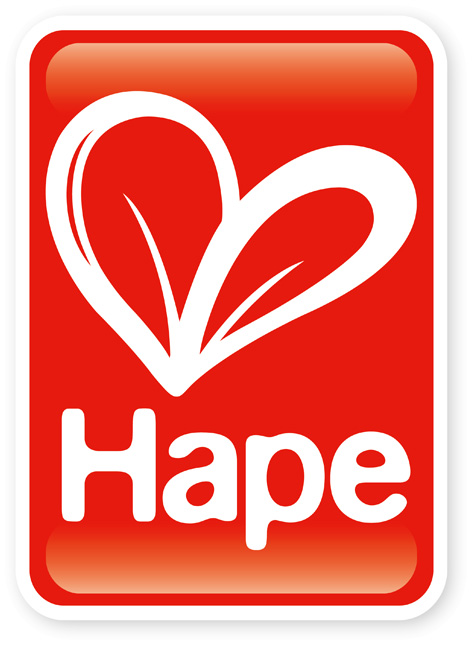 Spark your little ones' imaginations with high quality toys from Hape! This award winning toy company believes play is in the DNA of every child and just needs to be awaken. Hape toys are strategically designed to bring fun into learning and help develop and refine your child's skills during each milestone. They are the world's largest producer of wooden toys designing first and foremost for children; no matter their culture or language. With responsible business practices, Hape strives to leave this world in better condition than when they received it. With hundreds of toys, and new toys being designed each year, Hape has something for newborns to the kid at heart. While Hape is essential for babies to trigger their development, these toys may be a good idea to purchase after the birth of your baby. While you're still in your pregnancy days, you need to think about buying the necessities. If a loved one is insistent on getting a gift for your newborn, perhaps refer them to Harcourt Health's website on baby essentials, where they can learn more about what you need for your baby. Once you're prepared for birth, it's time to explore the magical world of Hape toys! After all, without toys, your children will not gain the basic cognitive and physical skills they need for the future. These skills can be impacted by many factors…in fact, many new parents have concerns with making sure that their child is getting enough sleep to ensure normal growth and learning processes. Sometimes the environment they sleep in can have a detrimental effect, such as a busy road outside. Fortunately, soundproofpanda.com offer a solution to this. The quality of sleep is so important and will give them the energy to play and enjoy the world that is so new to them. Furthermore, buying gifts and toys for children can often seem tricky. There is so much choice it can be difficult to know where to begin. However, one of my friends recently recommended www.babycro.com to me. On the Babycro website, you can find a huge choice of baby product reviews. Above all, reading reviews online can help you to find out what other people are saying about popular products so that you can decide whether or not a product is worth the hype. Now, let us discover my pick of gifts for babies.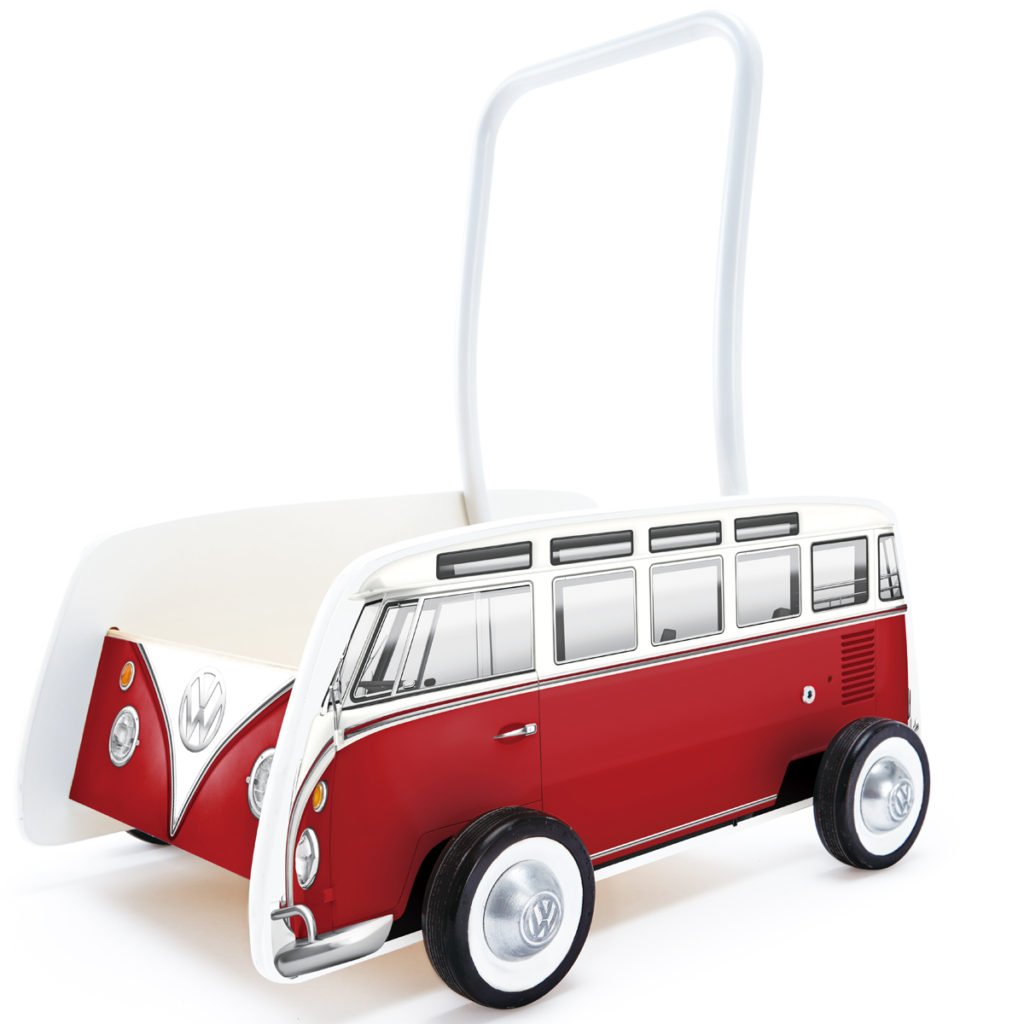 Learning to walk has never been so fun than with the Classical Bus T1 Walker. This Classical Volkswagen has a bright stylish look and sleek design. For new walkers the handrail in a vertical position acts as a support, while the no skid wheels keep thing slow and controlled. When the handrail is adjusted to the lower position toddlers can use the Classical Bus walker as a toy carrier. The wide wood basket is roomy for toy storage or for any imaginative game. The sturdy wood design and construction will keep this toy lasting for years to come as it grows with your kids and their imagination. Hape toys are made to exceed North American toy standards with non-toxic, quality, and child-friendly materials.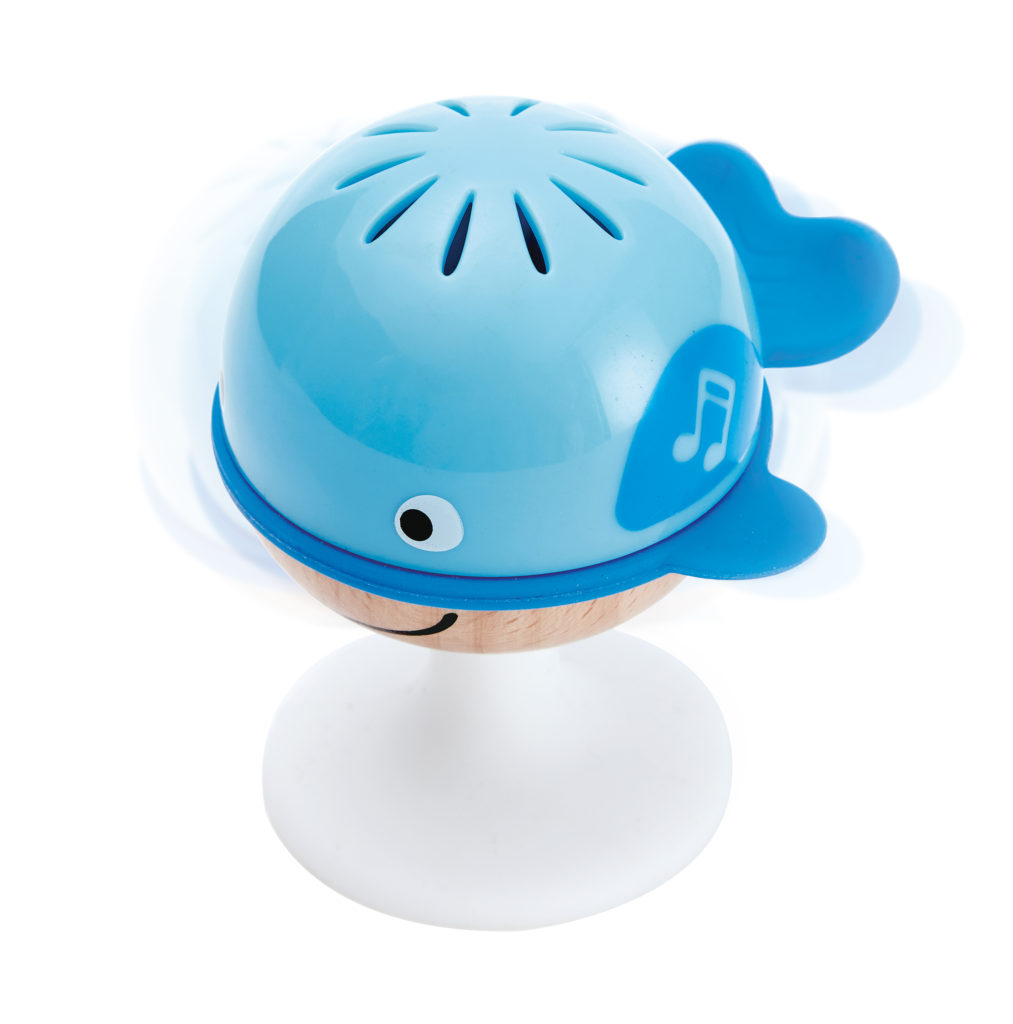 Three aquatic animal rattles make the perfect playful set for that busy baby in your life. With bright stimulating colors and a mix of plastic and wood, these rattles are eye catching and stimulating. Each creature includes a rattle or plays music for a multi sensory experience. For mom's sanity, suction cups on the bottom keep toys securely in place. They are great on high chairs in the kitchen, stroller tray tables, or even on the car window for travel. Made from durable wood and BPA free plastic, and finished with non-toxic paint, all Hape toys are 100% kid friendly and safe.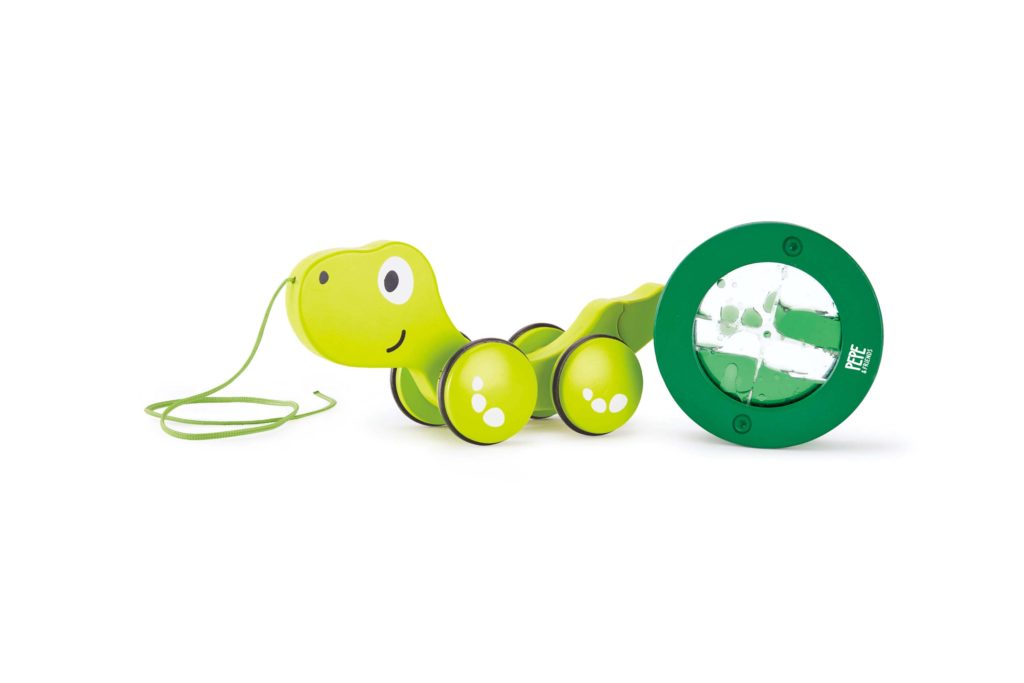 Hape's Tito Wood Pull Along Toy is a walking toy that is versatile and durable. As a pull toy, walkers will love their turtle friend trailing behind their little steps as they pull his long green string. Tito's shell rotates as he leisurely moves on his rubber lined wheels. What makes Tito so unique from other pull along toys is his transparent water filled shell. Watch as water swirls and waves with each movement of Tito's detachable shell. Pull toys encourage growth in developing fine motor and strength skills, while learning about cause and effect. As always, Hape meets or exceeds all applicable safety standards in North America and follows eco-friendly business practices.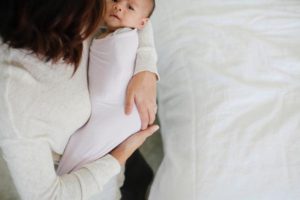 Every baby loves to be swaddled, right? The Ollie World neuro-developmental swaddle was first created to help a foster baby who was on the verge of being labeled as 'failure to thrive'. After being used on the baby dramatic changes were observed – better sleep, better eating, and weight gain. Created with the guidance of a pediatric neuro-developmental psychologist, the swaddle moves with baby, keeps baby cool, and comforted. The Ollie swaddle is set apart from the other swaddles on the market because of the many therapeutic and developmental benefits that it creates. Moisture wicking threads that are interwoven into the fabric help reduce overheating. There is no need to un-swaddle baby for diaper changes because the opening at the bottom of the swaddle. A one size fits all philosophy is perfect for growing babies and your wallet!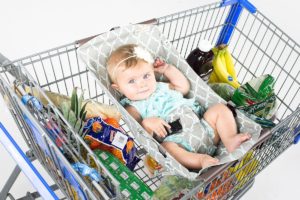 Shopping with a baby is no easy task, but with the Binxy Baby hammock it's totally doable and easy! The baby hammock clips to either side of the shopping cart and hangs elevated leaving the cart basket open for groceries. Easily lay your baby in the hammock while shopping or strap the infant carrier into the hammock for an even easier car to cart transfer. To get your baby even more relaxed then they already are, you could look into finding something like the best baby bottles on the market, as they have recently transitioned from breastfeeding to bottles. Your may want to reward your baby with something to reward this change. Binxy Baby shopping hammock comes in multiple print options that are so adorable! The hammock holds up to 50 pounds and can be used for newborns until baby can sit up independently. It folds up small and can fit into your diaper bag easily, or you can keep it in the car! This hammock is the perfect gift for Christmas or even a baby shower!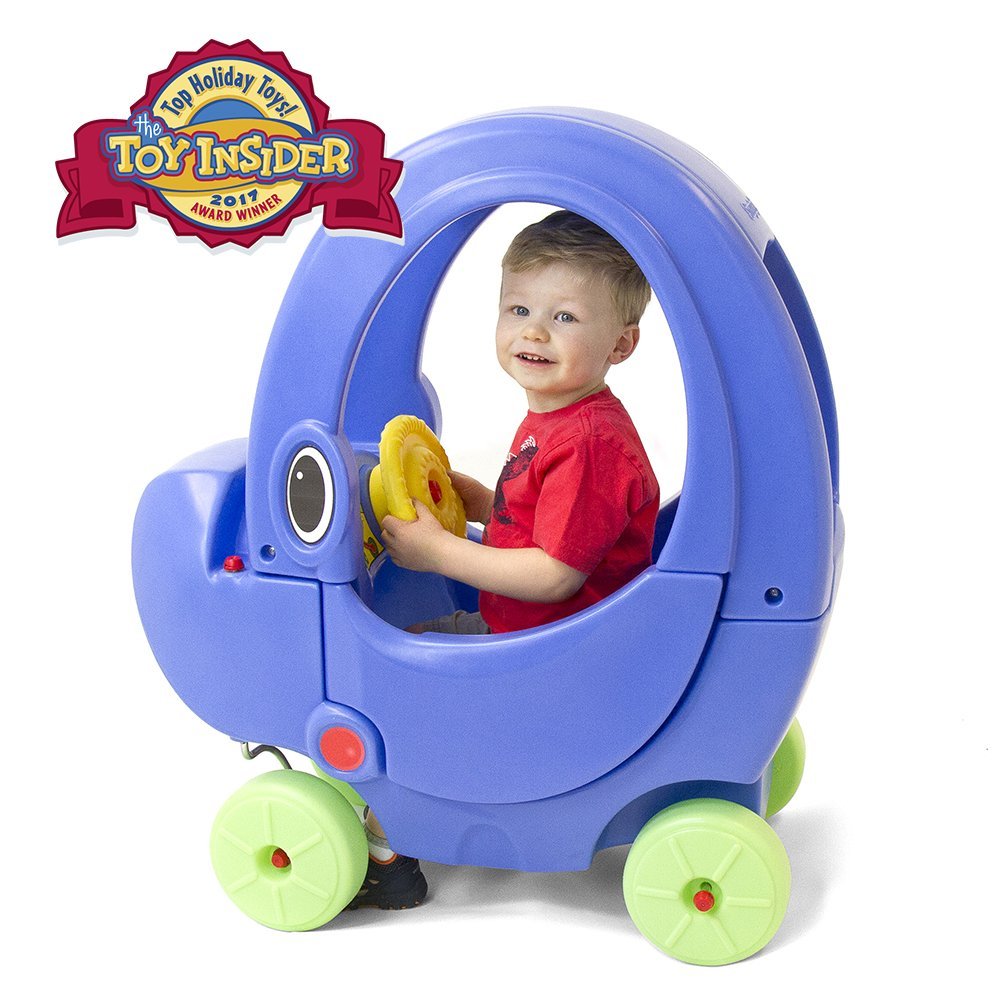 The classic coupe car just got more stylish with Simplay3. Simplay3 is an innovative toy company in the plastics industry. Their mission is to inspire children to play using their imagination with the freedom from batteries and cartoon characters. The Elly Coupe is nothing less than adorable with a creative elephant theme that is cozy and safe. The spacious arching roof gives more room while providing extra protection. Toddlers can travel with the classic foot-to-floor gap and easy turn wheels. A rear storage area allows your little ones to bring along any needed supplies for their exciting adventures. Elly Coupe is an award winner for the Toy Insider Top Holiday Toy and they are selling out fast on Amazon. Be sure to check out the rest of Simaply3's innovative toys and home goods.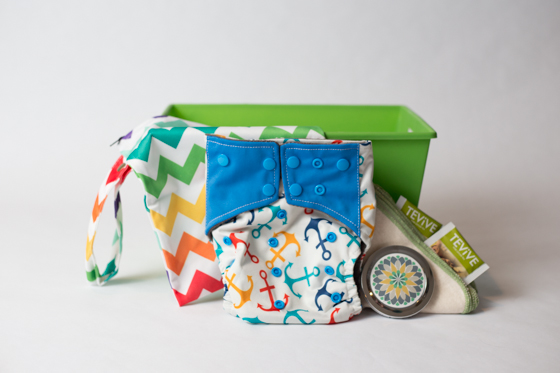 Cloth diapering can be stressful and sometimes fill you with doubt. What da Fluff is just the right monthly encouragement for all those fluff moms. What da Fluff is a family owned and operated company. They are dedicated to bringing cloth diaper families quality and affordable products. What da Fluff fully believes in cloth diapering and passionate about helping fluff families. Each month What da Fluff provides a fun quality box with new and exciting products. Brand, styles, prints, and materials may differ month to month but a box will always include at least one diaper. The rest of the box is an exciting surprise. This allows trying out new products without the risk of breaking the bank while trying out new potential favorites. What da Fluff has a number of monthly subscriptions for as low as $10 a month. Nothing is cuter than a baby in just fluff and a shirt, so spread the love with a cloth diaper subscription.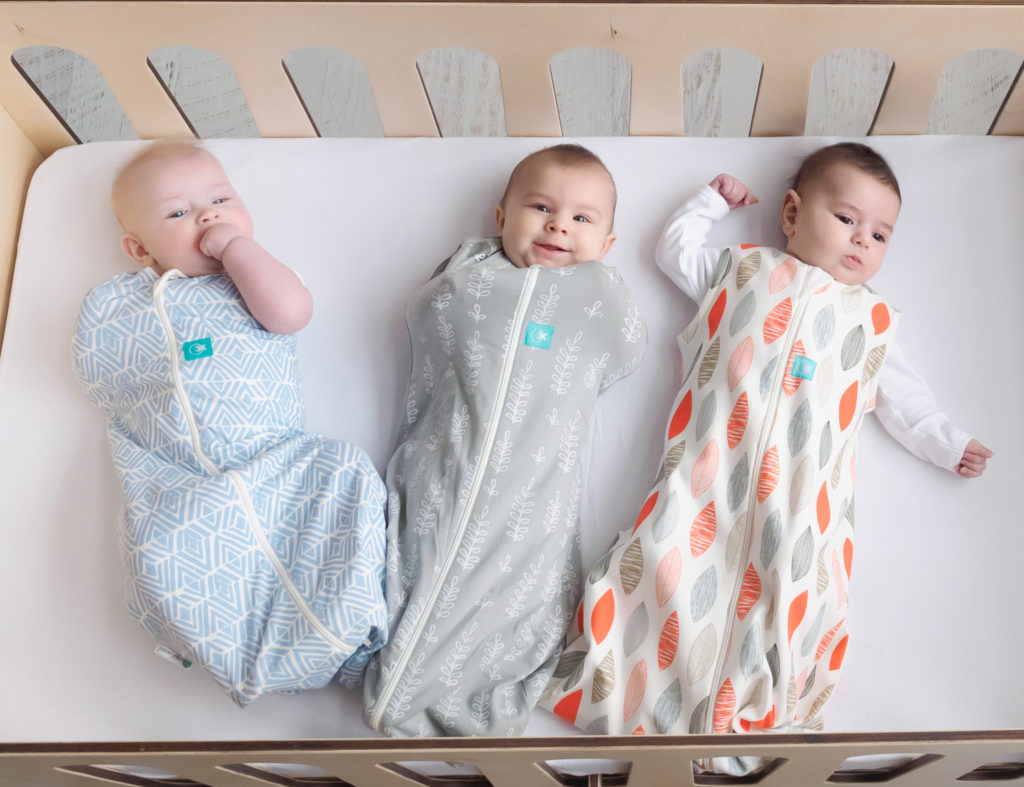 Oh you have a baby, know a baby, seen a baby? Then you've probably discussed their sleeping habits! A full nights rest free of worry seems like only a dream to most moms. ergoPouch is an award winning manufacturer of organic sleep products that are specifically designed for better night's sleep. They've engineered a wide range of bags including swaddles, sleeping bags, sleep suits, and ergoArms; covering ages newborn to 36months. The ergoPouch Sleep Suit Bag is one of their most innovative pouches as it converts from a sleep bag to a sleep suit with legs using zippers. Their products are ergonomically designed for optional hip development, and have been recognized as a hip-healthy product. Natural breathable fibres such as organic cotton, bamboo and merino are used in the making of their pouches. An added bonus is the fashion forward adorable prints! ergoPouch loves sleep and is backing you up with moms just like you.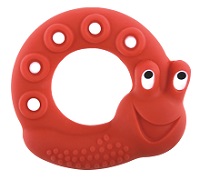 Looking for some practical gifts for a baby you know? Check out MAM. Their wide range of products include: pacifiers, baby bottles, cups, teethers, oral care, and coordinating accessories. Since 1976, MAM has been committed to creating products that support the individual development of each child. Their products are innovative, medically functional, and hold a contemporary design. All MAM products are free of BPA, BPS, lead, and phthalates. This gives parents some peace and comfort; knowing their kids are using safe products. So whether you're shopping for a newborn or a three year old, MAM has something for each!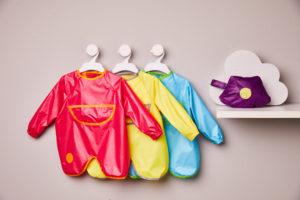 B. Box has a passion for creating fun and functional baby essentials. They want to make the lives of parents a little bit easier with their products. Can I get an amen! The practicality of their products is what sets them apart, but they also love adding fun to all the functional items they create. This Australian based company started with the diaper wallet and has continued to grow to 15 products sold in 750 stores Australia-wide and in 22 countries. Their new smock bibs are perfect for messy eating kiddos (so every kid..). It can even be used as an art smock once baby is a cleaner eater. The bib conveniently folds into its own pouch and is perfect for travel! Check out B. Box and their FUNctional, innovative products that are perfect for any kid.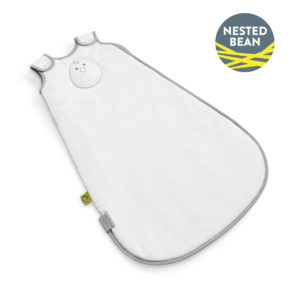 The Nested Bean brand was created by a mom who spent many nights holding her baby so he could sleep. Chest pressure was the only thing that would allow that little kiddo to fall asleep and stay sleep. After using a beanie baby one night out of desperation, the idea was formed. The products were created to imitate the pressure of a parents hand on baby's chest – no more sleepless nights for baby or parents! Nested Bean products Adjustable shoulder tabs create the perfect fit while giving baby room to grow and the two-way zipper allows quick, easy diaper changes. Nested Bean offers sleep sacks and sleep swaddles – depending on the age/size of your child. Offering products made with cotton or bamboo allows you to choose the weight of the sleeper. You choose what is best for the kiddo. Winter sleeper, moisture wicking material (made from bamboo), or year round comfort. These products are made to last and will last much longer than your traditional sleep sack. Nested Bean is the most bang for your buck when it comes to sleep sacks and swaddles. Be sure to check out their brand new all white sleeper that was just released October 31!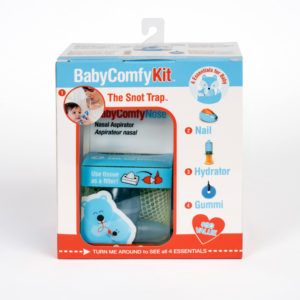 We all need the essential baby gear, whether we're first time parents or fourth time parents. Some things you just can't live without once a baby is in the house. That is what inspired the creators of Baby Comfy. Two parents looking to meet their families needs that other companies just hadn't done yet. They took matters into their own hands. Baby Comfy offers products from nasal aspirators, teething necklaces, nursing covers, nail clippers, and more! Winter is the prime time for sickness so why not give kiddos (or their parents) the gift of relief this winter with some Baby Comfy products. They make it really easy to purchase by offering a kit with four essential items: clippers, nasal aspirator, hydrator, and teether!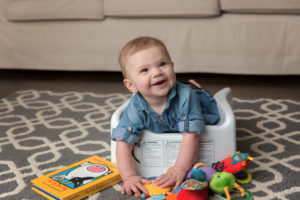 Tummy time is a very important activities for kiddos and their development; a recommended 30 minutes a day to be exact. This develops fine and gross motor skills and helps develop the muscles that are used for reaching, sitting up, and crawling. The Tumzee allows for easy toy engagement because of the unique incline. Safety features include a "T" support that keeps babies from sliding backwards, raised sides to keep babies from rolling off, and a safety strap. The Tumzee's soft, firm design keeps baby comfy but also fully supported. It is made of polypropylene and is BPA and phthalate free. This is such a unique gift to give any baby and is the only product on the market that offers the stability and support your child needs to stay safe.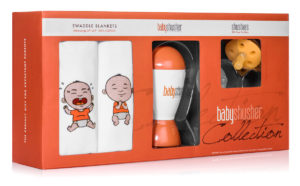 Sound machines are lifesavers in a home with babies. But for the creators of the Baby Shusher, an average sound machine wasn't working for their child. Shushing DID work though. Why? This sound is familiar and calming to babies because it's what they listened to for nine months while in the womb-blood and fluid moving around. The shusher is a small, portable sound machine that can be taken anywhere. Use it in the car seat, stroller, at the grocery store or at grandmas house; the options are endless because of the compact size. Features of volume control and timer options allow you to be in complete control. Give the gift of sleep for baby and peace and quite for parents with the Baby Shusher. Also available are swaddle blankets and shushies (pacifiers).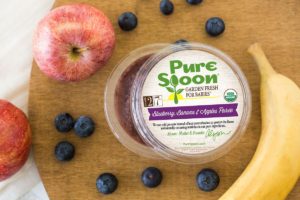 We all love to eat, am I right?! Go ahead and give the gift of food this Christmas; baby and their parents will thank you! Pure Spoon creates 100% fresh, certified organic, cold pressed, hand made baby puree that is delivered to your door cold! Wow, what a dream! Using the process of high pressure pasteurization, the nutrients, vitamins, and real taste is kept in the baby food. The purees are packaged in 100% transparent, recyclable cups so you know and can see the food. Buying the purees is easy. Go to the Pure Spoon website and choose from packages they offer or buy them individually. That's all! Then the [cold] package will be shipped right to your door! You can even subscribe and save 10% off the retail price! The purees are not only good for babies, but kids, teens, parents, and grandparents too!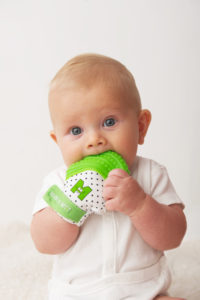 Teething babies are no fun, no fun at all. That's why the Munch Mitt is the perfect teether. The mitt easily fits on baby's hand and has an adjustable strap to secure it. It's the perfect solution to preventing the constant dropping of teething toys. The textured, flexible silicone surface provides soothing teething relief. BPA and phthalate-free silicone and soft, breathable, water resistant fabric meets all federal safety requirements. Made with black and white fabric and bright colors, the mitt will keep baby entertained. The munch mitt is designed for babies 3 months – 12 months and its suggested wear is from 3 months – 8 months. Be sure to check out their Buddy Bib's too!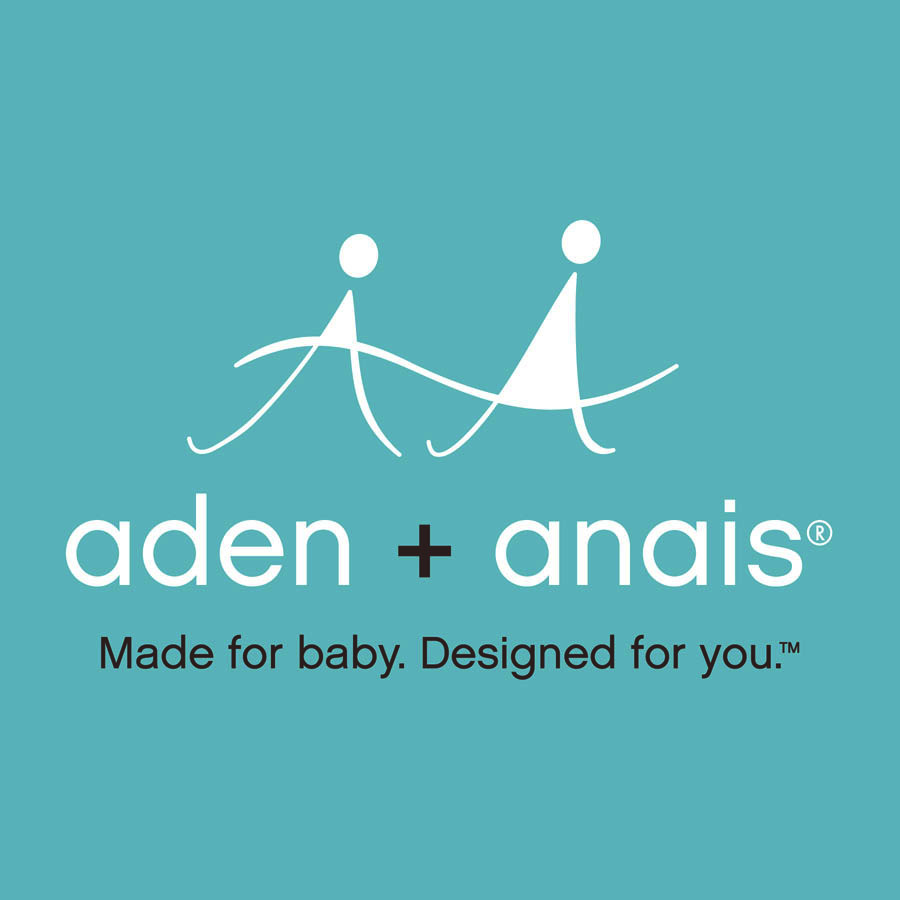 Muslin, simplicity, safety, and expression through style, that is what aden + anais believes in. Their products are breathable, soft, and durable, keeping baby comfy at all times. Rigorous testing is done on all their products ensuring complete safety for baby, which is what all parents want. aden + anais is known for their modern aesthetic and iconic prints; it's who they are and it makes them unique to the baby industry. The products that aden + anais offer are necessities for any home with babies. Swaddles, blankets, bibs, crib sheets, clothing, bath towels, and even skin care; you will find something for each baby on your list this year. Be sure to check out their sleeping bags – perfect for the coming winter months.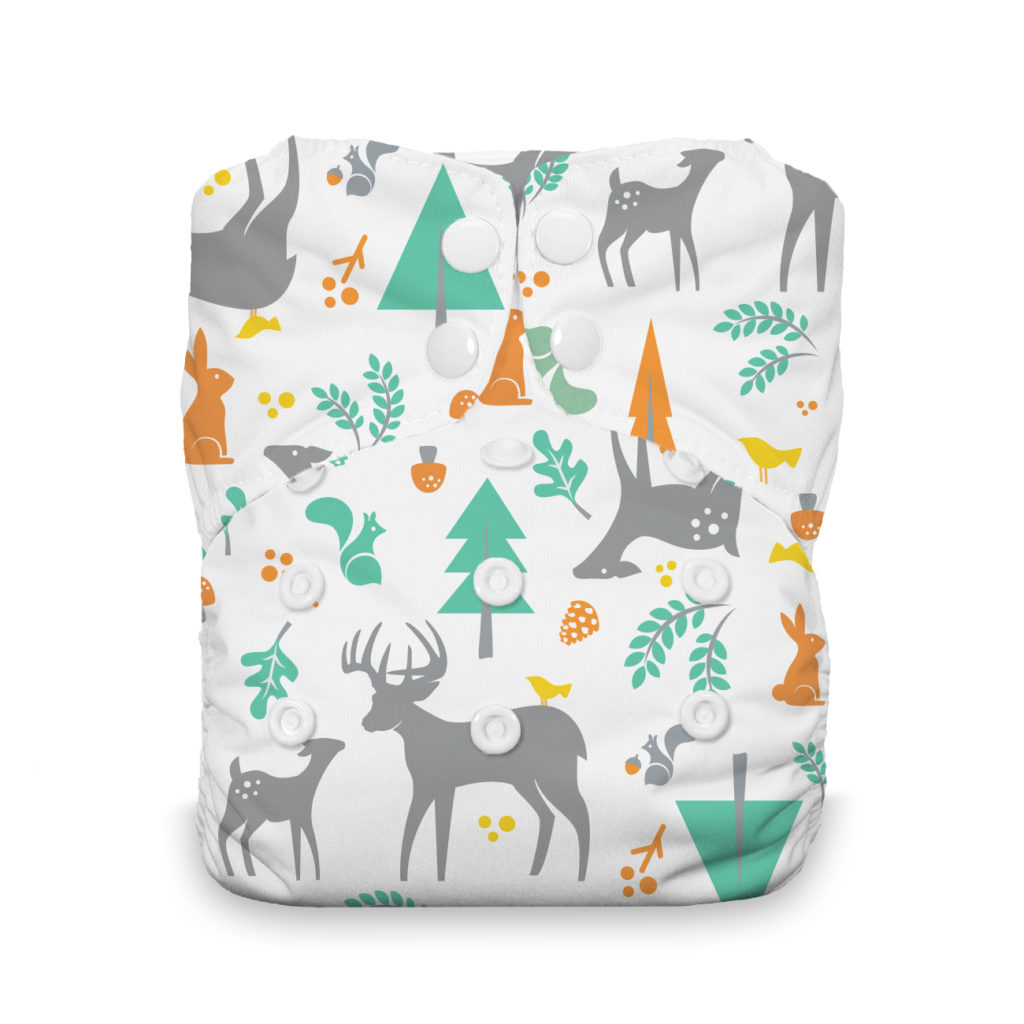 Cloth diapers are nothing like they use to be. Thirsties is passionate about helping support cloth families while making cloth diapering easy and affordable. They pretty much sell every product you would ever need to do cloth diapering. You can choose between one size or fitted diapers. They also make a variety of styles; all in one, pocket, duo wrap, swim diapers, diaper covers and prefolds. And of course they have all the accessories from inserts, to wet bags, diaper cream, reusable wipes, and pail liners. Their mission is to provide the healthiest diapering option while focusing on keeping the environment healthy too. All their diapers are manufactured in the USA with the highest of quality. Their website has endless resources! If you are looking to start cloth they can help you calculate your savings and compare products to find the perfect diaper to start with. Thirsties is the one stop shop for cloth diapering in your home!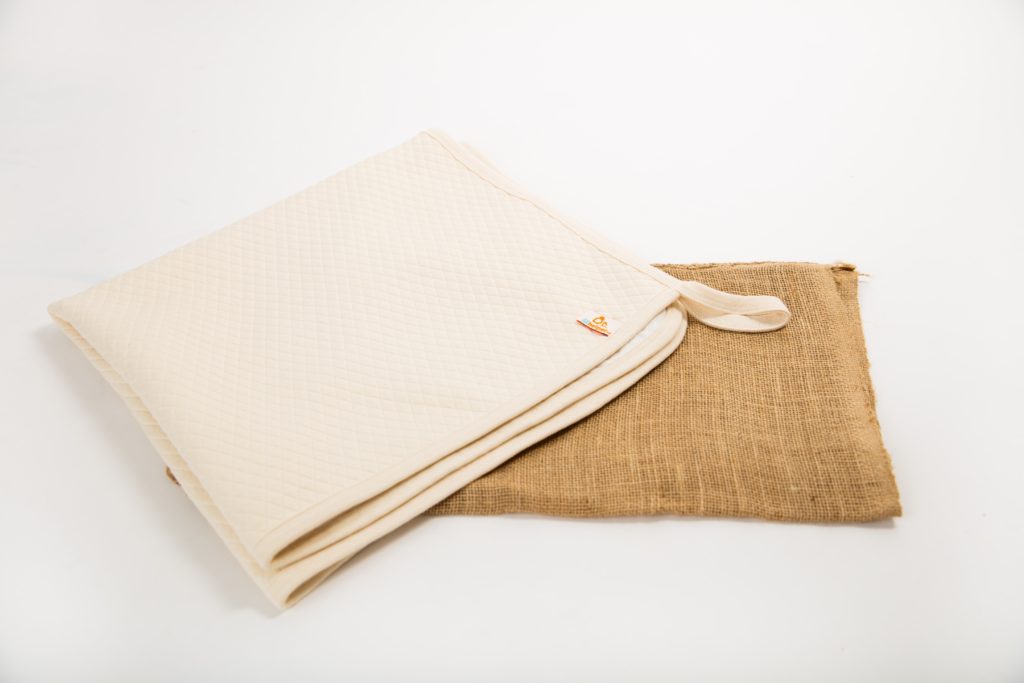 Lil Helpers makes quality, affordable, easy to use cloth diapers and a variety of accessories. In addition to their great customer service, Lil Helper started Baby Do Good; for every 3 diapers sold they give a new cloth diaper to a family in need. If you enjoy Lil Helper diapers then you will also love their bamboo change mat. It's huge area of 86cm X 91cm can be folded and used in a crib or spread out on a toddler's bed. Made with only the best fabric, this mat is pesticide, bleach, BPA, leads and heavy metal free. The medical grade waterproof material sandwiched between the layers of bamboo absorbs 10 time its weight in water. The bamboo/cotton on both sides is organic and provides soft cushioning. You can use this mat for multiple uses such as a play mat, sleeping area, or crib pad. For easy cleaning pop this pre-washed mat in the washer and even finish off in the dryer! This multi-use Bamboo Mat is an essential for bed time, diaper changes, and on the go.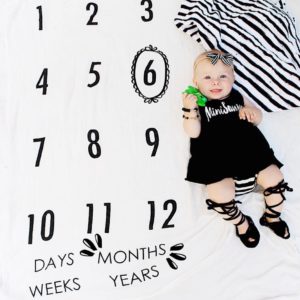 Weekly, monthly, and yearly photo shoots with kiddos have become very popular over the years. Chelsie, the owner and creator of BATZkids, wanted a quick, easy way to make these photo shoots happen. After designing and creating a blanket for herself she got to work creating blankets for her family and friends. Now BATZkids is a growing and thriving company that is constantly creating new designs and styles. The BATZkids milestone blankets make the perfect background for your kid's updates. Their adorable designs are just simple enough to dress up (if you want) or dress down. Not only do they make milestone blankets but they make pillow cases, crib sheets, swaddle blankets, and even pregnancy week tracker blankets! These products are seriously so adorable and perfect for moms, expecting moms, babies, and kids. The "My First" milestone blankets are great to give as Christmas gifts!! Use code: mamafox20 for 20%off!!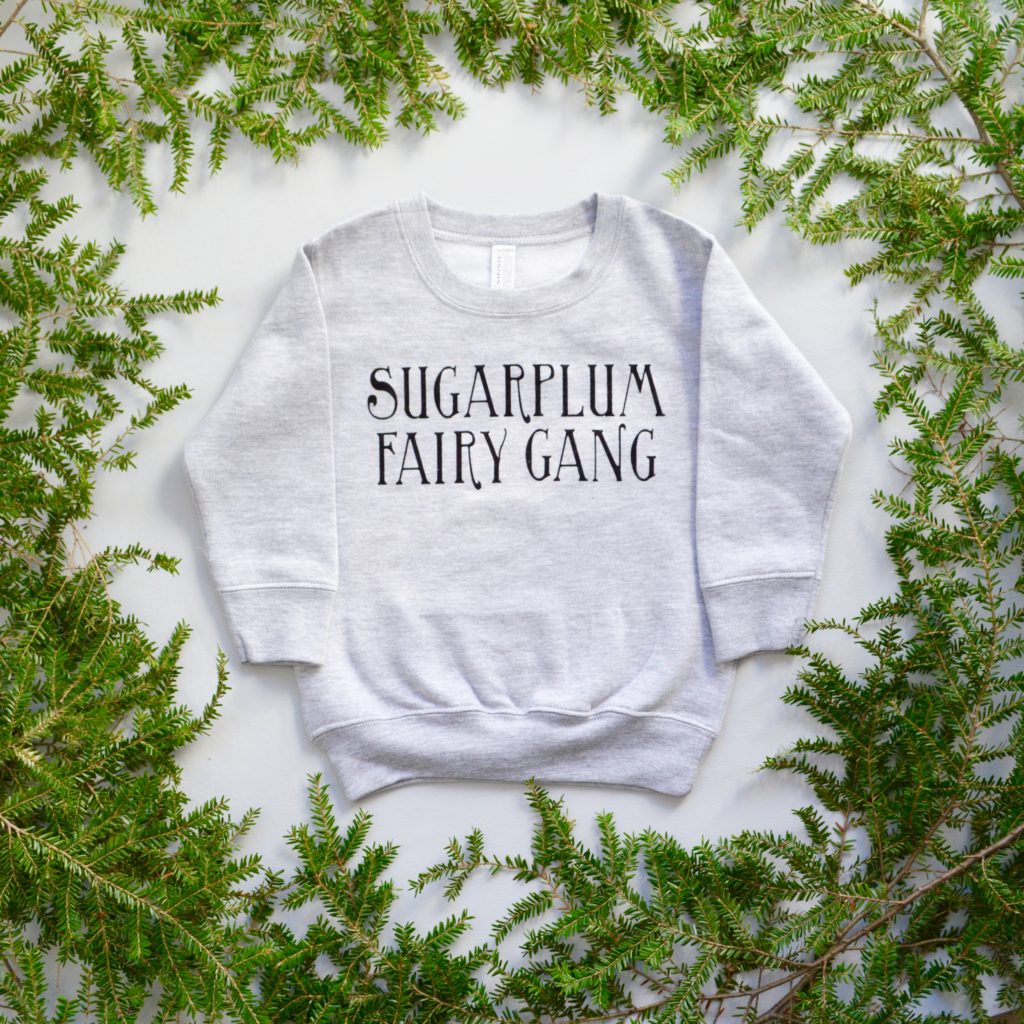 The Wishing Elephant is an adorable shop that creates unique and fun goods. Since 2010, they have been supplying little ones with attire, accessories, and dress up clothes. Some of their biggest features have been on BuzzFeed, Martha Steward Show, Rachel Ray Magazine, and CNN. The Wishing Elephant has a stylish but unique look that perfectly blends minimalism and fashion forward minutia. You can find onesies and crew necks with witty phrases ranging in sizes newborn to size 6. Little princesses can be accessorized in unique crowns, necklaces, and even beautiful durable fairy wings. And for the boys, The Wishing Elephant has playfully designed onesies and costumes to even get those macho men adoring the baby in the room. They currently have an adorable line of Christmas crewnecks and onesies. These cozy outfits are perfect for holiday gatherings because lets be honest, the itchy tulle dress and tight button down and tie only last the five minutes to take a picture. This way they can still be looking adorable when the dress up clothes are shed. So whether you are looking to have endless fun dressing your little squirt or stock the closet of your imaginative, ostentatious kids check out The Wishing Elephant.
We all need bath towels, even the baby. Included in the set is two 12×12 washcloths, one 35×35 bath towel, and an mesh bag for washing. The towel set is made strong with the double stitching that prevents pulling and allows them to last longer. Each of the washcloths feature a loop on a corner which is great to hang them up with after each use. This high quality, 100% bamboo set is hypoallergenic, anti-bacterial, all natural, AND organic! It is very safe for your little one and ultra delicate on their skin. The all white towel and washcloths make the set perfect for any newborn – girl or boy. This bamboo bath towel set is the perfect gift for a new baby, and the parents will thank you too!