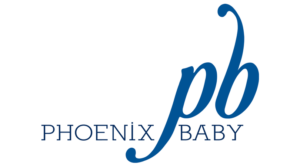 We all take a night here and there to enjoy a restaurant-cooked meal, am I right?! With kids, going out to eat can be a challenge. Where will baby sit? Are there high chairs there? Will baby have to sit on my lap? Where are we going to put the car seat? Should we bring the stroller in? All parents have these thoughts before walking into a restaurant with an infant. Well, you can stop the questions and check out the Phoenix Baby GoTo. This foldable, collapsable high chair and car seat station will change the way you eat out. Leave it in the trunk of your car and pull it out when you get to a restaurant, set it up quickly, and enjoy a dinner with the family! The GoTo is the perfect product for parents on the go or someone with a small home.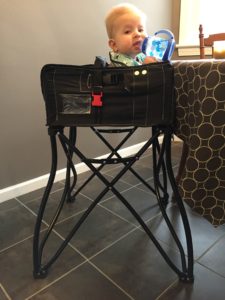 Phoenix Baby makes sure their products are safe for your baby by working closely with pediatricians, engineers, and child development experts. Keep your baby protected from the germs of a restaurant high chair and bring your own. The GoTo is lightweight, portable, and easy to fold; perfect to bring along to vacations, restaurants, or even camping. It's a great alternative to a high chair at home, great for small houses!
The GoTo has a storage compartment on the back where you can store bibs, cups, utensils, or whatever you need! The safety straps on the chair are great for every infant; what kid doesn't move and squirm while their sitting?! While my son was in the chair he was moving around so much, and even sliding down towards the leg holes. I am very grateful I had him strapped in to ensure his safety. The grips on the bottom of the four legs are an awesome safety feature too. They really do work, when trying to slide the chair on our dining room floor it literally would not move; I had to pick it up in order to move it.

—
Phoenix Baby is dedicated to developing the safest and most innovative products that stand the test of time.
—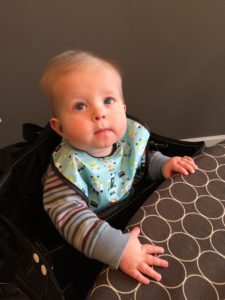 When using the GoTo with our table it seems to have worked pretty well. I didn't put food in front of my baby, I spoon fed him. But I did put his water cup on the table and he was able to grab it and pull it to him. The chair came up to the table and he was at a good height. An aspect of the chair that I really like is the little space between baby's chest and the edge of the chair. When he would drop his water cup it landed in the pocket space and didn't fall on the floor. It wasn't a big deal if it fell on the floor at our home, but if we were in a restaurant I for sure would not want it falling on the ground. It is a very innovative aspect of the high chair. In the picture below you can see the three different sections of the chair. Number 1 is the back – store whatever you need and whatever will fit. Number 2 is where baby sits; and number 3 is the extra "drop zone" space that catches what baby drops.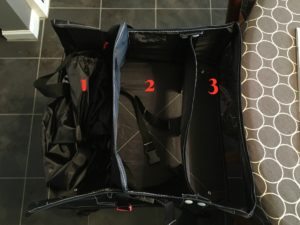 Although I found it very difficult to lock the chair into place, Phoenix Baby did well in creating a safe product. I have full confidence that the chair and stand will not collapse. The legs pull out pretty easily but getting the locking mechanism to the 'locked' position was a challenge. Once I opened and closed the chair a few times I got the hang of how it needed to lock and it was no problem. I do appreciate the difficult-ness of locking the chair because that tells me that it's safe. If it is that hard to lock then how much harder will it be to collapse – impossible it seems! The buttons on the side that hold up the leg holes are also difficult to snap; but again I feel very confident that they won't unsnap by chance. The safety features have this mom's approval!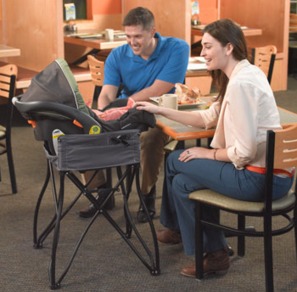 When baby is younger (or even sleeping in the carrier) you can use the chair as a stand for their car seat. All you need to do is unsnap the leg hole flap, unclip the chair back, and lay them flat. You now have a sturdy, square, table-level car seat holder! This is such a good resource to have when baby is little. My husband and I could have used this multiple times we went to restaurants a few months ago. We could have avoided putting our son on the table or using a chair and watching closely that the car seat didn't fall off! There is even a clip so you can secure the car seat; ensuring complete and total safety.
—
Connect with Phoenix Baby
Facebook               Twitter               Instagram               Pinterest
—
The Phoenix Baby GoTo is such an awesome product. I look forward to using it in the future with our son and with future babies! It is safe, smart, and really easy to use.