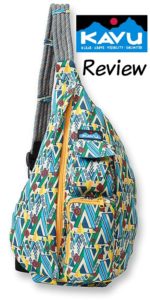 I am not one to sit at home and I love nothing more than taking my daughter with me on life's adventures. I am truly passionate about babywearing and love the ease of having her so close to me, while having my hands free. As much as I love babywearing my biggest struggle is finding a bag or a purse that is comfortable for myself and my daughter. I can't seem to keep shoulder bags on my shoulder along with the straps of my carrier. Cross body purses always seem to be too high, getting in the way of my daughters legs or too long and seem to swing behind my leg while walking. I was talking to a friend of mine about this just the other day. She loves designer bags and has some gorgeous genuine pieces as well as a few knock off purses in her collection. I can never tell whether her designer bags are the real deal or replicas, and I am incredibly jealous of the way that she can pull off carrying just about any bag so effortlessly! As for me though, I'm always on the lookout for something new and exciting. However, one day I spotted a woman out wearing a KAVU Rope Bag. Looking at the unique design I couldn't help but think that this bag could solve my problems when babywearing.
About KAVU
"KAVU is more than a company. KAVU is a philosophy and a lifestyle." It is "true outdoor wear" that is so fashionable it will be your favorite everyday wear. KAVU started in 1993 and took off with their classic Strapcap, a hat designed to stay on your head during high impact sports. Today KAVU has evolved into so much more. KAVU has a full line of women's fashion from Shirts, Pants, Dresses, Shorts and Jackets, their women's line is described as elegance with an edge and I couldn't agree more. KAVU has a full men's line for the rugged guy with a eye for style as well as a Kids Line. KAVU helps you complete your look with accessories, such as Wallets, Belts, Sunglasses, Scarves, Gloves, Hats and they have a amazing Bag selection. Take your adventure in style with everything KAVU has to offer.
"Kavu is a Lifestyle. A Life and a Style"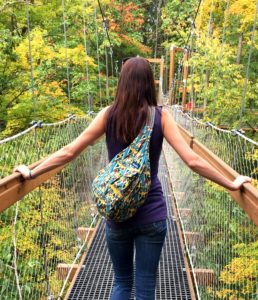 Connect with KAVU
Website Instagram YouTube Facebook Twitter
KAVU's Rope Bag has perfectly met my need for a bag that can easily be worn while babywearing. Their rope bag has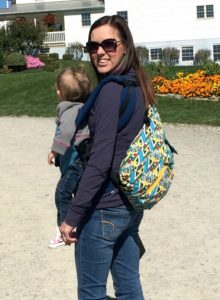 enough room for not only my belongings (wallet, camera, notebook, chap-stick, phone) but also a days worth of stuff for my daughter (diapers, wipes, hat, snack, water bottle). I would consider the rope bag a medium size, big enough to hold all my stuff but still trim and sleek enough to be snug to my back. The KAVU Rope Bag is full of pockets and compartments, making it easy to stay organized. There are two vertical zip compartments. One allows access to the main part of the bag, which also includes a inside zip pocket. The other allows access to a smaller side pocket. The rope bag has two front pockets, one zips and one velcros; perfect for keys, cell phones, camera or chap-stick. With it's adjustable rope strap the bag is not only comfortable, the buckle is perfectly placed making it easy to take on and off.
The rope bag is so versatile that I use it as a purse, a day pack, or a diaper bag. Most days it is all three. It is so light and comfortable I often forget it's on my back. I am easily able to shift the bag from my back around to the front to access it without having to take it off. The wide rope strap evenly distributes the weight across my shoulder and keeps the bag in place, perfect if wearing while biking or hiking.
KAVU has designed the perfect bag for every situation. They have a huge selection of bookbags, duffel bags, totes, purses, rope bags and waist bags all offered in bright colors and beautiful prints. You can match your unique style with a bag durable enough for everyday use.