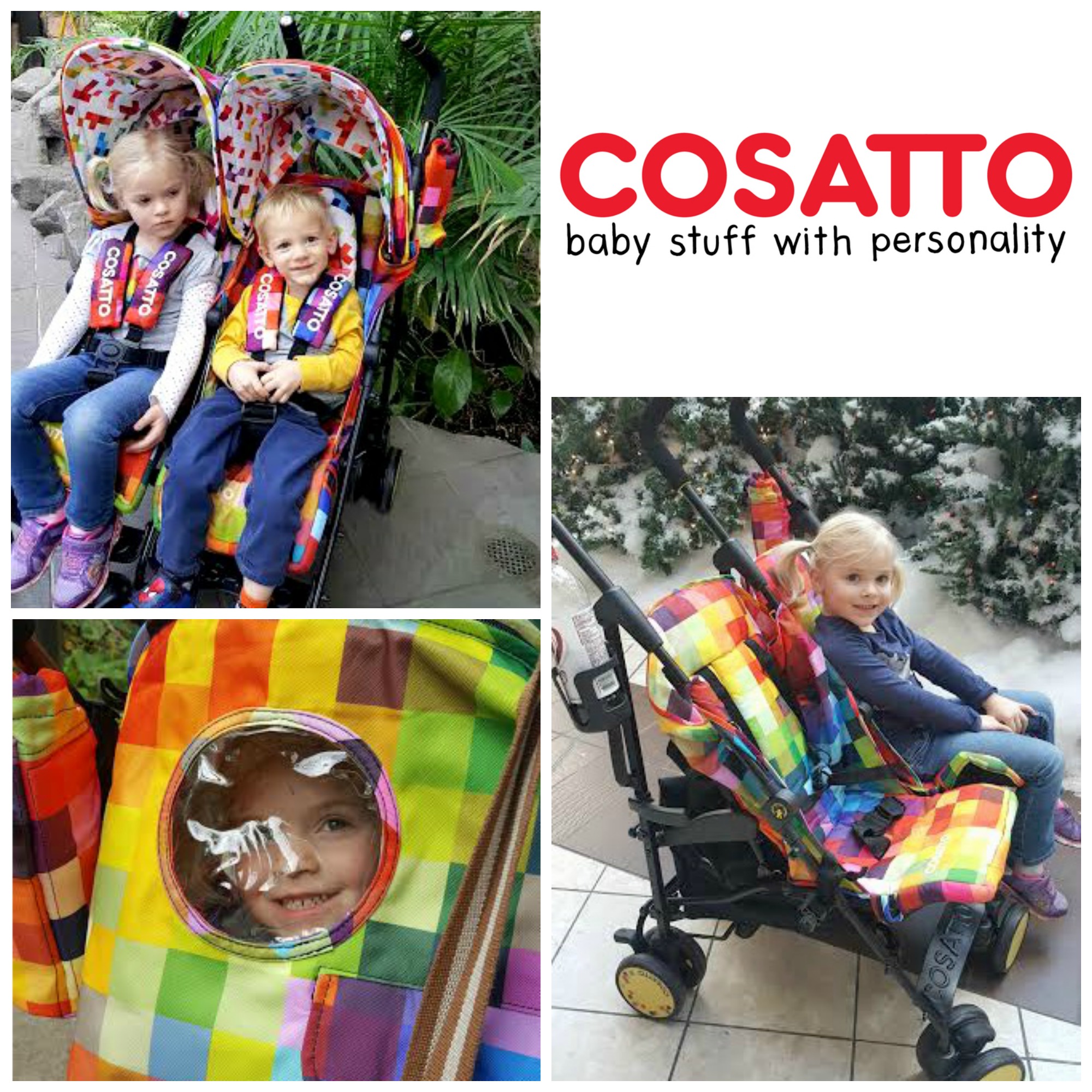 If you have a hard time with double strollers (and I mean come on people, they can be such a pain in the butt) you have to look no further. I have discovered literally the coolest double stroller ever. It has features that will blow your mind. It's gorgeous to look at and the Supa Dupa is supa cozy. It gives you the ease of smooth travel with the added bonus of support and strength for a full days worth of adventure. They really worked their magic when creating this new amazing piece of equipment.
It works like a folding umbrella stroller but has the structure & support of a full size stroller.
What makes Cosatto special is their formula for design and colors. They strive to make the most fun and colorful strollers you can buy. I know they are certainly the prettiest ones I have ever seen, and as a blogger I have seen a lot! Cosatto believes every newborn needs a brilliant fanfare of joy and color. Cosatto is now available through Amazon, Babies R Us, Nordstrom and a few other online retailers.
The Supa Dupa Double comes fully assembled. I honestly expected there would be a few things I would have to piece together, but nope, it's fully ready to use out of the box. No screwdrivers required. If you want to put on the hood/sun guard, then yes, you would need to snap that in. Plus, the box it comes in can provide hours of entertainment for your toddler as an added bonus.
Follow Cosatto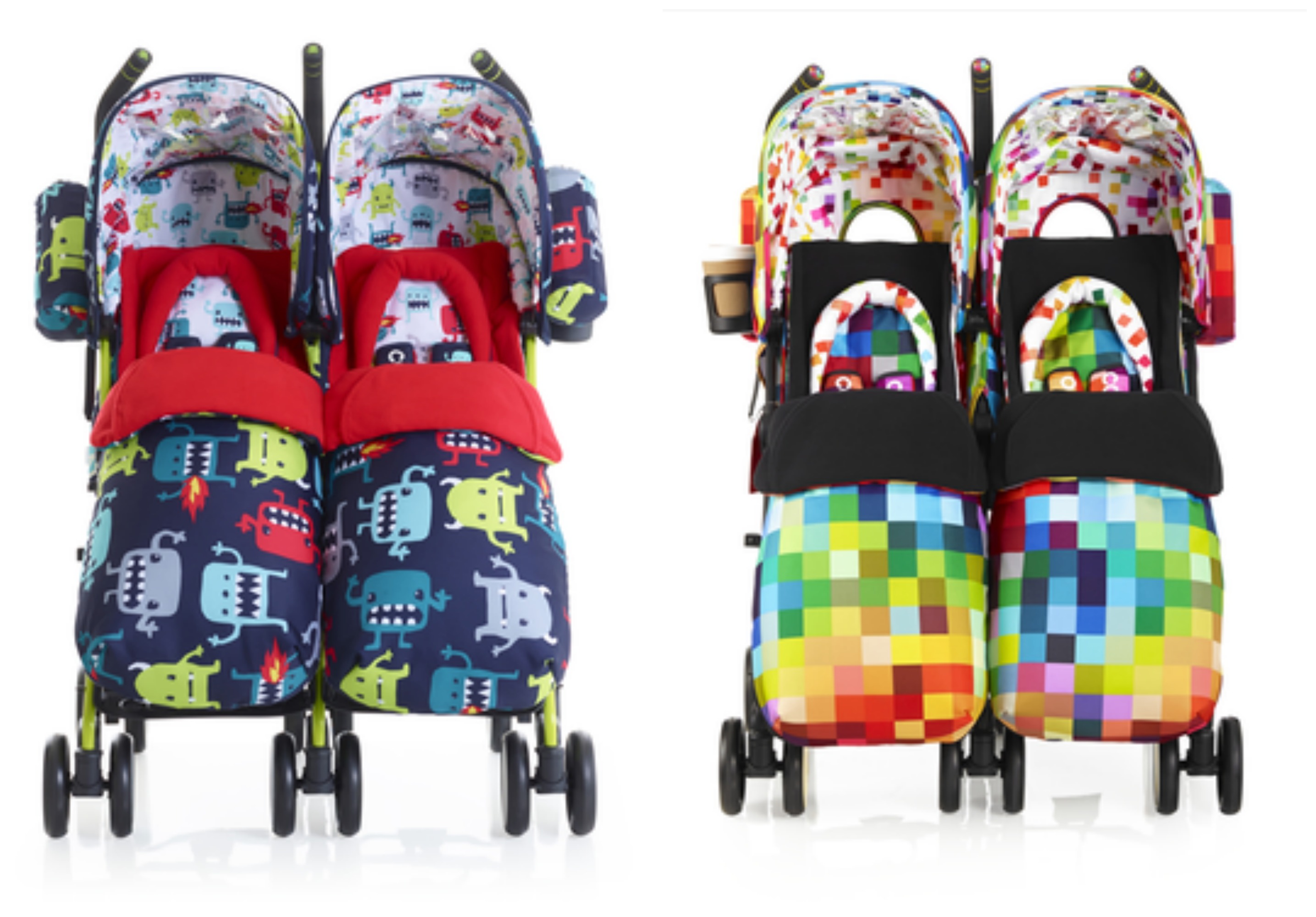 Features
There are so many features to this stunning stroller. I will highlight the most important here.
Easy to adjust straps. Whether you are putting a 4 month old or 4 year old in the Supa Dupa Double, you are able to adjust the straps and the headrest so that it is cozy and the perfect fit. With headhuggers and chest pads your child with my as cozy as they safe.
3 cup holders. Say what? This stroller features 1 plastic cup holder that can be clipped on the left or right side of the stroller. It is removable so that if you want to switch sides it can be done with ease. As a super cool bonus you get 2 water bottle holders that are insulated to keep you bottles cold. Many oversize water bottles are unable to fit in a standard cup hold. This stroller has you covered mama, so keep hydrated and stay cool (and look cool too) with these bonus water bottle holders.
Full sized shade cover. Every other stroller I know has a standard hood to shade your child from the sun rays. But the Supa Dupa Double has extendable sunshades with a added bonus of UPF50+ protection.

These shades almost reach down to the child's knees. I was shocked at how far they really do extend.

Oftentimes with past strollers my kids got angry that the sun was 'still' in their eyes. I have no fear with the extendable sunshade on this stroller. If you do not want it to fully extend, you can zip the extra extension closed for a clean look and the standard hood still available. It also easily comes off so that is it ever more slim and has less bulk for this quick trips.
iPad/Table Holder. Honestly, I depend on my kids iPads to get my through the day. I need them to be quiet so that I can shop, cook dinner, fold the laundry, watch the new episode of The Crown…you know the necessary things in life. When I go to the mall we bring them along to keep the kids quiet in the stores so I can get down to business. 'Window-on-the-World' hood display pockets are a clear plastic slot in the hood above the child that you can slip an iPad or tablet in. It lays above them so they can recline and take in their movie. You cannot really play a game or use the touch screen once it's in the holder. This feature is best to be used when they are going to watch a movie and relax. Being positioned directly above their heads I also find it best to slightly or fully recline their seat. If your kids don't use a tablet then this feature is great for flash cards or fave photos.
Speaker. The Supa Dupa's multimedia gadget pocket with speaker. This speaker works iPods and similar devices, not with cell phones.
Reclining Seats. Most of the time I try to avoid taking my kids into a public restroom to change their diaper. Now, I can recline their Supa Dupa Double seat and change in them in the seat. This is super helpful for mom's like me. Its also perfect for when they fall asleep or when they fall asleep in their car seat and you need to transfer them over the the stroller. There are

4 settings

 ranging from fully upright to practically laying down.
Raincover. I have never used a raincover before. I live in Ohio and we have the normal 4 seasons being a Midwestern state. I love having the option now. For those times when its pouring but you have to get to the grocery store. Stuck at the state fair and it starts to drizzle. If you live in a state with sporadic weather then this is your dream feature.
Cosy Toes. Blankets can be a disaster in the winter. Kids throw them. They fall off their laps and land in the snow or worse, the slush…eww… The Cosy Toes is the best wintertime feature. This muff-like addition can be placed on the seat under the child and their feet and legs can slide into the Cosy Toes. You can unzip the Cosy Toes to make going in and out that much easier for you. My children love how warm and cozy this feature is and they love that they both have their own! They don't share the same Cosy Toes, but each seat has an individual one. This is such a sanity saver for the sibling quarrels that would have inevitably happened if they had to share. It easy goes on and off so when springtime rolls around you can take it off and save it for the next dip in the weather.
Triple handles. I love the feature of the 3rd handle on the Supa Dupa. This gives you more position options depending on how you are pushing. If you are needing to use only 1 hand, no problem. Need to maneuver through a department store – easy peasy. This puppy can turn so smoothly and without extra effort. The high quality materials used for its construction makes it easy for busy parents who don't have time to deal with funky wheels that don't want to go the right direction. This stroller is streamlined with easy and comfort.
Kickstand. All of my past strollers have just leaving against a garage wall when not in use. That or else my husband has installed hooks to the garage wall to get them off the floor and out of the way. With this Cosatto Supa Dupa Double stroller, there is a

kickstand by the wheels which allow you to have your stroller stand upright without needing to lean up against anything

. This is such a fabulous feature.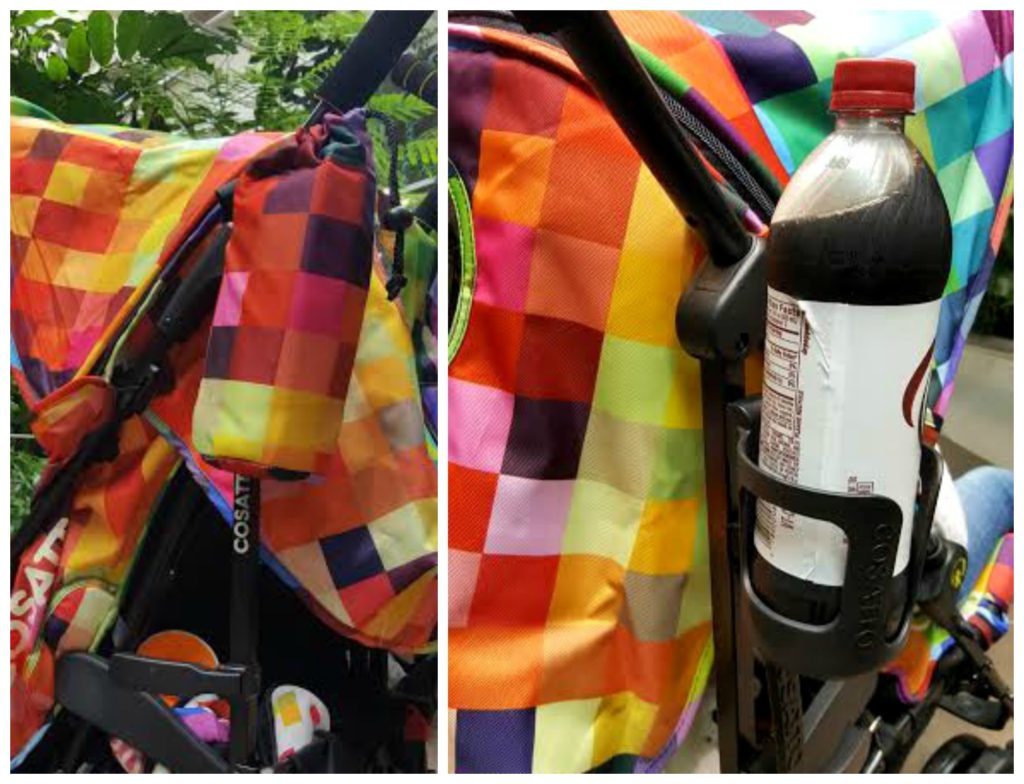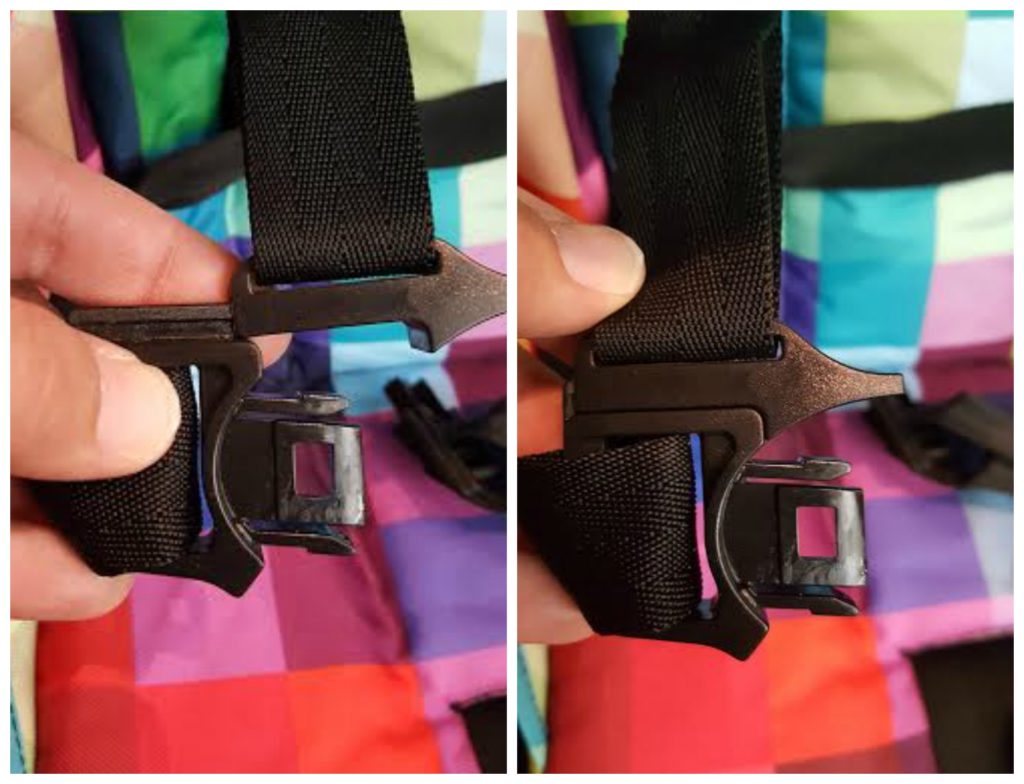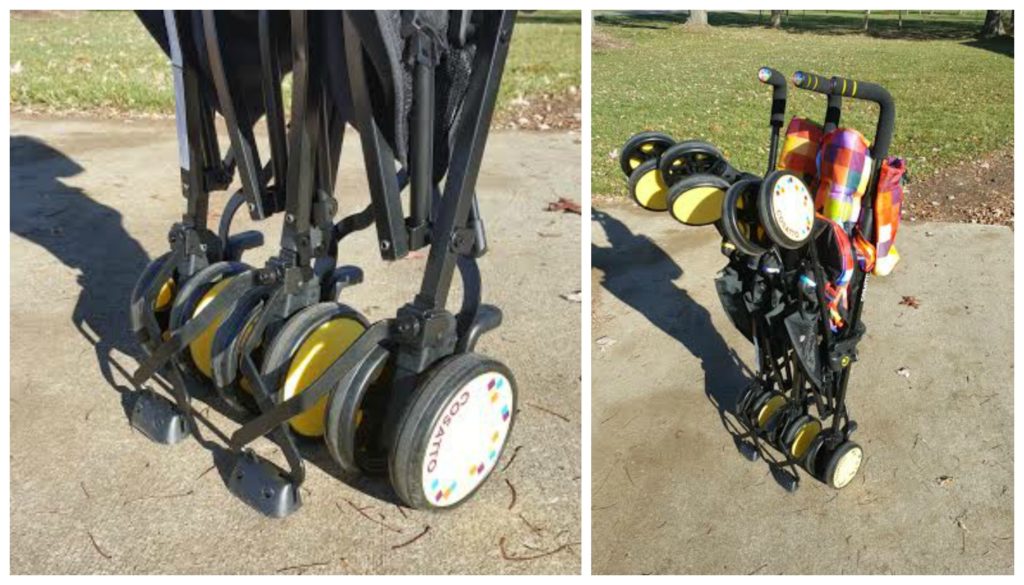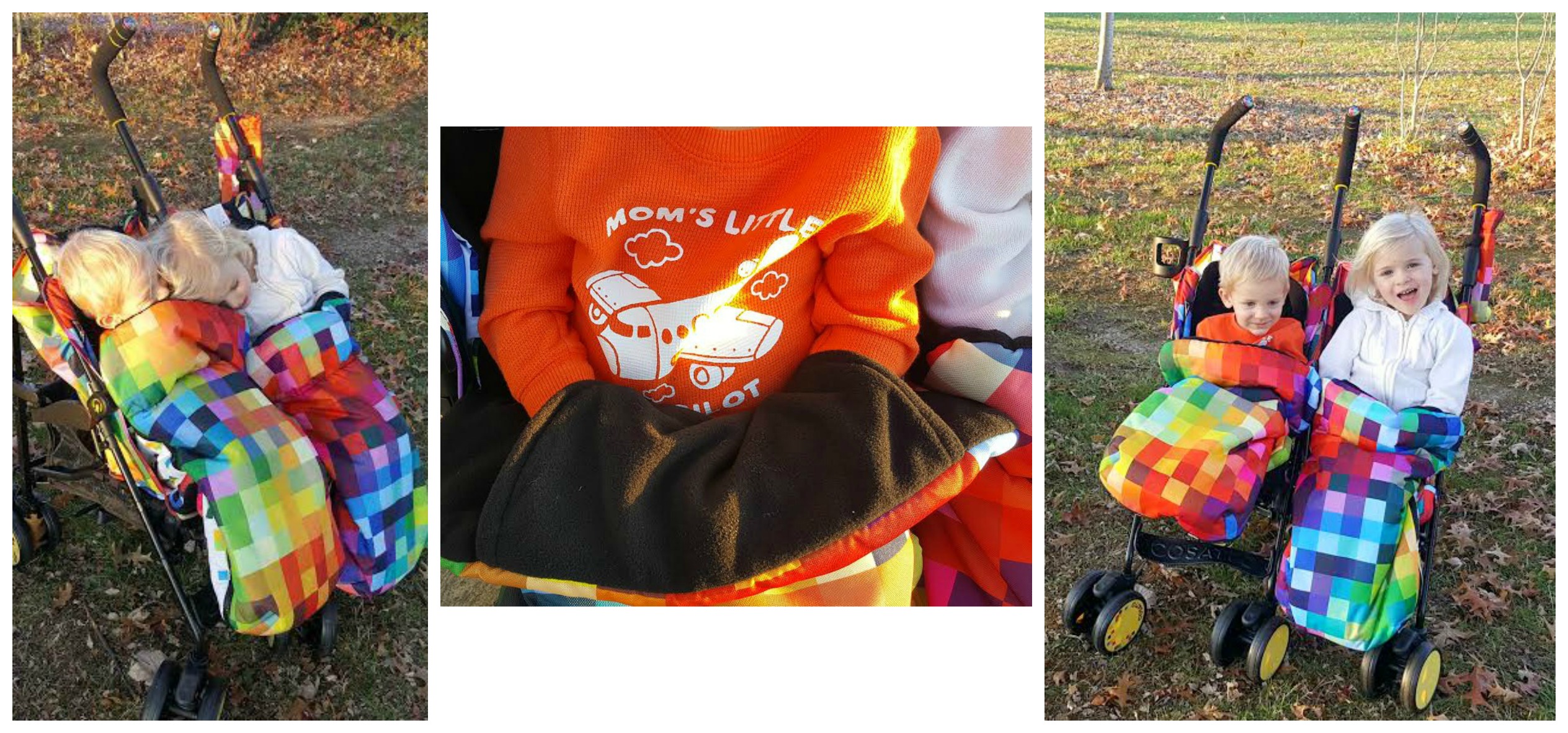 I am confident you will not find a stroller like a Cosotto. If you have been searching for a double stroller, you cannot go wrong with the Supa Dupa Douple by Cosatto. My stroller was the Pixelate print. It also comes in the Cuddle Monseter 2 print.